Bob Eblen's National Column
October 10th, 2019 1:00pm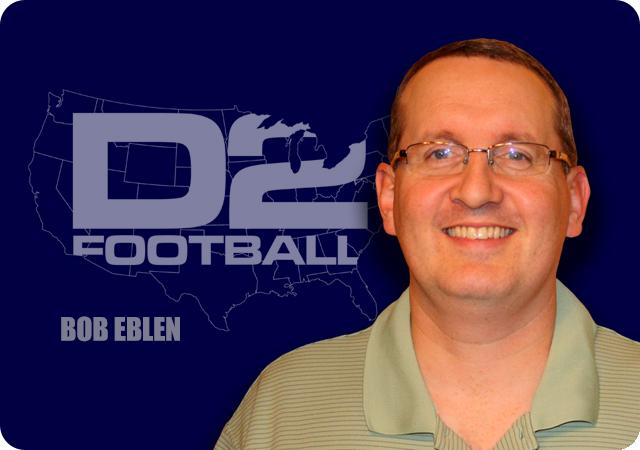 The retirement of former East Stroudsburg coach Denny Douds is one of the stranger things I have seen in my years of covering D2 football. Last October, Douds called a timeout late in a game that his team was losing to Ohio Dominican. He pulled his team together, informed them he was retiring on the spot, then walked off the field and drove away in his car. The video of the moment went viral of course, but what happened after with the ESU program was largely overlooked.
At the time that Douds retired, ESU was limping through a 1-8 season- its worst in Douds' 45 years at the helm. ESU's associate head coach at the time was Jimmy Terwilliger. A former ESU standout quarterback and the 2005 Harlon Hill Trophy winner, Terwilliger was a natural fit to take over for Douds. He went 1-1 as the interim head coach to finish last season and had the interim tag removed in February.
Generating offense has rarely been a problem for ESU. Mike Terwilliger- Jimmy's father- was also a standout quarterback for ESU in the mid-70's and has served on the coaching staff since 1978. He became offensive coordinator in 2001 and has overseen prolific offenses ever since: since 2002 six different ESU quarterbacks have finished in the top three in the PSAC in total offense and seven of those seasons have ended with an ESU quarterback being nominated for the Harlon Hill Trophy.
Obviously if a program is generating a bunch of points but isn't having success, then there is a problem on the other side of the football. That has certainly been the case at ESU. Between 2015 and 2018, ESU surrendered 40 or more points in a game a staggering 17 times and lost all 17 of those contests. On five different occasions over those four seasons ESU scored more than 40 points and still lost a football game.
Terwilliger overhauled his defensive staff, bringing in Mike Lackey as the new defensive coordinator. The results have been outstanding. The Warriors are undefeated through five games and are allowing just 308 yards and 13 points per game, compared to the 491 yards and almost 39 points per game last season.
With a complete culture change on defense and an offense that still averages over 40 points per game, a resurgent East Stroudsburg is helping to make the PSAC East Division an extremely interesting follow: West Chester and Kutztown have been very strong programs recently. Bloomsburg and Shippensburg have struggled some of late but have tremendous tradition. Then there is the addition this year of Shepherd, who joined the PSAC after years of dominating in the MEC/WVIAC.
East Stroudsburg's revamped defense will face its first major test of the season this Saturday at Kutztown (5-0). If ESU can hang tough in this game, then I think it would be fair to conclude that the Warriors have returned to prominence in the PSAC.
Northwest Missouri vs Pittsburg State Moves back to Arrowhead Stadium
After a six-year hiatus, this heated D2 rivalry returns to Arrowhead Stadium in Kansas City on Saturday. The two programs played at Arrowhead 12 times between 2002 and 2013, often drawing crowds of over 20,000. With both teams coming into this game with 5-0 records, the potential for another big crowd is certainly there.
The fact that these are two of the most prolific offenses in the country should make for a very entertaining game: Northwest averages 48 points per game while the Gorillas average 47. Over the past 15 years or so Northwest has had the upper hand in this series mainly because the Bearcats have been so consistently dominant defensively. That has not been the case this season as Northwest is allowing nearly 350 yards per game. In fact, it is the Gorillas that come into this contest with the more heralded defense. It will be interesting to see how this game plays out.
Mavericks Flex Muscle
Minnesota State had not quite played up to its lofty pre-season expectations through the first four games of the season. Despite having four pre-season All-Americans on the offensive side of the ball, the Mavericks were averaging just 29 points per game and were having trouble converting red zone opportunities into touchdowns.
That all changed last Saturday as MSU ran 7th-ranked Minnesota-Duluth off the field in a 52-7 victory. An 80-yard Ryan Schlichte to Shane Zylstra touchdown pass on the game's first play set the tone as MSU out gained the Bulldogs 573 to 256 in what was a dominating performance.
The challenge for MSU going forward into the second half of the season will be staying sharp for the playoffs against a slate of overmatched opponents: The only game remaining on the Maverick schedule that could be challenging is a November 4th date with Sioux Falls.
Ashland Beats Grand Valley on a Hail Mary Pass
If you haven't already seen it, the winning pass play can be viewed here:
The Eagles have played three games against ranked opponents, and struggled badly on offense in all three, including most of the game against the Lakers. They trailed the Lakers 10-0 in the fourth quarter before coming alive with three touchdown drives in the final 7:12 of the game. 207 of AU's 361 yards of total offense came during that timeframe. College football is a strange game sometimes.