Bob Eblen's National Column
November 14th, 2017 12:00am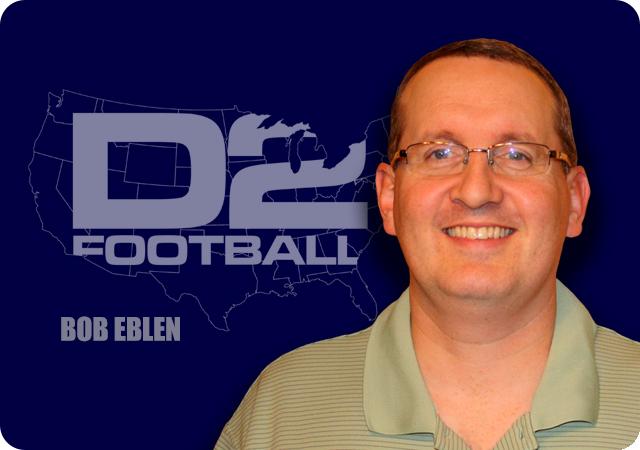 For me, round one of the playoffs is always the most difficult to predict. Thanks to the increasing prevalence of insular scheduling, there is often very little information to go on in trying to determine how teams with no common opponents will match up with each other. Every year there are at least a couple of games in week one of the playoffs that completely shock me.
When I started writing for this website 13 years ago there were only 16 playoff spots available. Now there are 28 spots which I think provides more than enough opportunities across the division. However, I think some changes need to be made going forward. I have some rather pointed thoughts on the selection criteria in the Mailbag section later in the column. With so many very entertaining match ups this week, I*m chomping at the bit to preview the games coming up this week!
Playoffs Round One
Super Region One
West Chester (8-3) at Shippensburg (10-1)
As PSAC East Division rivals, these two teams know each other very well. They met back on October 7th at Shippensburg, with WCU claiming a 37-27 victory. The Rams scored 24 straight points to open up a 27-10 lead, but the Red Raiders rallied with 17 straight points to tie it in the 4th quarter. WCU then scored the game*s final 10 points to secure the victory. Statistically the two teams were basically identical in that game.
When you break down a game like this between two opponents that know each other so well, it often comes down to turnovers and special teams. However, despite the result of the first game played, I think Shippensburg has more talent on both sides of the football. Plus, you know the old saying about it being tough to beat a good team twice in the same season. Shippensburg 31 West Chester 23
California (9-2) at Assumption (9-1)
Do not kick the football anywhere near Deonte Harris. I*m sure that is the message the Cal coaching staff will be drilling into the special teams units this week. Harris averages over 26 yards per punt return and has run back five for touchdowns this season! Greyhound kicker Cole Tracy has converted on 21 of 23 field goal attempts as well, so the special teams are terrific for Assumption.
California relies on the right arm of senior quarterback Michael Keir. The Vulcans are a volume passing team mainly because the running game averages just 100 yards per game and 3.3 yards per attempt. However, Keir doesn*t really have any game breaking targets to throw the ball to like he has in the past. The Vulcans also have a quality kicker in Will Brazill (19-22 on field goals) which has helped them in close games. Cal is 4-1 in games decided by a field goal or less.
I think this is a tough game to predict. Assumption is coming off a shocking loss to Bentley after dominating NE-10 opponents all season. The Greyhounds have also been playing without senior quarterback Marc Monk, who suffered an injury a couple of weeks ago. However, this is the program*s third straight playoff appearance and I think that experience will help a great deal. Assumption 28 California 26
Findlay (9-2) at Shepherd (10-0)
Both teams are in the top six in all of D2 in total offense, so expect some points to be scored in this game. Shepherd is led by senior quarterback Connor Jessup, who has passed for 3284 yards and 38 touchdowns. The Rams also feature an improved running game over the past couple of seasons.
The Findlay running back duo of Daouda Sylla and Michael Campbell has combined for 2028 yards and 31 touchdowns on the ground. The Oilers can also throw the ball to keep defenses honest and they have returned three kickoffs for touchdowns so they are dangerous in that capacity as well.
To me this whole game comes down to one aspect: The stingy Shepherd run defense (86 yards allowed per game) against the Findlay rushing attack. If the Oilers can run it effectively, they can keep the ball away from the Shepherd offense and stay in the game. If not, I don*t think Findlay can get enough defensive stops to make it a game. The other factor I think is in Shepherd*s favor is playoff experience: The Rams have played eight playoff games over the past two seasons while this is Findlay*s first appearance as a D2 program. Shepherd 45 Findlay 33
Super Region Two
Delta State (8-3) at Bowie State (9-1)
The offensive numbers for the Bulldogs are staggering: BSU averages 582 yards and over 56 points per game, both tops in the country. The catalyst for this offensive outburst is senior quarterback Amir Hall, who has passed for 3187 yards and accounted for 45 total touchdowns.
What makes this match up extremely intriguing is the fact that DSU*s calling card is on defense. The Statesmen allow just 98 rushing yards per game, have racked up 40 sacks and have forced 26 turnovers. I expect DSU to do some things to try to take away the BSU running game, which is what Virginia State was able to do in a defeat of the Bulldogs earlier this season.
Offensively DSU is going to try to establish the run. This has been the Statesmen strategy all season, mainly because they just don*t have much of a passing game. BSU has been susceptible to the run at times, so it will be interesting to see if they can slow down Chris Robinson (1079 rushing yards, 14 touchdowns). I think this will be a great game with the BSU offense doing just enough to prevail. Bowie State 30 Delta State 29
West Florida (7-3) at Wingate (9-1)
The ascendance of the UWF program has been remarkable: The Argonauts are in the playoffs in just their second year as a varsity program under the guidance of Pete Shinnick, who also guided UNC-Pembroke to a playoff berth in just the third season after starting a program. However, to do it in two years in a conference as tough as the GSC is simply incredible.
For a second-year team, UWF is not as inexperienced as you might think. The Argonauts have around 30 upperclassmen on the roster and many play a prominent role. UWF does not do much statistically to impress you. In fact, they have been out gained this season. However, they have turned the ball over just 10 times and kicker Austin Williams is a weapon, connecting on 21 of 28 field goal attempts.
Wingate has relied on the running of Lawrence Pittman this season. Pittman has rushed for 1147 yards this season, but was held to just 24 yards on 14 carries in the loss to Tusculum last week. Getting Pittman going on the ground is imperative in this game. I think the confidence gained from winning at West Georgia last week carries over into this game for the Argonauts. West Florida 27 Wingate 24
West Georgia (8-3) at Virginia State (10-0)
VSU is led by running back Trenton Cannon, who has been one of the more dynamic players in D2 this season, rushing for 1387 yards and accounting for 19 total touchdowns. The Trojans have a run first offense but have been successful throwing the ball when necessary, leading to an offense that averages over 43 points per game.
The Wolves are frankly a bit hard to figure out. They have been very good at times this season, but then have games like the loss last week to West Florida where they just can*t seem to put it all together. Statistically, UWG looks like a dominant team, out gaining opponents 434-280 on the year. If the Wolves can find some consistency they have the talent to make waves this postseason.
I think the physicality of the UWG defense will be something that VSU has not seen this year and I think the Trojans will be forced to throw the ball more than they are comfortable, giving the Wolves the upper hand. West Georgia 31 Virginia State 24
Super Region Three
Ouachita Baptist (9-2) at Ferris State (9-1)
Ferris State has had some great football teams the last several seasons with Tony Annese at the helm. However, this is the best defensive team the Bulldogs have had under Annese as they allow just 272 yards and 14 points per game. Offensively FSU is not what it has been. Standout quarterback Reggie Bell has been in and out of the lineup with injuries and as a result the offense has been stagnant at times.
The Tigers have relied on offense to get to this point. OBU has scored 42 or more points in each of the last four games. The Tigers have shown the ability to run it and throw it effectively and have committed just eight turnovers all year.
I really think FSU is a heavy favorite going into this game. The Tigers give up 440 yards per game and I don*t see them being able to compete for 60 minutes against a Bulldog team that will be more physical than any team they have faced all year. Ferris State 41 Ouachita Baptist 21
Northwest Missouri (9-2) at Ashland (10-1)
Ashland has had a very solid football program going back a couple of decades now, but little playoff success to show for it: The Eagles have won just one playoff game in school history. If there is a mental edge to this game it has to be with the two-time defending national champ Bearcats.
As I have mentioned in past columns, Northwest has the best defense in the country, giving up a measly 208 yards per game and shutting out five opponents. The problem for the Bearcats has been on the offensive side of the ball as between youth and injuries it has been a trying year.
Ashland is led by GLIAC Player of the Year Travis Tarnowski, who has thrown just one interception all year while throwing 26 touchdown passes. When playing against a great defense, it*s always nice to have a great decision maker at the QB position and Tarnowski is just that. The Eagles also have a very good defense that allows just 297 yards per game.
I think this will be a low-scoring game between two teams that are pretty evenly matched. However, despite the playoff experience that Northwest possesses I am going to give a slight edge to the Eagles. They have 21 seniors on the roster, 13 of which were named to the GLIAC all-conference team. Ashland 17 Northwest Missouri 13
Harding (8-3) at Indianapolis (11-0)
Coming off a 13-1 season a year ago, 2017 looked like it was going down the tubes early on for the Bisons as they lost their first three games. However, they have rattled off eight straight to reach the playoffs.
Indianapolis started the season by knocking off Grand Valley State and continued to roll along all year, although the Greyhounds were tested at times. Quarterback Jake Purichia has had a tremendous season, completing over 70 percent of his passes with 28 touchdowns and just two interceptions.
The Greyhounds also do a good job of stopping the opponents* running game and that will be tested against Harding*s triple option offense that leads the nation in rushing at 356 yards per game. I don*t believe Indy has played a team that runs anything similar and what Harding does can be very difficult to prepare for, especially given just a few days to practice.
However, Purichia is a very good passer and since the Bisons don*t do a good job of pressuring opposing quarterbacks, I think the Greyhounds will be able to move the ball as well. This should be an entertaining game. Indianapolis 30 Harding 28
Super Region Four
Texas A&M-Commerce (9-1) at Winona State (10-1)
Two things jump out at me when watching TAMUC play. First, Luis Perez is a terrific D2 quarterback. He is accurate, can make all the throws and doesn*t make critical mistakes. As a result, the Lions lead D2 in passing at 366 yards per game. The second thing I notice about this team as that they play very good defense. The Lions are athletic and deep: 28 players have at least ten tackles and nine different players have recorded an interception this fall. TAMUC is a much different team defensively than the *15 and '16 teams that got rolled in the playoffs by Ferris State and Grand Valley.
WSU is a team built on defense. The Warriors lead the country in interceptions with 24 to go along with 12 fumble recoveries. They are led by senior safety Andrew Spencer, who has 78 tackles to go with seven interceptions. WSU is just average offensively (352 yards per game) and has had a problem with turnovers (21) at times this fall. A further concern is the health of quarterback Darren Beenken, who has missed the last two games with a concussion.
I like the Lions in this game. I think WSU will have a hard time moving the ball consistently and Perez and his receivers will be a level above anything the Warriors have faced this year. TAMUC has played cold weather playoff games in the past couple of years, so I don*t think that will be much of a factor. Texas A&M-Commerce 34 Winona State 26
Sioux Falls (9-2) at Midwestern State (9-0)
The Cougars have a top-notch defense, as they are second in the country in both total defense (234 yards allowed per game) and scoring defense (11.5 points allowed per game). This is a unit that stops the run well and gets after opposing quarterback, racking up 39 sacks already this year. However, on the offensive side of the ball it has been a struggle, especially since losing workhorse running back Max Mickey to injury at mid-season. The Cougars are not dynamic throwing the football and they need to grind out games on the ground.
The Mustangs have a powerful offense, led by standout quarterback Leighton Rabb, who has thrown for 2600 yards and 26 touchdowns. What makes MSU particularly difficult to defend is the fact that this is a very balanced team: Eight different receivers have caught at least 11 passes and running backs Adrian Seales and Vincent Johnson have 96 carries each. The weakness is that Mustangs are below average defensively, giving up 434 yards per game. That has been offset a bit by the fact that they have caused 21 turnovers.
This game truly pits strength against strength. The key to the entire game will probably be the MSU offensive line that has yielded just six sacks all year going up against the talented USF defensive front. The Cougars have not been able to score many points against even the mediocre defenses they have faced. I think MSU is too dynamic offensively for the Cougars to hold down all day long. Midwestern State 30 Sioux Falls 24
CSU-Pueblo (9-2) at Minnesota State (11-0)
These two teams met in the national championship game three years ago. MSU was pretty heavily favored coming into that game, but it was the Thunderwolves that came away with a 13-0 victory. There aren*t many players left from that game, but the style of play should be familiar for both coaching staffs as not much has changed.
The Mavericks average 292 yards per game on the ground, the best mark in the nation for a team that doesn*t run the triple option. However, standout running back Nate Gunn has missed the last three games with an injury and his replacement Justin Taormina went down with an injury last week. Whether they are capable of returning will play a big role in MSU*s fortunes. Defensively the Mavericks allow just 277 yards per game, but their two highest point outputs against them have come in the last two weeks. Something to keep an eye on.
The Thunderwolves are led by their defense that has allowed just 272 yards per game and intercepted 21 passes, five of which have been returned for scores. The leader is linebacker Brandon Payer, who lead the team with 96 tackles, including 13.5 TFL. Offensively CSUP is not a bad unit but lacks explosiveness at the skill positions.
Three years ago I made the mistake of thinking that MSU would just plain out-physical CSU-Pueblo at the point of attack. I won*t make that mistake again. The Thunderwolves are legit defensively featuring seven first team All-RMAC performers. However, I think a team will need to throw the football well to beat the Mavericks and I just don*t think CSUP has that ability. Minnesota State 24 Colorado State- Pueblo 16
Mailbag
[Q] I would like your thoughts on the current playoff structure and what would you do to improve it?
[A] It seems I address a question like this each year at about this time. I have long advocated for a system more like what D3 has. In D3 football they select four top seeds, each conference champion gets a berth and then they pick the remaining at-large teams nationally. They then "regionalize" the field after the selections are made.
I get the reasoning for D2 being married to its regional structure, but in football it*s not working. Changes were made this year to give each region more geographic integrity, but the average distance between opponents for the 12 first round playoff games is 677 miles!
As far as the selection criteria go, those need to be adjusted as well. To help follow my reasoning I am going to address the issue of Harding being selected over Grand Valley for the seventh spot in SR3.
Both GVSU and Harding finished with 8-3 records. All games were against D2 opponents and within the region. They essentially tied when comparing the teams on those two criteria.
GVSU had a .560 strength of schedule while Harding was at .500 (Harding will always have a .500 SOS because of no non-conference games). Clearly GVSU played the stronger schedule and I don*t think anyone would argue the fact that the GLIAC is the stronger conference. GVSU clearly wins in this category.
One of the other primary criteria is road record. GVSU was 3-3 on the road, BUT the three losses were by a total of eight points to teams ranked two, three and four in the region (combined record: 30-2). Harding was 5-1 on the road with the loss to 7-4 Southern Arkansas. Since there is no consideration of the quality of opponents built in, Harding wins in this category.
But, Harding also lost two other games and both of those games were at HOME, and one of those losses was to a team with a 4-7 record! Meanwhile GVSU went unbeaten at home. Wouldn*t it make sense that a team losing home games to teams under .500 is not as deserving as the team that loses close road games to great teams?
Another of the primary selection criterion is D2 results versus .500 or better teams. Having this criterion sounds like a good idea until you see it practically applied. GVSU was 3-3 against .500 or better while Harding was 3-2. On face value, Harding wins in this category as well.
However, the teams have the same overall record. Using the criterion in this fashion ignores the fact that Harding lost a game to team under .500! Plus, why even have this criterion in place at all? Isn*t the SOS there to determine who played the stronger overall schedule?
Then we get to the final primary criterion which is in-region non-conference winning percentage. Since Harding doesn*t play non-conference games there is nothing there for the Bisons in this category. However, GVSU played two non-conference games, losing one to 11-0 Indianapolis. I*m assuming this dinged the Lakers as well.
Grand Valley did the right thing by scheduling two non-conference road games against teams that were over .500 last year and has the same overall record as a Harding team that plays in a conference that hides from the rest of D2 during the regular season. Which behavior should be rewarded? It seems obvious to me.
At the end of the day, Harding was essentially rewarded a playoff spot over Grand Valley due to having an advantage in two (and possibly three) criteria that don*t make sense. D2 football can do better.
Contact
Feel free to contact Bob at
with any comments or criticisms or if you have a question you would like answered in the Mailbag.

Remember to follow D2Football.com on Twitter (@d2football) and "like" D2Football on Facebook at facebook.com/D2football/.