Bob Eblen's National Column
November 21st, 2017 12:00am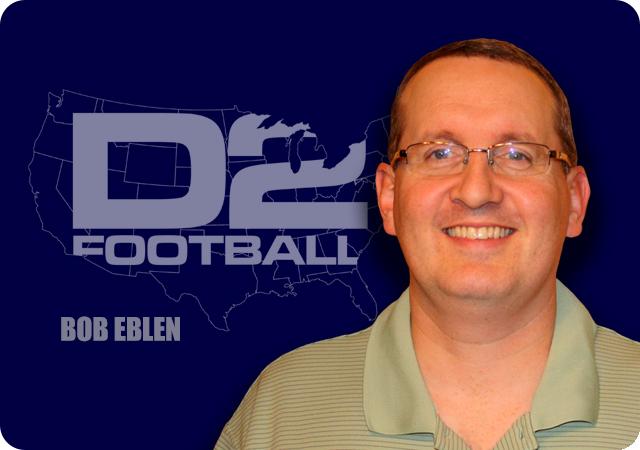 Five unranked teams played road games against ranked opponents last Saturday. All five unranked teams won. That pretty much sums up the first playoff weekend in what looks to be a wildly entertaining finish to the D2 football season.
Of the 16 remaining teams, only Delta State has won a national championship previously and that title came 17 years ago. Only two others- Minnesota State and Indiana- have appeared in the championship game.
As I have been saying since September, this is a wide-open year. Every level of college football has its powerhouses like D2 does with Northwest Missouri State and those types of programs help create a recognizable brand for the division. But it*s also great for the sport when those teams get beat occasionally as well.
While I*m certainly not ruling out the possibility of Delta State claiming a second national title, it is much more likely that we will see a first-time champion this year. The door is open for many programs to reach a level not seen before at their schools and that is exciting.
News and Notes from the Opening Round of the Playoffs
-The weather was a major factor in many games, with rain and/or wind causing problems everywhere but in Super Region Two. There were two games delayed by lightning and I think the weather contributed to lower scoring games in several instances. In the Ferris State – Ouachita Baptist game there were 11 fumbles between the two teams.
-The surprise of the entire weekend to me was Findlay taking down Shepherd 29-17. The Oilers missed some opportunities and trailed 17-9 at the half, but controlled the entire second half with the ground game, scoring touchdowns the first three times they touched the ball. Shepherd was simply unable to get its hands on the football and only had it for only 1:12 in the 4th quarter!
-I was not at all surprised by Ashland beating Northwest Missouri 21-18, but I am shocked at how the game played out. Ashland turned the ball over five times, had two punts blocked and twice was stopped on 4th-and-1 plays on its own side of the 50 yard-line and still won the game. The Bearcat offense was awful, managing just 143 yards on 70 plays.
-Shippensburg receivers dropped five passes in the first quarter alone, three of which would have extended drives. Meanwhile West Chester scored touchdowns on its first three drives, which was too much to overcome. The Rams were granted new life in just making the playoffs after losing to Indiana in the PSAC championship game and they played as well as they have all year.
-Minnesota State head coach Todd Hoffner made a brilliant coaching decision at the start of overtime against Colorado State-Pueblo. CSUP won the toss and elected to play defense. Hoffner then chose to make both offenses play into the strong northwest wind. The result was that MSU*s strong-legged kicker Casey Bednarski drilled his 37-yard field goal into the breeze while the Thunderwolves later missed on their 40-yard attempt, giving MSU a 16-13 victory.
-Bowie State quarterback Amir Hall showed why he is one of the best players in the country as he accounted for 398 yards of offense and four touchdowns against Delta State. However, the Bulldog defense gave up 344 yards on the ground in a 45-35 loss.
-The initial list of 34 Harlon Hill nominees was released this week. I will have more commentary on this in the coming weeks.
Playoffs Round Two
Super Region One
West Chester (9-3) at Indiana (11-0)
These two teams met just two weeks ago at West Chester in the PSAC title game, with IUP coming away with a 24-7 victory. The Crimson Hawks limited the Rams to just 197 yards of offense in that game and intercepted four passes.
IUP obviously had the bye week while WCU played like its collective hair was on fire in beating Shippensburg after getting a new lease on life and unexpectedly making the playoffs. You never know how the off week will affect a team like IUP coming into this game as well.
Bottom line, I think the Crimson Hawks have more overall talent, especially on the defensive side of the ball. This will probably be a bit closer game than two weeks ago, but the Rams will have to run the ball much better than the 30 yards on 22 attempts they had the first time around to have a chance in this one. Indiana 27 West Chester 17
Findlay (10-2) at Assumption (10-1)
Assumption has been in the playoffs three straight years and this is the program*s fifth playoff game during that time period. The Greyhounds are very experienced, with 26 seniors on the roster which is more than the total number of juniors and seniors combined on the Findlay roster! When you look at all the intangibles like experience and home field, Assumption would appear to have the advantage.
However, sometimes a young team brimming with confidence after a big upset win is the most dangerous opponent and I think that*s what Assumption might run into in this game. That, and a Findlay offense that has devastated opponents all season. The Oilers have two very good running backs in Daouda Sylla and Michael Campbell and a young but very impressive offensive line. I think the Greyhounds will have a hard time holding up physically to the Findlay running game and with it being unknown whether Assumption quarterback Marc Monks can play, I think the Oilers win this game. Findlay 30 Assumption 20
Super Region Two
Delta State (9-3) at West Alabama (9-2)
These two teams met back on October 7th. At the time DSU was 5-0 and ranked 9th in the country, but the Tigers prevailed 29-26. The biggest factor in that game is that UWA jumped out to a 16-0 lead, which forced the Statesmen to stray from their running game which has been so strong this season.
The Tigers have a decent running game, but they have asked quarterback Harry Satterwhite to carry them offensively this season. For the most part he has delivered, throwing for 2921 yards and 22 touchdowns. The Statesman defense was unable to put pressure on Satterwhite in the first match up and that is something they will have to figure out a way to do this week.
When two conference opponents are evening matched and know each other as well as these two teams do, it usually comes down to big plays and turnovers. I*ve seen it happen before where the week off causes a heavy passing team like UWA to be out of sync so I*m going with the Statesmen in a mild upset. Delta State 30 West Alabama 27
West Florida (8-3) at West Georgia (9-3)
This is the rare instance where the higher seed is not hosting the game. When the bids were due to the NCAA back on 11/3 UWF had just a 5-3 record. The UWF administration apparently thought there wasn*t much chance of even making the playoffs so they didn*t submit a bid. I*m guessing that this mistake will not be repeated in the future.
As I mentioned last week, UWF is just a second-year program, so it*s remarkable to see the Argonauts already winning playoff games. However, this is now a battle-tested group that just defeated UWG 34-29 on this same field two weeks ago. I don*t think anyone UWF will be sneaking up on anyone going forward.
In that game two weeks ago, UWG jumped out to a 16-0 lead but was unable to sustain it, largely because the Wolves managed just 103 rushing yards on 35 carries. Meanwhile, the Argonauts ran for 159 yards and got four touchdown passes from quarterback Mike Beaudry.
This is another game that could go either way, but I*m going with the Wolves. I think they will do a better job of establishing the running game this time around and not let the Argonauts to establish momentum. West Georgia 24 West Florida 20
Super Region Three
Ferris State (10-1) at Fort Hays State (11-0)
This is unfamiliar territory for FHSU. The Tigers are making their first playoff appearance in 22 years and this is the first time in school history the team has hit double digits in wins. Normally I might be a bit concerned about a team in a situation like this but not FHSU. The Tigers have overcome every obstacle placed in front on them this season, including coming back from a 17-point deficit against Pittsburg State after losing starting quarterback Jacob Mezera to injury and winning at Northwest Missouri late in the season. This is a battle-tested team that has built up to this moment over the last several years.
The Tiger defense will be faced with the task of trying to stop an unusual Ferris State offense. The Bulldogs run the spread option, but with the quarterback as the primary runner. Adding further complication for the defense is the fact that last week the Bulldogs rotated Reggie Bell and Travis Russell at quarterback throughout the game. Bell is more athletic and the big play threat while Russell is the straight-ahead runner. The two combined for 41 carries for 199 yards last week.
The strength of the FSU defense is up front, led by All-American Zach Seiler. Seiler was credited with six quarterback hits last week and is a major disrupter against both the run and pass. FHSU must have a plan to account for him to open up running lanes for standout running back Kenneth Iheme (1218 rushing yards this year).
Both of these teams play very good defense, but I*m going to go with FHSU. The Bulldogs have struggled all year to throw the football and I think they will have to have success there to keep the Tiger defense off balance. Fort Hays State 24 Ferris State 16
Harding (9-3) at Ashland (11-1)
Harding*s flexbone triple option attack is terrific at what it does. So good, in fact, that the Bisons were able to beat Indianapolis last week despite not completing a single pass. On the season the Bisons average 356 yards per game on the ground.
What Harding does offensively can be difficult to prepare for simply because not many teams run this scheme anymore. However, Ashland may have a bit of an advantage here because the Eagles regularly play Northwood in the GLIAC. Northwood uses a very similar scheme but tends to run it out of the pistol formation. Nonetheless, this should help Ashland in preparation because the players should be more familiar with their assignments than the usual team.
Harding has a good defense that has forced 27 turnovers this year. However, the Bisons don*t put a great deal of pressure on opposing quarterbacks which should help the Ashland offense. I think Ashland has more talent, but Harding will not beat itself so the Eagles will have to play a much cleaner game than they did last week. Bottom line, look for a score somewhere in the 20*s with the team that makes fewer mistakes winning. Ashland 27 Harding 20
Super Region Four
Texas A&M-Commerce (10-1) at Central Washington (11-0)
Would I be going out on a limb if I said that I like the winner of this game to be in the national title game? That*s how highly I think of these two teams. What*s also interesting about this game is that despite the two schools being over 2,000 miles apart, they do have two common opponents in Texas A&M-Kingsville and North Alabama. The results against common opponents were very similar, so I*m not sure if that tells us much.
As I said last week, TAMUC quarterback Luis Perez is very good. He*s accurate and has a quick release which should help negate some of the pressure CWU can bring- the Wildcats have 60 sacks this year. The CWU secondary will be tested against the deepest and most talented receiving corps they have faced this season.
The TAMUC defense is also very good and it will be interesting to see how the Wildcat offense does against it. CWU likes to keep the ball on the ground but the difference maker this year has been the addition of quarterback Reilly Hennessey, a transfer from FCS Eastern Washington. Hennessey has completed 68% of his passes for 2286 yards and 26 touchdowns.
If you watched the playoff selection show, I said I liked CWU to win it all. I am going to stick with that and pick the Wildcats but I think this is going to be a great game between two talented teams. At the end of the day I think the fact that CWU is at home and has the better rushing attack prevails. Central Washington 24 Texas A&M-Commerce 20
Midwestern State (10-0) at Minnesota State (12-0)
These two teams both played Sioux Falls over the last two weeks and both came away with four point victories. That alone should indicate we will be looking for a tight game.
MSU has not played well offensively either of the last two weeks. The running game has stagnated and that is the basis for everything the Mavericks do on offense. MWSU is not as strong up front as either Sioux Falls or CSU-Pueblo so I think the Mavericks can get it going a bit more this week. Ball control will be paramount against a gifted MWSU offense.
I said last week that a team will have to throw the ball well to beat the Mavericks. Leighton Rabb is a quarterback that throws the ball well. He has a good group of receivers and he doesn*t make many mistakes, as evidenced by the fact that he has thrown just four interceptions.
I think these two teams are pretty evenly matched. Really, weather could be a major factor in this game. If it*s dry and no wind, it probably favors MWSU with that passing game. However, the forecast calls for 20 MPH northwest winds and Blakeslee Stadium can be a wind tunnel. If that forecast holds up I think the advantage has to go to the Mavericks. Minnesota State 31 Midwestern State 27
Mailbag
[Q] The weather was a major problem in several games last week and it also ruined the national championship game last year. Do you think it*s time for the NCAA to look at moving some of these playoff games to the following day if the weather is bad?
[A] No. Football is an outdoor sport played in all kinds of different conditions. Rainy, windy and snowy conditions are part of the game and it*s up to the teams playing to adjust. Plus, with all of the travel involved it would not be logistically possible to move games to Sunday when there is poor weather on Saturday.
Contact
Feel free to contact Bob at
with any comments or criticisms or if you have a question you would like answered in the Mailbag.

Remember to follow D2Football.com on Twitter (@d2football) and "like" D2Football on Facebook at facebook.com/D2football/.