Bob Eblen's National Column
December 5th, 2017 12:00am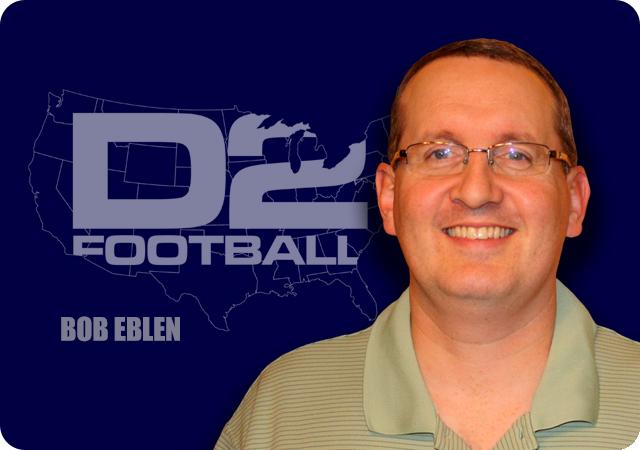 A crazy D2 postseason continued last week, with the road team winning three of the four quarterfinal games. In fact, the three road teams that won last week – Harding, West Florida and Texas A&M-Commerce- are a combined 9-0 on the road this postseason. That is simply incredible.
Indiana, the top seed in Super Region One, is the only team that has held serve this postseason. But even the unbeaten Crimson Hawks had to sweat one out last week, narrowly defeating a very solid Assumption team 27-22 to reach the semifinals.
Last year it was apparent early in the year that Northwest Missouri and North Alabama were the top two teams and they played like it right through the postseason, meeting for the championship. I think you could replay the 2016 postseason ten times and NWMSU wins the title eight times and UNA twice. However, this year you could replay the postseason ten times and get ten different results.
Harding started the year 0-3 and was a controversial choice as the seven seed in SR4. I would still argue that it should have been Grand Valley getting that spot and not the Bisons. And remember the end of Harding*s opening round win over Indianapolis? The Greyhounds fumbled two snaps in the final minute of that game when they were in a position to win or tie the game. In a season like this a little luck helps.
TAMUC was in huge trouble down by 21 at halftime in the second round against Central Washington. But the Lions fought back and converted several do-or-die plays at the end of that game to tie it up and win in overtime. Just one play goes differently and the Lions would not be in this position.
Then there is West Florida getting to this point, which is probably the most incredible story I have seen while covering D2 football. The Argonauts are in just their second year as a program! There is no way this team should be in the final four of the postseason already but here they are. When the postseason bids were due to the NCAA in early November, UWF had a 5-3 record so the administration at the school didn*t even submit a bid which cost the school a home game in the second round.
It will be very interesting to see how these last two weeks unfold. Nothing would surprise me at this point. I think any of the four remaining teams has a legitimate shot of winning it all and that makes watching it unfold so much fun.
Humboldt State Keeps Football
The news came out this week that the administration at HSU has elected to keep the football program. I think most assumed the program would get the axe so this is certainly terrific news not only for the school, but for the health of D2 football in the western part of the country. I don*t know how the other programs in the GNAC would have survived in this division without having HSU to schedule.
Harlon Hill Finalists
The ten finalists for the Harlon Hill Trophy have been announced. Here is a look at each of the ten from a statistical standpoint followed by my thoughts on who the recipient should be:
Connor Jessop SR QB Shepherd
Key stats: 3532 passing yards, 40 TD, 9 INT, 355 rushing yards, 6 rushing TD
Marc Jones JR RB Gannon
Key Stats: 2176 rushing yards, 288 receiving yards, 31 total TDs
Marcus Martin SR DE Slippery Rock
Key Stats: 26.5 TFL, 15.5 sacks (both best in D2), NCAA record 56 career sacks
Amir Hall JR QB Bowie State
Key Stats: 3519 passing yards, 41 TD, 4 INT, 176 pass efficiency, 406 rushing yards, 8 rushing TD
Devontae Jackson JR RB/KR West Georgia
Key Stats: 1765 all-purpose yards, 8 TD
Harry Satterwhite JR QB West Alabama
Key Stats: 3421 passing yards, 26 TD
Brook Bolles JR QB Central Missouri
Key Stats: 3766 passing yards, 23 TD, 12 INT, 556 rushing yards, 9 rushing TD, nation*s leader in total offense per game.
J.T. Luper SR WR Central Oklahoma
Key Stats: 1593 receiving yards, 12 TD
Ja*Quan Gardner SR RB Humboldt State
Key Stats: 1259 rushing yards, 212 receiving yards, 21 total TD
Luis Perez SR QB Texas A&M-Commerce
Key Stats: 4388 passing yards, 42 TD, 10 INT, 162 pass efficiency
My take: It*s a balanced year for teams and it*s a balanced year for the Harlon Hill Trophy as well, as there isn*t a clear-cut favorite in my opinion. Of the players listed I believe Jessop, Jones, Hall and Perez have the strongest resumes and a case could be made for each of them. However, my pick for the award would be Perez. I have been saying for weeks that I feel he is the best quarterback in D2 and he has carried his team to three straight road playoff wins.
National Semifinals

West Florida (10-3) at Indiana (13-0)

UWF has been outstanding defensively through the first three rounds of the playoffs, giving up a total of just 35 points. The Argonauts will have a stiff test in trying to shut down an IUP offense that runs the ball very well and has a star quarterback in Lenny Williams.

I am concerned about UWF*s ability to score points in this game. The IUP defense is very good and very physical and although the weather won*t be unseasonably cold, it is definitely different than what a team stationed along the gulf coast experiences.

I think this game will be defensive in nature, but I feel IUP with the home field and a few more weapons on offense will find a way to prevail. Indiana 20 West Florida 16

Harding (11-3) at Texas A&M-Commerce (12-1)

Harding has won three playoff games and hasn*t completed a pass in two of them. This just goes to show how effective a good option offense can still be, particularly in an era where it isn*t the preferred style of play. The Bisons have also been very effective defensively, and at least some of the credit for the defensive effectiveness goes to the offense for controlling the ball and creating good field position.

TAMUC likes to throw the football with Luis Perez running the show. However, the Lions can sneak in an effective running game at times. Defensively the Lions are athletic with the biggest strength being depth. I*m not sure if that depth is an advantage against an option team, but I do know that DC Justin Deason has really done a nice job of making adjustments these past two weeks to help shut down opposing offenses.

I think this will be a very good game with both offenses having some success. However, Perez has been very good with the game on the line and I think he will help his team pull this one out late. Texas A&M-Commerce 31 Harding 27

Mailbag

[Q] Are we entering an era of increased parity in D2 football?

[A] I think two things. One, some of the conferences that have traditionally been on the weaker end of the spectrum are definitely improving. There were many schools that transitioned from NAIA to D2 in the 90*s and it*s taken several of those schools until just the last few years to develop highly competitive football programs at this level. In particular, the GAC and Northeast 10 are two leagues that have really stepped up their game over the past couple of seasons to compete well in their regions.

Secondly, I think the perception of parity is there because there is no dominant team this year like Northwest Missouri State has been the last several years. The Bearcats have participated in eight of the previous twelve national championship games but in the years where they have been down a bit this topic creeps up. In 2014 when Colorado State-Pueblo and Minnesota State played for the championship people were saying similar things about parity. Northwest then went on another two-year run of dominance and people quit bringing up the topic.

So, to answer your question, yes, I think there are more solid football programs in D2 than at any point in the last 20 years. However, history has shown us that there tend to be runs of domination by certain programs in this division, and going forward I would expect that to continue to happen, whether it is Northwest Missouri State doing it or another program.
Contact
Feel free to contact Bob at
with any comments or criticisms or if you have a question you would like answered in the Mailbag.

Remember to follow D2Football.com on Twitter (@d2football) and "like" D2Football on Facebook at facebook.com/D2football/.