Bob Eblen's National Column
December 12th, 2017 12:00am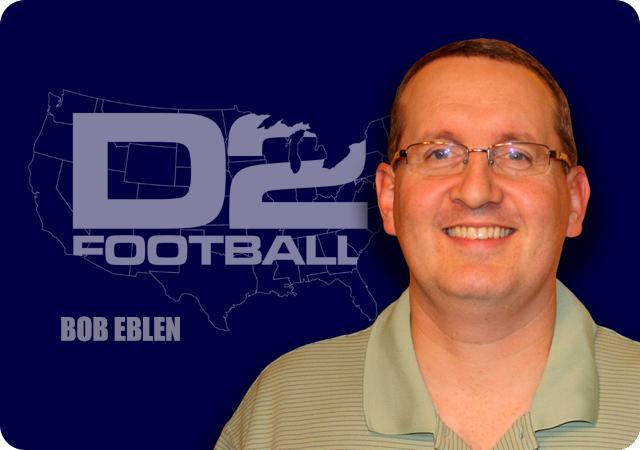 Way back on September 2nd Missouri S&T trailed 20-16 late in its home opener. The Miners had driven to the opponent*s 9-yard line and had a 1st-and-goal with about :40 remaining in the game. S&T quarterback Tyler Swart had been having a great game, throwing for 357 yards.
In a bit of a surprise move, the Miners decided to hand the ball off to Deshawn Jones on a draw play. It was a brilliant play call. Jones burst through the middle of the opposing defense and as he dove for the end zone, extended his arms out. But with the ball just inches from crossing the goal line, Jones lost control and fumbled the ball into the end zone where it was recovered by the defense for a touchback.
The opponent went on to run out the clock, sending the Miners to a heart-breaking defeat. On the other side of the field from Missouri S&T that day was none other than the University of West Florida, a team that will be appearing in the national championship game this weekend.
If UWF loses that game, we would not be talking about the Argonauts appearing in the title game. Instead, UWF would never have sniffed the playoffs. The arrow would still be pointing up for this young program, but we would be talking about success at a national level coming in year four or five, not in an unfathomable year two.
That one play - in what appeared at the time to be a fairly meaningless early season game - represents a microcosm of the entire 2017 season. There were so many twists and turns and literally inches making the difference between being in Kansas City this weekend or not even qualifying for the postseason. This year has been as exciting and challenging to cover as any year I can remember. I am hoping Texas A&M-Commerce and West Florida can provide us with one final drama-filled game. It would only be fitting.
Semifinal Observations
-Indiana played poorly in the first half in the 27-17 loss to West Florida. However, I think the Argonauts had something to do with that. UWF is bigger, faster and more athletic than any opponent IUP had faced all season and it showed. IUP adjusted some in the second half but it was too little, too late.
-UWF*s Chris Schwarz carried the ball 29 times for a school-record 175 yards in the win over IUP. Over 100 of those yards came in the first half where I think the Argonauts surprised IUP with their physicality. The remarkable thing is that Schwarz was UWF*s first 100-yard rusher in a game this season.
-Twice in the fourth quarter Harding was able to make it a one score game. Both times the Texas A&M-Commerce offense answered with touchdowns. The second of those touchdowns was a 90-yard pass from Luis Rivera to D*Arthur Cowan. Great teams answer opponent scores when it counts and the Lions did that very well in this game.
-Harding was forced to play without starting quarterback Terrence Dingle, who was suspended and unable to play. The TAMUC defense made life miserable for replacement Preston Paden, limiting him to just 3-10 passing with an interception and 21 rushing yards on 18 attempts.
Luis Perez Win Harlon Hill
It was announced on Thursday that Perez has won the award. This season he has completed over 70% of his passes for 4678 yards and 44 touchdowns. Perez* rise as a player is remarkable, especially when considering that he never threw a pass in high school! After being moved to wide receiver as a freshman, he gave up football and chose to devote his time to bowling. After attending a high school football game as a senior he decided he missed the sport and walked on as a quarterback at JUCO Southwestern College, where he had to beat out several others for playing time.
The last Harlon Hill winner to also take home the national championship was Curt Anes from Grand Valley State in 2002. It would be a remarkable story if Perez was able to match that feat.
National Championship Game
Texas A&M Commerce (13-1) vs West Florida (11-3)
Location: Children*s Mercy Park in Kansas City, KS
TV: ESPN2 at 5:00 PM CST
I have been writing all season about the remarkable ascendance of the UWF program in just its second year. However, the transformation of the TAMUC program under Colby Carthel has been remarkable as well. Between 1996 and 2012 the Lions had just one winning season and no playoff appearances. The winning started immediately when Carthel took over in 2013 as the team went from 1-9 in 2012 to 7-5 in 2013. The Lions won three straight LSC titles from 2014-16, with the irony being that this season TAMUC did not win it. I am sure everyone associated with the program would accept a national championship as a "consolation" prize.
Obviously when a team has a Harlon Hill winning quarterback, that is a strength of the team. Luis Perez is not only a great passer but also a team leader that has come up big for his team when needed the most. He has a deep and talented group of receivers to throw the ball to with five receivers between 598 and 950 yards receiving. The offensive line also does a very nice job of protecting Perez.
The strength of the Lions defensively is depth. TAMUC has 29 players with at least 10 tackles and 19 different players have recorded a sack. Defensive coordinator Justin Deason has been outstanding at making adjustments during games to take away what the opponent does best.
The secret to UWF*s success this postseason has been on the defensive side of the ball. Coming into the playoffs the Argonauts were just a bit above average defensively, allowing 350 yards per game. But in four playoff games UWF has limited opponents to just 256 yards and 13 points per game. The Argonauts have good athletes all over the field but the big key to the defensive success has been the development of defensive end John Williamson, who has 10.5 sacks in the last six games. His ability to constantly get pressure on the opposing quarterback has been huge this postseason.
The Argonauts do not do anything special offensively. Freshman quarterback Mike Beaudry was named the GSC freshman of the year, but UWF is best when Beaudry is not asked to do too much. The running game has been pretty limited this year as the team averages just 122 yards per game and 3.5 yards per carry.
Prediction: I think both defenses are very good so I do not expect this to be a real high scoring game. However, I am going with Texas A&M-Commerce due to the talent and experience of Luis Perez. I think he will make enough plays when needed to help his team win the game. Texas A&M-Commerce 24 West Florida 19

Contact
Feel free to contact Bob at
with any comments or criticisms or if you have a question you would like answered in the Mailbag.

Remember to follow D2Football.com on Twitter (@d2football) and "like" D2Football on Facebook at facebook.com/D2football/.