Bob Eblen's National Column
September 4th, 2018 12:00am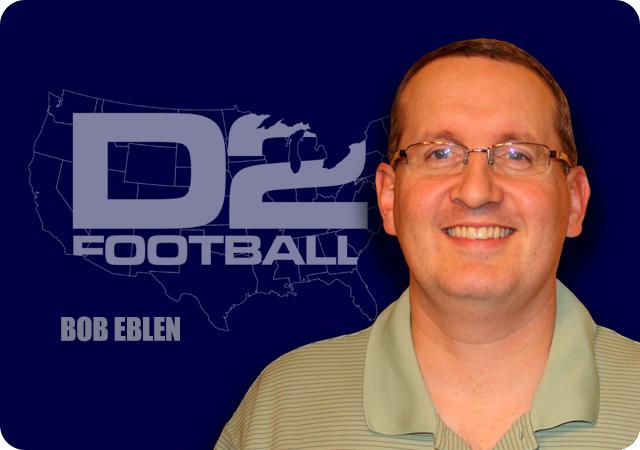 Overshadowing an interesting first week of D2 football was the shocking announcement by the NCAA on Tuesday that the national championship game will not be held at Childrens Mercy Park in Kansas City this year.
Apparently, Children*s Mercy Park and its main tenant Sporting Kansas City decided that the field needed to be replaced and that it could not wait until after the title game was played on December 15th.
In response, the NCAA has reopened bidding for this year*s game, with bids due on September 17th. The game had been awarded to Children*s Mercy Park through 2021 and the NCAA also announced that it will reopen bidding for the 2019-21 games at a later date. Suffice it to say that the title game*s run at this venue is over.
Backing out of a contractual obligation to host the game at the 11th hour is not a good look for Children*s Mercy Park. If the venue was going to pull the plug on the game, it should have been done months ago.
With this tight turnaround, I would think that it makes sense to keep the game somewhere in the Kansas City area for this year since much of the groundwork and logistics that it takes for a community to host are already in place.
D2football.com owner/editor Brandon Misener recorded a fantastic D2 Daily Discussion that covers many championship game scenarios going forward. His thoughts pretty much mirror mine. You can watch the video here: https://www.youtube.com/watch?v=kaJL052qt2s
News and Notes from Week One
-Usually there are some major surprise scores in the first weekend of play, but the only one I was completely shocked by this year was Tarleton State*s 44-13 win over Delta State. I had expected DSU to be in the mix in the GSC once again this year, but this was not a good showing. At this point I am not sure what to think about these two teams.
-Jayru Campbell ran for 100 yards and threw for 204 in his first career start at quarterback for Ferris State last week. Campbell is a former four star Big Ten recruit that ended up at a junior college before transferring to FSU. He looks to have all the tools and if he can stay healthy should have a huge year in coach Tony Annese*s offense.
-Things could not have gone much worse for Central Missouri last week. Despite out-gaining Fort Hays State 508 to 327, the Mules lost 20-16, giving up two touchdowns in the last five minutes of the game. To make matters worse, standout quarterback Brook Bolles suffered an injury in the second quarter and did not return to the game. The Mules do not have much room for error and will have a hard time making the playoffs without Bolles.
-Remember the name Jaleel McLaughlin: I have a feeling you will be hearing it often these next four years. The Notre Dame College true freshman rushed for 302 yards in his college debut as NDC upset Shepherd 35-33, handing the Rams their first conference defeat since 2014.
-Colorado Mines wide receiver Brodey Oliver had a bit of an off season by his standards last year, catching 12 touchdown passes after leading the nation with 26 in 2016. If last week is any indication, last season was an aberration: Oliver caught 10 passes for 198 yards and 5 touchdowns in his team*s 49-7 win over Adams State.
-The last official D2 independent has found a home: The MEC announced last week that UNC-Pembroke will become part of the conference in 2019. It was a big blow for the MEC to lose Shepherd to the PSAC, but the addition of Frostburg State earlier this summer and now UNCP gives the league a couple of new programs that should be very competitive in football.
Top Games this Week
Northwest Missouri (1-0) at Washburn (1-0)
The Ichabods have tended to play Northwest tough over the years, and I would expect this to be another very competitive game. Bearcat freshman quarterback Braden Wright played well in his first career game last week. We will see if he can keep it up in his first road start. Northwest Missouri 27 Washburn 20
Pittsburg State (1-0) at Emporia State (1-0)
These two teams should both be in the MIAA title mix. Both defenses looked outstanding last week, so it is likely to come down to which senior quarterback- John Roderique (PSU) or Braxton Marstall (ESU)- can make more plays. Pittsburg State 23 Emporia State 20
Slippery Rock (1-0) at Shippensburg (1-0)
This is an interesting early season inter-divisional battle in the PSAC. If last week is any indication, the graduation of All-America defensive lineman Marcus Martin from the SRU defense is going to be tough to overcome: SRU surrendered 31 points and over 200 rushing yards to Kentucky State last week. I am going with the Red Raiders in this one. Shippensburg 30 Slippery Rock 23
Sioux Falls (1-0) at Winona State (1-0)
USF was very fortunate to escape with a win over Concordia last week and the Cougars will be facing a WSU team that looks to be one of the front runners in the NSIC. USF has nine new defensive starters this year and they will have to gel quickly to compete with a Warrior team that is very talented offensively. Winona State 31 Sioux Falls 21
Findlay (1-0) at Ferris State (1-0)
These were the top two offenses in D2 last week, combining for over 1300 yards of offense. As I mentioned earlier, FSU*s Jayru Campbell looks like he will be a challenge for any D2 defense to handle. Findlay**s Rhys Gervais is no slouch under center, either. This should be an entertaining game. Ferris State 34 Findlay 31
Southern Arkansas (1-0) at Harding (1-0)
Any doubts about SAU*s ability to be a top challenger in the GAC were put to bed last week when the Boll Weevils blitzed Arkansas Tech for 38 first half points. SAU senior quarterback Barrett Renner surpassed the 10,000-yard passing mark in the contest and he will be a handful for the Harding defense, as he was last year in a 35-24 SAU win. This should be a great game. Harding 30 Southern Arkansas 28
West Florida (1-0) at Midwestern State (1-0)
This is the D2 game of the week in my opinion. These two teams were scheduled to meet last year at UWF, but the game was canceled due to Hurricane Irma. MSU looked terrific last week in beating Humboldt State: Quarterback Layton Rabb completed 15 of 17 passes for 273 yards and five touchdowns. UWF suffered some injuries last week, including to starting quarterback Mike Beaudry. I am going with the Mustangs at home. Midwestern State 27 West Florida 20
Ashland (0-1) at Ohio Dominican (1-0)
Ashland was right in the game last week in a 21-17 loss to IUP, but a lack of explosiveness in the passing game cost the Eagles an opportunity to pull off the upset. They now find themselves in a must win situation with a tough GLIAC schedule looming in the next few weeks. I think Ashland finds a way to win a close game. Ashland 21 Ohio Dominican 19
Mailbag
[Q] D1 schools can now play freshmen in up to four games in a season without costing the player a year of eligibility. If a player takes advantage of that and then transfers later to a D2 school how would that affect his eligibility?
[A] I have not had a chance to talk with anyone from the NCAA about this, but I am guessing that D2 would honor the D1 rule and accept the player at whatever grade level he would have been at in D1. Example: a player plays four games at a D1 school this year as a true freshman, plays his redshirt freshman year at the D1 school and then transfers to a D2 school. I would imagine that the player would be a sophomore at his new D2 school eligibility-wise.
Contact
Feel free to contact Bob at
with any comments or criticisms or if you have a question you would like answered in the Mailbag.

Remember to follow D2Football.com on Twitter (@d2football) and "like" D2Football on Facebook at facebook.com/D2football/.