Bob Eblen's National Column
September 11th, 2018 12:00am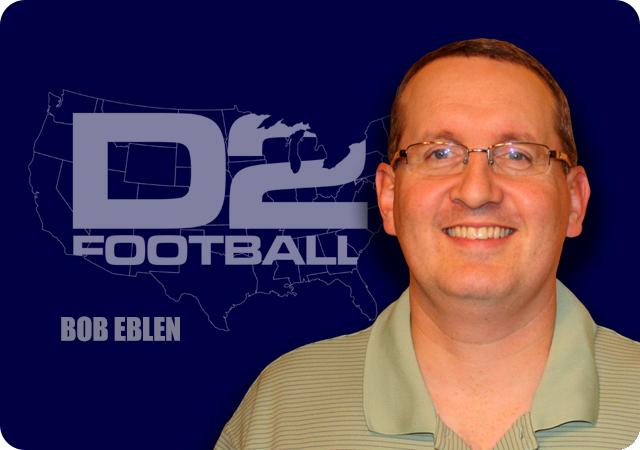 If you were to ask the casual D2 football follower to give a list of the top programs in D2, I'm guessing Midwestern State would not appear on most lists.
In 16 plus seasons as head coach at MSU, Bill Maskill has accumulated a 131-47 record, with eight playoff appearances and 10 first or second place finishes in the LSC. Despite being very successful, the Mustangs are one of those teams that always seems to fly below the radar.
Last year MSU finished 10-1 and handed eventual national champion Texas A&M-Commerce its only loss of the season. However, the Mustangs lost to Minnesota State in the second round of the playoffs. In 2011 Maskill had his best team but lost a heartbreaker at home in the playoffs to Northwest Missouri State when the Mustangs missed a chip shot field goal that would have won the game. Despite having some very good teams, playoff success has been elusive for this program.
Last week MSU moved its record to 2-0 with a second half dismantling of 2nd ranked West Florida. The Mustangs scored 35 points in the second half to pull away for a 38-17 win.
When I look at the Mustangs they remind me a great deal of last year's Texas A&M-Commerce team: MSU has a talented and experienced senior leader at quarterback in Layton Rabb. They have playmakers on the outside on offense and apparently some depth on defense: 16 players on the roster each have at least five tackles through two games.
I think it's too early to proclaim the Mustangs as a favorite to win the national championship, but they definitely have to be on the short list of teams to watch out for. It will be interesting to see if this is the year MSU is finally able to break through and make a deep playoff run.
News and Notes
-Notre Dame College appears to have found something special in true freshman running back Jaleel McLaughlin. He followed up his 302-yard rushing performance against Shepherd in the season opener with 176 yards and a touchdown in a 27-17 win over Glenville State last week.
-Southern Arkansas is for real. The Muleriders' defense limited the Harding option attack to just 3.1 yards per carry on 60 attempts and returned two fumbles for touchdowns in a 28-23 come-from-behind win. It certainly appears that SAU is the team to beat in the GAC.
-Defending national champions Texas A&M-Commerce is 2-0, but the Lions have not looked like a team capable of repeating. A drop-off at QB was expected with the graduation of Harlon Hill winner Luis Perez, but the Lions have not been very efficient on offense despite playing two teams that aren't that strong on the defensive side of the ball. With a game with CSU-Pueblo looming in two weeks the Lions will have to figure some things out in a hurry.
-Hurricane Florence is wreaking havoc on football schedules this week, particularly in the SAC and CIAA. SAC games at Lenoir-Rhyne and Newberry have been moved to Thursday afternoon while Catawba's game with UNC-Pembroke has been canceled. The only two CIAA teams that are still scheduled to play are Lincoln and Bowie State as both have non-conference road games out of the path of the hurricane.
-Nebraska-Kearney was a perennial power in the RMAC, but the move to the MIAA has been rough: The Lopers have won a total of just 13 games in their first six years in the league. However, UNK is now 2-0 after beating Central Oklahoma 31-27 last week. We will see if the success continues as UNK hosts Emporia State this week.
Top Games this Week
CSU-Pueblo (2-0) at Colorado Mines (2-0)
Both teams have been impressive so far and they appear to be the class of the RMAC. The Thunderwolves have been so dominant running the ball and on defense that they have only put the ball in the air 22 times through two games. That defense will be tasked with trying to shut down the Mines passing game which features the nation's leading receiver in Brody Oliver, who has seven TD receptions through two games. CSU-Pueblo 31 Colorado Mines 27
Concordia St. Paul (1-1) at Minnesota State (2-0)
CSP has been the surprise team so far in the NSIC. The Golden Bears probably should have won their opener but succumbed to Sioux Falls on a TD pass with just seconds to play in the game. CSP then throttled Upper Iowa last week. We know that MSU is outstanding offensively, but I'm not sure the defense is championship caliber after the struggles in giving up 36 points to Augustana last week. Minnesota State 30 Concordia-St. Paul 20
Wingate (2-0) at Carson-Newman (1-1)
Carson-Newman was most people's favorite in the SAC coming into the season, but the Eagles haven't quite looked the part so far. The veer option rushing attack has racked up plenty of yards through two games, but the Eagles have committed 22 penalties, many of which have stopped drives. Wingate has been outstanding defensively so far so it will be interesting to see if they can slow the Eagles down. Carson-Newman 27 Wingate 23
Valdosta State (2-0) at West Alabama (2-0)
UWF was the pick of many to repeat as GSC champions but despite starting the year with a pair of wins, the Tigers have been subpar defensively, allowing 425 yards per game. That will have to change against a VSU team that has played at a high level through the first two weeks. Valdosta State 28 West Alabama 21
Mailbag
[Q] Why not hold the championship game this year on the home field of the higher seed?
[A] There are several reasons:
The stadium has to have an adequate press box to accommodate the ESPN broadcast and large number of media members. Not many stadiums in D2 meet that criteria.
Many D2 schools are in smaller towns that don't have adequate hotel space to accommodate a championship game.
Weather could be a factor. It's not a good idea to hold a championship game at an outdoor northern venue in mid-December.
Travel would be a nightmare because no one would know where the game is to be played until seven days before.
The "experience" of playing in a national championship game is not very good for the teams if it becomes just another home game for one of the teams playing in it.

Contact
Feel free to contact Bob at
with any comments or criticisms or if you have a question you would like answered in the Mailbag.

Remember to follow D2Football.com on Twitter (@d2football) and "like" D2Football on Facebook at facebook.com/D2football/.