Bob Eblen's National Column
September 18th, 2018 12:00am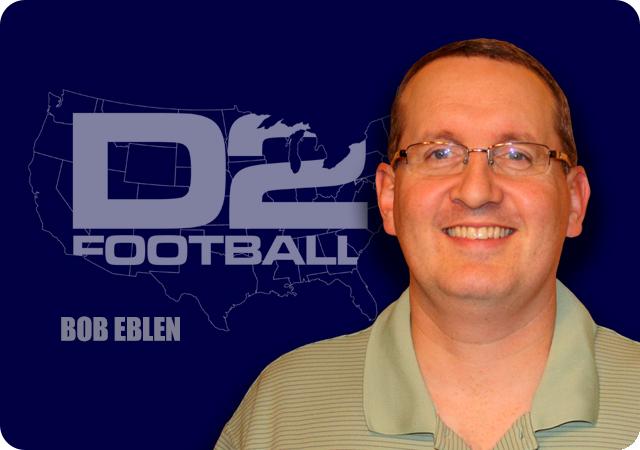 It wasn't that long ago that starting a freshman quarterback would be off limits for most college football programs. Starting a true freshman? Unheard of.
But in another edition of my recurring theme on how much the game of football has changed, through the first three weeks of season two of the top three passers in all of D2 football are true freshmen: Shepherd's Tyson Bagent has thrown for 896 yards in just two games, completing an outstanding 70% of his 97 pass attempts. California's Noah Mitchell has thrown for 1,072 yards through three games and led his team to a 57-14 win at unbeaten Shippensburg last week.
Bagent came to Shepherd after a high school career in Martinsburg, WV in which he was 28-0 as a starter. He had recruiting interest from D1 schools but both of his parents were Shepherd alums, which I'm sure helped the Rams land him.
Mitchell is from Euclid, OH where he was first team All-State as a high school senior in 2016, then played a season at Milford Academy, a prep school in New York.
The most interesting part of this to me is the fact that both of these young men are leading programs that are perennially in the playoffs. They had to win starting jobs at schools that have outstanding quarterback play over the last several seasons.
Bagent and Mitchell are not the only freshman quarterbacks in D2 having success. Central Missouri's Jeremy Hunt has thrown for 580 yards and six touchdowns in two games since taking over for the injured Brook Bolles. Even Northwest Missouri State is playing a freshman: Braden Wright has passed for 716 yards and doubles as the team's leading rusher.
This talented group of young signal callers promises to make the D2 football very interesting to follow for the next few years.
News and Notes
-Missouri Southern head coach Denver Johnson resigned this week. The Lions were off to an 0-3 start in which they had been outscored 159-13. Defensive Coordinator Joe Bettasso has been named the interim head coach. MSSU has lost 16 games in a row and is 3-33 since the start of the 2015 season. It will be a long road back to respectability for this program in the always tough MIAA.
-Grand Valley State is still in the process of getting its passing game to click, but that will come as Bart Williams is too good to continue completing less than 50% of his passes. However, the Lakers have been terrific defensively this year and a dominant defense has been the one thing missing for GVSU over the last several years. This feels like a GVSU team that can go a long way this season if the defense continues to play well.
-Despite returning Harlon Hill trophy finalist Marcus Jones at running back, Gannon fell to 0-3 after giving up 26 unanswered points to Kutztown in the 4th quarter of a 48-33 loss. Jones missed the first half of last week's game after being ejected for targeting the previous week against West Chester. With a poor passing attack allowing defenses to completely key on Jones, he is only on pace to rush for about half the yards he did last season.
-Shocking score number one from last week's action was California's 57-14 win at Shippensburg. The Vulcans had been winless coming into the game while Ship was 2-0. Cal raced out to a 34-0 halftime lead and never looked back. The aforementioned Noah Mitchell out-dueled Brycen Mussina in a battle of the freshman quarterbacks.
-Shocking score number two was Valdosta State's easy 58-24 win at 8th-ranked West Alabama. Rogan Wells threw five touchdown passes and the Blazer defense harassed All-GSC QB Harry Satterwhite into three interceptions and just 17 completions in 38 attempts. After an uncharacteristically down season in 2017, it appears that the Blazers are back.
-The bids were due on Monday to host this year's national championship game. With the game less than three months away I am guessing that the NCAA will move quickly in determining a host site.
-UNC-Pembroke had its game last week with Catawba canceled due to Hurricane Florence and this week's game at Tusculum has been canceled as well due to persistent flooding in eastern North Carolina. The Braves are now down to a 9-game regular season schedule. It will be interesting to see how things go when they return to the field after a rare two weeks off from playing.
Top Games this Week
Charleston (3-0) at Fairmont State (3-0)
Fairmont State was picked second and Charleston 4th in the MEC preseason poll so it's not surprising that these two teams are off to fast starts. UC would prefer to run the football and keep FSU's high scoring offense on the sidelines. Fairmont State 34 Charleston 30
Bemidji State (3-0) at Minnesota-Duluth (3-0)
BSU has become a very competitive program in the NSIC North but has been unable to get over the hump against UMD. The Bulldogs have won 16 straight in the series, with BSU's last win coming in 1999. Both teams have been dominant so far this season: UMD has outscored its first three opponents 150-27 while BSU has outscored its opponents 173-17. With both teams being so dominant in all phases of the game thus far, something will have to give. Minnesota-Duluth 31 Bemidji State 27
Sioux Falls (2-1) at Augustana (2-1)
This is always an interesting matchup since the two schools are across the street from each other. Augustana struggled defensively the first two weeks of the season but played much better last week against Wayne State. USF runs the ball well and plays good defense for a team that was gutted by graduation on that side of the ball. Although USF has won five of six in the series, a poor kicking game has been a big problem that could surface in what should be a very entertaining game. Augustana 30 Sioux Falls 27
Minnesota State (3-0) at Winona State (2-1)
Over the past six plus seasons, MSU has lost just four regular season games. However, two of those losses have been at the hands of rival WSU. The MSU defense has been a bit susceptible to the pass, but with an offense that averages 543 yards per game, the Mavericks will be a handful for the Warriors slow down. Minnesota State 34 Winona State 23
Missouri S&T (2-1) at Tuskegee (2-1)
Both teams are unbeaten against D2 competition so this looks to be an interesting game between two programs that have never met. The strength of both teams would appear to be on the defensive side of the ball, so the team that can limit turnovers and make the most of offensive opportunities is likely to win the game. Tuskegee 23 Missouri S&T 20
CSU-Pueblo (2-1) at Texas A&M-Commerce (3-0)
Despite the 3-0 record, the defending national champions don't look like a team capable of repeating: The TAMUC offense has really struggled to replace Harlon Hill winning quarterback Luis Rivera. Both defenses have played well so far this season, but I like the Thunderwolves because of their running game and the desperation created by last week's loss to Colorado Mines. CSU-Pueblo 27 Texas A&M-Commerce 21
Ohio Dominican (2-1) at Findlay (2-1)
Both of these teams have their eye on a GMAC title and playoff berth but neither can afford to take a second loss. This will be ODU's first road game of the season and with Findlay's explosive offense I have to think the Oilers are favored in this one. Findlay 31 Ohio Dominican 21
Contact
Feel free to contact Bob at
with any comments or criticisms or if you have a question you would like answered in the Mailbag.

Remember to follow D2Football.com on Twitter (@d2football) and "like" D2Football on Facebook at facebook.com/D2football/.