Bob Eblen's National Column
September 25th, 2018 12:00am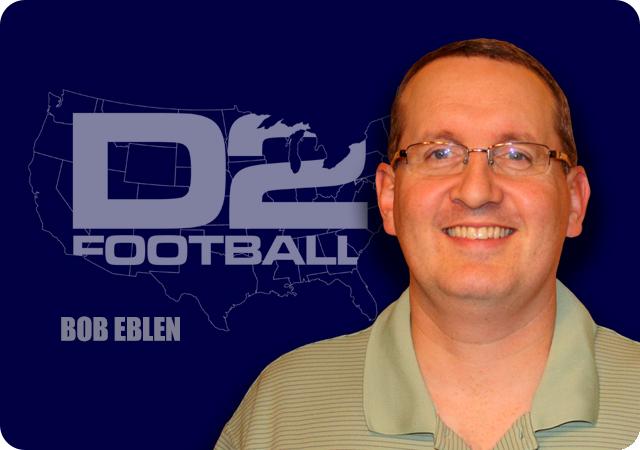 During Northwest Missouri State's current 14-year streak of reaching the D2 playoffs, the Bearcats have completely dominated the MIAA. The only conference team that has given Northwest much trouble is Pittsburg State, who has beaten the Bearcats six times during that stretch.
That's why last week's 31-21 NWMSU loss to Central Oklahoma is such a shocker. Not only did the Bearcats lose to a team they had never lost to in conference play, the Bronchos (2-2) didn't even come into the game with a winning record.
The Bearcats have been playing freshman Braden Wright at quarterback and all things considered he has been outstanding so far. However, Saturday was not one of his better games. I guess that's to be expected from a young player.
The real difference in the Northwest team compared to the last several years is that teams have been able to have success throwing the ball down the field against the Bearcat defense. Don't get me wrong, Northwest still has a very good defense, allowing just over 300 yards per game overall. However, this Bearcat defense is not dominant like the others we have seen the last several years.
When you look at Northwest's remaining schedule, there are four or five games that look to be dog fights. I am not about to predict that Northwest Missouri will miss the playoffs this season because I still think the odds of at minimum a 9-win season and a 15th consecutive playoff appearance are quite high. But there is no question that this Northwest team looks as vulnerable as any in the last decade. It will be very interesting to see how the Bearcats react now that the margin of error has become thin.
News and Notes
-Midwestern State senior quarterback Leighton Rabb threw for 467 yards and five touchdowns in the Mustangs' 57-36 win over Angelo State. For the season Rabb has thrown for 1365 yards with 16 touchdowns and no interceptions. I said a couple of weeks ago that I get a similar feeling about MSU than I did with Texas A&M-Commerce last year. The Mustang defense needs to shore a few things up but this is definitely a team to watch as we head towards the postseason.
-Top-ranked Minnesota State rallied from a 21-7 halftime deficit to come back and win at Winona State 31-21. The Mavericks also trailed 20-7 three weeks ago at Augustana before rallying for the win. While the resiliency on the road is a good thing, I'm not sure this is a pattern that the Mavericks can keep repeating before it bites them.
-What is wrong with the Carson-Newman offense? The Eagles (2-2) were the preseason favorite in the SAC but have scored in single digits in two games so far, including last week's surprising 23-3 loss at Newberry.
-The SIAC is now just 1-12 in D2 nonconference play. This will be a huge problem for the conference when it comes to playoff selection time, especially since Morehouse (4-0) and Benedict (2-1) are the only two conference teams that currently have winning records.
-Minnesota-Duluth (4-0) maintained its hex over Bemidji State (3-1), beating the Beavers 26-19 in double overtime for the 17th consecutive win in the series. The Bulldogs survived despite missing potential game-winning field goal attempts at the end of regulation and the first overtime.
-Teams in the MIAA are beating up on each other: Seven of the twelve teams have 2-2 records. Pittsburg State is the only unbeaten team while Northwest Missouri State and Fort Hays State each have a loss. Those three teams are all yet to play each other.
-The loss of Cheyney from the PSAC's East Division has caused some unusual scheduling this year. Since there are now seven teams it means one team is on a bye each week during the conference season, when games are typically hard to find. This has led to Lock Haven visiting Texas A&M-Commerce this Saturday in a strange late September non-conference matchup.
Top Game this Week
Colorado Mesa (3-1) at Colorado Mines (4-0)
The Mavericks had a rough week, starting with the tragic shooting death of running back Brett Ojiyi. The team then went out and lost to Chadron State last Saturday. I like Mines in this game because the Orediggers are so much better than the Mavericks on the defensive side of the ball. Colorado Mines 38 Colorado Mesa 28
St. Cloud (3-1) at Minnesota State (4-0)
This is one those unique trophy games, as these two old rivals will battle for the 81st time over the "Traveling Training Kit". SCSU's three wins have not been against top-notch competition while the loss came by 24 points to Minnesota-Duluth. For that reason, I'm not sure if the Huskies have much of a chance in this game, particularly since they seem to struggle offensively. Minnesota State 41 St. Cloud State 24
Tusculum (2-1) at Lenoir-Rhyne (3-1)
These are the only two teams in the SAC with less than two losses overall. It's surprising that Tusculum has done well so far considering that Pioneer quarterbacks have combined to complete just 41% of their passes this season. For that reason, I think Tusculum will have trouble keeping up with what is the best offense in the SAC. Lenoir-Rhyne 31 Tusculum 23
Ashland (2-2) at Ferris State (4-0)
The Eagles may have two losses, but they are still unbeaten in the GLIAC and have not lost a conference game since 2016. However, with standout QB Jayru Campbell leading the one of the top offenses in the country at FSU, I don't think the Eagles have the firepower to keep up. Ferris State 38 Ashland 23
Mailbag
[Q] How can the D2football.com poll have teams ranked ahead of teams that they have beaten? It makes no sense at all and makes the poll lack credibility.
[A] The teams you are referring to are Texas A&M-Commerce being ranked ahead of CSU-Pueblo despite losing to them last week. CSU-Pueblo is then ranked ahead of Colorado Mines and Harding is ranked ahead of Southern Arkansas.
There are a few things at play here. First, this is a poll which means that it is simply a compilation of votes from many different people. There is no other logic built into it.
In addition, it's entirely valid for someone to believe that a team that lost to another team is still better. If we are going to take this a step further, should Central Oklahoma (2-2) be ranked ahead of Northwest Missouri because of the results of last week's game? Should Winona State (2-2) be ranked ahead of Sioux Falls? Of course not. Upsets happen and it's also impossible to play the who beat who game over the course of an entire season.
Another factor to keep in mind with the nature of how polls work: Teams are usually too slow to gain respect and too slow to lose it. For example, it was obvious to me after the first game that Texas A&M-Commerce is not a top five team. However, others that vote apparently have the philosophy that the defending national champion gets the benefit of the doubt until proven otherwise.
At the end of the day, the D2Football poll is for entertainment purposes only, meaning that it has no real effect on who makes the playoffs. If a team feels it isn't getting enough respect in the polls, it will have a chance to prove it in the postseason.
Contact
Feel free to contact Bob at
with any comments or criticisms or if you have a question you would like answered in the Mailbag.

Remember to follow D2Football.com on Twitter (@d2football) and "like" D2Football on Facebook at facebook.com/D2football/.