Bob Eblen's National Column
October 2nd, 2018 12:00am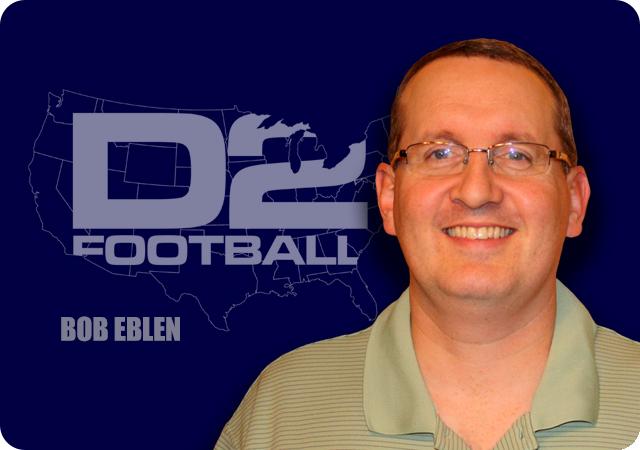 By Brandon Misener
I would rate the national championship experience in Kansas City as consistent with what we have seen over time no matter where it was played.
There were smaller crowds when non-traditional powers had to travel great distances and large crowds when traditional powers had to travel little or no distance to play in the game. I was able to have some average championship experiences and I was able to experience the best championship atmosphere in the history of Division II.
The one thing that was consistent was the championship venue. Sporting Park is, without a doubt, a top-notch facility worthy of a championship game. Every player felt like it was a big-time game simply because of where it was being played.
But Sporting KC made a decision, affecting the 2018 championship and beyond, that obviously does not endear the organization to the local MIAA fans and schools and appears has already cost Kansas City in hosting other NCAA events at other NCAA levels.
Luckily for those who will be involved, the game is going to be played at another fabulous facility.
On Thursday, the NCAA released that McKinney, Texas and the McKinney ISD stadium will be the host of the 2018 championship.
It is a $75 million stadium and if you search the internet you will see various videos that prove it is more than capable of hosting a championship event. The people I know are in the LSC are highly competent so the championship experience should be salvaged for this year.
In the future, I still prefer The Ford Center, the 12,000 seat indoor facility owned by the Dallas Cowboys, but this an incredibly positive outcome, especially considering the short notice.
Lindenwood
The long time rumor out of St. Charles is that Lindenwood intends to leave the MIAA for the GLVC. The league made it official on Thursday.
I think it is a very good move for Lindenwood.
They fit well within the GLVC footprint. Plus, there are a handful of GLVC schools (non-football) in the St. Louis area and this should allow them to cut travel cost and time in the secondary sports.
But most importantly, it should help them have an easier route to the playoffs.
When Lindenwood left the NAIA for Division II, there was no doubt that their goal was to try to duplicate the same type of success they had in that organization. It simply has not happened to this point and they are playing football in a conference where upward mobility is extremely difficult to attain.
Plus, who says all the best football programs should be in the same conference? I prefer better playoffs over a better conference football season.
Another blow to the NE10
Long Island University announced that their Brooklyn campus and C.W. Post campuses would essentially be merged into one entity for athletics. That means that all CWP athletic teams will become Division I or combine with Brooklyn*s current D1 teams.
The campuses are about an hour apart but the school says it will accommodate an athlete at one campus who plays a sport at the other campus. But can you imagine commuting two hours a day just to practice?
The NE10 should be ok with the addition of Frankly Pierce next year but the culture of college athletics in New England makes fielding a college football team very tough. Kudos to the players and coaches who help try to grow the sport in that area.
Stonehill Tragedy
The staff of D2Football.com extends our thoughts and prayers to the family and teammates of Stonehill lineman Marc Tarabocchia. He was found dead on Tuesday morning as the result of a suicide.
I have never suffered from depression or felt the urge to do something harmful to myself, but if you have, please seek help. There are literally thousands of people around the country just waiting to help you in your time of need.
A wise member of the D2Football.com message board once said, "Suicide is a permanent solution to a temporary problem."
Top Games This Week
I will not predict outcomes like Bob does, but these are the games to watch out for this weekend. It looks like a great weekend of rivalry games.
Slippery Rock (4-1) at #13 IUP (4-1)
This one is always anticipated and there is a lot at stake. IUP is a game behind in the PSAC West Standings and after being upset by California last week, cannot afford to pick up a second loss. If they do, they will lose control of their own destiny in attempting to make the playoffs and beyond.
North Greenville (3-1) at #5 West Georgia (5-0)
After knocking off West Alabama last week and knocking them out of the poll, it will be interesting to see if North Greenville is for real.
#9 Northwest Missouri (4-1) at #6 Pittsburg State (5-0)
Like SRU and IUP, this is one of the best rivalries in Division II. A loss by Northwest Missouri could really damage their chances of making the playoffs for the 15th straight season.
Ian Carlson and I talk about the MIAA here.
#7 Ouachita Baptist (5-0) at #15 Harding (4-1)
In most years this could decide the GAC championship but Southern Arkansas threw a wrench in that. It is not hard to envision a scenario in which three is a three-way tie for the GAC crown.
#16 Texas A&M-Commerce (4-1) at #3 Midwestern State
Although they won the national championship last year, TAMUC did not win the LSC title. That distinction goes to Midwestern State. Commerce has back-to-back games with Midwestern and Tarleton. It is make or break time for the Lions.
#23 Central Washington (3-2) at Azusa Pacific (4-1)
This is the first of two games between the two. Do not let the records mislead you. Azusa is undefeated for D2 playoff purposes and CWU has only one loss. One team probably needs to sweep the two games to secure a playoff birth.
#1 Minnesota State (5-0) at MSU Moorhead (4-1)
The Dragons are off to their best start in 20 years.
Contact
Feel free to contact Bob at
with any comments or criticisms or if you have a question you would like answered in the Mailbag.

Remember to follow D2Football.com on Twitter (@d2football) and "like" D2Football on Facebook at facebook.com/D2football/.