Bob Eblen's National Column
October 9th, 2018 12:00am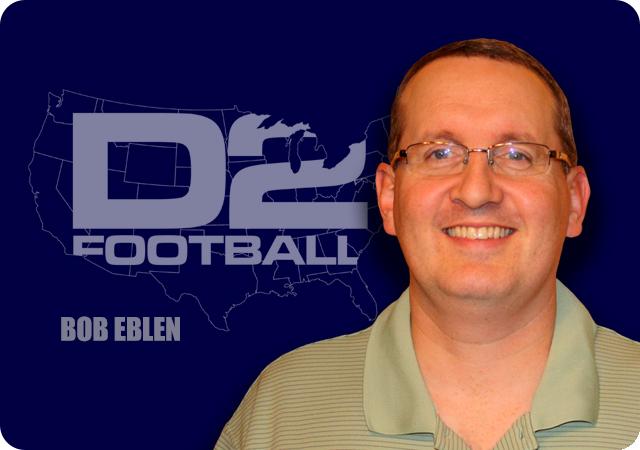 There are not many sure things in college football but coming into the season I had penciled Indiana in as a lock to win a third straight PSAC title and to once again make a deep run in the playoffs. The Crimson Hawks returned 10 All-PSAC West performers from a 13-1 national semifinalist, including All-American candidate Lenny Williams at quarterback. Combine that with the fact that rivals Slippery Rock and California suffered several key player losses, and it seemed like IUP would run away from the pack in the PSAC West.
Through the first month of the season, IUP seemed on track. The Crimson Hawks rolled through their first four games and jumped out to a 14-0 lead at California two weeks ago. But IUP's offense and defense fell apart in the final three quarters against the Vulcans, resulting in a 36-24 loss.
I think everyone expected IUP to rebound and bounce back with a vengeance against hated rival Slippery Rock. The California loss would serve as a wakeup call and the Crimson Hawks had the advantage of playing at home, where they hadn't lost a game in three seasons.
Instead, the problems got worse. Plagued by turnovers on offense and a defense that suddenly can't make stops, the Crimson Hawks fell behind 20-6, rallied to take a 27-23 lead but then lost the game when SRU drove 84 yards for the winning score late in the fourth quarter.
Two weeks ago IUP was the 2nd-ranked team in the country in our poll. Now the Crimson Hawks are pretty much out of the running for the PSAC title and are in a precarious position for even making the playoffs.
This season IUP gives up 100 yards more per game of offense and despite the return of four starters on the offensive line and a trio of standout running backs, the Crimson Hawks are down about 80 yards per game running the ball from last season. Those statistics are alarming and point to the fact that for whatever reason, IUP is not close to the team it was a year ago. With every game now a must win situation, it will be interesting to see if the Crimson Hawks can turn it back around over the last half of the season.
Weather a Factor
Weather played a major role in several games across the country last weekend, but none more so that Texas A&M-Commerce's 20-19 win over Midwestern State.
The game started Saturday night in Wichita Falls, but with the game tied at 10 at the half, it had to be suspended until Sunday due to lighting.
The problem was that Wichita Falls didn't have enough available hotel space to house the TAMUC team, so the game was then moved to the University of North Texas in Denton to resume Sunday afternoon. The Lions blocked a 39-yard field goal attempt in the fourth quarter and held their breath as a 30-yarder sailed wide on the final play of the game to give TAMUC the hard-earned win.
News and Notes
-Davenport continues to impress in just its second season of GLIAC play and third season overall of football. The Panthers improved to 6-0 with a 37-14 win over Wayne State last Saturday. DU has done it with defense as the Panthers lead the country in total defense, allowing just 178 yards per game. However, after this Saturday's visit to Northwood, the Panthers will probably not be favored in any of their last four games with a back-loaded schedule. It will be interesting to see if they can compete with the likes of Ferris State and Grand Valley.
-Freshmen continue to lead the nation in passing yards per game and rushing yards per game. Shepherd quarterback Tyson Bagent averages 366 yards per game passing while Notre Dame running back Jaleel McLaughlin leads in rushing with 210 yards per game.
-It is not often in today's college football that a team can win a game with just seven points and 176 yards of offense, but that's exactly what happened in unbeaten Ouachita Baptist's 7-3 win over Harding (4-2) in a battle of ranked GAC teams on Saturday night. A timely 4th-quarter drive and a goal line defensive stand in the final minute were enough for OBU to pick up the win.
-On the opposite end of the spectrum was Virginia Union's 90-0 win over Lincoln (PA). The Panthers scored 34 points in the 4th quarter, but there isn't much that can be done to keep the score down when VUU was running the ball exclusively and Lincoln continued to throw the ball which resulted in plenty of clock stoppages.
-When Central Missouri star quarterback Brook Bolles was lost to injury in the season open it was obviously a big blow to fortunes of the Mules' football team. But in reality, it's been an inability to perform on the road that has really hurt UCM. The Mules are 3-0 at home (all games played without Bolles) with an average winning margin of 58-10. On the road UCM is 0-3 and has been outscored by an average of 27-21.
Top Games this Week
Urbana (4-2) at Notre Dame (6-0)
Urbana allows just 87 yards per game on the ground but even if they Blue Knights can slow down Jaleel McLaughlin I don't think they can score enough to stay in the game. Notre Dame 27 Urbana 16
Fairmont State (4-2) at Shepherd (4-1)
I mentioned Tyson Bagent's passing prowess earlier, and he will be tested a bit by a solid FSU defense. Shepherd 28 Fairmont State 20
St. Cloud (4-2) at Sioux Falls (4-2)
This is a must-win game for two teams wanting to keep playoff hopes alive. I like USF at home; the Cougars should be hungry after blowing an 18-point lead at Bemidji State last week. Sioux Falls 38 St. Cloud 21
Pittsburg State (5-1) at Fort Hays State (4-2)
The Gorillas do not throw the ball well and the Tigers don't run it all that well so it stands to reason that the team that can mask its offensive weakness and achieve some balance will be the team that wins this game. Pittsburg State 23 Fort Hays State 20
Nebraska-Kearney (4-2) at Northwest Missouri (5-1)
After struggling in their first six seasons in the MIAA the Lopers are finally competitive. The problem here is that UNK is almost exclusively a run-based offense and the Bearcats have one of the top run defenses in the country. It will be up to the Loper defense to keep them in the game. Northwest Missouri 34 Nebraska-Kearney 13
CSU-Pueblo (5-1) at Colorado Mesa (4-2)
The Mavericks give up 484 yards per game. That will be a huge problem against a CSUP team that has gashed opposing defenses on the ground all season. CSU-Pueblo 31 Colorado Mesa 20
Tarleton State (5-0) at Texas A&M-Commerce (5-1)
Many people contend that TSU is the most talented team in the LSC and they will get a chance to prove it against the defending national champs. While TAMUC might not be the juggernaut of last season, the Lions are battle-tested and have the obvious advantage of playing at home. Tarleton State 31 Texas A&M-Commerce 27
Ferris State (6-0) at Grand Valley (6-0)
Simply put, this is the regular season game of the year in D2 football. 2nd-ranked FSU relies on talented quarterback Jayru Campbell. The former 4-star recruit has been a man amongst boys so far this year. 3rd-ranked GVSU is led by Bart Williams, who is now the Lakers' all-time leading passer after eclipsing 11,000 yards last week. FSU has won six of the last eight in this heated rivalry, but I think a very good Laker defense will slow down Campbell just enough to pull this one out. Grand Valley 30 Ferris State 28
West Georgia (6-0) at West Florida (5-1)
UWG has the top defense in the GSC and is also averaging 40 points per game, so the Argonauts will have their hands full on Saturday. UWF won two games against the Wolves last season by a total of eight points and I expect another hard-fought game on Saturday. West Georgia 20 West Florida 17
Mailbag
[Q] What do the losses of Merrimack and LIU-Post from the Northeast 10 mean for the future of the league?
[A] There will still be eight football programs remaining so while that is a low number it still makes for a viable conference. I'm guessing the league will go to a seven-game conference schedule and have the top two teams play in a conference championship game, like what was done a couple of years ago. That leaves each team needing to fill two or three nonconference games which should be doable. I am not aware of any potential schools that the league could add in the near future.
[Q] Do you have a problem with the championship game being played in Dallas this year? It seemed that the smaller towns like Florence are a better fit because they value the game.
[A] I think the game being held at the McKinney ISD stadium is about as good a result as one could expect on such short notice. The venue is very nice, the weather should be good and there is obviously a major airport in Dallas. Plus, Texans love their football so I'm guessing the support of the casual fan should be high.
I realize that future years will be put up for bid by the NCAA, but I expect this to be an audition of sorts for this venue. If the game is a success then it becomes very likely that McKinney is awarded the 2019-21 championship games as well.
Contact
Feel free to contact Bob at
with any comments or criticisms or if you have a question you would like answered in the Mailbag.

Remember to follow D2Football.com on Twitter (@d2football) and "like" D2Football on Facebook at facebook.com/D2football/.