Bob Eblen's National Column
October 16th, 2018 12:00am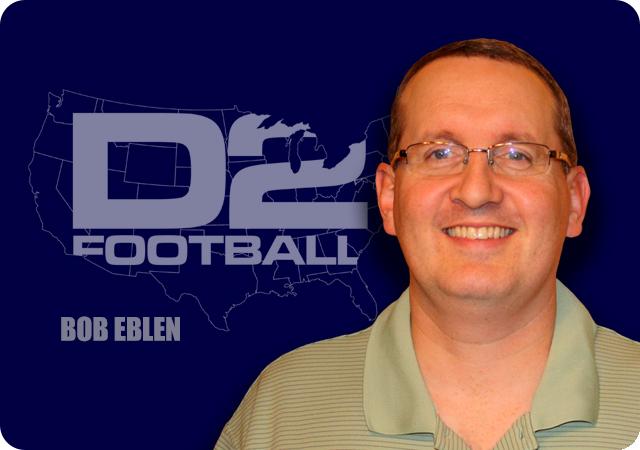 It's been ten years since Minnesota-Duluth won its first national championship and that Bulldog team still stands out to me as one of the most interesting and surprising in my time covering D2 football.
The 2008 Bulldogs were coming a 4-6 season in 2007, in which all six losses were by 14 points or more. Although UMD was switching conferences in 2008 from the now defunct NCC to the weaker NSIC, there was literally nothing that would indicate that the Bulldogs would be a national championship contender.
The Bulldogs so thoroughly dominated on both sides of the ball in 2008 that they trailed on the scoreboard for just three minutes the entire season. They won a playoff game at Grand Valley State (something that just didn't happen during that decade), dominated California on the road in the semifinals and then knocked off Northwest Missouri State in the title game. UMD ended up going 15-0 that season.
But the one factoid I still find the most remarkable about that 2008 UMD team is this: The Bulldogs started the same 22 players in all 15 games that season. For a team to literally lose no key players to injury over the course of an entire season is virtually unheard of.
The 2018 UMD Bulldogs share some similarities with the team from ten years ago: the 7-0 Bulldogs are dominating on the defensive side of the ball, allowing just 223 yards per game. This is a team that has looked the part of a national championship contender. However, the one thing this year's version of the Bulldogs do not share with that 2008 team is health:
Standout senior linebacker A.J. Naatz has not played in two weeks because of an ankle injury. Senior transfer cornerback Tareq Abulebbeh- who has looked like an All-American candidate with 5 interceptions so far this year- was unable to play last week due to injury. Senior wide receiver Nate Balts- the team's best offensive player- was lost to a season-ending knee injury three weeks ago. And to top it all off, quarterback John Larson- who leads the team in both passing and rushing- was lost last Saturday to what appears to be a serious leg injury.
UMD head coach Curt Wiese has the right philosophy, telling the Duluth News Tribune after Saturday's game that it's "next man up". However, if this Bulldog team is to contend for a national championship, it will be a much different and more challenging path.
Ferris State/Grand Valley
There were over 16,500 fans at Lubbers Stadium to take in this rivalry game between two of the top teams in the country. The Bulldogs won 35-31, scoring the winning points on a 4th down trick play: a 31-yard throwback pass to quarterback Jayru Campbell. In addition to the TD reception, Campbell also ran for two scores and threw for another. Bart Williams took advantage of a banged up FSU secondary in throwing for 487 yards in the losing effort for GVSU.
This was an entertaining game with five lead changes. However, it wasn't a clean game by any means: The two teams combined for five turnovers and 21 penalties- several of which came at inopportune times.
Going forward I expect both teams to be in the playoffs with a strong likelihood of a rematch. However, even though FSU won round one, I still think the Lakers are the slightly better team, mainly because I like GVSU's defense better. It will be interesting to see how the remainder of the year unfolds.
West Georgia and Tarleton State with Statement Wins
I don't suppose it happens that often where both teams that played for the previous year's national championship get dominated on the same Saturday but that's exactly what happened last weekend:
West Georgia dominated at West Florida, winning 27-7. The win had to be especially sweet since UWF beat the Wolves twice last year on the way to the national championship game. Standout running back Devontae Jackson ran 33 times for 224 yards in the win. UWG is also getting great quarterback play from Willie Candler (16 TD passes, just 2 INTs) and has a defense that allows just 264 yards per game. And to top it all off, UWG has a two-time national championship winning coach in David Dean roaming the sidelines. This team is going to be tough to beat.
Tarleton State has become the team to beat in the LSC- and maybe even SR4- after running over Texas A&M- Commerce 47-21. The Texans rushed for 282 yards in the game, with 166 yards and two touchdowns coming from Xavier Turner. TSU is a veteran team with about 60 upperclassmen on the roster, including 20 starters. It will be interesting to see how far all that experience can carry the Texans.
News and Notes
-One week after rallying from 18 points down to knock off Sioux Falls, Bemidji State blew an 18-point lead at Upper Iowa on Saturday, losing 27-24. The Beavers have had 15 seasons with at least seven wins since 1999 but have never made the D2 playoffs. They will need to upset top-ranked Minnesota State this weekend at home to keep this season's playoff hopes alive.
-Pittsburg State (5-2) suffered a second straight blowout loss, losing 50-21 at Fort Hays State. The Gorillas have a team pass efficiency rating of just 114 this season, which isn't good enough when the rushing attack isn't dominant. It will be interesting to see if PSU can turn it around with three tough games remaining on the schedule.
-The stat line of the week belongs to South Dakota Mines running back Connor Silveria. He rushed 46 times for 425 yards and three touchdowns in his team's 56-42 win over Adams State. The 425 yards broke the D2 single game rushing record of 418 yards set by Southern Connecticut State's Jarom Freeman in 2007.
-After a slow start to the season Gannon's Marcus Jones has gotten going, rushing for 540 yards over the last two weeks, including 276 yards last week in his team's upset of California. Jones was a Harlon Hill finalist last year when he ran for 2176 yards and is now fourth in the country with 988 yards this season.
Top Games this Week
Assumption (5-1) at New Haven (5-1)
Both teams are 5-0 in the Northeast 10, so this is obviously a huge game. Assumption is very explosive offensively and on special teams, so limiting the big plays must be the main concern for the UNH defense. I think the Greyhounds win a shootout. Assumption 41 New Haven 38
Bowie State (5-2) at Virginia Union (5-1)
Amir Hall can still sling the football, but the BSU offense that was so explosive last year has been limited this year due to a lack of a running game. VUU has scored 190 points over the previous three games and I think the Bulldogs will have a hard time keeping pace. Virginia Union 40 Bowie State 30
Grand Valley (6-1) at Davenport (6-1)
The Lakers will seek to rebound against a feisty Davenport team that leads the nation in total defense at just over 200 yards per game allowed. Not bad for a program in just its third year of football. However, the Panthers have not played the top four teams in the conference and will be facing a Laker team that is out for blood after losing last week. Not to mention, these two programs are just 30 minutes apart so GVSU is going to want to make a statement. Grand Valley 34 Davenport 16
Ferris State (7-0) at Saginaw Valley (6-1)
SVSU has a very solid defense and I think it's reasonable to expect a bit of a letdown from Ferris State coming off the big win over Grand Valley. For those reasons I think this will be a good game, with FSU finding a way to win it late. Ferris State 31 Saginaw Valley 24
West Alabama (5-2) at West Georgia (7-0)
The UWA defense has played well over the last month, but despite the return of All-GSC quarterback Harry Satterwhite, the Tiger offense has not clicked this season. I don't expect the Tigers to find their offensive rhythm in this game because Wolves have been dominant defensively all season. West Georgia 30 West Alabama 17
Minnesota State (7-0) at Bemidji State (5-2)
BSU can absolutely hang with the Mavericks and I expect to see a fired-up team after blowing the big lead at Upper Iowa last week. Both teams like to run the football and stop the run, but I think MSU's big play passing combo of Ryan Schlichte to Shane Zylstra gives the Mavericks the edge. Minnesota State 30 Bemidji State 21
Minnesota-Duluth (7-0) at Winona State (5-2)
As I mentioned earlier, UMD has some serious injury concerns and WSU is a dangerous team, particularly when playing at home. But great defense tends to travel well, and although UMD will be without its starting quarterback, Mike Rybarczyk has some experience and has played very well in a relief role so far this year. Minnesota-Duluth 27 Winona State 20
Azusa Pacific (5-2) at Colorado Mines (7-0)
Colorado Mines is a very good team in all facets of the game. I think the Cougars have some talent, but they have also turned the ball over 19 times so far this season and that's not a good recipe for going on the road and pulling an upset. Colorado Mines 38 Azusa Pacific 27
Ohio Dominican (6-1) at Tiffin (7-0)
Both teams are +8 on the season in turnover margin, so they appear to get an advantage on opponents in a similar fashion. The key to the game will be the play of ODU freshman quarterback Evan Ernst: he is second in the country in pass efficiency (183) but will be facing a very good Tiffin secondary that has picked off 13 passes already this year. Tiffin 26 Ohio Dominican 24
Contact
Feel free to contact Bob at
with any comments or criticisms or if you have a question you would like answered in the Mailbag.

Remember to follow D2Football.com on Twitter (@d2football) and "like" D2Football on Facebook at facebook.com/D2football/.