Bob Eblen's National Column
October 22nd, 2018 12:00am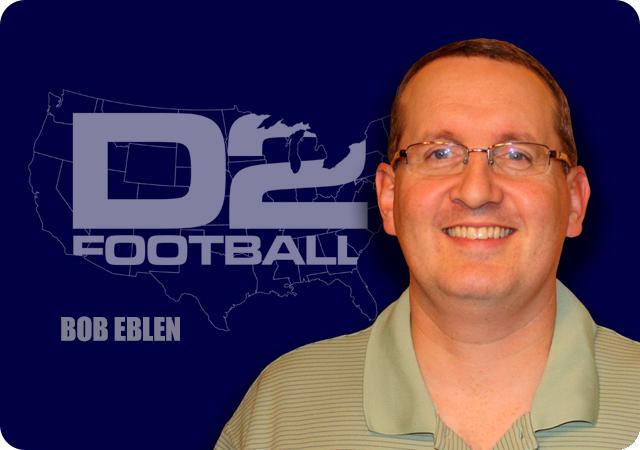 When a team loses its starting quarterback to injury it's a problem. Lose the top two quarterbacks to injury? Now that's a disaster for almost any team. With a maximum of just 36 scholarships to spread around, there are very few D2 programs that have a third quarterback on the roster that is ready to play. Many times, that third quarterback role is played by a true freshman who is being groomed for a couple of years down the road.
For Slippery Rock, that nightmarish quarterback injury scenario unfolded just two weeks into the season. Starting quarterback Andrew Koester was lost to an injury midway through a 25-21 loss at Shippensburg and was replaced by Taylor King, who played well but had a high snap go off his hands and be recovered for the winning touchdown in the final seconds against the Red Raiders. King then suffered an injury the following week in practice.
If you are Slippery Rock head coach Shawn Lutz you are in kind of a tough spot, having to rally the troops after a disastrous last second loss and do it with a third string quarterback.
Enter Roland Rivers. The name may be familiar with readers from the Gulf South Conference. He was a part-time starter for Valdosta State in 2015 and 2016 but was forced to sit out last season due to an injury. Rivers had a connection on the SRU coaching staff and elected at the last minute to transfer to SRU, joining the team after fall practice had already begun.
Since becoming the starter Rivers has led his team to six straight wins, including a victory against preseason PSAC West favorite and bitter rival Indiana. Rivers has accounted for 1980 yards of offense and 25 touchdowns and The Rock is averaging 44 points per game with him under center. Not bad for a guy just learning the playbook.
With a win at California this week, Slippery Rock (7-1) can lock up the PSAC West title and take another step towards a potential playoff berth. Not bad for a team that looked like it was in big trouble just two weeks into the season.
News and Notes
-The first set of regional rankings came out this week. As I have cautioned in past years, it's too early to read too much into them. There are so many things that can change in three weeks of football. I will go more in-depth into possible playoff scenarios when we are entering the final week of regular season play and there are less moving parts.
-South Dakota Mines senior quarterback Jake Sullivan completed 45 of 60 passes for 592 yards in a 53-52 loss to New Mexico Highlands. The 592 yards and 45 completions are the most in the country in a single game all season. If you remember, last week running back Connor Silveria rushed for a D2 record 425 yards. The Orediggers lead the nation in total offense at 555 yards per game.
-Weather continued to be an issue last week, especially in the GLIAC and PSAC. The game between California and Mercyhurst had to be suspended and finished on Sunday, which is the second week in a row that has happened in D2 football.
-Top-ranked Minnesota State certainly had the right formula for winning a big game on the road. The Mavericks drove 75 yards to score a touchdown with 12 seconds left in the half, then took the second half kickoff and drove 75 yards for another touchdown, eating over seven minutes of clock in the process. This gave the Mavericks a 27-6 lead over Bemidji State and they coasted to a 47-20 win. For the game MSU ran 90 plays to BSU's 52 and converted 16 of 23 3rd down chances.
Top Games this Week
West Chester (7-0) at Kutztown (7-0)
This game is for the PSAC East Division title. WCU has the top rush defense in the entire country and is ranked 6th in total defense, allowing just 241 yards per game. The Golden Bears have one of the top offenses in the country, averaging 511 yards per game. Something will have to give. I will go with the Rams in a tight game. West Chester 28 Kutztown 27
LIU Post (7-0) at Assumption (5-2)
Assumption fell behind 27-0 before rallying late to make the score respectable in a loss to New Haven last week. The Greyhounds must stay in it early or face the prospects of being run off the field by a Pioneer team that plays stifling defense and has forced 21 turnovers already this year. LIU Post 31 Assumption 16
Slippery Rock (7-1) at California (5-3)
The winner of this game has the inside track on the PSAC West Division title. The Cal offense has struggled the last couple of weeks and that could be a problem against a SRU team that is solid defensively and can hit you with a lot of different weapons on offense, led by the aforementioned Roland Rivers. Slippery Rock 33 California 27
Tarleton State (7-0) at Midwestern State (6-1)
As I mentioned last week, the Texans are for real. They have not had a game closer than 20 points all season. Included in that is a dominating 47-21 win at defending national champion Texas A&M-Commerce two weeks ago.
MSU's 20-19 loss to Commerce a few weeks ago puts a lot of pressure on the Mustangs in this game. With the way Super Region 4 is stacking up, it appears unlikely that the LSC will get three teams in the playoffs and MSU would be the odd team out with another loss. This is a must-win situation for the Mustangs.
As great as MSU quarterback Leighton Rabb is (23 TD passes, just one interception this season), I am giving a slight edge to the Texans because they have been so good all year. Tarleton State 30 Midwestern State 27
Mailbag
[Q] What are your thoughts on Ferris State using an ineligible player?
[A] To clarify, apparently FSU used an ineligible transfer player in the first four games of the season. Once it came to light, the school self-reported the secondary violation to the NCAA.
This is a huge mistake by the school. NCAA schools have compliance departments for a reason and this should have been caught before the player in question stepped on the field. That said, I think it's very difficult to determine how this will ultimately effect FSU when it comes to playoff possibilities.
Contact
Feel free to contact Bob at
with any comments or criticisms or if you have a question you would like answered in the Mailbag.

Remember to follow D2Football.com on Twitter (@d2football) and "like" D2Football on Facebook at facebook.com/D2football/.