Bob Eblen's National Column
October 30th, 2018 12:00am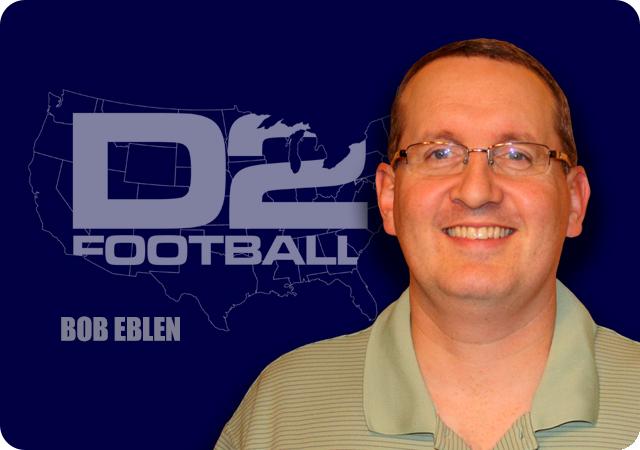 Denny Douds has been the head coach in a lot of football games- 471 to be exact. He started as an assistant at East Stroudsburg in 1966, was elevated to head coach in 1974 and has been there ever since, amassing 264 victories along the way.
With :04 remaining in ESU's 48-35 home loss to Ohio Dominican last Saturday, Douds called time out. He brought all of his players together on the sidelines and announced to them that he was retiring on the spot. He then waived to his wife in the stands as he walked off the field. A unique ending to a long career for sure.
Douds had some great teams in his career. His 1975-76 teams went a combined 19-0-1 with a pair of PSAC titles. His 2005 team - led by Harlon Hill winning quarterback Jimmy Terwilliger - won 11 games and reached the national semifinals.
Recently, things have not gone so well for ESU. The Warriors won just seven games combined in 2016-17. This year they are 1-8 and having the program's worst season since 1986. I'm sure the recent lack of success played a role in Coach Douds deciding to hang it up.
Winning is important and a man doesn't spend 45 years as the head coach at one school without having some success. But when you dig a little deeper, it was obviously as much about the relationships with coach Douds as anything else: Seven former players are on the ESU coaching staff. Offensive Coordinator Mike Terwilliger was Douds' first quarterback in 1974 and has been with the program ever since. Offensive line coach Mike Santella is in his 21st year as an assistant. Receivers coach Frank Luppin has been on the ESU staff for 37 years. Coach Douds had to have been doing something right to build up that kind of loyalty from his staff.
After three years as an assistant, Jimmy Terwilliger was promoted to associate head coach last spring and has been named interim head coach for the remainder of the 2018 season. It is obvious he was being groomed for the position and I expect him to become the next permanent head coach at ESU. It will be very interesting to see what kind of mark he makes on ESU football going forward.
News and Notes
-It's hard to believe it took eight weeks, but Delta State finally picked up its first win of the 2018 season by beating Shorter 46-20. Making it two in a row will be a tall order as the Statemen travel to take on unbeaten West Georgia this Saturday.
-The two top offenses in D2 faced off last week and the game did not disappoint, at least for a half. Colorado Mines led South Dakota Mines 49-42 at the break, but the Orediggers scored 35 straight points in the 3rd quarter to run away with an 84-42 win. Despite averaging 44 points per game, SD Mines has just a 4-5 record due to a porous defense.
-Ferris State quarterback Jayru Campbell was named GLIAC Offensive Player of the Week for the fifth time this season after throwing for 224 yards, rushing for 103 yards and accounting for five total touchdowns in a 38-28 win against Wayne State. For the season Campbell has accounted for 36 touchdowns and should go over the 1,000-yard rushing and 2,000-yard passing marks this week.
-Midwestern State suffered a second 1-point loss this season in painful fashion as a botched snap on a PAT attempt in overtime handed Tarleton State a 35-34 win. Earlier this season the Mustangs lost 20-19 to Texas A&M-Commerce when a 30-yard field goal attempt was missed on the game's final play. The Mustangs still hold onto the seventh (and last) spot in Super Region Four but it will be interesting to see if they can hold on to it over the next two weeks. If not, it will be a huge disappointment for a very talented team.
-It is not often that a team with a 3-6 record has much left to play for, but that is not the case with Miles College. The Golden Bears host Tuskegee on Saturday and a win will give them the SIAC West title and a spot in the conference championship game against Albany State. If Tuskegee (5-4) wins then the Golden Tigers will play Albany State.
Top Games this Week
Lenoir-Rhyne (8-1) at Carson-Newman (6-3)
I had this game circled on the calendar a few weeks ago as the SAC title game, but that went out the window when CN lost to Tusculum last week to give the Eagles a second conference loss. Both teams run the football well out of option-based offenses, but the Bears can also throw it some and play better defense. Lenoir-Rhyne 37 Carson-Newman 27
Tiffin (8-0) at Hillsdale (8-1)
These two teams are 5th and 7th in the latest Super Region One rankings in addition to the GMAC title being on the line. The two quarterbacks- Nick Watson for Tiffin and Chance Stewart for Hillsdale- are both very efficient passes so I the team that can run the ball better and force turnovers will have the advantage. Hillsdale 24 Tiffin 20
Sioux Falls (6-3) at Minnesota State (9-0)
USF does not have much of a shot at the playoffs, but I am very curious to see how Gabe Watson- the nation's leading rusher with 1702 yards- stacks up against a MSU defense that allows just 77 yards per game on the ground. I don't think the Cougars passing game is good enough to stay in it for four quarters. Minnesota State 31 Sioux Falls 20
Indianapolis (7-1) at Truman State (6-3)
These two teams are both unbeaten in the GLVC so this is huge from a conference standpoint. The Bulldogs have a solid run defense and were able to slow down UIndy standout running back Al McKellar last season, but I don't think they can score enough points to win this one. Indianapolis 29 Truman State 17
Southern Arkansas (8-1) at Ouachita Baptist (9-0)
This game is likely to determine the GAC conference title. Both defenses are very good, with OBU leading the nation in points allowed at just 9.6 per game and SAU having forced 23 turnovers. I like the Tigers in this one because they run the ball better and are playing at home where they have given up just 15 points total in four home games. Ouachita Baptist 20 Southern Arkansas 10
Fort Hays State (7-2) at Northwest Missouri State (8-1)
Last season FHSU won at Northwest 13-12 to win the school's first MIAA title and the Tigers will have to do it again if they want to win another conference title and stay alive for a playoff berth. To have a chance against Northwest a team must have a good passing attack and FHSU has that with senior quarterback Jacob Mezera leading the way. However, Northwest will provide some problems for the FHSU defense that are difficult to overcome. Northwest Missouri 27 Fort Hays 17
Valdosta State (9-0) at West Florida (6-3)
Despite the three losses, UWF is very much alive for a playoff berth as the Argonauts currently are 8th in Super Region Two. However, they will be dealing with a VSU offense that I believe may be the best in all of D2 football- the Blazers have scored at least 44 points in each of their first eight games: Blazer quarterback Rogan Wells has thrown 26 touchdown passes and just three interceptions and VSU averages 7.6 yards per rush as a team. Valdosta State 40 West Florida 24
Ashland (6-3) at Grand Valley (8-1)
The Eagles are probably out of the picture in a crowded Super Region Three, but they have played very well since starting the season 0-2 and are more than capable of pulling off the upset. The Lakers have survived the last two weeks with all-time leading passer Bart Williams sidelined with an injury. Even if Williams is able to play, this game will be another test against an Ashland defense that is among the best in the country. Grand Valley 23 Ashland 21
Mailbag
[Q] Do you think the D2 playoff field will eventually expand to eight teams per region?
[A] I don't think that will happen anytime soon. The number of NCAA playoff berths are based on a desired participation ratio based on the overall number of teams and that overall number appears to be holding steady right now.
The other reason I think it's unlikely to happen is that an increase in the number of athletes participating in football necessitates a corresponding increase in NCAA championship opportunities for women's sports. Since football has so many more participants per team that could mean that there would need to be an increase of 12 or 16 women's teams being added to the NCAA postseason.
Contact
Feel free to contact Bob at [email protected] with any comments or criticisms or if you have a question you would like answered in the Mailbag.

Remember to follow D2Football.com on Twitter (@d2football) and "like" D2Football on Facebook at facebook.com/D2football/.