Bob Eblen's National Column
November 13th, 2018 12:00am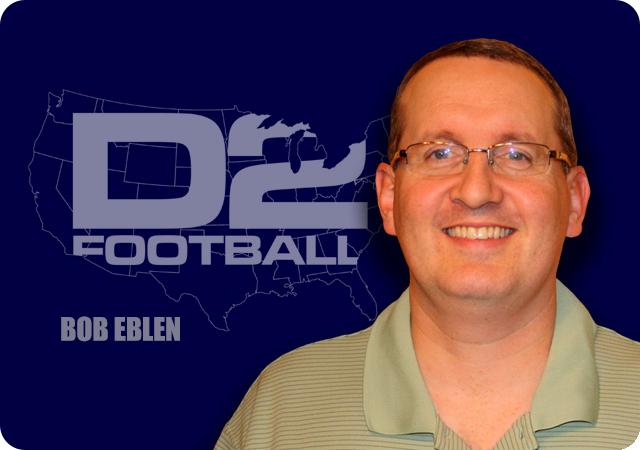 Who is playing for second in the country?
That was the thought running through my mind after watching the Valdosta State Blazers demolish a very good West Georgia defense to the tune of 395 rushing yards in a 47-31 victory on Saturday night.
As we enter the 2018 playoffs, Valdosta State is a heavy favorite over the field in my opinion: The Blazers have crushed every opponent while playing a tough Gulf South Conference schedule. They average 52 points and 536 yards per game, including an incredible eight yards per rushing attempt. Defensively they have racked up 38 sacks and returned four interceptions for touchdowns.
But the biggest reason I think VSU is such a heavy favorite is that the Blazers have so many playmakers on offense that it's impossible to key on any one area or player. Consider this: despite averaging 269 rushing yards per game, the Blazers do not have a single player with more than 89 rushing attempts! Also consider the fact that no VSU player has more than nine touchdowns, but eleven players have scored at least three! That is simply incredible stuff.
Valdosta State received the top seed in Super Region One and in two weeks will play the winner of West Alabama and Bowie State. It will be interesting to see if anyone in D2 can slow down the Blazers this postseason.
News and Notes
-Sioux Falls junior running back Gabe Watson won the D2 regular season rushing title, finishing with 1,957 yards to edge out freshman sensation Jaleel McLaughlin from Notre Dame College, who finished with 1,883. However, there is a good chance that McLaughlin will pass Watson overall because NDC reached the playoffs while USF finished at 7-4.
-Missouri S&T (9-2) will be playing in its first postseason game since the 1950 Corn Bowl after beating Truman State 34-33 to qualify for the Mineral Water Bowl. The Miners' opponent will be Minnesota State-Moorhead (8-3), which reached its first postseason game in 24 years by gutting out a 13-10 win over St. Cloud State on a brutally cold day in Moorhead. Exciting times for both of these programs.
-A single yard made a huge difference in the Northeast 10 on Saturday. LIU-Post defensive back Jake Carlock tackled New Haven receiver Brett Huber on the 1-yard line on the game's final play, preserving a 17-13 win and giving the Pioneers the outright conference title. Both teams did end up making the playoffs, with LIU-Post (10-0) the two seed in Super Region One and UNH (8-2) earning the six seed.
-The CSU-Pueblo defense finished third in the country in total defense (227 yards per game) and fourth in the country in scoring defense (11.9 points per game). Those two statistics in and of themselves are impressive. But add in that five of the top 16 offense in the country come from the RMAC and the fact that the Thunderwolves did so well defensively becomes mind boggling. The second-best defense in the league- Colorado Mines- allowed 377 yards per game.
-Arkansas-Monticello scored 10 points in the final 1:04 of the game to stun Southern Arkansas 20-17 and spoil the Muleriders' playoff hopes. Harding should be sending thank you notes to UAM- without the SAU loss Harding would have been out.
Playoffs Round One
Super Region One
Hillsdale (9-2) at Kutztown (9-1)
Defending teams that throw the ball well has been a problem all year for Kutztown. The Golden Bears give up 266 passing yards per game and will be facing a tough to contain passing due in Hillsdale senior quarterback Chance Stewart (2961 passing yards, 24 touchdowns) and receiver Trey Brock (1080 receiving yards, 14 touchdowns).
KU has a very good offense and is playing at home which matters, but I think Hillsdale prevails in a close one. Hillsdale 33 Kutztown 30
Slippery Rock (9-2) at LIU-Post (10-0)
Earlier this season I wrote about the incredible journey that led quarterback Roland Rivers to SRU. Last week Rivers suffered through the most humbling game of his college football career, as he completed just 6 of 31 passes, threw three interceptions and was sacked five times in a 33-10 PSAC championship loss to West Chester.
Rather than have the season end with that loss and have the memory linger all offseason, The Rock caught a break by being selected as the seventh seed in this region. Unfortunately, that also means dealing with another stout defense in LIU-Post. The Pioneers have forced 25 turnovers overall and allowed a total of just 36 points in five home games this fall. LIU-Post 24 Slippery Rock 14
New Haven (8-2) at West Chester (10-0)
UNH senior quarterback Ajee Patterson- a four-year starter- became the school's all-time leading passer last week with 9,592 passing yards. It will be interesting to see what he can do against a WCU defense that dominated Slippery Rock last week and every other top offense it has faced this season.
I think the Chargers are good enough to hang around for a while in this game, especially if Patterson has a great game. But in the end, I think WCU's offensive balance and lights out defense will prevail. West Chester 31 New Haven 19
Super Region Two
West Alabama (8-3) at Bowie State (9-2)
Last season BSU hosted Delta State in the opening round and put quite a scare into their GSC foe, taking a 35-31 lead into the fourth quarter before losing 45-35. The key player from that team was junior quarterback Amir Hall, who is back again and having another fine season, averaging 319 passing yards per game.
Unfortunately for Hall and BSU, this team is not as good or as explosive offensively as the one last year. UWA also has an experienced quarterback in Harry Satterwhite and Tigers seem to be peaking at the right time of the year after struggling a bit defensively early on. West Alabama 31 Bowie State 21
Florida Tech (8-3) at Lenoir-Rhyne (10-1)
After losing the season opener at West Alabama, Lenoir-Rhyne has rattled off 10 straight wins on the strength of an offense that has eclipsed the 50-point barrier on five different occasions. While still primarily a run-based offense, this Lenoir-Rhyne team is unique offensively and obviously hard to stop. The Bears can hit defenses from all different angles as seven players have between 268 and 600 rushing yards.
I think FTU has a chance in this game if the Panthers can play error free football on offense and not give LRU any short fields. A couple of mistakes, however, and things could get out of hand. Lenoir-Rhyne 35 Florida Tech 24
Wingate (8-3) at West Georgia (10-1)
The Wolves will have to regroup after the humbling loss to rival Valdosta State last week, but this might be just the game to get back on track. Wingate rolls in a six-game winning streak after losing three straight in September. There is no doubt that the Bulldogs are an improved team, but I don't think they will be able to stand up to a physically superior UWG team for four quarters. West Georgia 35 Wingate 20
Super Region Three
Harding (9-2) at Ferris State (11-0)
After the results of last season, Harding is starting to become that program that nobody wants to run into in the playoffs. The flexbone option attack that the Bisons run controls the clock and field position and is so difficult to prepare for because it's the opposite approach to most of today's college offenses.
Last year the Bisons went to Ferris State and upset the Bulldogs 16-14 on a last second field goal to win SR3. There is a good chance that both teams are better this season which makes this an intriguing first round game. Ferris State quarterback Jayru Campbell is as talented as any player in D2 and I think he will be the difference maker in a hard-fought game. Ferris State 23 Harding 17
Northwest Missouri State (9-2) at Grand Valley State (10-1)
With ten national championships between them, this will be a battle of two of the most storied programs in D2 history. These two teams have meet five times previously in the playoffs, the last coming in the 2013 national semifinals. Northwest currently holds a 3-2 advantage in those playoff games.
A team that can throw the ball downfield effectively has the best chance against the Northwest defense and that's exactly what senior quarterback Bart Williams and the Lakers like to do. For the Bearcats to win they must run the ball effectively to open up the rest of their offense. I think this will be a tight, fairly low-scoring game but I will go with Grand Valley: The Lakers are 21-2 all-time in home playoff games. Grand Valley State 20 Northwest Missouri State 16
Fort Hays State (9-2) at Indianapolis (9-1)
Both of these teams entered the playoffs unbeaten a year ago- and both lost first round games at home. The Greyhounds and the Tigers should have motivation to not let that happen again.
I had a chance to see the FHSU defense in person a couple of weeks ago and the Tigers are for real on that side of the ball. However, FHSU has a pretty one-dimensional offense that doesn't run real well and that will be a problem in the playoffs. Indy running backs Al McKeller and Toriano Clinton have combined for over 1900 yards on the ground this fall and I think they give the Greyhounds a slight advantage. Indianapolis 27 Fort Hays State 24
Super Region Four
Azusa Pacific (8-3) at Tarleton State (10-0)
APU quarterback Tyrone Williams Jr. has played some of his best football in the tough road games this fall, including a 425 yard, 5 touchdown passing performance in his team's rally from 14 points down to beat Central Washington last week.
Unfortunately for the Cougars, I think that is the only thing they have to hang their hat on going into this game. The TSU offense averages 521 total yards, 316 rushing yards and 48 points per game. The Texan defense is also likely to make the going tough on Williams. Tarleton State 41 Azusa Pacific 20
Texas A&M-Commerce (9-2) at Minnesota-Duluth (11-0)
The defending national champion Lions have been up and down offensively all season as they have struggled to replace Harlon Hill Trophy quarterback Luis Perez and his nearly 5,000 passing yards in 2017. However, TAMUC does have a very solid defense and the confidence and experience gained from winning three road playoff games last year.
For the Bulldogs, it's all about defense. They lead the nation in total defense (199 yards per game) and rush defense (59 yards per game). Offensively, the Bulldogs are more diverse than they were during their national championship years of 2008 and 2010. UMD spreads out the carries and targets many different receivers in the passing game. Some of that is necessitated by the loss of quarterback John Larson and top receiver Jason Balts to season ending injuries.
I expect this to be a hard-fought game but it's tough to go against that UMD defense in predicted 23-degree weather. Minnesota-Duluth 24 Texas A&M-Commerce 16
CSU-Pueblo (10-1) at Colorado Mines (10-1)
CSM leads the nation in total offense at 578 yards per game while CSU-Pueblo is third in total defense, allowing just 227 yards per game. However, none of that matters much since these two conference rivals met back on September 15th with CSU-Pueblo on the short end of a 35-21 score despite having a decided advantage from a statistical standpoint.
In the first meeting two long Cameron Mayberry touchdown runs accounted for nearly half of the Orediggers' total offensive production. I expect the CSU-Pueblo defense to key on Mayberry in this game. If the Thunderwolves can hang onto the football, I think they win a close one. CSU-Pueblo 27 Colorado Mines 24
Mailbag
[Q] In your opinion, what was the biggest playoff snub this year?
[A] I can usually tell by the volume of email complaints in my mailbox on selection day how people felt about the process in a given year. Complaints were minimal this year, so the committee must have done a good job.
I would have liked to have seen Ohio Dominican get selected instead of Slippery Rock in SR1, especially after The Rock laid a big egg against West Chester on Saturday in the PSAC title game. However, the resumes of both teams were similar, so that hardly rises to the level of a "snub".
Contact
Feel free to contact Bob at [email protected] with any comments or criticisms or if you have a question you would like answered in the Mailbag.

Remember to follow D2Football.com on Twitter (@d2football) and "like" D2Football on Facebook at facebook.com/D2football/.