Bob Eblen's National Column
November 20th, 2018 12:00am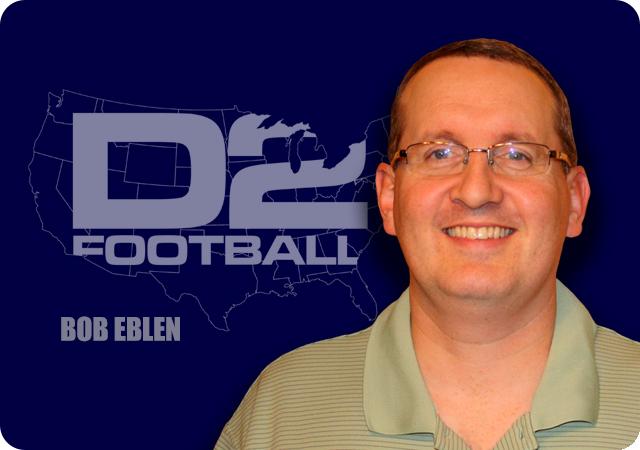 Since its inception D2 football has always been the domain of the public colleges and universities. Since the first national championship game was held in 1973 only one private school- Lehigh in 1977- has won a national championship. Carson-Newman- which reached the national championship game three times in the late 90's- is really the only private school that has been able to maintain status as a national power for an extended period of time.
If you consider how scholarship equivalencies work in D2 football, it becomes clear why public schools have the advantage. Since each school has at most 36 equivalencies and must split them up across an entire roster, a theoretical D2 player may get 25-50% of his schooling paid for with the rest to come out of pocket. Since private school costs are much higher they are at a natural disadvantage when it comes to filling a roster of 100 players or more.
But, if you look at the makeup of the 16 teams remaining in this season's playoff field, seven of them are private schools. If you go back and look at past years most of the time there were between two and four private schools among the final 16. With private schools making up about 36% of all those in D2 football, in 2018 those types of schools are "outkicking their coverage".
It will be interesting to see if 2018 is anomaly or if private schools have figured a way to close the competitive gap that has generally been prevalent in this division. This will be something to keep an eye on in years to come.
Playoff News and Notes
-Round one of the D2 playoffs was entertaining and full of surprises: The road team prevailed in seven of the twelve contests.
-Three of the four number seven seeds- Slippery Rock, Wingate and Texas A&M-Commerce- pulled off upsets in the first round. The fourth number seven seed- Harding- nearly pulled off the upset at Ferris State.
-They say the big weakness of an option team is that it's hard to play from behind. Harding trailed Ferris State 21-0 entering the fourth quarter but scored 19 straight points and had a final possession with a chance to win the game.
-Two weeks ago West Chester beat Slippery Rock in the PSAC title game and LIU-Post beat New Haven to win the Northeast 10 championship. Last week in the first round of the playoffs Slippery Rock beats LIU-Post and New Haven beats West Chester. This all makes perfect sense, right?
-West Georgia turned the ball over just 10 times in the regular season but the Wolves turned it over three times in the first 20 minutes of the game against Wingate in addition to having a punt blocked. This put the Wolves in a 20-7 first half hole and although they battled back to take the lead in the third quarter the early deficit was too much to overcome.
-Northwest Missouri State dominated Grand Valley with the running game, rushing for 356 yards on just 43 carries. 21 of the Bearcats' final 22 plays were runs as Northwest expanded a 21-17 lead to 42-17 by the end of the game.
Playoffs Round Two
Super Region One
Slippery Rock (10-2) at New Haven (9-2)
As I mentioned earlier, it's pretty surprising that both of these teams are in this position. I really like how the UNH defense has played the last couple of weeks and the Chargers have the advantage of playing at home. However, I feel like SRU has more playmakers on offense and that gives The Rock a slight advantage. Slippery Rock 30 New Haven 26
Hillsdale (10-2) at Notre Dame College (11-0)
I'm not sure many people had NDC as the team to beat in the region, but the Falcons knocked off Shepherd in the season opener it became quickly apparent that this was a team to be reckoned with this year. The key player has been freshman running back Jaleel McLaughlin, who has rushed for 1883 yards and 17 touchdowns. The NDC defense has gotten stronger as the year has gone on and is especially good at stopping the run, allowing just 68 yards per game on the ground.
Hillsdale will go as far in the playoffs as senior four-year starting quarterback Chance Stewart can take them. He threw for 319 yards and three scores to rally the Chargers from a 17-point deficit last week and he has thrown for 3266 yards this season. My concern with the Chargers is that they have given up 1444 yards of offense over the last three weeks. Can they do enough defensively to win this game? Hillsdale 30 Notre Dame 27
Super Region Two
Bowie State (10-2) at Valdosta State (10-0)
It was a tremendous feather in the cap for BSU senior standout quarterback Amir Hall in leading his team to the school's first ever D2 playoff victory last week. Hall has accounted for 4,341 yards of total offense this year and I do expect him to cause some problems for Valdosta State.
However, the problem BSU will have is stopping the Blazer offense. VSU has its own standout dual threat quarterback in Rogan Wells and I look for him and the Blazers to pile up the yards and points on Saturday. Valdosta State 45 Bowie State 27
Wingate (9-3) at Lenoir-Rhyne (11-1)
These two SAC teams met back on September 22nd. In that game LRU raced out to a 31-7 lead but had to hold on late to escape with a 31-24 victory. The high-scoring Bears were actually outgained offensively in that game by 25 yards.
LRU does some really unique things offensively which makes them very entertaining to watch. However, I do think it helps Wingate in that the Bulldogs have faced the Bears earlier in this season. I think this game comes down to turnovers. Teams have moved the ball against LRU, but the Bears have forced 38 turnovers. If Wingate can hold on to the ball, then I like their chances of pulling off the upset. We will see how it plays out. Lenoir-Rhyne 35 Wingate 33
Super Region Three
Northwest Missouri State (10-2) at Ferris State (12-0)
The Bearcats will be making another trip to Michigan and they must be feeling confident after easily dispatching of Grand Valley last week. FSU struggled to beat Harding but as they say this time of the year, all that really matters is to survive and advance.
The key to this game is FSU quarterback Jayru Campbell. The GLIAC player of the year has rushed for 1188 yards, passed for 2453 and accounted for 43 touchdowns. He will have to have a big game against a talented Northwest defensive front for the Bulldogs to win. However, the rumor is that Campbell may be a bit banged up and FSU has some other injuries as well. I like the Bearcats in this one. Northwest Missouri 27 Ferris State 17
Indianapolis (10-1) at Ouachita Baptist (11-0)
This two teams mirror each other in many ways with their old school approach. Both teams have run-heavy offenses, play great defense and win the turnover battle. I don't see either team deviating from what has worked so it will be the one that can better execute its plan that will prevail. I think this game will be tight throughout but I'm going to give the Tigers a slight edge simply because their defense has been especially tough at home. Ouachita Baptist 20 Indianapolis 17
Super Region Four
CSU-Pueblo (11-1) at Minnesota State (11-0)
Four years ago these two teams met in the national championship game, with CSU-Pueblo pulling off a surprising 13-0 win against the previously unbeaten Mavericks. Even though this is not a championship game it has a similar feel.
A fast, ball-hawking defense is what carried the Thunderwolves to that national championship and they have that kind of talent in place once again. Of course MSU is no slouch defensively either, and the Mavericks will be the most physical team that the Thunderwolves have faced all season. I think this will be a tough, grind it out game, but I think the Thunderwolves lack of a passing game gives the Mavericks a slight advantage. Minnesota State 17 CSU-Pueblo 13
Texas A&M-Commerce (10-2) at Tarleton State (11-0)
These two teams met back on October 13th with the Texans scoring 20 straight points in the fourth quarter to break open a tight game and win 47-21. The problem for the Lions in that game is that they could not slow down the TSU rushing attack led by Xavier Turner, who rushed for 166 yards and a pair of scores.
I think the game will be closer this time around. The TAMUC run defense has tightened up significantly since the first meeting with Tarleton and the Lion coaching staff has been tremendous at making adjustments on the fly over the last couple of seasons. However, the Lion offense is just not as efficient as it was a year ago and I think TAMUC will have a hard time scoring enough to win this one. Tarleton State 31 Texas A&M-Commerce 24
Contact
Feel free to contact Bob at [email protected] with any comments or criticisms or if you have a question you would like answered in the Mailbag.

Remember to follow D2Football.com on Twitter (@d2football) and "like" D2Football on Facebook at facebook.com/D2football/.