Bob Eblen's National Column
October 31st, 2019 12:00pm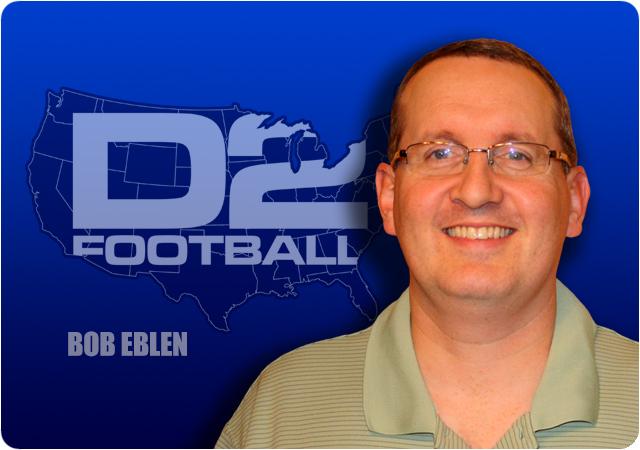 There are three weeks to go in the regular season and on Monday the first set of regional rankings were released. As I mentioned in a column a few weeks ago, the playoff selection process is changing a bit this year in the sense that only the top four teams in each region are guaranteed to play within their own region. The bottom three selections in each region could get moved out based on the NCAA's desire to reduce travel as much as possible.
This is a look at my four teams in each region as of today. Please keep in mind that my opinion on the strength of the teams does not consider how they are actually ranked by the NCAA:
Super Region One
Notre Dame College (8-0)
As long as Jaleel McLaughlin stays healthy, this will be a tough team for anyone in the region to beat. The sophomore running back has rushed for 1443 yards and 20 touchdowns already this year and with 136 yards this week would surpass 4,000 yards in just 23 career games! Sophomore quarterback Chris Brimm has continued to develop in his second season running the offense so this team can score points. The Falcon defense has given quite a few points at times this season, but a great performance in holding Findlay to 19 points last Saturday has me believing that the defense can make plays when it needs to.
Slippery Rock (8-0)
Quarterback Roland Rivers is having a ridiculous season and along with NDC's McLaughlin is a front runner in the Harlon Hill race. Rivers is completing almost 74% of his passes for 2533 yards and 28 touchdowns and has added six more touchdowns rushing. Defensively, the Rock is good at stopping the run, allowing just 77 yards per game on the ground. However, opposing offenses have thrown the ball very well at times which could be a problem in the postseason.
Indiana (7-1)
A three-point loss at Slippery Rock is IUP's only blemish. The Crimson Hawks lead the PSAC in total defense, allowing just 264 yards per game. They are also potent offensively, averaging 483 yards and almost 46 points per game. Senior quarterback Quinton Maxwell has been very productive after transferring from Ohio University in the offseason and he has a legitimate big play threat in Duane Brown (13 TD receptions) to throw the ball to. This is not a team I would want to face in the postseason.
Kutztown (8-0)
There's a lot to like about this team. The Golden Bears are potent and balanced offensively, averaging 39 points and 438 yards per game. Defensively KU is very solid and has forced 22 turnovers. The one weak link is in the kicking game as the team has missed five PATs and hasn't made a field goal all season. This could be a problem in the playoffs. The Bears have a major test this week as they travel to 7-1 West Chester. KU has only beaten the Rams once in the last seven tries.
Super Region Two
Valdosta State (8-0)
VSU narrowly avoided a huge upset last week, scoring a touchdown in the final minute of the game to escape with a 20-15 win over North Greenville. The question is, was last week just "one of those games" or did NGU expose some flaws that other opponents will take advantage of as well? The Blazers are not as explosive offensively as the team that won the national title last year, but with quarterback Rogan Wells leading the way, this team is very capable of scoring points. The defense is very good as well. I fully expect VSU to challenge for a second straight title.
Lenoir-Rhyne (8-0)
The Bears are very good and a team that poses a threat to Valdosta State in the region. LRU plays great defense, allowing just 272 yards per game. But it's the Bears' unique rushing attack that makes them especially dangerous. They run for 289 yards per game and literally do it from all angles: 13 different players have at least 10 carries this season.
Wingate (8-0)
The Bulldogs play old school football, running the ball two-thirds of the time, playing tough defense and winning the field position battle. This style still works as evidenced by the record, even if it lends itself to some close games: Three of WU's wins have been by a single score. We will find out a lot about this team on Saturday when they travel to Lenoir-Rhyne to decide the SAC title.
West Florida (6-1)
The Argonauts are allowing just 10.6 points per game, including a total of just 19 points over the past three weeks. With the GSC seemingly down a bit this season, we will find out if the Argonauts are for real when they visit Valdosta State on November 9th.
Super Region Three
Ferris State (8-0)
2018 Harlon Hill winner Jayru Campbell has played in just five games and hasn't come close to replicating the numbers he put up last season. It hasn't mattered because the Bulldogs have depth at the quarterback position and a defense that has really come on of late, allowing a total of just 70 points in six conference games. This team is second in the country in pass efficiency defense, which is an area that it's great to be good at come playoff time. I also get the feeling that Campbell will get turned loose later in the season for another run at the national title game.
Central Missouri (8-0)
The Mules lead the nation in total offense and are second in points scored. Senior quarterback Brook Bolles has accounted for 2728 yards of offense and 31 total touchdowns and is a top Harlon Hill candidate. However, UCM is not great defensively, allowing nearly 30 points per game. The Mules also have two very tough road games remaining as they travel to Nebraska-Kearney this week and finish the regular season at Northwest Missouri State.
Indianapolis (7-0)
I realize that the Greyhounds play in a bit weaker conference, but this is a team that has played pretty well in the playoffs in recent years and is also top ten in the country in the following statistical categories: total offense, rush offense, passing efficiency, scoring, rush defense, scoring defense, punt returns, kickoff returns and first downs allowed.
Harding (7-1)
As we've seen the past three years, this is a very dangerous team to face in the playoffs because the flexbone offense is difficult to defend, and most importantly, it keeps opposing offenses on the sidelines. Yes, I realize that Ouachita Baptist is unbeaten and beat the Bisons 16-14 in the season opener, but if I'm an opposing coach Harding would be the tougher match up in the postseason.
Super Region Four
Tarleton State (7-0)
The Texans average 536 yards of offense per game, 6.1 yards per rush attempt and have turned the ball over just six times. Wide receiver Zimari Manning has basically been un-guardable as he averages over 20 yards per catch and has scored 14 touchdowns. The Texans also allow just 289 yards per game. This is a team on my short list of those capable of competing for the national championship.
Minnesota State (8-0)
The Mavericks are out-gaining opponents 527-216, outscoring them 45-9 and have their own un-guardable receiver in Shane Zylstra, who averages almost 22 yards per catch and has 11 touchdown receptions. MSU won the region last year and is another team capable of winning it all. My reason for placing the Mavericks behind Tarleton is that I don't feel MSU is quite as athletic, which was obvious if you watched the playoff game between the two teams last year.
Colorado Mines (8-0)
In the past the Orediggers have been known for prolific offenses but recently have added defense to the menu as well. This is a team that is out-gaining opponents 488-231 on average and the closest game was a 20-point win over 7-1 CSU-Pueblo. I think this is going to be a very dangerous team come playoff time.
CSU-Pueblo (7-1)
A lack of big play ability on offense- particularly in the passing game- probably limits this team's ability to advance very far in the postseason. But the Thunderwolves are very solid defensively and can force turnovers which will make them a tough team to face.