Bob Eblen's National Column
November 29th, 2019 5:00pm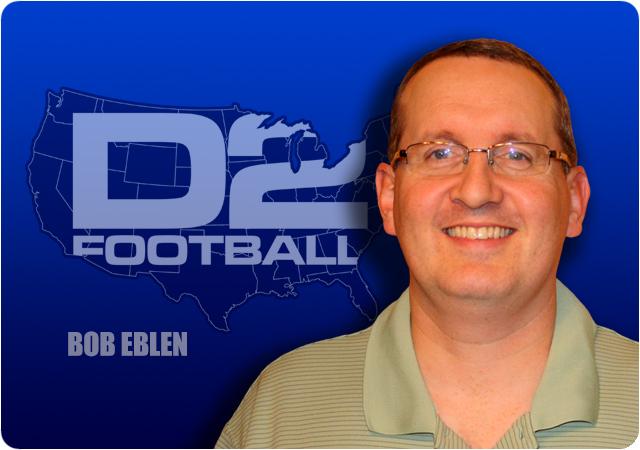 The first weekend of the D2 football playoffs turned out to be wildly entertaining. There was a single score margin in eight of the 12 games, with several of those being decided in the final minute. The road team won five of the 12 games, but probably the biggest indicator that the field is balanced is the fact that the lower ranked team won six of the eight meetings where both teams were in the top 25.
There were two major upsets. One was Lindenwood knocking off 4th-ranked Ouachita Baptist 41-38. There were nine lead changes and just two punts in the entire game. The only turnover was an interception in the final minute that sealed the win for the Lions. LU sophomore QB Cade Brister was outstanding as he passed for 273 yards and rushed for 94 more.
The other big upset was Texas A&M-Commerce knocking off 5th-ranked Tarleton State. When the two teams met in October, the Texans ran for 200 yards in a 35-21 win. In the rematch a rapidly improving Lion defense limited the Texans to just 56 rushing yards and a season low 16 points.
Harlon Hill Trophy
The 36 players nominated for the Harlon Hill Trophy were announced this week. You can see the list here. All of the names I would have under consideration made it through the nomination process. I will have more commentary when the list of the eight finalists is announced next week.
Playoffs – Round 2
Super Region One
Shepherd (10-2) at Slippery Rock (11-0)
This is setting up to be one of the most entertaining games of the second round. SRU QB Roland Rivers (4,000 total yards, 48 total touchdowns) and Shepherd quarterback Tyson Bagent (71% completions, 3936 passing yards, 32 passing touchdowns) are two of the best signal callers in the entire country. They are also both surrounded by playmakers on the offensive side of the ball.
The game will probably be decided by turnovers and which team can make a few stops defensively. SRU gives up about 50 less yards per contest, but the Rams have forced six more turnovers this season than has Slippery Rock. This game has shootout written all over it and should be very entertaining to watch. Slippery Rock 45 Shepherd 41
Notre Dame (11-1) at Kutztown (11-1)
This also has the makings of being a great game. NDC, of course is led by standout sophomore running back Jaleel McLaughlin, who leads the nation in rushing. The West Chester defense did a nice job of limiting him to just 45 yards last week, but DJ Greene hurt them with 96 yards rushing. The Falcons are going to try to find away to run the football.
Kutztown relies on senior QB Collin DiGalbo to lead a very balanced offense. The Golden Bear passing game is hard to defend because DiGalbo spreads the ball around so well- six receivers have been 368 and 640 receiving yards on the year. This has the makings of another very close, entertaining game. Kutztown 27 Notre Dame 26
Super Region Two
West Florida (9-2) at Valdosta State (10-0)
When these two teams met three weeks ago, it was kind of a tale of two halves. The Blazers jumped out to a 20-0 halftime lead only to see UWF rally in the second half to make it a game. VSU ended up winning 26-21.
However, the Blazers ran 75 plays for 526 yards while limiting UWF to 52 plays and 282 yards. Unless the Argonauts can find away to generate more production offensively and sustain drives, they will have a hard time keeping the score as close in round two. I really think VSU QB Rogan Wells is just to skilled for almost any D2 defense to contend with and the only proven way to combat what he does is to keep him and the VSU offense on the sidelines. Valdosta State 31 West Florida 18
Carson-Newman (9-2) at Lenoir-Rhyne (12-0)
Another rematch. When these two teams met back in October LRU took jumped out to a 16-0 and then held off a few comeback attempts by the Eagles to win the game 36-23. The Eagles also fumbled twice deep in their own territory which led to a pair of LRU touchdowns.
This will be a fast-moving ground-oriented game between two teams that know each other extremely well. Both defenses are very solid, but I feel that LRU is the more explosive team offensively and has more ways to score points. I do think the Eagles could win if they can be at least plus two in the turnover category. Lenoir-Rhyne 27 Carson-Newman 20
Super Region Three
Central Missouri (11-1) at Ferris State (10-0)
The first thing to establish going into this game: Jayru Campbell- FSU's Harlon Hill QB from 2018- has been ruled out for the season due to an ankle injury. However, FSU has a very capable backup in senior Travis Russell, who has started four games this season and won a playoff game against Northwest Missouri last year. He isn't as dynamic as Campbell, but a very solid player. UCM's defense is not very good, so I don't think moving the ball or scoring points will be a problem for the Bulldogs.
Where this game will interesting is on the other side of the ball. FSU has the top pass efficiency defense in the country while UCM lead the nation in passing. Something will have to give. With the forecast in MI calling for rain, snow and wind on Saturday I think the advantage goes to the Bulldogs. Ferris State 38 Central Missouri 24
Lindenwood (9-3) at Northwest Missouri (11-1)
The Bearcats and Lions have played each of the past five seasons while both teams were in the MIAA (LU moved to the GLVC this season). Northwest won all five games by an average score of 45-10. Obviously this is a new year, but Northwest has to have the psychological edge coming into the game.
As I mentioned earlier, LU QB Cade Brister is a talent. However, the Northwest defense harassed Central Missouri standout QB Blake Bolles with four interceptions and eight sacks a couple of weeks ago and I expect them to create similar problems for Brister. Plus, the LU defense is not really playoff caliber which is a problem for the Lions as well. Northwest Missouri 41 Lindenwood 17
Super Region Four
CSU-Pueblo (11-1) at Minnesota State (11-0)
These two programs have developed quite the playoff rivalry in a very period short time. CSUP upset the Mavericks 13-0 in the 2014 national championship game and the two programs have met in the playoffs each of the past two seasons as well with MSU winning 16-13 in OT in 2017 and 24-10 last year. Both games were in Mankato.
The past games have been defensive slugfests and I don't expect that to change on Saturday. Plus, a major snowstorm with up to a foot of snow is forecast to hit Mankato which would turn this into a in the trenches slugfest. MSU is the better team offensively and the Mavericks' incredibly physical style should prevail. Minnesota State 27 CSU-Pueblo 16
Texas A&M-Commerce (9-2) at Colorado Mines (12-0)
Mines true freshman QB John Matocha was sensational last week in helping his team overcome a 14-point second half deficit. The thing that stood out the most to me about him was his cool under pressure. Last week he always made the right decision with the football in some huge spots. He will be facing a fast and confident TAMUC defense so we will see how that unfolds.
The TAMUC offense has morphed into a ball control unit that runs in more than throw. This is a departure from the pass happy offense the Lions used to win the title in 2017. Mines gave up a few big plays last week but dominated the time of possession and wore down Sioux Falls in the second half. That will be hard to do against Commerce because the Lions play so many guys on defense- 27 players on the roster have at least 10 tackles. Texas A&M-Commerce 20 Colorado Mines 17