Bob Eblen's National Column
December 13th, 2019 1:00pm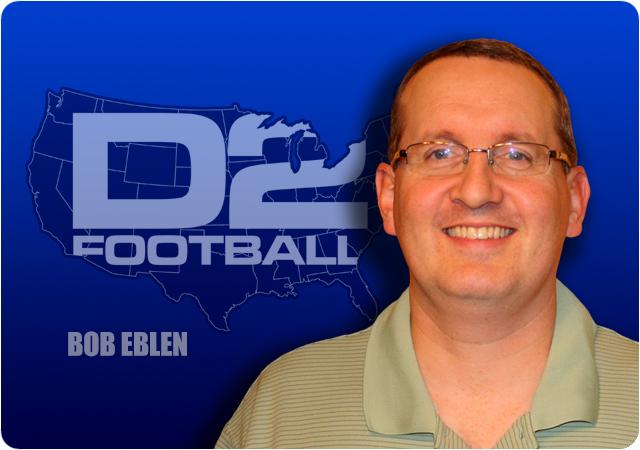 With Northwest Missouri State and Texas A&M-Commerce going down to defeat last weekend, it guarantees that we will see a first-time champion this season.
However, that doesn't mean we have a remaining final four that are newcomers to playoff success. Minnesota State, Ferris State and West Florida have all played in national championship games in the last five years. Slippery Rock advanced to the regional final in both 2015 and 2018 before getting over the hump this season. This will be SRU's first semifinal round appearance since 1998.
Each one of these teams have strengths that are a little bit different and that should make for some interesting games. The semifinal round also tends to be entertaining because most D2 teams these days tend to play teams from just their area up to this point. The semis allow us that first chance to see how teams from across the country match up with each other.
Two Teams Dropping Football
Two members of the NSIC- St. Cloud State and Minnesota-Crookston- announced on Tuesday that they will be dropping their football programs. This comes one week after the NSIC changed its by-laws to allow schools without football programs to be members of the conference.
UMC went 0-11 this year and 2-64 over the last six seasons. UMC won 13 games in its first three seasons in D2 from 1999-2001, but a total of just 18 games over the next 18 seasons. Plus, this season the Golden Eagles were forced to play their final three games at the Alerus Center in Grand Forks, ND because their home field was too torn up to play on. Clearly this is a program that probably belonged at the NAIA or D3 level all along, but with limited conference options it's easiest for the school to cut football and keep the rest of the athletic department at the D2 level.
For SCSU, it's more complicated. The school is one of the larger ones in the NSIC and has had periods of football success in the past, most recently between 2010 and 2013 when the Huskies made the playoffs three times. But, with enrollment down 25% over the last decade and Title IX issues, the administration made decision to cut the football program.
Unfortunately, it's my belief that we will see many more small college football programs cut in the next couple of decades. I have a few reasons why I feel this way.
One, the number of kids playing high school football has dropped quickly over the last several years. A big part of that is concussion concerns but also, interest in other sports like cross country has picked up nationwide. As the football numbers drop, there is less of a need for college programs.
Secondly, females make up 58% of the total enrollment in post-secondary education in the U.S. and that percentage continues to increase each year. If the average school is 58% female, then Title IX dictates that a high percentage of the athletes on campus be female. This makes it very difficult for an athletic department to function when it has a football program with upwards of 100 students playing. In the SEC football generates enough revenue to fund as many women's sports as necessary to offset football. It doesn't work that way at the small college level. The easy solution then is to cut the football program to become compliant with Title IX. This is pretty much what happened at St. Cloud State and I could see it happening elsewhere.
The last reason I feel that the small college game may suffer is for insurance reasons. There was a great article on ESPN.com earlier this year which explains how the football insurance market is evaporating, which will eventually trickle down through all levels of the game. The small college game- where there isn't the budget to support more extra costs- would stand to suffer the most. A CTE lawsuit brought against a smaller school would almost certainly spell doom for that football program.
I hate to be all doom and gloom on the eve of the national semifinals, but the dropping of these two programs was an opportunity to get my opinion out there on an issue I have been thinking about for awhile now. I am not one of those people predicting the complete demise of football in the next 20 years. The game is so entrenched in our culture and the NFL and major college football are too powerful to just disappear. But I do feel that an erosion of the small college game is likely. Let's hope I'm wrong.
National Semifinals
Minnesota State (13-0) at Slippery Rock (13-0)
Outside of the 2014 national championship game, MSU has played 17 straight home playoff games dating back to 2008. I'm not sure any program in D2 has ever played that many home games in a row in the postseason. Of course if a program is playing this many home games in the playoffs it means they are consistently successful. 2019 was MSU's sixth unbeaten regular season since 2012.
MSU is the most physical football team in D2. The Mavericks have a huge and talented offensive line which leads the way for standout senior running back Nate Gunn, who has rushed for 4883 yards and 60 touchdowns in his three years with the Mavericks. Senior receiver Nate Zylstra has 4,000 receiving yards and 51 touchdowns in his career and is a big play threat at any time. MSU has used a two-quarterback system for several years now. Ryan Schlichte and JD Ekowa are both capable of running and passing.
Defensively, the Mavericks are a physical, veteran group that leads the nation in total defense, allowing just 242 yards per game. MSU's front four is physical and has helped account for 44 sacks.
SRU quarterback Roland Rivers has had in my opinion one of the greatest D2 individual seasons in recent memory. Rivers has accounted for 4892 yards of offense and a staggering 59 touchdowns. In two playoff games he has passed for 852 yards and accounted for 13 touchdowns. He has two very talented receivers to throw to in juniors Henry Litwin and Jermaine Wynn Jr. The duo has combined for 2680 receiving yards and 34 touchdown receptions. SRU leads the nation in scoring at almost 49 points per game.
The SRU defense has not been as effective as the offense. The Rock allows 333 yards a game and has forced 27 turnovers, which are both good numbers. However, SRU has given up 30 points or more in six games this season including a whopping 125 points over the last three weeks.
Prediction: Despite having to go on the road, I think MSU is a big favorite in this game. The Mavericks resemble an FCS team in some ways with their size and depth and I think they will overwhelm SRU at the line of scrimmage. I expect Rivers to do his part to keep The Rock in it, but I don't see the SRU defense being able to slow down the MSU running game enough to win the game. Minnesota State 42 Slippery Rock 30
West Florida (11-2) at Ferris State (12-0)
These two programs have had plenty of recent playoff success. UWF didn't even have a team until 2016 and made the national championship game a year later, which is remarkable. Want to know what's even more remarkable? UWF has yet to play a home game in either playoff run and accomplished both with freshman quarterbacks. The job Pete Shinnick has done in getting this program off the ground has been incredible to watch.
Ferris State made the semifinals in 2016 and lost in the national championship game last year. While the FSU program has been around for decades, the job that Tony Annese has done in reviving it has been impressive as well. As Grand Valley State started to rise to national prominence in the early 2000's, the Lakers left every program in the GLIAC- including Ferris State- in their dust. Under Annese the Bulldogs have gone 8-2 against GVSU and overtaken their main rival for prominence in the league and region.
UWF freshman quarterback Austin Reed has had a remarkable season, passing for 3262 yards and accounting for 37 total touchdowns. He led the team on an 80-yard drive in the final two minutes of the game to knock off defending national champion Valdosta State in the second round. His main target is Tate Lehtio, who has hauled in 75 passes for 863 yards. Defensively the Argonauts have not been quite as strong, giving up 73 points over the last two weeks.
Ferris State lost 2018 Harlon Hill winner Jayru Campbell to a season ending injury before the playoffs and lost top receiver Sy Barnett in the win over Central Missouri two weeks ago. However, FSU still managed 465 yards of offense against a very good Northwest Missouri defense last week. The leader is senior quarterback Travis Russell, who has done a great job filling in for Campbell.
Where the Bulldogs have a big advantage is on the defensive side of the ball. Simply put, I think this Bulldog defense is the best in the country. They lead the nation in pass efficiency defense, are second in scoring defense and haven't allowed any opponent to score more than 17 points in a game over the last 10 weeks. In the first two playoff rounds, FSU allowed a total of just 13 points while playing two of the top offenses in the country. The leader is senior defensive end Austin Edwards (10.5 sacks) but the Bulldogs have talent and experience at all three levels of the defense.
Prediction: Despite the key injuries, I feel that this FSU team is on a mission and it will be a very tall order for the Argonauts to win this game. The Bulldog defense will be by far the best that UWF has seen this season and I think the Argonauts will have a tough time sustaining drives and scoring points. Ferris State 27 West Florida 16