Bob Eblen's National Column
November 21st, 2019 1:00pm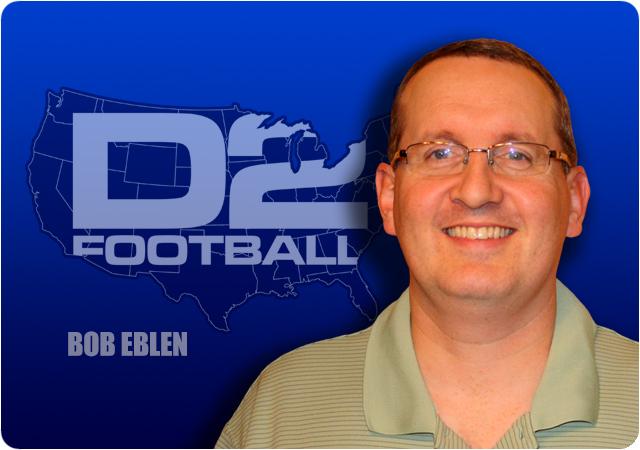 The new NCAA policy of moving the lower seeded teams between regions to prevent first round flights proved to be more bark than bite, at least this year anyway. Every one of the 28 teams selected ended up staying within their own region, although it appears some seedings were changed a bit to accommodate travel.
What we ended up with is a very interesting playoff field: Nine of the teams selected carry with them unbeaten records while ten more have just a single loss. Despite having so many unbeaten teams, this playoff field doesn't have the same feel as last year when Valdosta State was a heavy favorite. The Blazers (10-0) are the top seed in Super Region Two and on the short list of teams that could win it all, but this VSU team doesn't seem to be as dominant as last year's club.
Outside of Valdosta State, the other three teams that I feel have the best chance of hoisting the national championship trophy are Ferris State, Minnesota State and Tarleton State. What follows is a brief synopsis of each of the teams and how I feel about each region. I have listed the teams in the order they are seeded. You can see the actual bracket here.
Super Region One
Slippery Rock (11-0) is led by senior quarterback Roland Rivers, who has thrown for 3409 yards and 40 touchdowns this season. SRU averages almost 500 yards of offense and 47 points per game. Defensively this team allows 302 yards per game but gave up big yardage and points in both games against teams in the playoff field (Indiana & Kutztown).
Kutztown (10-1) has had a great season and it will be interesting to see how they rebound from a heartbreaking PSAC title game loss to Slippery Rock. Kutztown is led by senior quarterback Collin DeGalbo, who has accounted for 36 total touchdowns. The team's weak point may be the kicking game as they have made just two field goals all year.
Notre Dame (10-1) is the defending region champion and definitely in the mix again this year. Sophomore running back Jaleel McLaughlin is on track to become one of the most prolific rushers in NCAA history as he has 4403 yards and 45 rushing touchdowns already in his career. NDC doesn't throw the ball quite as well as it did last year, but the Falcons are still very solid on defense.
Indiana (10-1) lost by a field goal at Slippery Rock earlier this fall. The Crimson Hawks are led by senior quarterback Quinton Maxwell, who has thrown 32 touchdown passes. IUP may have the best defense of any team in the region as this unit allows just 283 yards per game.
Shepherd (9-2) will go as far as the arm of sophomore quarterback Tyson Bagent (354 passing YPG) can take the team. Penalties (over 10 per game) and turnovers (24) have been a problem as well as a defense that has been susceptible to the pass at times.
West Chester (9-2) plays solid defense and spreads the ball around offensively. The issue with this team is turnovers- WCU has given the ball away 27 times already this season.
Tiffin (9-1) has a very good offense capable of moving the ball via ground or air. The concern with Tiffin is defensively: The Dragons have given up 104 points over the previous three games.
Prediction: I think this is a wide-open region with any of the top four teams capable of winning it. Shepherd and Tiffin are also capable of pulling off an upset due to their ability to score points. I expect some high scoring, entertaining games. I'm going with Slippery Rock as the slight favorite because of Rivers, the first round bye and home field.
Super Region Two
Valdosta State (10-0) is not quite the offensive juggernaut the Blazers were last year when they claimed the D2 title, but still very good offensively and capable of spreading the ball around to many different players. VSU is solid defensively and definitely a team capable of repeating.
Lenoir-Rhyne (11-0) has suffered just one loss in the last 24 games and that was to VSU in the region final last season. The Bears are a much better team defensively than the 2018 version and their unique offense that attacks from all angles is tough to stop: LRU has 15 players with at least ten carries and 12 different players have scored a rushing touchdown.
Bowie State (11-0) was expected to drop off after star quarterback Amir Hall used up his eligibility in 2018, but instead the Bulldogs have taken another step forward. Ja'rome Johnson has taken over for Hall and accounted for 33 touchdowns. The BSU defense has forced 35 turnovers and allows just 284 yards per game.
Wingate (10-1) is 4-1 in games decided by seven points or less so this is a team that has been tested. The Bulldogs are not flashy but have turned the ball over just 11 times all season while allowing just 103 yards per game on the ground.
West Florida (8-2) lost by just five at Valdosta State two weeks ago, so this is a team capable of playing great football. The Argonauts are not explosive offensively, but they are balanced run/pass and have converted over 50% of the time on third down.
Carson-Newman (8-2) has been running the split back veer forever it seems, and it's still productive as the Eagles average 317 yards per game on the ground. Defensively the Eagles allow just 288 yards per game and have intercepted 19 passes.
Miles (9-2) won its second straight SIAC title by beating Albany State last week and the Golden Bears will be making their second playoff appearance in school history. The strength of this team is a run defense that allows 85 yards per game but the Golden Bears will have their hands full with Lenoir-Rhyne.
Prediction: Valdosta State has to be the favorite as the returning champs, especially if the Blazers can kick it back into high gear offensively. The talent is there to do it. I feel that Lenoir-Rhyne and West Florida are the teams best equipped to challenge the Blazers. I am also curious to see if Bowie State can build off of last year when the Bulldogs won a first round playoff game.
Super Region Three
Ferris State (10-0) was the runner up a year ago and features one of the best defenses in the country. The Bulldogs also feature the 2018 Harlon Hill Trophy winner in senior quarterback Jayru Campbell. However, Campbell has been in and out of the lineup with injuries all season and his status is not certain for the playoffs. If he is on the field, the Bulldogs are as dangerous as anyone.
Ouachita Baptist (11-0) is a team that exemplifies ball control on offense. The Tigers have turned it over just 10 times all season and have an incredible 62.5% conversion rate on third down. Combine that with a fundamentally sound defense that doesn't give up the big play, and you can see why this team is 23-1 over the last two seasons.
Northwest Missouri State (10-1) has some big playmakers on the offensive side of the ball and the team averages nearly 47 points per game. The Bearcats are good defensively, but not the dominant defensive unit that D2 fans have become accustomed to seeing during Northwest's national title seasons. A lack of consistency in the passing game has been a problem at times during the year.
Central Missouri (10-1) is all about offense. Despite a subpar performance in a loss to NWMSU last week, senior quarterback Brook Bolles has thrown for 3660 yards and 39 touchdowns and the Mules lead the country with 570 yards of offense per game. The weak spot is on defense where UCM allows 411 yards per game.
Indianapolis (9-1) will be making its sixth playoff appearance in the past eight years and seeking to pick up its third playoff win. The Greyhounds lead the nation in per game scoring and have been great all year defensively, with the exception of a 34-27 loss to Lindenwood where they gave up 531 passing yards.
Harding (10-1) leads the nation in rushing, producing 393 yards per game with its flexbone offense. The Bisons allow just 264 yards and 12.7 points per game. In previous playoff visits to NWMSU (2012 and 2016), Harding was shut out 35-0 both times.
Lindenwood (8-3) started the season 1-3 but got into the playoffs via an upset win over Indianapolis and some help with other upsets in the last week of the season. The Lions are prolific through the air, with the Cade Brister throwing for over 300 yards per game along with 36 TD passes. However, the Lions give up 426 yards and almost 30 points per game on defense.
Prediction: If Jayru Campbell is close to 100% then Ferris State is the clear-cut favorite in the region. If Campbell is limited or doesn't play, then that opens the door for a team like Northwest Missouri State to potentially take down the Bulldogs.
Super Region Four
Minnesota State (11-0) reached the semifinals a year ago and returned just about every key player to this year's team. The Mavericks are an old school, physical, pound the football type of team and they lead the nation in total defense to go with the third best offense. The question as always with this team in the playoffs is does MSU have enough athletes to match up with the other great teams?
Tarleton State (11-0) suffered a heartbreaking loss at Minnesota State in the quarterfinals a year ago and the Texans will likely have to go through the Mavericks again this season to have a shot at winning it all. TSU is physical, athletic and has a trio of very talented playmakers in quarterback Ben Holmes, running back Daniel McCants and receiver Zimari Manning.
Colorado Mines (11-0) has a freshman sensation at quarterback in John Matocha, who has accounted for 37 total touchdowns in his ten games played. The Orediggers are also dominant defensively, allowing just 57 yards per game on the ground.
Colorado State-Pueblo (10-1) has intercepted 26 passes and allows just 60 yards per game rushing, so this is a team that gets after it defensively. On offense the Thunderwolves can run or pass effectively, but lack some of the big play ability that the other offenses in the region possess.
Augustana (9-2) is built around a defense that allows just 286 yards per game and has forced 29 turnovers. The Vikings have been involved in three games decided by a single point and another game was decided in overtime. The Vikings have certainly been tested, but do they have enough offense to win in the postseason?
Sioux Falls (8-3) lost standout running back Gabe Watson in the pre-season to an injury but has adjusted nicely on offense due to the development of quarterback Caden Walters, who has a 24 to 3 TD to INT ratio. The Cougars are third in the country in total defense. The main issue this team has had is inconsistency from game to game.
Texas A&M- Commerce (8-2) will be in the playoffs for a fifth consecutive year and the Lions won the 2017 national championship. Quarterback Miklo Smalls has completed 69% of his passes and thrown 22 touchdown passes.
Prediction: Just like last year, I think this region comes down to Minnesota State and Tarleton State. Both teams are very good, but unless Minnesota weather can interfere like it did last season, I give the Texans a slight advantage.