D2 Football A-Z: Something to know about every team
August 23rd, 2023 2:00pm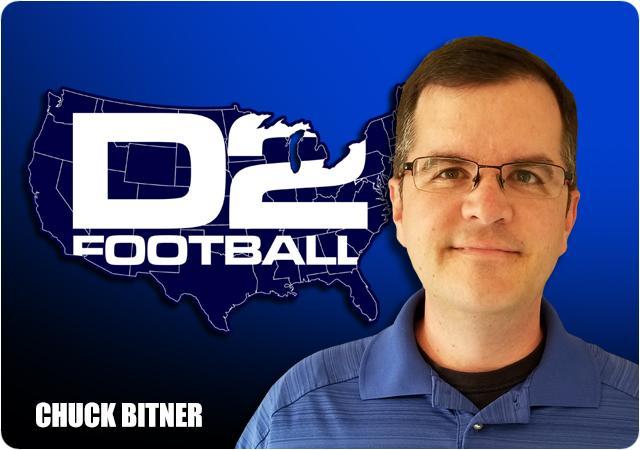 Welcome back, D2 fans. The new season is upon us. In case you missed it, be sure to take a look at the D2Football Preseason Top 25 and the Elite 100 watch list. Also, don't forget to join the crew on Sunday nights at 8pm, eastern for Inside D2Football. Our season premier aired on Sunday, August 20. You can catch the replay with our analysis of all 25 teams in the preseason poll here.
For preseason material, I decided to do something different and something that would create a way to cover ALL of D2. If you've ever wanted to impress friends and family with your diverse knowledge of the D2 landscape, this is for you. A conference-by-conference, A-Z. At least one thing you need to know about every program in Division II. It might be something historical. Might be about a special player. May just be mention of a coaching change. But at least one interesting thing about every team that you should be aware of as we kick off the 2023 season. Enjoy.
CIAA
Bluefield State: The third year of D2 ball at Bluefield State will also be the school's first as a full member of the CIAA in the modern era. Big Blue has a 3-1 record against CIAA teams since re-launching football in 2021.
Bowie State: Last year's 6-4 record didn't sit well with a program that hadn't won fewer than seven games since 2014. For the fifth consecutive year, the coaches picked them to win the north division.
Elizabeth City State: Alum Marcus Hilliard enters his second year as coach hoping to lead the Vikings to their first winning season since 2012.
Fayetteville State: The Broncos have won five straight CIAA south division titles and broke through with a championship game win in 2022. They enter the season as the coaches' pick to do it again.
Johnson C. Smith: The Golden Bulls finished 2-7 in 2022 but four losses were by three points or less. Coaches noticed the competitive form and picked JCSU to finish in the middle of the pack this year. The Bulls' stadium, overlooking the Charlotte skyline, has a new artificial turf.
Lincoln: The Lions had a strong first half in 2022 before things trailed off in the thick of the north division schedule. Isaiah Freeman is regarded as the top returning QB in the conference.
Livingstone: This year's season shapes up exactly like 2022. Expect a tough first half, but a more competitive second half. The Blue Bears won three of five to close out last year's campaign at 4-6.
Shaw: The Bears return one of the top rushers in the league in Sidney Gibbs. If there is a challenger to Fayetteville State's stranglehold on the south, it may be this year's Shaw team…but I said that last year too.
St. Augustine's: New coach Howard Feggins has the background and experience to be a head coach anywhere in college football, but St. Aug is a tough place to be first time head coach. Years of instability have kept St. Aug from getting close to a winning season.
Virginia State: Willie Drew may be one of the top defensive backs in the nation and was named to the Shrine Bowl watch list.
Virginia Union: Third overall was a curious pick in the CIAA coaches' poll. The Panthers are my pick to win the league, behind the performance of the top running back in Division II, Jada Byers.
Winston-Salem State: It's hard to believe Winston-Salem State has a combined seven wins over the last three seasons. The early part of the CIAA schedule is favorable, so this has to be the year they turn it around.
GAC
Arkansas Monticello: The Boll Weevils started 3-1 in 2022 but lost the last seven games. I think they can be a little better this year because returning QB Demilon Brown will be one of the top dual threats in D2.
Arkansas Tech: Three wins in 2019. Four wins in 2021. Five wins in 2022. Are the Wonderboys poised for a winning season in 2023? Rushing offense is their strength. Rushing defense is where they need to improve.
East Central: The Tigers quietly had one of the best seasons in D2 last year. Started 0-2 then won 9 of the next 10, including a bowl game. They'll have a new head coach for the second straight year.
Harding: The top rushing offense in D2 returns the top four ball carriers from 2022. Six of the best players from an underrated defense are back too. The Bisons are my pick to win the GAC.
Henderson State: Get familiar with the name Andrew Edwards. The GAC freshman of the year was one of the most efficient passers in the nation. He's back for a sophomore season along with six other offensive starters.
Northwestern Oklahoma: The Rangers last winning season was in 2010, but there are reasons to be optimistic heading into the first season with Ronnie Jones, who has decades of coaching experience at every level of football.
Oklahoma Baptist: A head-scratching 1-10 season brought about a reboot with a huge incoming freshman class.
Ouachita Baptist: The defending GAC champs lose Harlon Hill candidate TJ Cole but a lot of familiar faces return to an offensive unit that scored 43 points per game. Kendal Givens will be the workhorse back and QB Riley Harms returns as well.
Southeastern Oklahoma: The last two years have been good for Savage Storm who welcome back Bo Atterberry as head coach. He has 10 winning seasons in 11 years as a college coach and this will be his second stint at Southeastern. A notable addition in the off season was Nate Omayebu, the standout running back from Angelo State.
Southern Arkansas: The Muleriders placed fourth in the GAC preseason poll. Nice recognition of the progress made last year in Brad Smiley's first year leading the program. Jariq Scales is a name to know. The All-GAC running back will be going for a third straight 1,000-yard season.
Southern Nazarene: 5-6 marked Southern Nazarane's best record since 2011 and best in the school's Division II era. QB Gage Porter had a lot to do with the progress. He's the best rushing QB in the nation (159 yards per game) and pretty handy throwing the ball as well.
Southwestern Oklahoma: A competitive 4-7 was a massive step forward after a winless 2021 season. Unfortunately, the staff that architected that turnaround stayed only one season. Defensive coordinator Ruzell McCoy, a SWOSU graduate, will be the interim coach for 2023.
GLIAC
Davenport: 2022 was a breakout season with the Panthers earning their first ever D2 playoff invitation. I like their chances of sticking around for at least another year. They did extremely well in the transfer portal and return Jason Whittaker. The grad QB emerged as one of the best passers in the country after assuming the starting job in week three.
Ferris State: Winning three straight national championships has happened only once in Division II and that was nearly 30 years ago. Those statements may be outdated by the end of December. The two-time defending champs have everything they need to make it three in a row.
Grand Valley State: It's easy to overlook the fact that Grand Valley State enters the season as the defending GLIAC champs. As was the case last year, they'll probably have to beat Ferris State twice to accomplish all their goals. They lost a few players to the transfer route, notably at receiver, but they still have a championship roster.
Michigan Tech: Alum Dan Mettlach takes over as head coach as the Huskies try to bounce back from a losing season. A turnaround needs to start on defense.
Northern Michigan: The GLIAC is a tough place to be during a rebuild and that's what Northern will be this year. As if things aren't tough enough, the Wildcats added two NSIC heavy weights to the calendar.
Saginaw Valley State: Fourth place in the conference standings seems like an unjust way to describe the Cards' 2022 campaign. They were a playoff caliber team. The offense will have a lot to replace this year.
Wayne State: Long time coach Paul Winters finished his tenure with the program last year. Michigan football hero Tyrone Wheatley takes over. The GLIAC schedule is tough and the Warriors also added the two best GLVC programs and Slippery Rock . Might be a difficult rebuilding year in Detroit.
GLVC
Indianapolis: The defending GLVC champs lose Toriano Clinton, one of the best players in school history, but transfer RB Jon Lewis, a D3 All American from Birmingham Southern, is ready to fill the role. QB Connor Kinnett is also back along with four first team All-GLVC defenders.
McKendree: Yogi Flagler is one of the top returning receivers in D2. As a sophomore he was top 10 in the nation in receptions, receiving yards and receiving TDs.
Missouri S&T: The Miners have work to do to improve the offense, but the defense should be a strength.
Quincy: Quarterback is a question mark but the Hawks look good at the line of scrimmage on both sides of the ball. There are winnable games in the early part of the schedule. Great opportunity to build momentum.
Southwest Baptist: A lot of starters are back on the offense but the Bearcats need to find QB1. The defense will have a lot of new starters.
Truman State: The Bulldogs narrowly missed out on the playoffs last year. With 18 starters back, they're a threat to win the GLVC. The back half of the defense looks really good and incumbent QB Nolan Haire will work behind an experienced O-line.
Upper Iowa: New year, new conference for Upper Iowa. The Peacocks move over from the NSIC. I think they will be more competitive in the GLVC but a whole slate of new opponents is a big challenge.
William Jewell: The Cardinals have a new stadium under construction that will breathe new life into the program, but that's a year away. Still a lot of building to do on the field to improve on last year's two wins.
Great Midwest
Ashland: The Eagles won the G-MAC convincingly last year, but lost a lot of the leadership from that team, including long time coach Lee Owens, who retired.
Findlay: The Oilers have one of the top lineman in D2 in Michael Jerrell. He may be a draft pick by next April.
Hillsdale: The first month of the season is a grind. Three straight road trips to UIndy, Michigan Tech and Ashland. The Chargers won't be home until week four against Findlay.
Kentucky Wesleyan: Last year's team was 2-9 against a weak schedule. The opener at West Florida may get ugly, but winnable games against William Jewell and Walsh follow.
Lake Erie: Lake Erie was often more competitive than their 3-8 record would indicate. More wins may come if they can improve the rushing attack. The Storm finished 147th in the nation in rushing offense last year.
Northwood: Last year the Timberwolves won the first two and the finale. In between, they lost eight in a row. A coaching change followed and Northwood did well hiring Dustin Beurer. In four years at the helm of Albion (D3, also in Michigan) he racked up a record of 29-5.
Ohio Dominican: ODU has been one of the most consistent teams in the country over the past decade. The Panthers have won seven or more games every season since 2011.
Thomas More: Newcomer Thomas More spent several years in Division III before moving to the NAIA 2018 to begin scholarship athletics. They'll now begin their transition to D2 as a full member of the Great Midwest. They've been right around .500 for the past three years.
Tiffin: There is a lot of skill talent to replace from the best offense in the GMAC, but the Dragons look good at the line of scrimmage on both sides of the ball.
Walsh: Three shutout losses contributed to one of the worst offensive outputs in the country last fall. 11 points per game put them in the bottom 10. The defense had some moments and kept them in a few games. Something to build on, but the offense has to do it's part.
GSC
Chowan: The Hawks had their CIAA associate membership terminated and their permanent home in Conference Carolinas won't launch football until 2025. The GSC offered refuge for the next two years. They won the CIAA north a year ago, but the program has undergone lots of turnover since. A GSC schedule with a rebuilt roster and first year head coach is a tough assignment.
Delta State: The GSC co-champs have a long list of reasons for feeling like they can make a deep playoff run. QB Patrick Shegog leads that list. Among the rest, the offensive line is massive and the secondary should be one of the best in the country.
Mississippi College: Wins over West Georgia and Valdosta State highlighted a 3-4 conference record, which was the Choctaws' second best season in the GSC in their ten years of membership. Many of the toughest games are at home this fall.
North Greenville: The Crusaders have not had a winning season since joining the GSC in 2018. Out of conference games against D1 Charleston Southern and SAC champ Newberry add to the challenge of the GSC schedule.
Shorter: Results may not tell the whole story, but Shorter has come a long way under head coach Zach Morrison. A winning season is probably still out of reach but I like the trajectory and expect this program to have a whole new lease on life when moving to Conference Carolinas in 2025.
Valdosta State: In hindsight, Valdosta State's 2022 struggles were not shocking. We saw the signs the year before with a defense that was helpless against Ferris State and West Florida. That said, 5-6 doesn't cut it in Titletown, the home of the four-time national champs. A retooled defense should be much improved, but there is a lot of talent to replace in the offensive backfield.
West Alabama: If the Tigers can generate some offense to compliment a strong defense, they can be a contender. The season opener at home against highly ranked Angelo State will tell us a lot.
West Florida: The coaching change is a big variable. You don't easily replace a man like Pete Shinnick. But talent can take you far and the Argos have as much as any team in the country. If QB Peewee Jarrett continues to progress, West Florida will make another deep playoff run.
West Georgia: The Wolves narrowly missed out on the playoffs last year and would have been a factor if they'd made it. Look for UWG to prove something early with openers against two post season teams. Identifying their new starter at QB will be priority #1 for fall practice.
LSC
Angelo State: The Rams have been a championship caliber program the past two years but were hit hard in the transfer portal. A lot of those losses were on the offensive side of the ball. The top defense in the county a year ago should give them time to establish an identity.
Central Washington: The Wildcats finished second in their first season as a Lone Star affiliate member. With familiarity on their side, I like their chances of being a contender again.
Eastern New Mexico: Kelly Lee returns to lead the Greyhounds after previously serving as head coach from 2017-2020. A 21-12 record during that time has the fan base optimistic they can bounce back from two consecutive losing seasons.
Midwestern State: The Mustangs have been one of the most consistent programs in the LSC but there are a lot of unknowns heading into the fall, starting with the quarterback position. There are no players on the roster that have taken a snap in an MSU uniform.
Texas A&M-Kingsville: We doubted the Javelinas last fall and that skepticism was proven to be correct. A 7-0 start deteriorated into a 7-5 finish. But that painful final month of 2022 may serve them well. They have a lot coming back and I believe they might be able to challenge for the conference title.
UT Permian Basin: The Falcons brought in Kris McCullough as head coach. He led East Central to a 9-3 season, including a bowl win over Texas A&M Kingsville.
West Texas A&M: Give it a year for new coach Josh Lynn to rebuild the roster. The Buffs will have a lot of new faces. Only four seniors were on the spring roster and just one quarterback. Temper the expectations for now, but be optimistic for the future.
Western New Mexico: The Mustangs were picked last in the LSC coaches preseason poll. Seems like less than they deserve after a 5-4 record in LSC play a season ago. They will have a new coaching staff and lost talent to the transfer portal but they have a lot to work with in three year starting QB Devin Larsen. He led the LSC in passing a year ago.
Western Oregon: The Wolves lost their first three conference games in 2022 but recovered to win five of the last six. With a faster start this year, who knows what could be possible. Opening at defending FCS champs South Dakota State will be a great learning experience.
MIAA
Central Missouri: It took the Mules five weeks to win their first game a year ago, after opening with the top four teams in the league. They went 4-3 after that and feel optimistic about the new season. A little more depth in the O-line would help improve a rushing attack that ranked 10th in the MIAA.
Central Oklahoma: 6-5 with a win over Northwest Missouri State was a nice start to a new era under three-time national champion head coach Adam Dorrell. More than half the roster will be new this year, but most of the transfers have been with the team since the winter.
Emporia State: The Hornets didn't make the post season a year ago, but a 9-3 record with a bowl win earned a ranking and some attention heading into the fall. Braden Gleason is one of the best returning QBs in the country and has been in the Emporia State program since 2018.
Fort Hays: The Tigers had a run of seven straight winning seasons before the cancelled 2020 season. Since then, two straight losing campaigns. The defense is in decent shape heading into fall, but the offense has a lot of new faces. The good news is Jack Dawson is back at QB. He did a nice job stepping in for nine starts as a freshman last year.
Missouri Southern: The Lions did well against the bottom half of the MIAA last year but it was a different story in the top of the standings. If they can prop up the passing game they'll be more competitive but their top passer from a year ago transferred to Central Oklahoma.
Missouri Western: Tyler Fenwick enters his first year in St. Joe after a phenomenal rebuild at Southeastern Oklahoma. The cupboard is far from empty and I believe the Griffons will be better than their predicted 9th place finish.
Nebraska-Kearney: Head coach Josh Lynn departed for West Texas but QB TJ Davis remains with the program. That's all I need to know to believe the Lopers can compete again this year.
Northeastern State: There were competitive moments a year ago, but life in the MIAA has been unkind to the Riverhawks. I don't expect that to change given how deep the conference looks this year.
Northwest Missouri: The Bearcats lost major talent on the defensive line but the last thing I am worried about in Division II is Northwest Missouri having a good defense. The QB position has been fluid for the past two years but Mike Hohensee will be the undisputed QB1 this fall. The six-time national champs are itching to get back to the title game for the first sime since 2016.
Pittsburg State: The defending MIAA champs came within an eyelash of knocking Ferris State out of the playoffs last year. The Gorillas bring a bulk of that team back. The defense could be scary good and the offense has a veteran QB (Chad Dodson) and multiple All-MIAA linemen. This should be a national championship contender.
Washburn: The Ichabods were selected fourth in the MIAA preseason poll after a 7-4. season. All-Everything receiver James Letcher graduated, but the Bods return their leading rusher and QB Kellen Simoncic who shone in nine starts a year ago.
Lincoln (Mo.): The Blue Tigers are on their way to the GLVC next year but will play a full 11 game MIAA schedule this fall. They haven't won an MIAA game since 2019.
MEC
Charleston: Last year's 6-5 was a small step back from the 19-6 record accumulated in 2019-2021. The Eagles offense ranked 16th in the nation in total yards per game, but the defense was a distant 139th.
Concord: Coach Dave Walker departed after a 9-2 season to return to high school coaching and Harlon Hill candidate receiver Jarod Bowie transferred up to D1. The good news is record-setting quarterback Jack Mangle is back and he has a built-in relationship with Brian Ferguson who was promoted from OC to head coach.
Fairmont State: 3-8 doesn't tell the full story of the Falcons' 2022 season. Five of eight losses were by three points or less.
Frostburg State: QB Graham Walker battled an early season injury that hurt his productivity last year. Look for a return to form in his third full season as the Bobcats' starter.
Glenville State: The Pioneers got to 7-4 behind excellent quarterback play from two different players. Who will lead the offense this fall remains to be seen.
Notre Dame: The Falcons have a lot of leaders to replace, most notably at quarterback, but there is talent returning and the program did well in the transfer portal. The expectations remain the same for the team that has won five consecutive MEC championships.
UNC Pembroke: One winning season since 2017 brought about change and Mark Hall enters as head coach after leading Chowan to the CIAA championship game.
West Liberty: The Hilltoppers should be more experienced on offense but they have to reduce the turnovers. As a team, they threw 22 interceptions to just 13 touchdowns a year ago.
West Virginia State: The Yellowjackets head into 2023 looking for a seventh straight winning season. That would have been unimaginable just a decade ago. It has been one of the best and least talked about program rebuilds in recent memory.
West Virginia Wesleyan: The Bobcats must establish an offense if they want to improve. They were shut out four times last year.
Wheeling: Wheeling doesn't get enough admiration for what they've done with their program. They had one season of varsity football in 2019 before COVID derailed sports. Since then, the Cards have an overall record of 14-12, including last year's breakout 7-4 campaign. Javon Davis could emerge as the top QB in the MEC this year.
Northeast 10
American International: Progress is the name of the game for AIC. The Yellowjackets were 1-9 a year ago. The good news is that lone victory was over a solid Bentley team and they did have close calls in a handful of other contests.
Assumption: The Greyhounds are the defending conference champs but they had a large senior / graduate class. The visit to Grand Valley State in week three is a calendar highlight. Former GVSU and current LSU coach Brian Kelly is an Assumption alumnus.
Bentley: The Falcons are on their third head coach in three seasons but have a good nucleus back with 13 returning starters. QB Mark Waid should be among the better signal callers in super region one.
Franklin Pierce: For those who stuck around through a rough program launch in 2019, covid, and a winless 2021, last year's two wins were a just reward. Not sure what the ceiling is this year, but there are a handful of winnable games on the schedule.
New Haven: The Chargers are the preseason favorites to win the NE10 according to the coaches' poll. They kick off the season with the first home night game in program history, hosting Frostburg State.
Pace: 6-4 was a solid campaign in the 2022 but the Setters had a large contingent of graduate student athletes that will have to be replaced.
Saint Anselm: The 2022 Hawks had a top 20 defense allowing just 16 points per game. They were strong against the pass, ranking in the top 20 in passing yards allowed, passing defense efficiency.
Southern Connecticut State: The Owls have not had a winning season since 2016. A quick start would help, but the first month of the season is a grind. They open at Shepherd, then face the top three teams in the preseason NE10 poll.
Post: Post will not officially join the NE10 as an associate for football until 2024 but they do have six NE10 foes on the calendar this year. 2022 was their first full season of varsity football.
NSIC
Augustana: Following some injuries and tough breaks, things fell apart in the final month of 2022 with three losses in four games. But a lot returns on both sides of the ball and the Vikings have a very favorable early portion of schedule to build momentum.
Bemidji State: We know all about the productive passing offense, which is still guided by QB Brandon Alt. But the strides they made on defense a year ago, along with the addition of running back Ali Mohamed from Minot State have me believing the Beavers are a top 10 team.
Concordia St. Paul: It took 11 weeks to notch a win in 2022 but the 2023 opener, a visit from Upper Iowa, provides one of the best looking matchups they'll have.
U Mary: It's a new era with a new coach for the Marauders. Offense has been their strength but they lost most of their top talent to graduation. On the plus side, new full time starting QB Jesse Forknell did get some valuable reps last year.
Minnesota Duluth: The Bulldogs had a very productive corps of receivers last year but have to completely rebuild the two-deep at those positions. The good news is that dual threat QB Kyle Walljasper returns.
Minnesota State: The Mavericks are back to business as usual following a subpar 2021 season. MSU went 10-3 with a playoff win and came within a play of winning at Mines in the second round a year ago. They have a playoff caliber roster again but rebuilding the depth chart at the receiver positions will be critical.
Minot State: Ian Shields, former head coach at Lenoir-Rhyne and FCS Jacksonville takes over at head coach. It will take some time for the wins to come, but expect a more competitive season with a different look offensively.
MSU Moorhead: WR Gage Florence was one of D2's most productive freshman a year ago. He was one of only three players to snag 100 or more receptions. Both quarterbacks that saw significant action a year ago as back as well. If they can hit a more favorable TD:INT ratio, the Dragons will have something.
Northern State: The Wolves have finished 6-5 six times in the last 10 seasons. It's felt like a breakthrough is coming but it just hasn't fully materialized…yet. They need more consistency from the QB position and the return of WR Dewaylon Ingram who missed all of 2022 will help.
Sioux Falls: Coaching changes after an 8-3 season are rare, but USF leadership wasn't thrilled with the program direction and decided change was necessary. A portal exodus during the long search for a new coach depleted the roster so it may be a tough rebuilding year for the Coo.
Southwest Minnesota State: We knew last year's 4-1 start was misleading and that turned out to be true as the Mustangs lost six straight to close the season. But progress is progress and 4-7 was just that. It's a really tough slate again this year and just getting back to four wins may require an upset. But I like the direction under veteran coach Scott Underwood.
Wayne State: I'm not sure if 9-2 with a playoff appearance under a first year coach was a surprise or not, but it will be a surprise if they're not a contender again. The Wildcats have a very good looking team coming back. NSIC coaches recognize it, slotting them third in the preseason poll.
Winona State: Sixth in the preseason coaches' poll seams like less than they deserve after a playoff appearance in 2022. The Warriors will have a perfect opportunity to make a statement with a challenging opener at Saginaw Valley State.
PSAC
Bloomsburg: The Huskies were only a few plays away from having a completely different kind of season in 2022. The roster is much more experienced this year but they need to get back to their roots and win games at the line of scrimmage.
California: Cal had lofty goals a year ago but finished a disappointing 6-5 and did not beat any teams that finished with a winning record. The Vulcans return their top two rushers, but lost the bulk of their receiving corps and will have a new starting quarterback for the first time in several years.
Clarion: An opener at Lincoln followed by two winnable home games give the Eagles an opportunity for a good start in year two under veteran coach Raymond Monica.
East Stroudsburg: The Warriors will try to rebound from a 4-7 campaign in which four losses were within six points.
Edinboro: Boro was a respectable 5-6 a year ago and lost very little to graduation and transfers. They will likely start 0-2 but it may only take one upset the rest of the way to get to a winning record.
Gannon: The Knights were a bit of a surprise team last year going 8-3 with the upset of highly ranked IUP in week nine. They lost some key talent from that squad but if they can improve during the season, their toughest games are in late October and November.
IUP: IUP did lose some top talent from their conference championship team, but they have a lot coming back at the skill positions and also did extremely well in the transfer market. They landed the best D2-to-D2 quarterback transfer in Karst Hunter from Colorado Mesa.
Kutztown: The Bears were a good team a year ago but did not play up to their full potential on a handful of occasions. They should be good at the line of scrimmage, but have some big holes to fill at receiver and running back.
Lock Haven: The Bald Eagles scored more than 13 points only once last year. At least they did win that one. There seems to be much more attention given to prospect camps and recruiting under the current staff so we'll see if that translates to more success in their second year.
Mercyhurst: The Lakers won the first two games of 2022 but then lost the remaining nine in a row. New season, new hope, but they open at Ferris State so don't expect a smooth start.
Millersville: Millersville has not had a winning season since 2000 but things are trending upward. 5-6 a year ago was their best result in more than a decade. They started 0-4 but won 5 of the next 7. It's been a while since there was justification for alumni to be this excited about Ville football.
Seton Hill: The Griffins found their identity and some momentum late last fall and won two of the final three. Jaylen McDuffie enters the new season as one of the top returning defensive players in the conference.
Shepherd: The Rams have been the top team in Super Region one for the past two years but they will have a very different look in 2023. Four of their top players from the past two years are currently in NFL camps and their offensive coordinator left for a head coaching job at Catawba. Don't think you won't hear from them though. Ernie McCook and staff know how to recruit and reload.
Shippensburg: Ship endured a tough year in 2022, dropping a couple of games they were expected to win. They lost their way offensively, finishing 140th in the nation in yards per game. A far cry from the explosive offense they've been known for.
Slippery Rock: Rock has made the playoffs four years in a row and has accumulated an incredible record against their PSAC west foes during that run. They lost very few starters from last year, especially on the offensive side of the ball. They'll have a new starting quarterback, but all the talent around him will be familiar.
West Chester: West Chester returns a lot from last year's 7-4 squad, including quarterback and the entire offensive line. That's a lot to work with for a veteran coaching staff. Unfortunately they did lose their best offensive and defensive players, both of whom earned D1 transfer offers.
RMAC
Adams State: It's been a decade since Adams State's last winning season. That was a 7-4 campaign in 2013. They've maxxed out at 4-7 a few times in the years since. If they could get back to that, it would be progress.
Black Hills State: 2022 was a great year for the Yellow jackets. 7-4 marked their first winning season since 2016, highlighted by a road win in the Black Hills Brawl. There are lots of reasons to set sights even higher this year. Most of the defense returns, including the top four tacklers.
Chadron State: 3-8 was a not up to par for the Eagles in 2022 but they did go 3-3 over the second half after starting 0-5. Eight starters are back on defense and the offense has experience in the O-line and the receiver positions.
Colorado Mesa: The Mavs want to get back to a winning record after last year's disappointing 4-7. It will not be easy. Their out of conference games are Texas A&M Kingsville and D1 San Diego. Following that, the teams projected at 4, 5, 3 and 1 in the RMAC preseason poll. All were winning teams a year ago.
Colorado Mines: The Orediggers are coming off one of the greatest seasons any RMAC program has ever had (bested only by Pueblo's national championship in 2015). They did lose a handful of team leaders, but a lot of talent is back, including Harlon Hill Trophy winner, QB John Matocha.
CSU-Pueblo: The Thunderwolves made it back to playoffs last year despite a 1-3 start to the season. John Wristen retired from coaching over the winter, but I like the fit of Phil Vigil taking over the program. I think Pueblo can have a team to take the fight to Mines.
Fort Lewis: The Skyhawks haven't won a game since October 5, 2019 and frankly, never got close in 2022. They scored only 8 points per game and gave up 60. Closing the gap is what we're looking for this year.
New Mexico Highlands: The Cowboys brought in a large class of mid-year transfers, many from junior colleges, to help bolster the roster and improve on last year's 3-8. Included in that class is a trio of quarterbacks that will compete for the starting role.
South Dakota Mines: If anyone can challenge the establishment at the top of the conference, it may be the Hardrockers. Coming off an impressive 7-4 season, they return one of the top quarterbacks in the country, Jayden Johannsen.
Western Colorado: The Mountaineers have experience back on defense and the offensive line, but must replace their leading rusher and a three year starter at quarterback. They'll also have to play on a temporary field again as the rebuild of the Mountaineer Bowl will not be completed this fall.
SAC
Barton: The Bulldogs are heading into year three of the program and may boast the most dangerous backfield in the SAC with RB Jordan Terrell and QB Jaquan Lynch. Terrell has rushed for 3,475 yards and 30 TD in just two seasons.
Carson-Newman: This is a critical year for the Eagles, heading into year three under Mike Clowny. 6-5 a year ago was a nice recovery after a horrendous 1-10 in 2021. They did earn a quality win over a ranked Newberry team but the other five wins were over losing teams, so there is still a lot to prove in Mossy Creek.
Catawba: If there is a surprise team in the SAC this year, I expect it to be Catawba. They were 1-10 a year ago, but I don't believe they had a 1-10 roster. The coaching change was needed and I don't think they could have done any better than Tyler Haines, the offensive coordinator from Shepherd.
Emory & Henry: 2022 was Emory & Henry's first year in the SAC and first as a Division II program. I'd call a 5-6 record with a landmark win over Wingate, who went on to be a playoff team, a success. They also took conference champ Newberry to OT. I'm looking forward to seeing what they can be after a year of experience in the conference and a year of recruiting scholarship players.
Erskine: The Flying Fleet program has only been around since 2020, so there are still a lot of growing pains. But they have earned a few wins along the way and they have a couple chances early in the year.
Lenoir-Rhyne: The Bears didn't make the playoffs last year but they're entering 2023 as a ranked team and are my pick to win the SAC. They have experience and depth at almost every position on both sides of the ball. Running back Dwayne McGee and linebacker Jon Ross Maye are two names to be familiar with.
Limestone: The Saints are coming off the best season in their brief program history. First winning season and first playoff appearance. Getting back to the playoffs won't be easy in a deep field, but the roster is more talented and experienced than a year ago.
Mars Hill: The identity of the Mountain Lions has slowly shifted from an offensive threat to a defensive power. The D should be very good again this year, led by a pair of Elite 100 watch list players, Landon Honeycutt and Tristan Rankin.
Newberry: The two-time defending SAC champs have their work cut out for them to make it three in a row. The offense will have to be retooled after losing most of the skill position players to graduation or transfer.
Tusculum: Last year's 8-3 record marked the most wins in a season since 2009. The Pioneers make up nearly half of the SAC's Mountain Division preseason all conference defense so we can expect them to excel on that side of the ball once again.
UVA-Wise: This is a big year for the Highland Cavaliers. They've been in the SAC for three full seasons but have a league record of just 6-22 in that time. It's hard to tell what they'll have on offense this year, but WR Dorien Goddard is one of the most talented receivers in the conference.
Wingate: The Bulldogs didn't make it to the SAC championship game last fall but they did make the playoffs for the fourth time in five years. The defense is loaded with elite talent from Marquise Fleming, Jaquan Edwards and Tre Morrison but the offense has some turnover to work through.
SIAC
Albany State: The Golden Rams won three straight SIAC east division titles from 2018-2021 and will be keen to reclaim the crown from defending champs Benedict. They'll take on the season with a new coaching staff, led by Quinn Gray.
Allen: Allen was much more competitive than last year's 2-8 record would indicate. In mid-season, they lost four straight games by a total of 14 points. The offense can score, but the defense must improve.
Benedict: The Tigers put together the best season in school history a year ago, going 11-0, winning the SIAC and earning the number one seed in the super region two bracket. It's a tough act to follow and they have some major talent to replace in the O-line and at quarterback. Watch for DL Loobert Denelus. He'll be one of the top defensive players in the country.
Central State: The Marauders have a brutal opening month, kicking off with two FCS opponents, followed by Tuskegee. They open the season with a unique experience, playing in Chicago's Soldier Field against Mississippi Valley State.
Clark Atlanta: The Panthers took some steps forward in the first year under legendary SIAC coach Willie Slater, but the gap to the teams at the top of the conference is still very large.
Edward Waters: EWU has what is likely the toughest conference schedule in the SIAC, facing teams 1-6 in the preseason coaches' poll. They're on a roll though. They ended last season on a four-game winning streak.
Fort Valley State: If the Wildcats can win the opener against Tuskegee, as they did a year ago, the rest of the schedule sets up nicely. They won't see preseason favorites Benedict and Albany State until late in the season. They lost their workhorse running back, but have the top returning quarterback, Kelvin Durham.
Kentucky State: The Thorobreds were picked 12th out of the 13 teams in the SIAC preseason poll. Interesting result considering they were 4-7 a year ago and were two plays away from a winning season.
Lane: The Dragons have the SIAC's top returning wide receiver. Jacquez Jones was just a redshirt freshman last year, but led the team with 50 grabs for 917 yards and 11 TD.
Miles: For a program that made three straight trips to the SIAC championship game from 2018-2021, last year's 1-9 record was painful. It's only year two under Sam Shade, but there will be pressure to get back to winning football.
Morehouse: The Maroon Tigers earned a solitary victory in 2022, but if you're only going to win once, make it your season finale against your rival and next-door neighbor (Clark Atlanta). A high note for the season but it was not enough to retain the coaching staff.
Savannah State: The tigers need more consistency from the passing game, but that should begin to come with Jadon Adams having a full year under his belt at QB. I would not be surprised if he is in the conversation for offensive player of the year by the end of the season.
Tuskegee: There are lots of good things to say about Tuskegee, but you definitely need to know this…The Golden Tigers homecoming game last year drew a crowd of 35,275. Due to stadium renovations that extended into the season, it was the only game played on campus last year and the community packed a full season's worth of attendance into one afternoon.
I think that's a fun fact to end on. See you again soon for the week one preview!
Questions, suggestions, comments, complaints? Email me at [email protected] and follow me on Twitter @D2Chuck. As always, be sure to catch Inside D2Football on Sunday nights.