D2 Football Playoff Selection Q&A
October 21st, 2022 5:00pm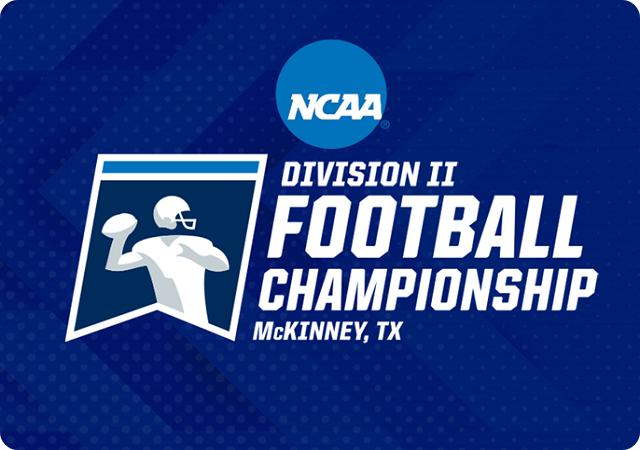 The Division II Football Championship will be here in just a few weeks. Each season brings new fans and followers to Division II and if you haven't been through a playoff season before, it might be a little confusing to follow the process and understand how the post-season field is formed. Here are the basics, and a Q&A to help you learn the details. If reading this isn't enough, check out the first few minutes of this segment from Inside D2 Football from October, 2021.
By Chuck Bitner, national columnist
D2 Playoff Basics
28 teams make the playoffs
The teams are selected regionally
There are four super regions that will make up four brackets in the tournament. Seven teams from each super region will make the playoffs
There are no automatic bids for conference champions
Teams are selected at-large based on published criteria including but not limited to winning percentage against Division II competition, strength of schedule, head-to-head competition, results against teams over .500, and more.
The #1 seed in each region earns a first-round bye
The #2, #3 and #4 seeded teams in each region will host first round games
The remaining three teams in each region are unseeded and will be paired with a 2, 3, or 4 seed in the first round. It is possible for an unseeded team to be moved to another bracket if it minimizes air travel.
After three rounds, the field will be down to the final four – one team from each bracket. Those four teams will then be re-seeded 1-4 and paired with #1 playing #4 and #2 playing #3.
The semi-finals will be hosted by the 1 and 2 seeds and played at their home stadiums.
The national championship will be held on Saturday, December 17 at McKinney ISD Stadium, in McKinney, Texas.
Important Dates
Regional Rankings Releases
Monday, Oct. 24 (alphabetical order)
Monday, Oct. 31 (ranked 1-10)
Monday, Nov. 7 (ranked 1-10)
Playoff field reveal
Playoff game dates
Round One: Saturday, Nov. 19
Round Two: Saturday, Nov. 26
Regional finals: Saturday, Dec. 3
National semifinals: Saturday, Dec. 10
National Championship Game: Saturday, Dec. 17
Rounds one through four are played on-campus and hosted by the higher seeded team
Frequently Asked Questions
You will see few things repeated from the bullet points above, but these are important points to stress.
Q: When will we find out who has made the playoffs?
A: The playoff field will be announced on Sunday, November 13. Prior to the selection show, regional rankings will be released following weeks eight, nine and ten. The first release of regional rankings will be published on Monday, Oct. 24. This release will list the top 10 teams in each region, however, they will not be ranked 1-10. The teams will be listed in alphabetical order. Following weeks nine and ten, the teams will be ranked 1-10 in each region.
---
Q: When do playoffs start and how many rounds are there?
A: First round playoff games begin on Saturday, November 19. There are three rounds in the regional brackets, followed by national semifinals and then the championship, for a total of five rounds.
---
Q: How are the 28 teams selected?
A: The selection process is regional. Division II has four super regions that make up the playoff bracket. The super regions group conferences based geographic proximity. Each region will select 7 teams to make the tournament.
---
Q: What conferences are in each region?
A: Super Region 1: GMAC, MEC, NE10, PSAC, 2 Independent (48 teams)
Super Region 2: CIAA, GSC, SAC, SIAC (45 teams / 42 eligible in 2022)
Super Region 3: GAC, GLIAC, GLVC, MIAA (39 teams)
Super Region 4: LSC, NSIC, RMAC (34 teams)
---
Q: Do conference champions get automatic bids to the playoffs?
A: No. There are no automatic bids awarded.
---
Q: If there are no automatic bids, Is it possible for a conference to be shutout of the playoffs?
A: Yes. Since there are no automatic bids, there have been occurrences when a conference did not have a team qualify for the playoffs. However, there is a rule in place called Earned Access, which awards the final spot in the seven team regional bracket to the highest ranked team from a conference, IF said team is in the top 9 of the regional rankings, but not in the top 7. For example, if the highest ranked team from a conference is 8th in the final regional rankings, it would be awarded the final invitation in that region. If the highest ranked team from a conference is 10th or lower, that conference will not be represented in the playoffs.
---
Q: How many wins does a team need to make the playoffs?
A: There is no set answer for this. However, there are some basic qualifications that teams must meet just to be considered. Those qualifications are:
A team must play a minimum of 10 opponents during the regular season (waivers may be granted for situations such as weather or health related cancellations).
A team must play a minimum of 8 Division II opponents during the regular season. (waivers may be granted for situations such as weather or health related cancellations).
A team must have a win-loss record of .500 or better against Division II opponents.
---
Q: Assuming a lot of teams meet the qualifying standards, how are the top 7 determined?
A: There is a set of required selection criteria applied to compare the eligible teams. The regional selection committees apply the following criteria in no particular order:
In region winning percentage
Winning percentage against Division II opponents
Strength of schedule against Division II opponents
Head-to-head competition
Results against Division II common opponents
The commmitte also has approval to consider the following:
Results versus Division II teams with a winning record
Results versus ranked Division II opponents
Performance Indicator
---
Q: How is strength of schedule determined?
A: It is completely mathematical and for this, its easiest to lift most of the language directly from Section 2.4: Selection Criteria in the Division II Football Pre-Championship Manual. It begins with calculating a team's Opponents' average winning percentage (OWP) AND opponents' opponents average winning percentage (OOWP) (I know, that reads very oddly. What it means is winning percentage of all the teams you played AND the winning percentage or all the teams your opponents played). Once OWP and OOWP are calculated, they are combined on a weighted scale with 2/3 weight for OWP and 1/3 for OOWP. The combined, weighted number becomes the strength of schedule.
As an additional note, calculating your opponent's winning percentage involves removing the result of your contest with that team. For example, assume your opponent finishes the season with an overall record of 7-4 against Division II teams. If the result of your team's contest with that opponent was a victory, then you would remove a loss from the opponent record to calculate OWP. The record would then be 7-3 when calculating OWP. Conversely, if the result of your team's contest with the same opponent was a loss, then a win would be removed from the opponent record. This team would then be 6-4 when calculating OWP. Only results against Division II teams are included in the opponent record. Games against non-Division II programs are not counted.
---
Q: There have been times when national polls have teams ranked higher than teams ahead of them in the regional rankings. How does this happen?
A: The national polls are opinion polls. There is no set criteria for how voters evaluate teams. Each voter can apply whatever metrics or analysis he or she feels is important. The regional rankings have some room for subjective analysis but it is largely a mathematical process.
---
Q: Who votes in the national polls and regional rankings?
A: There are two national polls. One is compiled by AFCA and tallies votes from 30 head coaches representing every conference. The other national poll is the D2Football.com Top 25. The voters in this poll are D2Football.com columnists and a few carefully selected Sports Information Directors and members of the media. The AFCA and D2Football Top 25 polls have no influence on regional rankings. The regional rankings are determined by the Division II Football Championship committee.
---
Q: Who is on the championship committee?
A: Each region has an eight-person committee made up of two representatives from each conference. Representatives may be sitting head coaches or administrators. Two members from each regional committee will also be assigned to the national committee to provide oversight and coordinate many of the administrative functions that support the tournament.
---
Q: How can I find out who is on the committee?
A: The current committee member assignments are listed on pages 11 and 12 of the Division II Football Pre-Championship Manual
---
Still have questions? You can email me at [email protected] and follow me on Twitter @D2Chuck. You can also join the chat on Inside D2 Football to ask questions and learn everything you want to know.