D2 Playoffs: Round One Recap
November 18th, 2023 5:50pm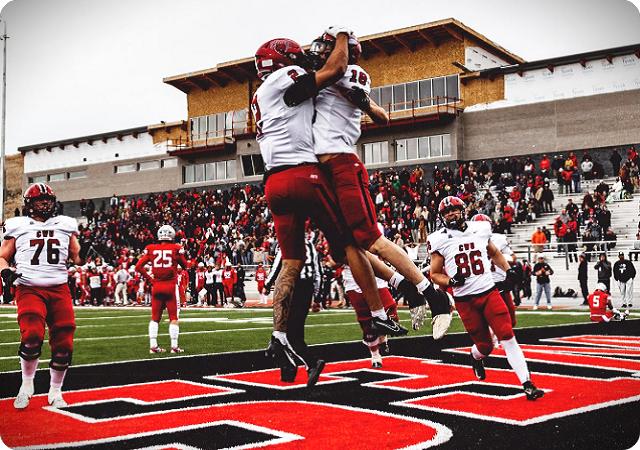 By Chuck Bitner, national columnist
Busy day of D2 playoffs. Sadly, all the games were played within two hours of each other, so we didn't get to spread the day out and enjoy more games live. Nonetheless, there is a lot to cover. Overall, it was a great day for the favorites. Seeded teams (who were also the home teams) won 10 of the 12 matchups. Both upsets were in super region four with Central Washington and Bemidji State prevailing in defensive sluigfests.One of the themes of the day was outstanding quarterback play. Read on for more on that.
Let's recap what happened and for kicks, we'll mix up the order starting with super region three…
Super Region Three recap
Grand Valley State 21 Ferris State 14
It wasn't without drama in the final half minute, but Grand Valley State held on to knock rival Ferris State out of the playoffs. The score was tied 7-7 in this defensive struggle until the Lakers mounted a 69-yard drive in the final minute of the third quarter. Grand Valley added a third TD when Cody Tierney ran through a breakdown in the Ferris secondary and snagged a 72-yard TD pass. The Lakers seemed set to run out the clock, but a mishandled snap in punt formation set up a Bulldog first and goal, which they immediately turned into seven points. The Bulldogs then executed a successful onsides kick, with enough time for about three snaps. The Lakers held on by sacking Carson Gulker on the game's final play, securing the 21-14 win. Both defenses were exceptional with Ferris holding Grand Valley to 271 total yards and the Lakers limiting the Bulldogs to 261. Grand Valley's standouts at linebacker, Abe Swanson and Anthony Cardamone, combined for 29 total tackles, 3 sacks and 3 forced fumbles.
Pittsburg State 35 Indianapolis 14
UIndy played courageously for a half and managed to keep themselves within striking distance, trailing just 15-7 at halftime. Pitt State added only a field goal in the third quarter but pulled away with 17 fourth quarter points. The Greyhounds managed to move the ball reasonably well, being outgained just 398 to 336 but a safety and two first half turnovers hurt the effort. QB Chad Dodson returned to action for Pitt State and had a standout day completing 20 of 28 for 282 yards and 3 touchdowns.
Central Missouri 56 Henderson State 14
Central Missouri was never threatened in a thoroughly dominant 56-14 win over Henderson State. The Mules scored touchdowns on their first five possessions, rushing out to a 35-0 first quarter lead. The Reddies put up two scores in the second quarter but trailed 49-14 at halftime. Central cruised to a 56-14 final. Zach Zebrowski passed for 467 yards and 7 touchdowns.
SR3 Round Two matchups
Central Missouri at Harding
Pittsburg State at Grand Valley State
Super Region Two recap
Valdosta State 62 Limestone 41
Limestone fought back from a 31-7 halftime deficit to get within 14 points early in the fourth quarter, but were unable to slow down a streaking Blazers' offense. Valdosta State scored on 10 of 14 possessions and tacked on 24 fourth quarter points to squash any potential for a Limestone comeback. Both quarterbacks turned in memorable performances with the Blazers' Sammy Edwards passing for 344 yards and 6 TDs and the Saints' Dustin Noller putting up 305, with 5 TD.
Lenoir-Rhyne 63 Shepherd 17
Lenoir-Rhyne quarterback Sean White established a new program single-game passing record with 398 yards in the Bears' 63-17 first round win over Shepherd. The previous record of 392 yards was established in 1987. The Bears scored touchdowns on their first four possessions of both halves. The Bears were nearly unstoppable, mounting 617 yards of total offense, with 461 in the air and 156 on the ground. The defense shut out visiting Shepherd in the second half.
Delta State 49 West Florida 14
Patrick Shegog tossed six touchdowns to five different players in Delta State's thrashing of conference rival West Florida in the first round. The Statesmen scored on five of eight first half possessions in building a 35-0 lead. The Delta State defense forced four turnovers and scored on a third quarter pick-six.
Round Two matchups
Lenoir-Rhyne at Benedict
Valdosta State at Delta State
Super Region One recap
Kutztown 38 Virginia Union 14
Kutztown used two sustained scoring drives and a blocked punt returned for TD to build an early 21-0 lead over Virginia Union. They would build the lead to 35-7 by halftime. The Panthers tightened up the defense during the halftime break, but the Golden Bears never let them back into the game, getting home with a 38-14 win.
Charleston 52 New Haven 44
New Haven seemed totally out of the game, trailing 24-0 late in the second quarter, but a TD before the half and a TD on the first drive of the third quarter got the Chargers back into it. Charleston rebuilt the lead but UNH punched back again with a 23-point fourth quarter. Charleston would ultimately survive a late onsides kick and run out the clock. Chavon Wright ran for 163 yards and 6 TDs for the Eagles. Tae Marrero caught five passes 114 yards and had 175 kickoff return yards, with an 85 yard return for touchdown. Daelen Menard tossed five TD passes for New Haven.
Slippery Rock 45 East Stroudsburg 14
After last week's uncharacteristic offensive showing, Slippery Rock bounced back with 45-point day against a good East Stroudsburg defense. The Rock rushed for 287 yards and passed for 234. The defense limited ESU to just 220 total yard and one offensive scoring drive. The game was tight until late in the second quarter. Slippery Rock scored the last 24 points of the game and shut out the Warriors in the second half.
Round Two matchups
Slippery Rock at Tiffin
Kutztown at Charleston
Super Region Four recap
Bemidji State 10 UT-Permian Basin 3
In one of the more surprising final scores of the day, Bemidji State held a hot UTPB offense to just three points at home. Neither team would eclipse 300 yards in offense, with UTPB holding a slight edge, 264-220. The Beavers' defense did not allow a drive of more than 35 yards until late in the fourth quarter and held a shutout until a Falcon field goal in the final minute. Beavers' head coach Brent Bolte praised his defense and appropriately singled out the punting of Elliott Lowney who pinned UTBP inside the 20 three times in five tries.
Central Washington 16 Western Colorado 13
Defense was dominant in this low-scoring fist fight. A 31-yard Mountaineer field goal early in the second quarter marked the only scoring in the first half. Central Washington would not score until early in the fourth quarter and held a slim 7-3 lead until 5:47 remained. Following Western's only TD of the day, Central Washington was able to move into scoring position and add a game-tying field goal with 0:02 remaining in regulation. The Wildcats would win it in the bottom half of the first OT with a 30-yard TD pass to Darius Morrison.
Augustana 51 Minnesota State 24
Augustana beat Minnesota State for the second time this season, dominating the Mavericks, 51-24. The Vikings forced six total turnovers with five interceptions by five different players. Augie led by as much as 34 points in the third quarter. The Mavericks got off the mat with three fourth quarter scores, but also yielded two more defensively. Augustana's Casey Bauman threw four TD passes and all four were caught by Devon Jones.
Round Two matchups
Augustana at Colorado Mines
Bemidji State at Central Washington
That's the recap for round one. Remember to watch Inside D2Football for the weekend recap Sunday night at 8pm, eastern.
Questions, suggestions, comments, complaints? Email me at [email protected] and follow me on Twitter @D2Chuck