D2Football National Column - Week Eight
October 19th, 2023 7:00am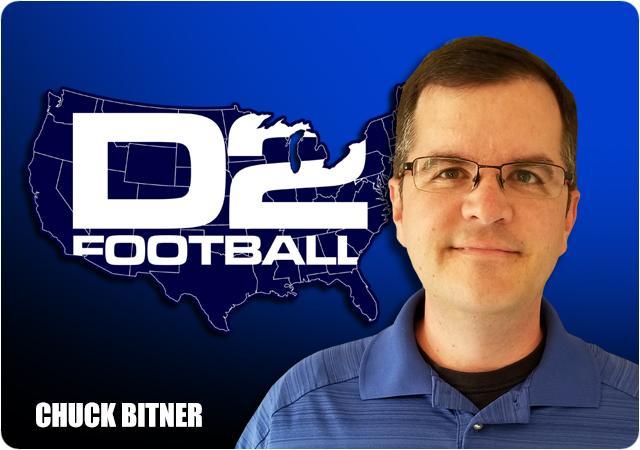 Quick preface to the column this week. I will have to be a little more brief than I normally am in the rundown of top games. I have some big commitments for the other job I do (the real one) and that will leave me with less available time than I am normally able to make. That said, look out later this week or over the weekend for some refreshed material on the D2 football playoff selection process. We will be seeing the first release of the top 10 teams under consideration this coming Monday, so it's about that time! We'll have lots to say about it on Sunday night's Inside D2Football. For now, here's what we have on deck for week eight.
Charleston (6-0) at Fairmont State (5-2) 1:00
I had this pegged as a first place battle in the Mountain East, but that was before Fairmont State was unexpectedly boat-raced by UNC-Pembroke. The Falcons, who were 5-1 entering that game, managed just 84 total yards (7 rushing, 77 passing). They had seven three-and-out drives and punted a total of 11 times. Sheesh. By contrast, Charleston handled business against Notre Dame. In a game that presented their best opportunity to date to prove their worth, the Eagles did what good teams do. They pulled away in the fourth quarter with a 21-0 run. I know Fairmont State is better than the team that played at Pembroke last week, but I cannot pick them to upset an unbeaten Charleston after a performance like that. The team that beats Charleston will have a very efficient passing game to attack the Eagles' defense. That's not Fairmont's specialty. Charleston stays undefeated.
California (5-1) at #8 Slippery Rock (7-0) 1:00
I've been saying for weeks that Slippery Rock is the best team in Super Region one, but California is a play or two away from being an unbeaten team. Their only loss was to Shepherd in a week three game that was much more dramatic than the 10 point margin suggests. They're going to have something for Slippery Rock. The Vulcans have a defense that gives up less than 300 total yards per game. They haven't played a team that has as many explosive players as the Rock, but they have defended the pass pretty well. It's been possible to run the ball on Slippery Rock and the team that beats them will have a strong running game. I'm not sure if it's Cal though. The Vulcans have been getting a lot from their passing offense and QB Davis Black has been a very steady hand that will enter next season as one of the top QBs in the region. But I think they'll need to run the ball to beat the Rock. I'll take Slippery Rock, but it will be close.
Lincoln (4-3) at #24 Virginia Union (6-1) 1:00
I am 100% certain Lincoln has never been included in the national column top games. Not by myself or my predecessors. They've never been in a position to be. Well, they're here this week and they've earned it. Lincoln's program was launched in 2008 and since that time, the most wins they've had in a season was three. Until now. The Lions come into this game with four wins and are riding a three game winning streak. Since the opening night loss to Clarion, the other two losses were by three points to Fayetteville State and seven points to Johnson C. Smith. We've never seen a Lincoln team be this competitive. I think Virginia Union will have a little too much, but if Isaiah Freeman stays hot, anything is possible. He has 20 TD passes for the season. His top target, Malachi Langley is one of the best receivers in the CIAA, averaging 100 yards per game with six TD grabs.
#12 Indianapolis (6-0) at Quincy (5-2) 2:00
After last week's win over Truman State, Indianapolis has one hand on the GLVC trophy and this week's meeting with Quincy may be the last true obstacle in their way. After this, the Greyhounds remaining three games will be against the current bottom three in the GLVC standings. But this is the kind of game that could be trouble. UIndy had to put a lot into last week's game and although they are more talented than Quincy, the Hawks are a threat. I can't say I am overwhelmed by any wins on their resume, but they are 5-2 and they took Truman to OT. The Hawks can score in bunches and they also play solid defense. UIndy must account for David Tabakovic, who leads the GLVC in sacks and is second in tackles for loss. UIndy is the better team and I expect them to win, but if they are not well prepared, Quincy is good enough to make them pay for it.
#23 Emporia State (5-2) at #17 Central Missouri (6-1) 2:30
Emporia State got back on track last week after consecutive losses. The victory over Washburn keeps their playoff hopes alive and keeps them in the MIAA race if Pitt falters. Central Missouri continues to be one of the best stories in D2 this year, running their record to 6-1. The Mules will be hosting Emporia for homecoming and a lot of people are going to favor Central Missouri but I think the Hornets have a second wind. This game will feature two of the best and most productive quarterbacks in the country. UCM's Zach Zebrowski and Emporia's Braden Gleason are second and third in the nation in passing yards per game. While the yards are impressive, what stands out to me most for both of them is the TD:INT ratio. Zebrowski has 30 TD to just 3 INT while Gleason has just one pick for the year, compared to 24 touchdowns. I think both quarterbacks are going to have big days and this could be the most enjoyable game of the weekend. Emporia is playing with a little more sense of urgency with the two losses on their record and I think they're going to make one more defensive stop than Central to win this one.
#3 Pittsburg State (7-0) at Northwest Missouri (4-3) 3:00
When you sign up to play football at Northwest, you expect big things. MIAA titles, playoffs and national championships. As you should. But none of that will happen this year (playoffs aren't totally out of the question, but the possibility is minute). That makes the season a disappointment in the eyes of everyone around the program. It sure would soften the blow a bit to beat their biggest rival. A team that's been ranked in the top 5 all year. A team that won the MIAA last year and is undefeated coming into this year. Yeah, that would feel really nice. Is it possible? I think it is. Northwest has recovered a little bit defensively in the last two games. QB Mike Hohensee has settled back into a rhythm and RB Jay Harris has emerged as their star of the future. Northwest's vulnerability has been defending the passing attacks of Central Missouri and Emporia State. Pitt is a good passing offense, but not lethal. Pitt's Devin Garrison is one of the best players in the country but as a tight end, he's not necessarily the vertical threat that has been hurting the Bearcats. Pitt State is a team that finds ways to win on the days their best stuff isn't their best stuff and I can see them needing to do that on Saturday. I like the Gorillas for the win but look past the records. I think this will be a classic Pitt-Northwest battle.
#7 Harding (7-0) at Southern Arkansas (6-1) 3:00
Harding made it known last week that they are the class of the GAC this year. It was close with Ouachita at halftime, but the Bisons pulled away with 31 unanswered points in the second half. They did it the Harding way, which was 427 rushing yards and 0 passing yards. If that's not a throwback, I don't know what is. But they also did it with a very impressive defense that forced Ouachita to throw more than they wanted to. Oauchita's passing game has been very good this year but they are a team that sets up the pass with the running game and that wasn't really working. That makes me really curious about the matchup this week because Southern Arkansas is somewhat similar. They have to establish the run to win ball games and they do that with Jariq Scales and quarterback OB Jones. Jones is the team's leading rusher, but also a danger in the passing game. I do fear the Muleriders' passing offense is not quite as efficient as it needs to be for an upset of Harding, and they haven't had recent success slowing down Harding's rush.
#13 West Florida (5-2) at #6 Delta State (7-0) 4:00
I was certain we were going to have a battle of unbeatens for first place in the GSC, but West Florida stunned us with a dismal offensive showing last week that resulted in a 10-6 loss at West Alabama. Head coach Kaleb Nobles took responsibility for the loss in which the Argos failed to score a touchdown for the first time since 2016. He will now face the biggest challenge of his first year as a head coach: finding a way to help the team move on from the loss and get ready for a top 10 opponent. I do think the Argos will get back on track, it was partly a bad match up and ineffective adjustments that cost them against a very good West Alabama defense. Its really tempting to pick the Argos in this spot because we know they're going to fight like a team with their backs to the wall. Add to that, its very hard to say unbeaten in the GSC and that's what Delta State is trying to do. The West Florida defense doesn't get enough credit for how good it is and they will be a big test for Delta State's GSC-leading offense. But the Statesmen have too much working for them in all three phases of the game for me to pick against them.
#25 UT-Permian Basin (6-1) at #18 Angelo State (4-2) 7:00
I've been waffling on this pick for a few days. Angelo State is the establishment in the LSC at the moment and UTPB is the challenger that's winning games and showing a lot of style doing it. I feel like the Falcons are the trendy pick here and I usually shy away from that, but I like 'em in this matchup. Angelo is really good, but not the dragon they were last year and they are beatable. One of the things that has probably been overlooked this year is that UTPB has the second best defense in the LSC. They're not winning with offense alone. I think the Falcons have more working for them on offense and may be surprisingly equal to the Rams on defense. One of the things I really like about UTPB is tackles for loss versus tackles for loss allowed. The Falcons' offense has been tackled behind the line of scrimmage just 23 times, while the defense has 51 TFL for the season. I may regret going with the sexy pick, but I'm going to do it. I like the Falcons.
Game of the week
#4 Minnesota State (7-0) at #21 Augustana (7-0) 2:00
It's funny how things can change in a year. 12 months ago, we talked a lot about Augustana from a national perspective because they started 6-1, accumulated some quality wins and looked like a championship caliber team. But then they lost to Minnesota State in week eight and things fell apart after that. Back in the present, Augie is 7-0 but we really haven't talked about them much. The schedule is largely out of their control but it's been light. They've played seven teams but the only one that currently has a winning record is Minnesota-Moorhead. Any doubts about the Vikings will be answered in the next four weeks as they face Minnesota State, Wayne State, Northern and Bemidji. I do think Augustana is a good team. Casey Bauman is a very capable quarterback and he has a host of receivers. They can be hard to prepare for because they have so many different receivers and running backs contributing. They will be a challenge for the Mavericks' defense which is one of the better units in the NSIC. But defense for Augie is what I am interested in. They played some decent teams but no one near the level of Mankato and I do think the Mavericks will have a running game that can hurt the Vikings. Both go in undefeated but only one will stay that way and I think it will be Minnesota State.
That's a look at what will be a phenomenal week seven. Remember to watch Inside D2Football for the weekend recap on Sunday night at 8pm, eastern.
Questions, suggestions, comments, complaints? Email me at [email protected] and follow me on Twitter @D2Chuck