D2Football National Column - Week Eleven
November 9th, 2023 6:00am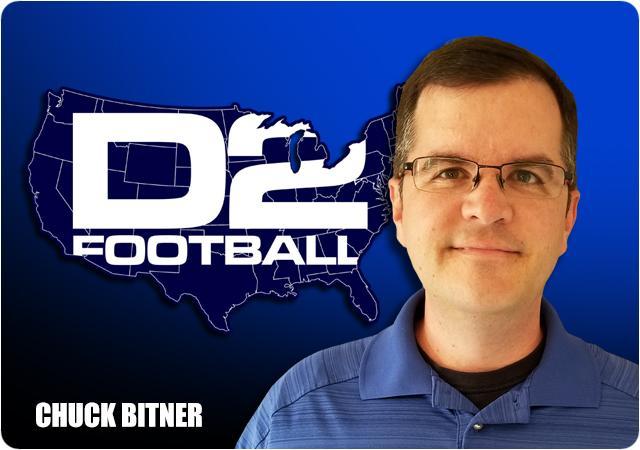 Well, here we are. The last week of the regular season. By the time we reach late October our focus dials in on the teams contending for the postseason, but we need to pull back for a moment. For most of Division II, this Saturday marks the end of the season. I want to send all my best wishes to the senior players, band members, cheerleaders and dance teams. This is it, so bring everything you have and enjoy the moment with your teammates and friends.
There is so much happening this week, we have to compartmentalize a bit. Let's break this down by super region. I am going to emphasize the games that will impact the playoff field (and there are many) but we also have a lot of teams battling for a winning season or a .500 record. The difference between 5-6 and 6-5 is massive and so is the difference between 4-6 and 5-5. I'm going to mention as many of those teams as I can but apologize in advance if I miss one.
I'm also going to take a bit of a departure from the normal approach. It takes a lot of time to analyze teams enough to pick winners, or how explain how I think it will play out. With all the noteworthy games, it's not possible to do that for all of them. So we're going to treat this as more of a viewer's guide so you know what to look for on Saturday. If you're not up to speed on the current state of the playoff picture, here are the Regional Rankings as of November 6. The top seven teams in each region will make the playoffs.
Selection Sunday
The NCAA Division II Championship selection show will be streamed live on the NCAA's website on Sunday at 6:00pm, eastern. Links will be circulated on the social platforms and posted on D2Football as soon as available.
On to the final Week...
For kicks, let's go in reverse order
Super Region Four
Top Games
#25 Minnesota Duluth (8-2) at #10 Minnesota State (9-1)1:00
I'm pretty sure the top seven teams we saw in this week's SR4 rankings will make up the playoff field by this Sunday. However, Minnesota Duluth could upset everything if they can knock off Minnesota State. A month ago I would have heavily favored the Mavericks in this matchup and while I still think they will win, I also feel Duluth has a chance. The MSU of the second half of the season hasn't looked as fearsome as the MSU of the first half of the season. That said, I'm not sure UMD is diverse enough offensively. As long as the Mavericks can keep UMD's Kyle Walljasper from running wild, I think they lock down their playoff spot with a 10-win season.
#9 Bemidji State (8-1) at #14 Augustana (9-1) 2:00
Both teams should be in the playoffs regardless of the outcome of this game, but the winner is likely playing at home in round one while the loser will travel. Bemidji State's only loss on the season was a three-point game at home to Minnesota State. Augie manhandled that same MSU team just a few weeks later and would probably remain undefeated if not for some struggles in bad weather at Wayne State. There will be many hard-fought games this weekend but this might be the best one of them all. It's a home game for the Vikings but I'm going with the Beavers. Their offense is very crisp right now and I think they can put pressure on Augie to keep pace.
#22 Central Washington (7-2) at #16 UT-Permian Basin (9-1) 3:00
This is not an official conference championship game, but it will decide the LSC title outright and either team will be a first time champ in this league. Both teams are 7-0 in conference play with a two game lead on the next closest opponent. Central Washington has won seven in a row since a perplexing week two loss at home to Montana Tech. UT-Permian Basin's only blemish is a week two loss at Western Colorado, who currently stands at 9-1. Both teams have have excelled at winning close games. UTPB gained some headlines early in the season with huge offensive numbers but its really been the defense that has shined in conference play. The Falcons lead the LSC in total defense and rushing defense and rank second in passing defense. I think it will be UTPB's defense that maks the difference in this one. Central Washington must be able to run the ball to win and I think the Falcons can stand up to that. A key for UTPB is ball security. CWU is very good at creating turnovers and converting them into points. If the Falcons are smart with the ball, I believe they win the game and their first LSC championship.
Around the Region
In the Lone Star Conference, Eastern New Mexico (5-5) can finish with a winning record if they beat in-state rival Western New Mexico (1-8). Midwestern State (4-5) can get to .500 with a win at home over TAMUK (6-3).
RMAC teams Colorado Mesa and South Dakota Mines can end the year at 6-5 with wins over New Mexico Highlands (2-8) and Chadron State (4-6), respectively.
Super Region Three
Top games
Henderson State (8-2) at #12 Ouachita Baptist (9-1) 2:00
The Battle of the Ravine is one of the best rivalries in Division II. The schools are literally across the street from each other. The visiting team can dress in its home locker and walk across highway 67 for the game. Henderson State probably can't make a big enough jump to be a playoff team but beating their rival and knocking them from the playoffs sure would be a nice way to end the year. I think Ouachita is the better team and they have a lot more to lose. A win by the Reddies would not be surprising at all but with a playoff bid on the line, Ouachita will find a way.
#23 Davenport (8-1) at #2 Grand Valley State (8-1) 1:00
Davenport stayed in it with Ferris State last week. The defense proved its worth, holding Ferris State to just 14 offensive points. The problem was on the offensive side of the ball. The Panthers struggled to establish the run and turned the ball over four times in the passing game. Jason Whittaker had a bad day and also left the game in the fourth quarter. None of this adds up to anything encouraging for a game in Lubbers Stadium. The Panthers are a good team, but last week's loss may have taken a lot out of them. Grand Valley should win this without any drama.
Around the Region
Southern Nazarene and Arkansas Tech are going for winning seasons in the GAC. Tech started the year 0-4 but have won five of the last six. The only loss in that stretch was by seven points to Ouachita Baptist. Southern Nazarene has never had a winning season in Division II (2012-present). Tech plays Harding so I don't like their chances of picking up that sixth win but I do think Southern Nazarene will get it done at home against Oklahoma Baptist. By the way, congrats to Oklahoma Baptist for securing a winning season two weeks ago. Big turnaround from a 1-10 record in 2022.
Saginaw Valley (5-5) has climbed back to .500 and Michigan Tech (5-4) is sitting one game above. Both are fighting for a winning season and, as luck would have it, the GLIAC rivals will face off Saturday at 1:00 in the upper peninsula.
In the GLVC, Quincy (5-5) goes for a winning season at Upper Iowa (3-7) while McKendree (4-5) can break even with a win at home over William Jewell (2-7). McKendree started this season 0-5 so a 5-0 finish would be simply remarkable.
In the MIAA, Central Oklahoma (5-5) is the only team with a winning season on the line. They're at Pitt State (9-1).
Super Region Two
Of the four D2 conferences that stage championship games, three of them are in super region two. Outside of those, it will be a little quieter in this region as the CIAA and SIAC have already completed their seasons.
Top Games
CIAA Championship: Fayetteville State (8-2) v. #18 Virginia Union (9-1) 3:00 (Salem, Va)
Fayetteville State is in the CIAA championship for the sixth consecutive season. The defending league champs will attempt to repeat while Virginia Union will go for their first title since 2001. This will be their second meeting this year. They met back in week four, with Fayetteville State claiming the 10-7 win. Weather conditions were so impactful, it's hard to take much away from that game. The Broncos have the defense to slow down Virginia Union and they seem to find ways to win. They are riding an 8-game winning streak. I think that streak comes to an end though. I believe the Panthers have been the best team in the CIAA for the past two years and will get the win. I'm putting my faith behind their offensive line and powerful run game.
SIAC Championship: Albany State (6-4) v. #6 Benedict (10-0) 2:00 (Atlanta, Ga)
Tuskegee's lopsided loss to Miles, coupled with Albany State's win over rival Fort Valley State put the Golden Rams into the SIAC championship opposite undefeated Benedict. The Tigers have been head and shoulders above the competition in the SIAC for the past two seasons. Albany State is a good program and they finished strong with wins over Miles and Fort Valley, but I don't think they have enough for a Benedict team that has very few weaknesses. If the Tigers get the win, they'll be back-to-back SIAC champs and will also lock up the top seed in SR2 bracket for the second year running.
SAC Championship: #13 Lenoir-Rhyne (9-1) at Tusculum (6-4) 4:00
Lenoir-Rhyne's trip to the SAC championship is no surprise, they've been winning all season. Tusculum is a little different. They were just 2-3 at midseason but won four of the last five and played their way into the SAC title game with a hard fought overtime win over Mars Hill. It's The Mountain division's year to host so the Pioneers get to play at home in the championship bout. That is certainly to their advantage as Lenoir-Rhyne is the toughest environment in the SAC for visitors. Avoiding that is a big deal in this matchup. The Pioneers play good defense, we saw that again last weekend. LR's quarterback situation is a little fluid. Sean White was the opening weekend starter but Jalen Ferguson assumed the role by week four. Ferguson sat out last week's win over Catawba due to an injury, but White turned in a performance that earned SAC player of the week recognition. That will be an extra dimension for Tusculum to prepare for. I like LR to emerge as the champ, but I expect this to be closer than most people may think.
West Georgia (6-3) at #17 Valdosta State (9-1) 7:00
I'm not ready to count West Georgia out yet. The Delta State game went sideways in the fourth quarter but it was a close game until QB Cameron Brown was knocked out of the game. If he is back this week (and we do not know his status as of now), the Wolves can hang. They'll be able to run the ball with Rajaez Mosley, who is tough between the tackles. I do fear the Wolves defense will struggle to stop Valdosta's passing game.
Around the Region
West Alabama will hope to pick up a win at Shorter to even their record at 5-5.
Lots on the line for a handful of SAC teams. Carson-Newman, Emory & Henry and Barton are all sitting at 5-5. Barton faces winless Erskine, Carson-Newman hosts Catawba (4-6) and E&H will host Limestone, who is shooting for a playoff spot.
Super Region One
Top games
Frostburg State (6-3) at Fairmont State (8-2)12:00
With their strength of schedule, Frostburg State was looking really good for a playoff spot if they could win this weekend at Fairmont State. But that was before a turnover-laden performance that cost them a win against Glenville State. At 6-3, they're a longshot at best. Fairmont State still has a decent chance though. I can't be certain they are in with a win. Cal or ESU will take a third loss, so that would move FSU up a spot if they beat Frostburg State. But that may not be enough if New Haven wins this weekend. The Falcons had one really bad day this year, but otherwise, have been very consistent. I think they'll get the win and if they make the field, it will be a huge accomplishment. If they don't, it's still been a fantastic turnaround from 3-8 in 2022.
#20 Tiffin (10-0) at Findlay (7-3) 12:00
This game could go in two completely different directions. Findlay was awesome in last week's 4OT loss at Ashland. How they come out of that emotional loss means everything this weekend. They'll either be deflated from a heartbreaking loss that ended their championship and playoff hopes, or they'll be fired up for one last shot to do something special like knocking down a Tiffin team that expects to go undefeated. If Findlay is at their best, this is anyone's game. The Dragons and Oilers are first and second in the GMAC in total offense and total defense. Tiffin has the edge offensively, but Findlay is the stingier defense. Don't be fooled by the records, this is a toss-up game.
#5 Slippery Rock (10-0) at Kutztown (8-2) 12:00
I've been saying since mid-season that Slippery Rock is the best team in Super Region One. I still believe that but Kutztown cannot be overlooked. The Golden Bears have overcome a bad start to the year to win eight in a row, including an unbeaten run through the PSAC east division. Just on the surface, its a great matchup. Slippery Rock's offense leads in the PSAC and ranks seventh nationally with an average of 46 points per game. Kutztown's defense is first in the PSAC and tenth nationally allowing just 14.7 points per game. The Golden Bears have the defense to slow down the Rock more effectively than anyone has all year. But Rock will get their points and that is going to put a lot of pressure on a Kutztown offense that has really struggled to score points in the last few games. The team that beats Slippery Rock will have a strong running game. If the Golden Bears can find some success with their duo of Darryl Davis-McNeil and Jordan Davis, they'll have a chance. Kutztown has had success against Slippery Rock in recent years. The Bears are 3-1 against The Rock under Jim Clements but I think Slippery Rock wins this one.
California (7-2) at East Stroudsburg (8-2) 1:00
Both teams have a path to the playoffs. Win this game. Simple as that. East Stroudsburg seems to have lost their way offensively. Due to injuries, they've had instability at quarterback all year. They've had success with three different players but as we've gotten deeper into the season, I'm not sure they really know who gives them the best chance to win and its bogged down the offense a bit. The defense can keep them in this, especially at home but California looks like the more complete team at the moment.
Bentley (6-3) at New Haven (7-2) 1:00
New Haven appeared in this week's SR1 rankings but were outside of playoff position in tenth. However, the Chargers are the highest ranked Northeast 10 team. As such, they only need to rank as high as ninth to claim a playoff bid via the earned access rule. It's possible UNH will make the top seven on merit, pending the outcomes of other games, but one way or another, this is a play-in game for the Chargers. This is anything but an easy path to the playoffs though. Bentley has won four in a row and six of the last seven. This should be very low-scoring as the two best defenses in the NE10 square off. New Haven's offense has moved the ball decently but they haven't been scoring enough. Bentley can win this game and if they do, the Northeast 10 will most likely not be represented in the playoffs.
Around the region
West Virginia State is the only MEC team with a .500 or above season at stake. The 4-5 Yellow Jackets play their cross-town rival Charleston, who is looking to wrap up the MEC Championship.
In the G-MAC, Hillsdale will try to close the season with a fifth straight win. The Chargers lost the first four games of the year but have gone 5-1 since. A win over struggling Ohio Dominican would get them to 6-5 for the year.
Five PSAC teams sit at 5-5 with a winning season in the balance. Among the west division teams, IUP travels to a resurgent Bloomsburg (3-7), Seton Hill is at Millersville (3-7) and Gannon is at Shippensburg (2-8). As a side note, wins for any of those teams would be a huge help to Slippery Rock as they would then count on Rock's resume as wins against teams over .500.
Two east division teams are playing for a winning season. West Chester will face off with Clarion (2-8) in the final game for head coach Bill Zwaan, who has led the program since 2003. In his 21 years with the Golden Rams, Zwaan has a record of 162-76. Under his leadership, West Chester has won six PSAC East titles, the 2018 PSAC championship and advanced to the Division II playoffs 10 times.
The other east division team playing for a winning record is Lock Haven. Yes, LOCK HAVEN!! Having been close to the PSAC for more than half my life, it makes me very happy to write that. It has been 42 years since the Bald Eagles' last winning season.They have a really good shot to earn the win with Edinboro (2-8) coming to town.
Off the Grid Game of the Week
Southwestern Oklahoma State (0-10) at Northwestern Oklahoma State (0-10)
Outside of Stillwater, it's been a tough football season in Oklahoma (and it hasn't all been pretty there either). Southwestern and Northwestern are both winless, so this game is going to mean a lot to both teams. Southwestern has been close a couple of times so I'll take the Bulldogs to be the one walking away with a win.
While we're at it, here are all the winless teams hoping to end the year on a high note. (St. Augustine's and Clark Atlanta are already done for the year.)
Saint Augustine's
Clark Atlanta
Northwestern Oklahoma State
Southwestern Oklahoma State
Northern Michigan
Chowan
West Virginia Wesleyan
Fort Lewis
Erskine
Enjoy the final week of the season and celebrate the seniors. Remember to watch Inside D2Football for the weekend recap and playoff bracket reactions on Sunday night at 8pm, eastern.
Questions, suggestions, comments, complaints? Email me at [email protected] and follow me on Twitter @D2Chuck