D2Football National Column - Week Seven
October 12th, 2023 5:00am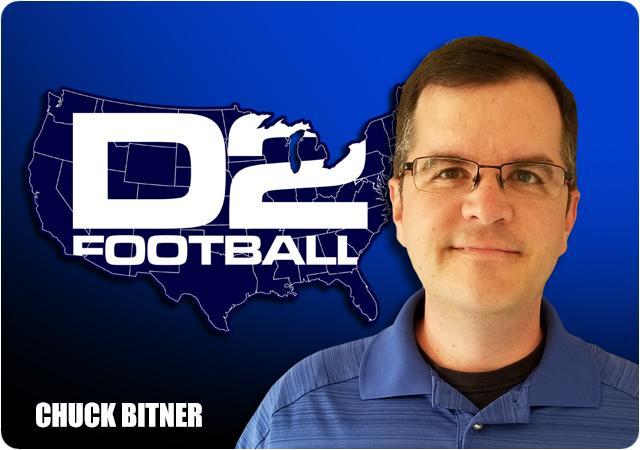 No cold open or lead-in this week. The schedule is one of the best mid-season slates we've had in a while so there is no time to waste. Four conferences have what we expect to be their game of the year, highlighted by a pair of Top 10 matchups. To that end, I am putting most of the work into those four featured games and will have a few mentions towards the end for more games you want to be aware of. Off we go…
Featured games
(Thursday) Fort Valley State (5-1) at #12 Benedict (6-0) 7:30
Benedict survived their first real test of the year, coming from behind to beat Miles last week, 27-24. Prior to that, Benedict had allowed just 13 points in the first five games. Tigers head coach Chennis Berry felt that his team needed to go through some adversity and I agree with that. The second half of the season will be much harder and they won't hold every team to three points. It was good for them to fight through mistakes, overcome turnovers and find a way. That will serve them well because Fort Valley State is one play away from being undefeated. They lost the opener to Tuskegee and were at the doorstep of taking the lead in the final seconds. Since then, they've won five in a row. The Wildcats' Kelvin Durham is the most efficient passer in the SIAC but he will have to earn it against a Benedict defense that leads the nation in fewest passing yards allowed.
This will be a fight, but Benedict is the more complete team. Fort Valley has the top scoring offense in the SIAC but they best Benedict in that department by less than a full point. Defensively, Benedict is way ahead of anyone else in the SIAC and I think they're line of scrimmage play gives them the advantage. I like Benedict by 3-5 points in a low scoring game.
TV ALERT: Fort Valley State at Benedict will air live on ESPN2 on Thursday at 7:30pm, eastern

#14 Indianapolis (5-0) at #18 Truman State (6-0) 1:00
There will be a month of football left to play after this weekend, but I feel very confident this game will decide the GLVC championship. Quincy is a solid team (we saw that last week) but a loss for either Indy or Truman after this weekend would be a significant upset. These two teams are so close, it really is hard to find the differentiating factors that favor one team over the other.
I'm leaning towards UIndy because they have the best scoring defense in the GLVC and they are balanced offensively. The Greyhounds have 25 offensive touchdowns, with 12 coming from the passing game and 13 on the ground.They have the top rushing attack in the GLVC, averaging 239 yards per game, and that also ranks 12th nationally. They're getting it done with two running backs (Jon Lewis and Jaden Schlabach) that average more than five yards per carry. They balance that with 236 pass yards per game. Gavin Sucup leads the offense and is the GLVC's most efficient passer, and just a total gamer at the position. He makes plays other quarterbacks don't make. That said, Truman State does have a defense that could force them to be more one-dimensional. The Bulldogs allow just 93 rush yards per game and have given up just five rushing touchdowns. The offense isn't flashy but they have a good offensive line and a lot of self-less skill players that contribute. Nolan Hair is a veteran quarterback that has a knack for willing his offense into scoring position when they need it most.
UIndy has more strengths to lean on in a tight game. But I also think it will be low scoring and Truman has an ability to win close, low scoring games by minimizing mistakes. I've been waffling on this pick for days, but can't delay it any longer, so I like the Greyhounds on the road.
#1 Ferris State (4-1) at #4 Grand Valley State (4-1) 3:00
Last year, the Anchor-Bone Classic was a battle of No. 1 versus No. 2 in a game that ultimately decided the GLIAC championship and the top playoff seed in super region three. That top seed is going to be very hotly contested this year and it may go to the top team from the MIAA, but there is no doubt that the GLIAC championship is on the line. Davenport will have their say, but things will likely play out like they did last year. The hunger factor is really interesting to me in this one. Grand Valley has overwhelmed their last three opponents and I would imagine they are chomping at the bit to take on this challenge in front of a sold out home crowd. It is their rival and the team that knocked them out of the playoffs last December. Ferris has been really impressive at times, but have also had some sloppiness to overcome. I don't think they will be sloppy this week. The Bulldogs thrive in big games.
The test in this game is for Grand Valley's defense. The Lakers have throttled the opposition recently, but didn't fare as well against Colorado Mines and CSU-Pueblo. Ferris State's quarterback duo of Mylik Mitchell and Carson Gulker have been very efficient, never moreso than last week. Mitchell completed 12 of 14 passes, with five touchdowns while Gulker ran for 144 yards. Maximizing those skillsets is what the Ferris State offense is designed to do. Xavier Wade's impact can't be understated either, he averages nearly 28 yards per catch. Grand Valley isn't going to give up the number of big plays other teams have, but they need to have a much better day than they did the last time they played an offense with some weapons. Something to watch for is the potential for Mylik Mitchell to have an impact rushing. He's not normally a runner, but the downhill running the Bulldogs do with Gulker may not be as effective against Grand Valley. He had only a handful of rushes in the two meetings last year, but Mitchell ran for 102 yards (gross) in the playoffs. That was unexpected and had a lot to do with Ferris winning that game.
With all that said, I can't dismiss Grand Valley's offensive prowess. The Bulldogs defense will have their hands full with one of the one of the top scoring units in the country. The Lakers have a ground game that effectively blends power, speed and creativity. Ferris has lateral speed to combat that so I do think the Lakers will be forced to earn it through the air more than they have to date. Cody Tierney (18 yards per catch) needs to be a big part of the game plan.
It's always a toss-up with these two, but I think Ferris State's explosiveness on both sides of the ball makes them the favorite.
#8 Ouachita Baptist (6-0) at #9 Harding (6-0) 7:00
Much like the Anchor-Bone classic and the Truman/UIndy matchup, this game is very likely to determine a conference championship. Ouachita still has the battle of the ravine with rival Henderson State to close the season and Harding has a very good Southern Arkansas next week, but these are the two best teams in the GAC and there is no disputing that. Harding is exactly what we expect them to be. The Bisons lead the nation in rushing, averaging 381 yards per game, and have five players with more than 200 yards for the season. That comes at the expense of passing the ball as the Bisons are dead last in passing yards. But that's exactly how they want it. Interestingly, even though they throw the ball infrequently, when they do, they maximize it. Harding is last in the nation in passing yards per game (63.2) but first in passing yards per completion (29.5). Seven of the team's 13 completions resulted in touchdowns. All of that adds up to the most important thing to know, which is Harding leads the nation in scoring. Running back Blake Delacruz and quarterback Cole Keylon are the players to watch.
A team as committed to running the ball also knows how to slow down the run and Bisons excel at that too, ranking in the top 10 nationally. But Ouachita is harder to defend these days because they are not just a rushing offense. In fact, the Tigers have more passing yards per game (234) than rushing yards per game (206). The last time the Tigers finished a season with more passing yards than rushing yards was 2013. Veteran quarterback Riley Harms has given coach Todd Knight and staff a reason to put the ball in his hands. The grad student player has completed 67% of his attempts with 18 touchdowns and just one interception. Like their opponent, the Tigers are also very good on defense, allowing just 14 points per game and only 177 passing yards.
This game is like its own season when they get together. Neither team will see another opponent like this all season. That makes it tough to prepare for on both sides. This is the kind of game that can be decided by a timely turnover or big special teams play. I'm favoring Harding, but this is a very even matchup.
Others to watch
Notre Dame (4-2) at Charleston (5-0) 12:00
Notre Dame has rebounded nicely from two straight losses earlier in the year. They took down previously unbeaten MEC opponents Frostburg State and West Virginia State in the last two weeks and now get a got a shot at Charleston, the last unbeaten left in the conference. Should be a good one, but I like the grit shown by NDC and think they will continuing clawing their way back to the top.
#11 Bemidji State (4-1) at Wayne State (Ne) (5-1) 1:00
Bemidji had the week off following the tough loss to Minnesota State. That should work to their advantage taking on a Wayne State team that was victorious in a physical game with Minnesota Duluth. The Wildcats have momentum but I think Bemidji punches back after the loss.
Barton (5-1) at #13 Lenoir-Rhyne (6-0) 2:00
Lenoir-Rhyne gutted out a hard earned win at Limestone, but exposed some problems in the process. The passing game was out of synch and they struggled to tackle Limestone's Tre Stewart. If the Bears tighten up some key areas, they are the more talented team overall. But watching their defense struggle with Stewart makes me think Barton's Jordan Terrell will have a big day.
Southern Arkansas (5-1) at Henderson State (5-1) 2:00
In any other week, this would get a lot of attention in the GAC. The battle for second place as it stands right now, with both teams entering 5-1. Southern Arkansas is still under the radar nationally, but I think they're very good. The Muleriders nearly pulled off an upset in this meeting last year and I think they will get it done this year.
#19 Angelo State (3-2) at Texas A&M-Kingsville (4-1) 7:00
A lot is on the line for both teams. In a packed super region four, Angelo State may have to win-out to make the playoffs. Having a bye last week helps and TAMUK is coming off two physical games with UTPB and West Texas. An interesting thing to watch will be Javelinas' back up quarterback Wade Freeman. He started a week ago in relief of Jacob Cavazos and played very well.
Off the grid game of the week
Michigan Tech (3-2) at Northern Michigan (0-6)
The annual Miner's Cup game featuring the two teams in Michigan's upper peninsula will take place in one of D2's most unique venues, the Superior Dome. Tech started the year 3-0 but has lost the last two. Northern had their most competitive outing to date at Davenport last week but remain winless. Michigan Tech has a lot more going for them, so I have to take the Huskies.
That's a look at what will be a phenomenal week seven, and there are even more good matchups than we had space to cover. Remember to watch Inside D2Football for the weekend recap on Sunday night at 8pm, eastern.
Questions, suggestions, comments, complaints? Email me at [email protected] and follow me on Twitter @D2Chuck