D2Football National Column - Week Six
October 5th, 2023 3:00pm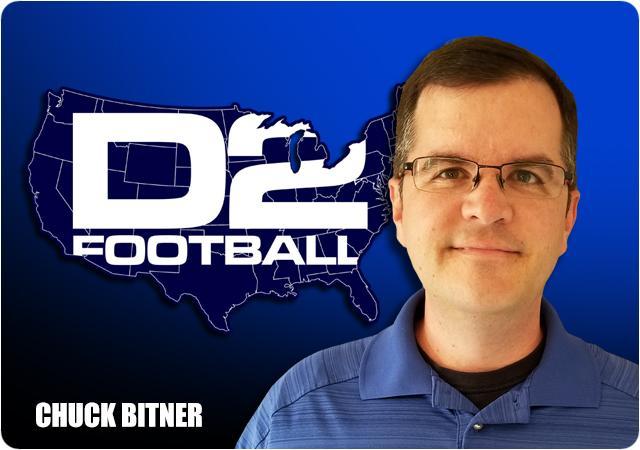 Week six already. The season seems to go faster every year. After all the games have been played this weekend, we will be past halfway and only a couple of weeks from seeing the first release of the regional rankings that will determine the playoff field. The schedule this week is highlighted by a pair of Top 25 matchups, one in the MIAA and our game of the week in the GSC. Before I jump to into the top games, I want to spend a few minutes looking at the current state of the D2 Football Top 10. Some of them haven't been talked about much in our weekly review of top games because they haven't hit the meat of their schedule yet. That will change soon but for now, let's do a quick update on the top 10.
Ferris State: The Bulldogs nearly pulled off a landmark win at D1 Montana, but with that now behind them, the focus is squarely on winning the GLIAC. With the week off following the Montana game, and a totally overmatched Northern Michigan last week, the Bulldogs should be as healthy, rested and hungry as a team can be at midseason. That's not good news for the GLIAC.

Colorado Mines: After the season opening wins over highly ranked Grand Valley and Angelo State, the Orediggers have been overwhelming the RMAC. There are some good teams on the schedule like SD Mines and Black Hills, but it feels like the only thing standing in the way of another RMAC championship is the Oct. 28 meeting with Western Colorado.

Pittsburg State: I am fully convinced that Pitt State is the best team in the MIAA but we see every week how hard it is to win in this conference. There are still many obstacles in the way, starting with Emporia State this week.

Grand Valley: The Lakers have dominated their competition since the opening night loss at Mines. This week's meeting with Kentucky State should be a light workout before the big one next week.You know who that is.

Minnesota State: The win over Bemidji State last week solidified the Mavericks as the top target in the NSIC. Shen Butler Lawson is the nation's leading rusher, and possibly leading candidate for the Harlon Hill Trophy.

Delta State: We haven't mentioned Delta State much because they haven't played a team on their level. That changes now. In the next four weeks, they'll face Valdosta State, West Florida and West Georgia.

West Florida: I really like how this season has been playing out for West Florida. They are playing very well and seem set up to peak at the right time. Watch out for the Argos.

Ouachita Baptist: The 2023 Tigers have been as impressive and dominant as last year's 11-0 GAC championship team. Southern Arkansas and Arkansas Monticello gave them three quarter fights but couldn't hang for 60 minutes. Great teams separate from good teams in the fourth quarter.

Harding: The Bisons have already taken care of Henderson State so if they can win at home over Ouachita next Saturday, the GAC championship is theirs for the taking.

Slippery Rock: We're only at mid-season, so there is a lot of time for things to change, but Slippery Rock is the best team in super region one at the moment, and I don't think second place is close.
Here is a look at the top games in week six
#13 Lenoir-Rhyne (5-0) at Limestone (3-2) 12:00
The first half of the season hasn't delivered many challenges for Lenoir-Rhyne. Their closest shave so far was a 14-point win at defending CIAA champ Fayetteville State. Carson-Newman battled, but was not their equal. The other three opponents were not even close. The back nine of the schedule will be much different. Over the next month, the Bears will put their record on the line against their rivals in the SAC's Piedmont division. Things change week to week, but as of now, all six teams in the Piedmont have a winning record. That schedule kicks off with a trip to Limestone on Saturday. The Saints are as hot as any team in the region with three straight wins, highlighted by last week's home victory over Mars Hill. I was really impressed with that win because Mars Hill did exactly what we expected them to do - shut down the run game. The Saints could not establish the run, but had success throwing the ball. QB Dustin Noller is an under-appreciated talent who seems to get better with every game he plays. Limestone will need a big day from him because LR is second in the country in rushing defense and second in scoring defense. I like that Limestone has faced some big challenges and responded to adversity. That works in their favor in what will be a very competitive game. But I still think LR is the better team. I didn't even mention how good their offense is. Bears by a touchdown.
West Virginia State (4-1) at Notre Dame (3-2) 12:00
Notre Dame recovered from two straight losses with a massive win at Frostburg State last week. At 2-2 in conference play, it will be an uphill battle to retain the MEC championship but it's not out of the question. West Virginia State is one of two teams left unbeaten in the MEC so a win this weekend could get the Falcons back into the race. The Yellow Jackets are playing good football, especially on the offensive side of the ball. They also have good balance and Donovan Riddick is a very efficient passer. But I think this game comes down to defense and I give the advantage there to NDC. Even with the two losses, the Falcons defense has been very consistent and they are very strong in the second half.
Virginia State (5-0) at Bowie State (3-2) 2:00
This was shaping up to be a premier matchup but some of the hype wore off when Bowie State inexplicably lost to Livingstone (who entered that game 0-4). The Bulldogs fumbled the ball seven times in that game, losing four. They also tossed an INT and allowed four sacks. Overall, just a dreadful day for the Bowie State offense against the same team that Virginia State beat 33-0 the week before The Bulldogs' defense will be fine. They were put in bad spots last week, which resulted in points for Livingstone, but they'll be fine. The problem is with the offense. In addition to the turnover problems from last week, they've had trouble establishing the run and average just 18 points per game. That won't be enough against the CIAA's top scoring offense and second best scoring defense. It's homecoming weekend in Bowie so that will help the Bulldogs but Virginia State is the better team right now.
California (3-1) at IUP (3-2) 2:00
This is a do or die game for the Crimson Hawks. The playoffs have started for IUP. They took it on the chin last week from The Rock in a game that was never close. Combine that with the week two loss and they're sitting at 3-2 with PSAC championship and playoff hopes on the line every snap for the rest of the year. How they respond to this adversity will go a long way in determining the outcome. If they have any hangover, they're not going to win because Cal is good enough to beat them even if they do everything right. Being at home in front of the homecoming crowd will help and I think the defense will be okay. They did recover and play better after the first quarter last week. My concern is that the offense is still finding its way and turnovers have been a problem. I really have no idea how this will play out, I can see it going in so many different directions. Cal has scored more than 30 points in every game so IUP needs an offense that can match that. I think IUP will rally and keep their playoff hopes alive, but this can easily go either way.
#16 Western Colorado (5-0) at South Dakota Mines (3-2) 2:00
For those of us watching from afar, it's easy to look ahead to Western Colorado's date with Colorado Mines in a couple of weeks. That will likely be the game of the year in the RMAC. But the Mountaineers can't afford to look further than this Saturday's trip to South Dakota. They could not be catching South Dakota Mines at a less opportune time. A week ago, the Hardrockers put in their best performance of the year, dismantling their rival Black Hills State 49-14. They will come into this game with momentum and confidence on their side. This should be a good game, but defense travels and the Mountaineers have the best D in the conference. They're riding a clean sweep, sitting first in scoring defense, total defense, rushing and passing. South Dakota Mines has a balanced offense that will present some problems but Western stays hot and gets the road win.
Quincy (4-1) at #20 Truman State (5-0) 2:00
I really want to see if Quincy is good enough to take the fight to Truman. The Hawks lost their opener to Chadron State but have won four in a row since then. That record does come with a healthy serving of salt though. Two of those wins were over a bad NAIA team and a bad NCCAA team. A third was over Northern Michigan. Those three programs have zero wins combined. Nonetheless, the Hawks have momentum and did open conference play with a 38-33 win over Southwest Baptist last week. Quincy has not scored less than 34 points in a game, so we know they have some offense. They'll find it much harder this week against a Truman State defense that has allowed no more than 24 points in a game and has held opponents to 10 or under three times in five games. The Bulldogs have quality wins over Findlay, SD Mines and Saginaw Valley. They are the more proven team and I think the defense will show up in a big way.
#21 Minnesota Duluth (5-0) at Wayne State (Ne) (4-1) 2:00
Minnesota Duluth is one of three remaining undefeated teams in the NSIC and they recently broke their way into the Top 25. Wayne State is one of the teams right behind them at 4-1. The Wildcats' lone loss was in week two to Minnesota State. This would be a big for Wayne State if they can pull it off. It may even vault them into the Top 25. Two of the NSIC's top quarterbacks will appear in this one, but they are very different players. In NSIC stats, Wayne State's Nick Bohn is second in passing yards per game but first in passing efficiency. Duluth's Kyle Walljasper is a bit further down the list in passing yards, but near the top in efficiency. Watch for him to make an impact in the rushing offense. That's where he is most dangerous. Walljasper is second in the NSIC in rushing yards and rushing touchdowns. The Bulldogs also have the best defense in the conference to accompany their strong running. I like UMD to keep the unbeaten streak alive.
#17 Emporia State (4-1) at #3 Pittsburg State (5-0) 3:00
After a tough loss at Missouri Western last week, Emporia State has the unenviable task of bouncing back with a road trip to the Jungle. Pitt State is the favorite in this one and they will be my pick to win it, but I do think this is a toss up game. Emporia's offense will rebound and they're never out of it with Braden Gleason running the show. He leads the MIAA in passing efficiency and is seventh nationally. But that Pitt defense is a problem. They allow just 170 passing yards per game and have more INTs (10) than passing TDs allowed (8). That will be something to watch because Gleason doesn't turn the ball over often. I like the Gorillas because of their strong running game and their ability to elevate in the second half. They're 5-0 but have faced a lot of adversity. If you throw out the Northeastern game last week, they've led at halftime only once this year, and that was a 6-0 lead over Washburn. They've been really strong in the second half and that bodes well against a quality team like Emporia State.
#12 Benedict (5-0) at Miles (4-1) 5:00
Miles deserves a lot of credit for how they responded to last year's uncharacteristic 1-9 record. The Golden Bears are 4-1 with a win over an FCS opponent. The only loss was a one point game to FCS Arkansas-Pine Bluff. Miles is good. But Benedict has been a cut above the rest this year. One of many things that impresses me about Benedict is that they play at the same level every week, no matter who the opponent is. That's not easy to do in college sports but just look at these numbers. 0-0-7-3-3. Those are the points allowed by Benedict, by game. That's one touchdown and two field goals total and an average of 2.6 points per game. Miles will be the best team Benedict has seen, so they should expect a tough opponent, but the Tigers will keep roaring.
Game of the Week
#6 Delta State (5-0) at #25 Valdosta State (5-0) 2:00
I've been waiting for this game for a couple of weeks. Delta State and Valdosta State enter this contest with identical 5-0 records but to date, neither has played a team that could match their level of talent. Both have taken care of everything in front of them, but now we'll see how each measures up against another Top 25 Division II team. It was this matchup one year ago that exposed the true extent of Valdosta State's problems on defense. Delta State scored touchdowns on every offensive possession that did not end a half. But that was last year. The Blazers have come a long way since then. By the end of 2022, Valdosta scored an average of 36 points per game and allowed an average of 37. Through five games in 2023, the offense is scoring 42 points per game and the defense is allowing just 18. That's a big turnaround. The difference is most notable in the run game. The Blazers surrendered 250 rushing yards per game in 2022. That number is down to 103 at present. That gives me confidence that the Blazers can play with Delta State and not many teams can. The Statesmen have one of the best offensive units in D2. Patrick Shegog did exit last week's game with an injury, and while I do think his absence for the entire second half was precautionary (the game was not in doubt), it's still noteworthy. Something I will be watching for is third down success. Both offenses are in the top 10 nationally, converting third downs into first downs at a rate greater than 50%. The other thing I want to see is how well Delta State's defense performs against a good offense. The Statesmen D has been very good but Valdosta's passing attack has been efficient with Sammy Edwards at quarterback. Delta State will have to account for a lot of weapons too. Valdosta State has five players with double digit receptions and 10 that have at least one receiving touchdown. The Blazers are much more capable than any team Delta State has seen so far.
This will be a competitive game. It's Valdosta State's best opportunity to prove they are not the team from last year. I think they will play that emotional angle all week in practice and be very prepared for Saturday. In the end, I think Delta State is closer to being a complete team.
Off the grid game of the week
Each week I use this space to shine some light on a game that may not have rankings or playoff spots on the line, but deserves our attention.
Northeastern State (0-5) at Lincoln (0-5) 3:00
Not a lot to analyze here, but the outcome of this game is likely to determine who gets a W on the board and who finishes the season winless. Lincoln is not an MIAA member this year but they are playing 10 MIAA opponents before departing for the GLVC. Northeastern State remains a full MIAA member and for football purposes, they're probably going to miss Lincoln. I'll take the Riverhawks but it should be a very competitive game as both teams know what is on the line for them.
That's a look at week six. Remember to watch Inside D2Football for the weekend recap on Sunday night at 8pm, eastern.
Questions, suggestions, comments, complaints? Email me at [email protected] and follow me on Twitter @D2Chuck