D2Football National Column - Week Five
September 28th, 2023 3:00pm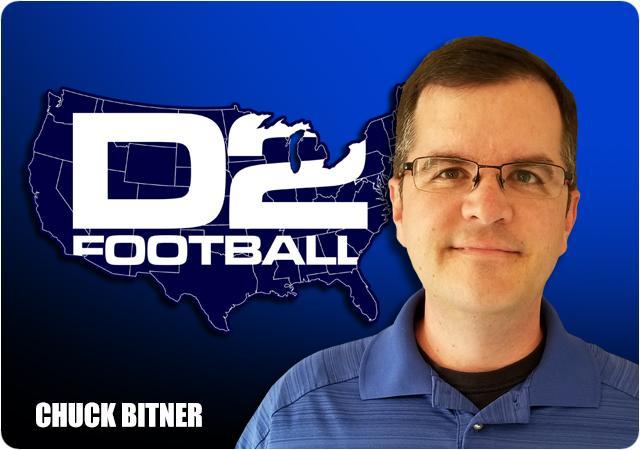 Four weeks down already. We're a third of the way through the regular season and launching full-on into conference races. The schedule this week is headlined by a pair of Top 25 showdowns, one in the NSIC and one in the PSAC. We also have the NSIC's top rivalry, the annual Key to the City game between cross-town rivals Augustana and Sioux Falls. If you are a frequent viewer of Inside D2Football, you may know that our own Matt Witwicki resides in Sioux Falls and is a regular presence at home games for both schools. This year, Witt will be joined by D2Football founder Brandon Misener for the game and a special event on Friday. Witt and Brandon will combine their considerable food consumption prowess to take on the"Boss Hog" at Boss' Pizza and Chicken in Sioux Falls. The teammates will have one hour to consume a 28" inch pizza with three toppings. If they can do it, they will have compromised their personal health and wellbeing for little more than internet glory. Be sure to watch Inside D2Football on Sunday night for the recap of this captivating (and likely repulsive) event. Good luck gentlemen!
Before we run through the top games on my radar for week five, I want to spend a paragraph or two addressing some questions. If you've read my columns over the years, you know I close every one of them with my contact info and an invitation for your questions, complaints or feedback. Earlier this week a reader expressed appreciation for mentions of a few under the radar programs on Inside D2Football and asked if I could incorporate some of those into the weekly column. I won't be doing that in the weekend preview because this space is for the top games, which usually will involve teams in or near the Top 25. However, in most weeks, I do a national roundup on Sunday morning and that includes several mentions for teams that may not be in the rankings discussion, but have a result worthy of our attention. You can always find that on the home page on Sunday mornings or in the national columnist archive.
A second question that I received asked about early season candidates for the Harlon Hill Trophy. If you're new to D2, the Harlon Hill Trophy is awarded after the season to the best player in Division II. Once the season gets going, I like to wait until we are past halfway to start discussing candidates. Four weeks isn't enough of a sample size yet, but we're not far away so stay tuned.
Now let's turn our attention to the top games in the week five schedule
Notre Dame (2-2) at Frostburg State (3-0) 12:00
Heading into fall, this was the game to circle on the MEC calendar. Some of the shine has worn off due to Notre Dame's consecutive losses to Glenville State and Fairmont State. On the other hand, what better way to get back into the hunt than picking up a big road win at Frostburg? The thought of Notre Dame losing three straight MEC games is hard to fathom (remember, they've won the last five MEC championships) but there may be a lot working against them. Starting quarterback Isaiah Murphy did not play last week after being injured in week three. His status remains unknown. Backup Deshawn Evans put up yards against Fairmont, but completed less than 50% of his passes and turned the ball over three times. In addition to that, leading rusher Idris Lawrence did not play. Frostburg State was idle in week four so they've had additional time to rest and prepare. Notre Dame is clearly capable, but they have a lot of adversity to overcome. Frostburg is playing good defense, leading the MEC in scoring defense and yards allowed. I'll go with the home team in this one.
East Stroudsburg (4-0) at Kutztown (2-2) 12:00
One of the first PSAC games I ever attended was East Stroudsburg at Kutztown, circa 1990. Some personal history of interest to no one…anyway, this should be a lot of fun. East Stroudsburg is playing with tons of confidence. They were a bit lethargic and got a scare from Lock Haven last week but once they woke up and realized they needed to go get points, they scored three touchdowns in about 10 minutes. Don't expect a slow start this week, Kutztown will have their complete attention. I'm going with Kutztwon in this one, but not with a ton of confidence. I can see it going either way. I expect a defensive battle, similar to last week's Kutztown/Shepherd game. The team that has more success establishing the run is likely to be the winner. The Golden Bears have two talented and physical running backs and they really need them to have some success. ESU's run defense has been exceptional so I'm not expecting big numbers, but their Bears need some production on the ground. They struggled with that last week at Shepherd and it disrupted their offensive rhythm. Being at home in front of what should be a large crowd will help.
Mars Hill (3-0) at Limestone (2-2) 12:00
A red-hot Mars Hill against a rejuvenated Limestone. I like this matchup. Mars Hill has one of the best rush defenses in the country and they proved that last week by holding the nation's leading rusher through three weeks to just 47 yards. That said, I think Limestone has more offensive balance than the three opponents Mars Hill has defended so far. The Saints have Tre Stewart, one of the top backs in D2, but they are also a very capable passing offense, posting more than 300 yards per game. That may be just what they need to loosen up that Mars Hill defense. That will be an interesting matchup, but ultimately, I think this game comes down to whether or not Limestone can slow down Mars Hill's rush. The Lions lead the SAC in rushing and Limestone isn't great at stopping it. I'm taking Mars Hill, but one thing that does concern me is finishing drives. The Lions rushing attack produces 238 yards per game, but they've scored only three rushing touchdowns.
Charleston (4-0) at Glenville State (2-1) 1:00
Charleston hasn't gotten much attention yet even though they are 4-0 and have capably handled everything in front of them. That's mostly because two of their wins were over winless teams that haven't even been close this year. The good news for the Eagles is that business is starting to pick up. A win over a pretty decent Glenville State team might be enough to get them into the Top 25. But let's focus on the first part of the sentence before we worry about the second part. Glenville is a good team. They lost to a very good looking West Virginia State team last week but the Pioneers were the first to knock off Notre Dame this year. Glenville is averaging just under 30 points per game which is respectable, but the defense has scored four of the team's 12 touchdowns. The offense will have to step up a bit to win this. Charleston is a little more balanced so I'll take the Eagles on the road.
Northwest Missouri (2-2) at #22 Central Missouri (3-1) 2:00
A few games above, I mentioned the possibility of Notre Dame College losing a third straight game, which would also be three straight conference losses. It's been a while since that has happened to the Falcons. It's been even longer for Northwest Missouri State. We have to throw it way back to 2001 for the last time the Bearcats lost three consecutive MIAA games, in the same season. That streak could end this weekend (the win over Lincoln last week is not an MIAA game). To that end, I expect the Bearcats to play with a sense of urgency. Unfortunately, I don't think Central Missouri is a good matchup right now. The Mules have the nation's best passing offense, averaging 392 yards per game, and the hottest quarterback in the country in Zach Zebrowski. By no means is Northwest a bad team defensively, but they are not where we are used to seeing them. I think it will be a struggle to keep pace with UCM so I'm taking the Mules to get their first win over Northwest since 2012.
#10 Emporia State (4-0) at Missouri Western (3-1) 5:00
Emporia State got the proverbial monkey off their back a couple of weeks ago with the win over Northwest but they still have a long, long road ahead and a trip to Missouri Western is part of it. The Griffons are 3-1 and playing pretty good football. At home, Missouri Western has an upset in them but it will come down to turnovers. Central Oklahoma and Fort Hays put up passing numbers but the Griffons were able to get multiple interceptions in both games. In the loss to Central Missouri, no takeaways from their passing game. Emporia State's Braden Gleason averages 300 yards per game and has not turned the ball over this year. I like the Hornets to climb to 5-0.
#6 Delta State (4-0) at West Alabama (2-2) 5:00
This will be the toughest test of the season for Delta State's offense. The Statesmen average 45.2 points per game which puts them in the top 10 nationally, but they haven't played a good team yet. West Alabama is a .500 team and that is probably what they will be at the end of the year, but they do know how to play defense. Last year West Alabama held a similarly explosive Delta State to 20 points. The problem is, the Tigers don't have much offense. They played well defensively in that meeting last year but lost 20-7. I think Delta State scores a few more this time around.
#18 IUP (3-1) at #12 Slippery Rock (4-0) 6:00
The PSAC's best rivalry game under the lights at what should be a packed Mihalik-Thompson Stadium on Saturday night. It won't get better than this in the PSAC this year. Repeating what I said on Inside D2Football last Sunday, I think Slippery Rock is the best team in super region one right now. They've taken care of their business with only a few minor struggles and have managed to stay mostly healthy. Granted, all the teams they've played so far have proven to be not so stellar on defense. IUP is a whole new challenge. The Crimson Hawks are strong against the run and efficient in pass defense. That said, Slippery Rock can play defense too. I think they are lot better on defense than they get credit for. They have one of the best pass defenses in the country and to date, have surrendered just two passing touchdowns. I do have some concerns about the rush. I saw Wayne State get chunk yards on the ground even with no complimentary passing game. We know IUP can run the ball and Karst Hunter seems to be getting more comfortable with each game. This is always an even matchup from a team talent perspective but I think Slippery Rock is a little ahead at this point in the season.
Texas A&M Kingsville (3-0) at UT Permian Basin (3-1) 7:00
This is a very interesting matchup in the Lone Star Conference. Texas A&M Kingsville has an outstanding defense while UTPB has an offense capable of pushing scoreboard limits. We're four games into the season but I still find it hard to get a good read on The UTPB Falcons. Two of their opponents were severely outmanned or simply played all kinds of bad football. I can't take much away from those, but it is also hard to ignore that they were literally unstoppable for a Southwest Baptist team that kept it close with D1 Tarleton State last week. Defensively, TAMUK is on par with or possibly a little better than Western Colorado, who beat UTPB in week two. The Javelinas have not had to rely on their offense to make plays to win games. That does concern me in this matchup, but I'm putting faith in that defense to win this one.
Game of the Week
#5 Minnesota State (4-0) at #7 Bemidji State (4-0) 3:00
It's a shame this game doesn't fall a few weeks later on the calendar because not only is it our game of the week, it is likely to be the game of the year in the NSIC. These are not the only two teams in play for the conference championship, but when it's all said and done, I think we will be looking back at this result as the most impactful of the season. Minnesota State has the NSIC's best offense, averaging 44.8 points and 501 yards per game. That's daunting, but Bemidji has the conference's best defense. The Beavers allow just 11.8 points per game, which is first in the NSIC and third nationally. They are especially strong against the rush, allowing just 70 yards per game. There will be many factors in this game, but I do believe that will be the most critical one. Can Minnesota State, with the nation's leading rusher, Shen Butler-Lawson, Jr, establish the run against Bemidji's defense? I think the Mavericks will get their yards, but not like they're used to. I also really like the balance that Bemidji State has in their own offense. The rushing attack has taken pressure off Brandon Alt to make all the plays throwing the ball and that has paid off with better ball security. This should come down to the final drive, but I give a slight edge to Bemidji State.
Off the grid game of the week
Each week I reserve this space for a game that may not have rankings or playoff implications, but deserves some attention. This week, we're heading to the GAC.
Southern Arkansas (3-1) at Southern Nazarene (3-1) 3:00
Nationally, most people won't know much about these teams because neither has recent history of being ranked or making the playoffs. But to be fair to them, within the GAC, this is NOT an off the grid game. One of these teams is going to be 4-1 and (likey) tied for second place in the GAC standings. There are two very exciting dual threat QBs in this one. Southern Nazarene has one of the best players in D2 in quarterback Gage Porter. He leads the GAC and is third nationally with 146 rushing yards per game. Southern Arkansas' OB Jones is the Mules' leading rusher but also passes for right around 200 yards per game. It's close but I think Southern Arkansas is a little more battle tested with wins over Southeastern and East Central.
That's the rundown for week five. Remember to watch Inside D2Football for the weekend recap on Sunday night at 8pm, eastern.
Questions, suggestions, comments, complaints? Email me at [email protected] and follow me on Twitter @D2Chuck