D2Football.com Players of the Week
September 5th, 2023 3:00pm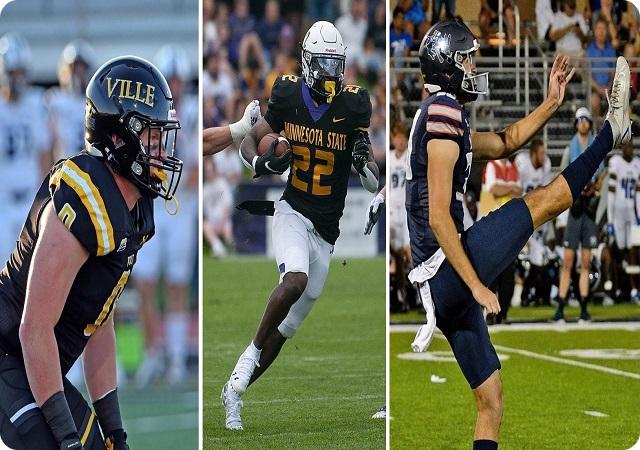 D2Football.com is pleased to announce the players of the week for week one of the 2023 season.

Offense
Shen Butler-Lawson
Running back, Minnesota State

Minnesota State running back Shen Butler-Lawson needed just nine carries to accumulate 221 rushing yards and four rushing touchdowns in the Mavericks' 54-26 win at Sioux Falls. Butler-Lawson, who played only in the second half, averaged 24.6 yards per carry and had touchdown runs of 37, 14, 34 and 67 yards.

Defense
Garrett Cox
Linebacker, Millersville

Millersville Linebacker Garrett Cox was among the top tacklers in week one with 13 total tackles, including eight solo. He contributed 3.5 tackles for loss of 16 yards, a sack for loss of 13 yards, a pass break up, two QB hurries and a forced fumble that resulted in a defensive touchdown.

Special Teams
Blake Doud
Punter, Colorado Mines

Punter Blake Doud was a difference maker in Colorado Mines' 31-28 victory over No. 2 ranked Grand Valley State last Thursday night. Doud averaged 49.2 yards per punt and dropped all six of his kicks inside the 20 yard line, three of them inside the 10. His punts resulted in average starting field position at the ten yard line. Three of his punts netted 50 or more yards. Thursday night's win was the first collegiate game of Doud's career.