D2Football.com Players of the Week
September 12th, 2023 1:00pm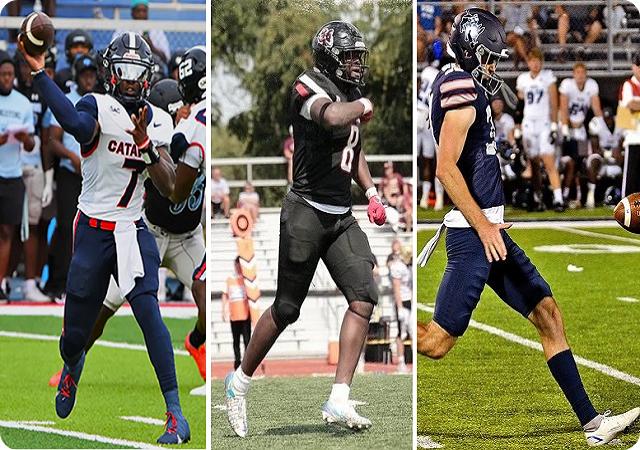 D2Football.com is pleased to announce the players of the week for week two of the Division II season.
Offense
Preston Brown
Quarterback, Catawba
Catawba quarterback Preston Brown set a new school record with six touchdown passes in Catawba's 55-15 win over cross-town rival Livingstone in week two action last Saturday night. In only his second career college start, the redshirt sophomore completed 24 of 30 attempts for 374 yards, six TD and zero INT. He also had a 43 yard rush to set up the Indians with a first and goal.
Defense
Ibrahim Sanogo
Linebacker, California
California linebacker Ibrahim Sanogo helped the Vulcans shutout Kutztown in the second half of their week two contest, allowing the offense to rally for 24 unanswered fourth quarter points. Sanogo finished the day with six total tackles. Among his stops were 4 solo, 4.5 tackles for loss of 28 yards and 2 sacks for loss of 26 yards. He also broke up a pass and his strip-sack ended Kutztown's final drive and ultimately secured the come from behind victory.
Special Teams
Blake Doud
Punter, Colorado Mines
Colorado Mines punter Blake Doud is two-for-two, earning his second consecutive D2Footbal.com player of the week honor. As he did in week one, Doud repeatedly set up the Mines defense with advantageous field position. Four of seven punts landed inside the 20 yard line with two of them stopping at one yard line. His final punt of the night, late in the fourth quarter, left Angelo State 99 yards from a potential game tying score. For the night, Doud averaged 51 yards on seven punts and achieved a career-best 77 yard punt.