D2Football.com Players of the Week
September 26th, 2023 6:00am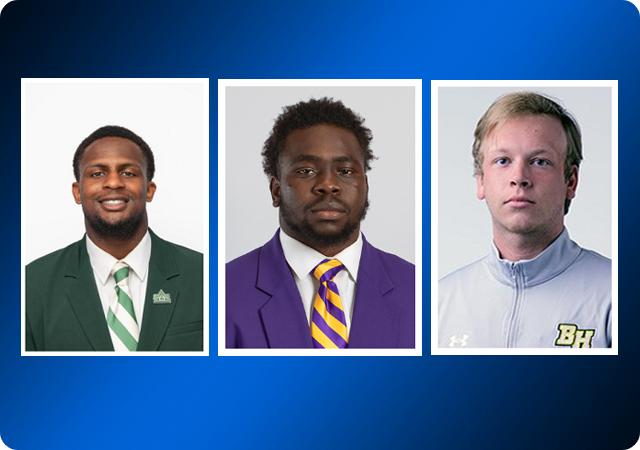 D2Football.com is pleased to announce the players of the week for week four of the Division II season.
Offense
Patrick Shegog
Quarterback, Delta State
Patrick Shegog accounted for seven of Delta State's eight touchdowns in last Saturday night's GSC contest against Shorter. The graduate student quarterback completed 15 of 19 pass attempts for 218 yards and five touchdowns. Shegog finished the evening with a completion percentage of 79%, yards per completion of 14.5 and yards per attempt equaling 11.5. His day also included leading the Statesmen in rushing yards. He netted 138 yards on just 10 carries and scored two touchdowns.
Defense
Loobert Denelus
Defensive lineman, Benedict
Loobert Denelus led a Benedict defense that allowed Chowan's offense to stay on the field for just 50 snaps last Saturday. Denelus was a disruptive force on many of those snaps on a rain-soaked, muddy field. The senior defensive end had seven total tackles, with 3.5 tackles for loss of 20 yards and 2.5 sacks for loss of 16 yards. Denelus and the Tiger defense limited their opponent to just 104 yards of offense. The win at Chowan marked the fourth straight game that Benedict surrendered seven points or less. For the season, they have allowed a total of 10 points.
Special Teams
Coleman Chapman
Kicker, Black Hills State
Coleman Chapman contributed 13 total points in Black Hills State's 25-23 win at Colorado Mesa. He was a perfect 4-for-4 in field goals. In the first half, he connected on a 48-yarder that helped Black Hills take a 16-14 lead to the locker room. In the second half he was true from 33 yards in the third quarter and 36 yards late in the final period. His biggest kick came at the final buzzer. Following a Colorado Mesa field goal to take the lead with just 0:36 left, Black Hills got close enough to give Chapman a chance for a game winning field goal from 50 yards. His kick split the uprights with a few yards to spare and only 0:01 on the clock.