GAC Week 7 Recap
October 17th, 2022 7:00am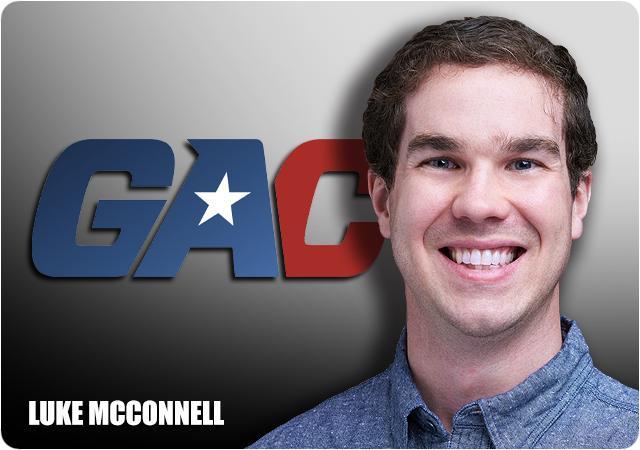 Week seven in the GAC provided us lots of highlights, lightning and one big upset. Overall, it wasn't a drama-filled week like previous weeks this season, but that doesn't mean less things to talk about. Let's jump right now.
Henderson State upsets Harding
The Reddies went on the road and pulled off the big upset in Searcy. The Henderson State run defense held the Bisons to just 236 yards and 4.1 yards per carry. Those numbers still look big, but that's nearly 100 yards under the Bisons season average. The Reddies also forced four turnovers, which were the difference in the game. HSU wasn't very effective offensively themselves, accumulating just 214 yards of offense and less than four yards per play, but the turnovers led to some short fields, including the lone Henderson State touchdown drive in the third quarter. The Reddies still need some help to catch Ouachita Baptist in the standings, but that's still a possibility as we come down the home stretch of the season.
East Central Keeps Rolling
The Tigers won their fifth straight game on Saturday, dominating Oklahoma Baptist, 34-20, in a game that wasn't even that close. The Tigers held OBU to 315 yards, forced three turnovers and held a 17-minute edge in time of possession. ECU has an outside shot at a share of the conference title themselves, and travels to Arkadelphia to take on Ouachita Baptist on Oct. 27, a Thursday night game. The first two games of the season were just miserable for ECU offensively, but they've really turned things around during the winning streak. Kudos to the players and coaching staff for staying on course and getting things rolling.
Most Improved Team- Southern Nazarene?
I know, I know. I'm such a homer for this one. But year-over-year, it's either SNU or the team they just beat on Saturday on the road, Southwestern OSU. Quarterback Gage Porter is one of six players in NCAA football--that's divisions I, II or III--to rush for at least 1,000 yards through seven games (Ouachita's TJ Cole is one as well). The SNU offense is fourth nationally in rushing yards per game at 297 per game and leads the country with 7.4 yards per rush. The Crimson Storm were a comfortable 12th in the preseason coaches poll but you could make a strong case for three more wins this year. Yes, the defense still needs to improve, but in the two wins this year, they've made big plays when they've needed them. The next step for SNU as a program is building on this production on the recruiting trail and in the years to come.
Blowouts Abound
Southeastern OSU crushed Northwestern OSU, 44-7, Ouachita Baptist rolled past free-falling Arkansas-Monticello, 41-7, East Central cruised past Oklahoma Baptist, 34-20, and Southern Arkansas beat Arkansas Tech 49-33 in a game the Muleriders led by 25 at half and 24 after three quarters. Again, not too much drama in the GAC this week.
Wild Stats
-Again, Ouachita's TJ Cole and Southern Nazarene's Gage Porter have both eclipsed 1,000 yards rushing through seven games. Porter is No. 2 nationally with 1,083 yards and Cole is No. 3 nationally with 1,063 yards. Just a pair of tremendous seasons thus far.
-Southwestern OSU gave up 481 rushing yards in a 63-24 loss at Ouachita Baptist last week. Saturday, Southern Nazarene managed to top that by rolling up 524 yards on the ground. So in two weeks, SWOSU gave up 1,005 yards on the ground. Ouch.
-After Saturday's results, the GAC has the No. 2 (Ouachita), No. 3 (Harding), No. 4 (Southern Nazarene), No. 10 (Southern Arkansas), No. 11 (Arkansas-Monticello) and No .17 (Arkansas Tech) rushing offenses in the nation. The flip side of that success is there are six GAC teams in the bottom-22 nationally in run defense. It's a give and take thing!
-The 14 points Harding scored against Henderson State were one of the fewest the Bisons had scored in a GAC game over the past several years. The Bisons scored 13 in a loss to Ouachita Baptist earlier this year and scored 14 points twice in 2019, one a loss to Ouachita and one a win vs. Henderson State. Going back further, Harding managed just three points against Ouachita in 2018 and 13 points in a loss at Southwestern OSU in 2015.