GAC Week Eight Preview
October 20th, 2022 7:00am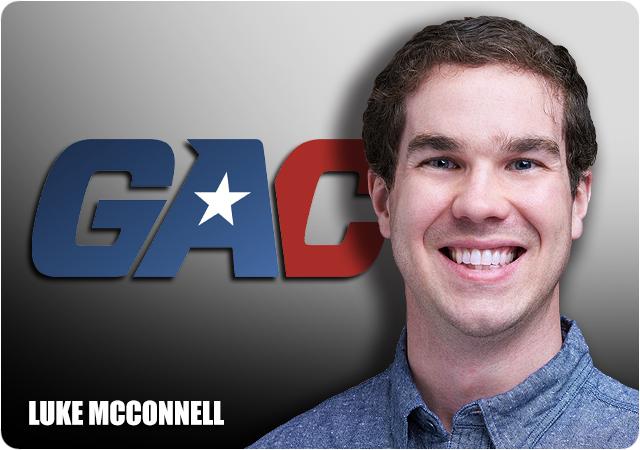 Week eight in the GAC marks the beginning of the final third of the season. The conference title race is still up for grabs and multiple teams are still in the hunt for elusive playoff spots.
Ouachita Baptist remains in the lead for the conference title at 7-0, but East Central, Harding and Henderson State all stand at 5-2 with shots to at least share the conference crown. East Central and Henderson State have yet to face the Tigers this season. The final few weeks should be a lot of fun.
Here's a look at the conference players of the week.
Co-Offensive Player of the Week- TJ Cole, Ouachita Baptist, RB
-22 carries, 232 rushing yards
-Two touchdowns
Co-Offensive Player of the Week- Gage Porter, Southern Nazarene, QB
-22 caries, 226 rushing yards
-Four rushing touchdowns
Defensive Player of the Week- Catrell Wallace, Henderson State, DE
-One forced fumble
-Two fumble recoveries
-Five tackles, one tackle for loss
Special Teams Player of the Week- Tristan Heaton, Henderson State, P/K
-Three field goals made
-Five punts, two inside the 20-yard line
And here's the lineup for this week. We're trying to shake off back-to-back 3-3 records, which leaves our season record at 27-15.
Game of the Week: No. 3 Ouachita Baptist (7-0) at Southern Arkansas (3-4)
Trivia question for you: which team is the only team in the GAC averaging 200+ yards in both passing and rushing offense? If you answered Southern Arkansas, you'd be correct. It's a bit surprising, given the inconsistency of the Muleriders' season, but it's the answer nonetheless. SAU piled up nearly 600 yards of offense against Arkansas Tech last week, their most balanced effort offensively since the season-opening win against Northwestern OSU. It comes at a good time, too, because Ouachita Baptist has been humming all season long. Southern Arkansas will need every bit of their offensive firepower to be clicking on all cylinders on Saturday. They'll also need a defense that has been ok, but far from great, to rise up and make some big plays.
The Tigers have been so good this year that last week's 41-7 win over Arkansas-Monticello seemed like a less-than-stellar performance. TJ Cole has eclipsed the 1,000 yard rushing mark in just seven games, the second straight season he's rushed for at least 1,000 yards. He's one of just six players in all of NCAA football (including SNU's Gage Porter) with 1,000 rushing yards to this point in the season. Quarterback Riley Harms has been outstanding of late and the defense continues to churn out quality performances week after week.
This game is taking place in El Dorado, Ark., so it's not the usual home field advantage for Southern Arkansas. However, I don't think this game being played in Magnolia would affect the outcome in any way.
Ouachita Baptist 42, Southern Arkansas 21
Arkansas Tech (3-4) at Henderson State (5-2)
Man, what a great win for Henderson State last week at Harding. The Reddies came in off a humbling loss at East Central but came out and got the big upset win on the back of their defense. They'll be tested again on Saturday by an Arkansas Tech team that's averaging 293 yards on the ground in their last three games, two of those wins. The Reddies run defense is one of the best in the conference and how the Reddies limited Harding's flexbone attack gives you a lot of confidence they can do the same to the Wonder Boys on Saturday. However, containing a triple-option offense and a more traditional offense are two different things.
Henderson State seems to be back with Andrew Edwards at quarterback, but I'd expect him and Landon Ledbetter to both see time the rest of the season depending on matchups and health. Tech has found a lot of success offensively since turning to Jack Grissom at quarterback. He's tossed three interceptions the past two weeks, but is completing nearly 67 percent of his passes compared to just 51 percent for Taye Gatewood, who started the first two games of the season.
Arkansas Tech has been playing well while Henderson State has been a bit inconsistent of late. However, the Wonder Boys don't have the defensive prowess of East Central and Harding, so I expect the Reddies to get back on track offensively and get the home win.
Henderson State 37, Arkansas Tech 20
Southwestern OSU (3-4) at East Central (5-2)
The Tigers (orange and black edition) are the hottest team in the conference besides Ouachita, having rattled off five straight wins. Their defense has been the calling card of late, holding opponents to 5.2 yards per play over the last four games. The offense has also been really good, as quarterback Kenny Hrncir has shaken off a rough start to the season. He's thrown just one interception the last five games and is completing 62 percent of his passes this season.
The Bulldogs come in on a two-game losing streak, having given up 1,005 rushing yards in losses to Ouachita Baptist and Southern Nazarene. The Tigers don't have a dominant run game like either of those teams, but they are more than capable of exploiting the deficiencies of the Bulldogs' defense. On offense, SWOSU has to establish the run early to keep the Tigers from keying in on quarterback Tylan Morton and the Bulldogs' receivers.
This is the East Central team I thought we'd see from the start of the season. Homecoming in Ada means another win for the Tigers.
East Central 31, Southwestern OSU 21
No. 20 Harding (5-2) at Arkansas-Monticello (3-4)
The Bisons' youth seemed to catch up to them last week in a 15-14 loss at home to Henderson State. Harding turned the ball over four times against the Reddies and now has to face a Monticello defense that has forced 15 turnovers this year. Although, we must acknowledge 12 of those turnovers are interceptions, and we all know Harding won't put the ball in the air that much. The Harding defense continues to play well, but they'll be tested by quarterback Demilon Brown and UAM offense, which is averaging nearly 240 yards on the ground per game this season.
The Weevils are sputtering, having lost three in a row, including a head-scratching loss at home to Northwestern OSU two weeks ago. The offense hasn't eclipsed 400 total yards during the losing streak and the defense has given up over 500 yards in two of the three losses. After such a promising start to the season, it's been a lot of disappointment for UAM of late.
It's always tough to predict a game where both teams are coming in off a loss. I think Harding bounces back better and gets the win.
Harding 28, Arkansas-Monticello 14
Northwestern OSU (1-6) at Southern Nazarene (2-5)
So far in 2022, the Crimson Storm are 2-0 against the directional Oklahoma State schools in the GAC. Can they make it 3-0 on Saturday? There are plenty of reasons to be optimistic. SNU has been rolling offensively since the week two loss at Ouachita Baptist and is coming off a 524-yard rushing performance against Southwestern OSU. On the opposite side this week is a Northwestern OSU team that is 10th in the conference in rush defense, giving up over 250 yards per game. The SNU offense should continue to be effective.
The question remains can SNU get enough stops to win? They did at Southeastern OSU and did last week against SWOSU. Northwestern hasn't been any good the past two weeks offensively, playing the majority of a win over Arkansas-Monticello and the entire game against SEOSU without quarterback Tanner Clarkson. Even with Clarkson, though, the Rangers are last overall in total and scoring offense. Perhaps this is an opportunity for SNU to build some confidence on defense by winning in a non-shootout way.
I'm not sure the last time SNU looked to be the superior team, at least on paper. That seems to be the case this week between the Crimson Storm and the Rangers, though.
Southern Nazarene 42, Northwestern OSU 24
Oklahoma Baptist (1-6) at Southeastern OSU (4-3)
Simply put, the Bison have not been good this year. They've struggled on offense, they can't stop the run and they don't score well. One thing Oklahoma Baptist has done well this year is defend the pass. The Bison are first in passing yards allowed and second in pass efficiency defense. They'll face their biggest test yet as Daulton Hatley, the nation's No. 7 passer by yards, lines up on the other side with his veteran group of receivers. The Bison are dead last in the conference in rushing defense, but Southeastern doesn't really run the ball much, averaging just under 130 yards per game this year.
Will the Savage Storm lean on the run game more or stick to their strength? They have done that the past two weeks, with 35 rushing attempts in wins over Southern Arkansas and Northwestern OSU and just 45 total pass attempts over the two games. The defense is also playing much better, suffocating the Rangers offense to the tune of just 130 yards on 52 plays.
It's hard to see a way in which Oklahoma Baptist springs the upset. It'd have to take a turnover-fest from the SEOSU offense, and I just don't see that happening.
Southeastern OSU 35, Oklahoma Baptist 17