GAC Week Nine Preview
October 26th, 2022 11:00am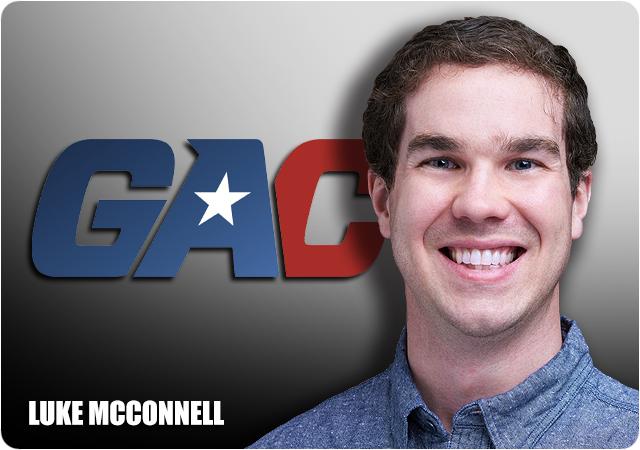 It's time for week nine in the GAC. The conference race is still undecided, although this week might go a long way to figuring out who will wear the crown in 2022.
Ouachita Baptist has a decided advantage on the field, sitting undefeated at 8-0 and two games clear of Harding, Henderson State and East Central, all of whom are 6-2, with a 1-1 record against the other two teams.
This week, we have the added intrigue of the first regional rankings. Ouachita Baptist and Harding are the only teams represented from the GAC, although the rankings were released in alphabetical order, so we're unsure of where those teams stand within the region. We'll get that information next week in the second regional rankings, which will have them in ranking order.
Let's take a look at this past week's GAC Players of the Week. A great question was asked earlier this week in the forum on how these players are selected each week. Each school's sports information director submits one player for each area, offense, defense and special teams. From those nominations, the conference office then picks a winner for each area.
Offensive Player of the Week- TJ Cole, RB, Ouachita Baptist
-25 carries, 230 rushing yards
-Six rushing touchdowns
Defensive Player of the Week- Clark Griffin, LB, Harding
-Seven tackles
-97-yard fumble return for touchdown (tied a school record)
Special Team Player of the Week- Catrell Wallace, DE, Henderson State
-Blocked punt
And here are our picks for the week. A perfect 6-0 last week puts our season record at 33-15.
Game of the Week: East Central (6-2) at No. 3 Ouachita Baptist (8-0)- Thursday Night
Our game of the week is a Thursday night special in Arkadelphia between the Tigers, orange and purple. East Central has won six consecutive games after starting the season 0-2 and is playing well on both sides of the ball. The offense was the big problem in the beginning of the season, but the Tigers have recovered from that rocky start and have averaged 36 points and 462 yards in the win streak. The defense has been the strong point all season, ranking second in the conference in scoring and total defense and third in yards per play.
Ouachita has been downright dominant all season long. They lead the nation in scoring offense, eclipsing the 60-point mark four times this season. The defense has arguably been better giving up just 16 points (first in GAC) and 353 yards per game (third in GAC) this season. It would be one thing if Ouachita had been winning a bunch of shootouts because of their prolific offense. That hasn't been the case at all. The Tigers play excellent, complementary football and it has resulted in an average scoring margin of 32.3 points per game.
I think the ECU defense will have some answers for TJ Cole, Kendal Givens and the Ouachita offense. They're experienced and have a lot of good pieces across all three levels of the defense. However, I'm not sure how well Kenny Hrncir and the ECU offense will be able to move the ball. ECU has some nice skill position players, but none that can just take over a game. I think that type of player is necessary to take down Ouachita.
It will be a tighter game than Ouachita has played all year, but I think a late score or two gives the Tigers Purple a comfortable win over the Tigers Orange.
Ouachita Baptist 38, East Central 17
Henderson State (6-2) at Southern Nazarene (3-5)
You'd be hard-pressed to find a matchup of two opposing forces. On one side, the Crimson Storm rushing attack, fourth in the nation at 300 yards per game, second in yards per carry at 7.3 yards per carry and 23 rushing touchdowns. On the other side, the Reddies rush defense, first in the conference at 120 yards per game allowed, five rushing touchdowns allowed and 3.3 yards per carry. It is a strength vs. strength matchup, and the game within the game will be fascinating to watch. SNU found success against Harding earlier in the season to the tune of 244 yards on the ground, and the Crimson Storm have truly only been stymied by Ouachita Baptist this season.
On the other side, the Reddies should have a lot of success against an SNU defense that has not been great this year. Henderson State is well balanced, and the Crimson Storm has struggled mightily both defending the pass and the run this year. We've seen Andrew Edwards and Landon Ledbetter both at quarterback this year, and it appears it will be Edwards on Saturday against SNU. The Crimson Storm are coming off their best defensive performance of the year—statistically speaking at least—and the high of the team's first winning streak since 2018.
I'm really intrigued to see this one play out. The Reddies are very sound in their run defense, but SNU quarterback Gage Porter is one of the best rushers in the nation. I think Henderson State will pull out the road win, but it'll be more difficult than past iterations of this series.
Henderson State 41, Southern Nazarene 27
Southern Arkansas (3-5) at Oklahoma Baptist (1-7)
We talked about the struggles of Oklahoma Baptist this season in our Monday recap column. I'm not sure if anything is going to improve for OBU this week as Southern Arkansas comes to town. The Muleriders quietly have the No. 2 offense in the conference, averaging 462.5 yards per game. They continue to employ a two-quarterback system, but OB Jones has been getting the majority of the snaps of late and seems to be the better option. I'd expect the run game in particular to find a lot of success against the Bison.
OBU hasn't been able to get anything going on the ground this year, averaging just under 100 yards per game. The quarterback play has been unsettled also, as three different quarterbacks have played this season. It's a shame for wide receiver Keilahn Harris, one of the best players in the conference at any position. Still, he's a dangerous weapon and must be accounted for at all times.
OBU is playing for pride and building toward next year. They'll continue to take lumps on Saturday, though.
Southern Arkansas 42, Oklahoma Baptist 24
Southwestern OSU (3-5) at Arkansas Tech (3-5)
This is a pretty interesting matchup between two of the five teams tied at 3-5 in the conference standings. The Bulldogs have been all about throwing the ball and going fast on offense, while the Wonder Boys have preferred a more balanced attack. The Bulldogs have lost three straight coming into this game and the defense has been the big reason why. SWOSU has given up 577 yards and 50 points per game in the skid, numbers that aren't going to win you anything, regardless of how good your offense is.
Arkansas Tech has been up and down this year, but came back to earth a bit against Henderson State last week, managing just over 80 yards on the ground after averaging nearly 300 the previous three games. The Tech defense is just 11th in the conference against the pass, so perhaps Bulldogs quarterback Tylan Morton will find some success.
I think this is a fairly even game and I expect both teams to find success. However, it is the home finale and Senior Day in Russellville, so I expect the emotions to push Tech over the top.
Arkansas Tech 38, Southwestern OSU 35
Southeastern OSU (5-3) at Arkansas-Monticello (3-5)
Talk about two teams moving in the opposite direction. Southeastern has won three games in a row on the back of a remade identity offensively. Over the last three games, Southeastern has run the ball an average of 38 times per game and thrown just 27 passes per game. In the first five games, Southeastern threw the ball an average of 45 times per game. The Savage Storm have leaned on the run game and quarterback Daulton Hatley has been more choosy in the passing game and it's resulted in the best three-game stretch of the season by far. We'll see if the Savage Storm stick to that formula against an experienced and dangerous Monticello secondary.
The Weevils have lost four games in a row, but did show some life last week against Harding, as the offense put up 43 points and 563 yards against a really good Bisons defense. The Weevils will need to do that again on Saturday if they hope to keep pace with Southeastern. I'm definitely going to be paying attention to how the Weevil secondary deals with Marquis Gray, who has put up some of the best receiving numbers in the nation this year.
I think this is a good matchup for Arkansas-Monticello. However, why the Weevils have been playing so poorly lately is a mystery to me. I think SEOSU has been great these past three weeks and I think they keep it going with a close win on the road on Saturday.
Southeastern OSU 31, Arkansas-Monticello 28
Northwestern OSU (1-7) at Harding (6-2)
Last year, Harding did all sorts of unspeakable things to the Northwestern defense, setting all sorts of records with 73-14 romp in Alva. This year's matchup will probably not be that bad, but I don't think it's going to be good for the Rangers, either. The Harding offense hasn't been it's usual machine-like self, but they'll still pose a lot of problems for a less than good Rangers defense.
Northwestern might also be down to third-string quarterback Ethan Everson this week. Tanner Clarkson has been out since going down against Arkansas-Monticello and then Dakota Michaels left the game against Southern Nazarene last week. That's a shame because while the Rangers probably wouldn't be able to move the ball enough to win, the Harding defense has certainly proven to be a bit vulnerable in spots this year. No chance of that being taken advantage of with a third-string guy in there, though.
Harding should cruise at home. That's about all I can say about this one.
Harding 45, Northwestern OSU 10