GAC Week Nine Recap
October 31st, 2022 7:00am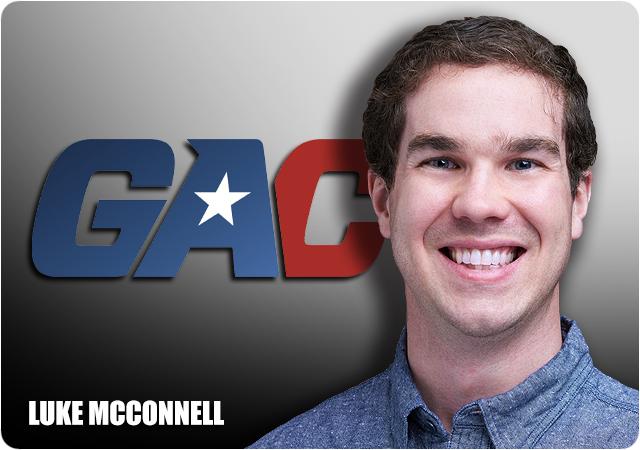 Week nine in the GAC delivered all the drama over the course of the weekend. Half of the games played this week came right down to the wire with some tremendous finishes.
Here's a look at the final scores across the league before we jump into the recaps.
Ouachita Baptist 28, East Central 18
Henderson State 42, Southern Nazarene 41 OT
Southern Arkansas 52, Oklahoma Baptist 20
Southeastern OSU 48, Arkansas-Monticello 20
Arkansas Tech 22, Southwestern OSU 21
Harding 28, Northwestern OSU 7
How we did this week: 6-0 for the second straight week, 39-15 for the season
Three Great Finishes
Let's start in Arkadelphia, where No. 3 Ouachita Baptist trailed East Central, 18-14, with 5:47 to play and ECU in possession. Ouachita then picked off Kenny Hrncir to set up TJ Cole's go-ahead touchdown run with 1:56 remaining. On the very next play from scrimmage, Hrncir was intercepted again and Cole scored on the ensuing play to give Ouachita the win. This was a thrilling finish to a really tough, great game. East Central played extremely well, especially on defense, holding Ouachita to 147 yards rushing and 348 total yards. Earlier in the week, the interim tag was removed from East Central coach Kris McCullough's title, and he showed why he was deserving on Thursday night. Ouachita clinched at least a share of the GAC title with the win, but it certainly did not come easy.
On Saturday in Russellville, Arkansas Tech found themselves trailing, 21-19, with Southwestern in possession. The Wonder Boys had just fumbled inside the Southwestern five-yard line, runing a go-ahead opportunity. Now, the Bulldogs needed just one yard on fourth down to ice the game at the Tech 39-yard line. Rather than punting, SWOSU coach Josh Kirkland opted to win the game on offense. The Tech defense got the stop, then calmly drove down to the SWOSU 28-yard line to set up kicker Jesus Zizumbo for a game-winning field goal attempt. The 44-yard kick banged off the right upright, but it fell across the crossbar to give Tech a big win on Senior Day in Russellville.
Finally, in Bethany, Henderson State seized control in the second half after trailing at halftime, 20-7, against Southern Nazarene. Down by eight with 3:54 remaining, SNU calmly marched down the field and tied the game on a 23-yard Gage Porter touchdown run, followed by Porter bulling his way in for the two-point conversion. Henderson State had the ball at the SNU 46-yard line with 33 seconds remaining, but fired three straight incompletions to end the game-winning threat. In overtime, Henderson State scored first and SNU answered with a touchdown of their own. With no hesitation, the Crimson Storm went for two. However, the speed option pitch from Porter to Donald May was a little awry, and the time it took for May to recover the ball allowed Henderson State's Andrew Croker to beat May to the pylon and prevent the game-winning conversion.
If you like drama, you really enjoyed this weekend in the GAC.
Quarterback Injuries Galore
The other three games this week all featured losses by teams who were on their backup or even third-string quarterbacks. Arkansas-Monticello was without Demilon Brown, who is rumored to be out for the season. We'll follow up on that this week. Edward Kleinpeter started in his place against Southeastern OSU. For Northwestern OSU, Ethan Everson got the start against Harding after coming on late last week in the loss to Southern Nazarene. And for Oklahoma Baptist, the Bison are down to Seth Streeter at quarterback after injuries to Dayton Wolfe and Aidan Thompson. Unfortunately for those three teams, there were no backup heroics on Saturday, as all three lost.
Conference Championship Update
Ouachita Baptist clinched a share of the conference title on Thursday night, as the Tigers sit 9-0 with two games to play and their closest competition, Harding and Henderson State, are both 7-2. The Tigers have a tough closing stretch, going to Southeastern OSU this week before walking across the street in The Battle of the Ravine against Henderson State on Nov. 12, so it's entirely possible we see the Tigers drop both of those. However, a win in either of those clinches the title outright.
Wild Stats
-Henderson's Korien Burrell and SNU's Gage Porter both accumulated five rushing touchdowns on Saturday. Porter's total doubled the number of rushing touchdowns the Reddies had allowed all year. Also, this game featured a combined 87 carries and only 11 negative rushing yards.
-Southern Arkansas rushed for 305 yards against Oklahoma Baptist and had five players rush for at least 24 yards.
-With 351 rushing yards against Northwestern OSU, Harding has now rushed for at least 200 yards in 40 consecutive GAC games.