GAC Week Ten Preview
November 2nd, 2022 11:00am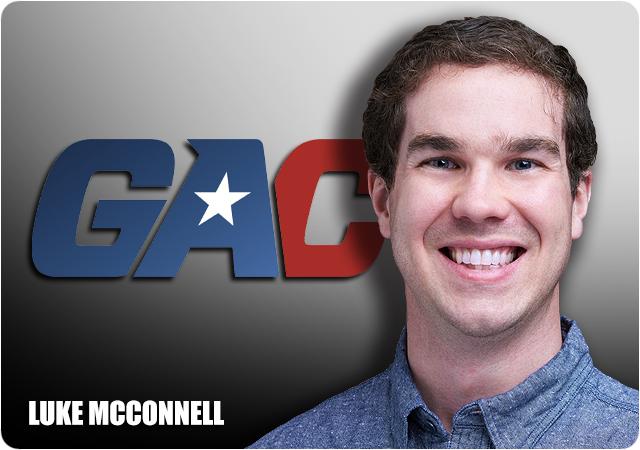 We flip the calendar to November for week 10 of the GAC schedule. With just two weeks to play, there's still a lot to play for across the entire league, including conference championships and playoff appearances.
This week, Ouachita Baptist came in No. 4 in the Super Region 3 regional rankings, while Harding checked in at No. 8. The Tigers are well-positioned for a playoff berth, but Harding and fellow 7-2 conference mate Henderson State need to win out and hope things break their way.
Here are the GAC Players of the Week for week nine.
Co-Offensive Player of the Week- Korien Burrell, Henderson State, RB
-26 carries, 135 yards
-School single-game record five rushing touchdowns
Co-Offensive Player of the Week- Gage Porter, Southern Nazarene, QB
-31 carries, 188 yards
-School single-game record five rushing touchdowns
-11-of-16, 149 passing yards, one touchdown, one interception
Defensive Player of the Week- Cade Pugh, Harding, S
- Nine tackles
-Three tackles for loss
-Two interceptions
Special Teams Player of the Week- Jesus Zizumbo, Arkansas Tech, K
-Three made field goals
-Game-winning 44-yard field goal
And here are the games for this week. We're trying for a third straight perfect week!
Game of the Week: No. 3 Ouachita Baptist (9-0) at Southeastern OSU (6-3)
The Tigers clinched at least a share of the GAC title with a win over East Central on Thursday. They can win it outright with a win in Durant, but the Savage Storm will be looking to play spoiler and make the Battle of the Ravine next week one with championship implications. The Tigers were unable to just plow over East Central last week, gaining just 13 first downs and a season-low 147 yards rushing. Without two late ECU interceptions, Ouachita probably takes a loss. Southeastern comes into the game on a four-game winning streak, having remade themselves a bit as we talked about in last week's preview column. This game was always a big on on the schedule for the Savage Storm, but unfortunately, due to early season struggles, there are not the title implications this one was supposed to have.
Southeastern has relied heavily on the run game in their four game win streak, and have done so effectively. In all four wins, the Savage Storm have attempted more runs than passes after titling heavily to the pass in the first five games. Whether they can keep that going against the conference's No. 3 rushing defense is another question entirely. The attention the Tigers will have to give to Marquis Gray could open up the run some, or at the very least, open things up for the other receivers for Southeastern.
The Tigers rushing attack will present a lot of problems for Southeastern, which has given up just 90 yards per game on the ground over the last four games. However, two of those wins came against the league's No. 11 and No. 12 rushing offenses. So take it with a small grain of salt, but it still takes execution to accomplish what they've accomplished of late. TJ Cole and Kendal Givens have been nothing short of outstanding this year and I expect them to find success on Saturday as well. Can SEOSU make Ouachita one-dimensional and make them grind out every possession?
This really should be a good game. Southeastern has really transformed itself over the course of the year, and that's really tough to do. I'm interested to see how that plays out against a really good team. However, I think Ouachita still takes care of business and wins the GAC crown.
Ouachita Baptist 34, Southeastern OSU 24
Oklahoma Baptist (1-8) at Henderson State (7-2)
The Reddies come in off a thrilling overtime win at Southern Nazarene while the Bison come in off a big loss at home to Southern Arkansas. Third-string quarterback Seth Streeter was solid for OBU, but there's just a lot of problems across the board for the Bison, from personnel to injuries. However, the Bison do have receiver Keilahn Harris and the Reddies secondary has had plenty of struggles this year. Henderson State is last in the conference in pass defense and ninth in pass efficiency defense.
The balance of the Reddies offense should present a lot of problems for Oklahoma Baptist as well. However, quarterback Andrew Edwards wasn't very efficient against the Crimson Storm last week, and his receivers had several drops as well. Look for those problems to be rectified Saturday. Korien Burrell should have another big game against the OBU run defense which is 11th in the conference.
Henderson State still has a lot to play for, so you can't count on them looking past OBU to the Battle of the Ravine next week.
Henderson State 41, Oklahoma Baptist 20
Arkansas-Monticello (3-6) at East Central (6-3)
What a fight East Central put up at Ouachita Baptist last Thursday night. Even though the outcome didn't go in ECU's favor, the Tigers were extremely impressive and gave Ouachita it's best opposition of the season. They'll need to bounce back against the Weevils on Saturday, as the Tigers are still in prime position to make a bowl game. Quarterback Kenny Hrncir in particular will need to shake off the two late interceptions he threw on Thursday, the first of which set up the go-ahead touchdown for Ouachita.
The Weevils are without quarterback Demilon Brown and his loss is significant. The offense just couldn't get things going against Southeastern OSU on Saturday, although the soggy field and rain didn't exactly help matters, either. UAM scored a touchdown on their second possession and then didn't move the ball more than 31 yards on any possession until near the end of the third quarter. By that time, SEOSU was up, 41-7 and the game was all but decided. UAM has lost five consecutive games and it will take a lot for the Weevils to prevent that skid from extending into next season.
The six-game winning streak may be over for East Central, but the Tigers are just the better team in this one.
East Central 38, Arkansas-Monticello 20
Southern Nazarene (3-6) at Southern Arkansas (4-5)
This figures to be a high-scoring affair in Magnolia. The biggest question in this one is how does Southern Nazarene bounce back emotionally after a gut-wrenching overtime loss to Henderson State on Senior Day last week. Southern Arkansas is a dangerous team and if SNU is going to set a new program-high in wins in a season by winning out, they'll have to be completely locked in against the Muleriders. Both teams allow opponents to convert on third down at least 49 percent of the time, so getting off the field will be crucial for both defenses against two of the best offenses in the conference.
It's a great quarterback matchup between SNU's Gage Porter and SAU's OB Jones. Jones has really taken control of Brad Smiley's offense over the past few weeks and has carried the ball an average of 15 times per game the last three. Porter set a single-season rushing record with his performance last week and has rushed for 12 touchdowns in the last three games.
Points will not be hard to come by in this one. Who can get more stops? SAU hasn't been very effective stopping the run against the better run teams in the conference. SNU has struggled on defense all year but the last two weeks have shown some definite signs of improvement. I think that's enough for a road win.
Southern Nazarene 44, Southern Arkansas 38
No. 17 Harding (7-2) at Southwestern OSU (3-6)
The Bisons took care of business against Northwestern OSU on Saturday, although not in the fashion you'd expect. The defense for Harding has been good this season, but the numbers some teams have put up on them have been surprising. One thing to note as well for this week against a Bulldogs team that likes to push the tempo on offense: Harding has faced 161 plays the last two weeks. While these guys are college athletes in great physical condition, that still takes a toll on you over the course of a season, particularly late in the year. The Bulldogs have only twice run less than 71 plays in a game and have run at least 83 plays four times this season. Definitely something to keep an eye on.
On the other side, though, I'm not sure the Bulldogs will be able to adequately stop the Harding ground game. SWOSU has given up at least 200 rushing yards in four straight games, six times for the season, and gave up a combined 1,005 rushing yards in losses to Ouachita Baptist and Southern Nazarene. You also have to wonder about the psyche of the team, having lost four straight games, including last week on a last-second field goal.
SWOSU is a dangerous team, but they're heading in the wrong direction right now. Harding is not as dangerous as past iterations, but they should leave Weatherford with a win on Saturday.
Harding 31, Southwestern OSU 13
Arkansas Tech (4-5) at Northwestern OSU (1-8)
What a sensational finish on Saturday between the Wonder Boys and Southwestern OSU. Tech had to get a stop on fourth down to get the ball back and then drove down into field goal range where Jesus Zizumbo banged in a 44-yard field goal off the right upright. This week, Tech makes the long trip to Alva to take on the Rangers. Northwestern predictably struggled against Harding last week, but the 28-7 loss was a far cry from the 73-14 loss they suffered to Harding last year. Ethan Everson was solid at quarterback and with it being homecoming in Alva this week, perhaps the Rangers can rally together to spring the upset.
It won't be easy against an Arkansas Tech team that has rushed for at least 200 yards in four of the past five games. Meanwhile the Rangers haven't posted over 400 yards of offense once over the last six games after starting the season with three straight at that level of production.
The trip to Alva is never easy or pleasant, but I think the Wonder Boys will handle their business and get the win.
Arkansas Tech 35, Northwestern OSU 20