GAC Regular Season Wrap Up
November 16th, 2022 11:00am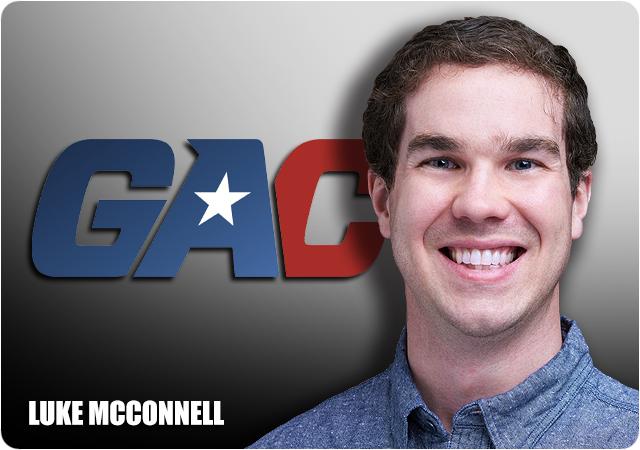 Well, another GAC season is in the books and we're here to break it all down for you from top to bottom.
First, the GAC released the All-GAC Teams and award winners on Wednesday. Here's a look at those and whether or not we agree with the picks.
Offensive Player of the Year: Gage Porter, quarterback, Southern Nazarene
Our pick: Porter
You could have made the case for Ouachita Baptist TJ Cole, but there's definitely an element of most valuable to this selection. Porter rushed for over 1,700 yards and 27 touchdowns this season and no individual was more important to their respective team than the senior from Elk City, OK.
Defensive Player of the Year: Devon Roush, linebacker, East Central
Our pick: Roush
This was a hard pick this year. The best defenses in the conference, including East Central, were defined by great players at every level, without major standouts. As the leader of one of the best defenses in the conference, Roush is a very sensible and deserving selection. You could make the case for Maalik Hall of Southeastern OSU, but the Savage Storm's struggles in the middle of the year are more than enough to tamp down his candidacy.
Freshman of the Year: Andrew Edwards, quarterback, Henderson State
Our pick: Edwards
This is an easy one. There were very few outstanding freshmen in the conference this year, with the other major notable one being Harding quarterback Cole Keylon. Edwards won that head-to-head matchup and performed better across the board this season.
Coach of the Year: Todd Knight, Ouachita Baptist
Our pick: Dustin Hada, Southern Nazarene
Yes, I know this comes across as a homer pick. However, given the general sentiment toward Southern Nazarene, the fact the Crimson Storm won five games and were pretty darn close from another win or two more can't be overstated. Hada did a great job this year turning a 1-11 team into a very competitive 5-6 team. You can also make a very good case for East Central's Kris McCullough, who led the Tigers to an 8-3 record and also earned himself the permanent head coaching job in Ada.
All-GAC Thoughts
-Why is there still a fullback slot on the team? I mean, seriously. Looks like a free pass for Harding to have a first teamer every year.
-Interesting voting by the coaches on Gage Porter. I'm not sure if it's more complimentary or confusing that Porter was an unanimous first-teamer at the utility position and then also second team quarterback.
-Speaking of Porter, it's a bit ridiculous not a single SNU offensive lineman was named All-GAC. Let's just apply some basic logic here. Four out of five Ouachita Baptist offensive linemen were a first or second team member, paving the way for TJ Cole who finished with less stats across the board than Porter. And it's not like Riley Harms threw for a ton more yards than Porter, either. Finally, SNU actually finished with more yards and yards per carry than the Tigers. But no SNU linemen were good enough to be named All-GAC? Get outta here.
-While we're raging about offensive linemen, Southeastern OSU tackle James Walker was named a second team All-GAC member. Except he only played five games this season. How in the world is that even allowed?
Extra Superlatives
Biggest Disappointment: Southeastern OSU
The Savage Storm went 8-3 a year ago and brought back most of their starting lineups. It seemed like the best opportunity yet for an Oklahoma team to win the GAC. However, Southeastern really struggled out of the gate and found themselves 2-3 at the halfway point. A mid-season remake led to a four-game win streak to allow SEOSU to finish above .500, but 6-5 is a far cry from what the expectations were in Durant going into the season.
Most Improved: Southern Nazarene
Easy one here. The Crimson Storm posted their best D2 season ever with five wins. The success of this season leaves a lot of intrigue for both the future and what could have been last year if SNU had a healthy Gage Porter running the show.
Best Game I: Ouachita Baptist 40, Henderson State 37 (OT)
The Battle of the Ravine delivered in the season finale as the Tigers overcame a two-touchdown deficit in the last five minutes of the game to force overtime.
Best Game II: Henderson State 42, Southern Nazarene 41 (OT)/Southern Nazarene 49, Southern Arkansas 44
The Crimson Storm found themselves as the drama team of the season, with four straight games decided in the final 90 seconds down the stretch of the season. These two games were the third and fourth games of that stretch, one a heartbreaking loss on Senior Day, the next, a thrilling win where the Crimson went 62 yards in 46 seconds without a single pass.
Best Game III: Henderson State 15, Harding 14
The Reddies run defense showed out, limiting the Bisons ground game significantly while getting just enough offense to pull off the upset in Searcy. The Bisons had four turnovers, including a muffed punt that gave Henderson State the ball with 2:09 remaining and allowed the Reddies to run out the clock.