GAC Rivalry Week Preview
November 9th, 2023 6:00am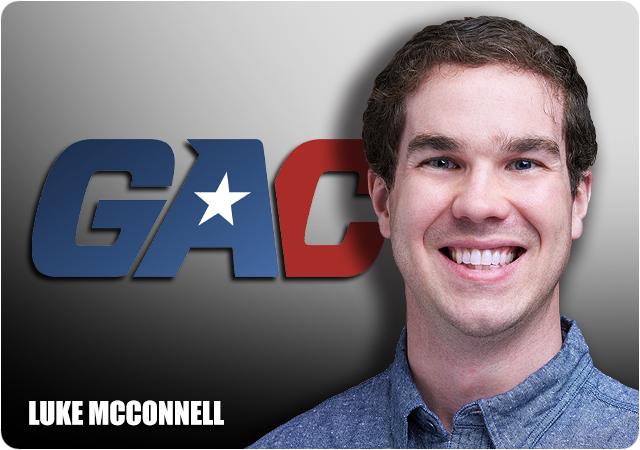 It's Rivalry Week in the GAC, and we've got several good ones to preview this week. The GAC also has several teams battling for a playoff spot in Super Region Three, so we'll take a look at those teams as well.
First, as always, we look at the GAC Players of the Week from week 10.
GAC Offensive Player of the Week- Kendel Givens, RB, Ouachita Baptist
-22 carries, 199 rushing yards
-Four total touchdowns
GAC Offensive Player of the Week- Gage Porter, QB, Southern Nazarene
-194 passing yards, one touchdown
-132 rushing yards, three touchdowns
GAC Defensive Player of the Week- Vershaud Richardson, DE, Arkansas Tech
-Two sacks
-10.5 sacks for the season
GAC Special Teams Player of the Week- Gabe Goodman, K, Ouachita Baptist
-2/2 field goals, 21 and 34 yards
-7/7 extra points
The conference has four teams in the running for a playoff spot this week. Let's take a look at each of them.
-Harding- The Bisons are No. 1 in the regional rankings this week, and it's all about seeding for the Bisons. Harding could potentially slip down a spot based on strength of schedule.
-Ouachita Baptist- The Tigers are No. 6 in this week's ranking and should be in comfortably with a win over Henderson State. Lose and chaos ensues.
-Henderson State- The Reddies (8-2) are not ranked in the top 10 of the regional rankings this week, but a win at Ouachita would change that in a hurry. I think the Reddies would have a case to get in, but might need help elsewhere for it to happen.
-Southern Arkansas- The Muleriders (8-2) are No. 10 in this week's rankings. They need help to get in, period. The Muleriders potentially being 9-2 and never being a serious contender to land a playoff spot tells you all you need to know about the difficulty of this region.
Game of the Week: Battle of the Ravine- Henderson State (8-2) at No. 10 Ouachita Baptist (9-1)
The last few years of this game have produced classics and the expectation for this year is no different. With a win, the Reddies might be able to swipe a playoff spot and keep their arch-rival at home. Obviously, the Tigers are in with a win themselves. So to say there's a lot riding on this game would be a bit of an understatement.
I think this game comes down to who is able to run the ball better. Both defenses are stout against the run and both offenses have had their ups and downs running the ball this year. So it will be intriguing to see which team is able to do it better. Ouachita back Kendel Givens has rushed for over 100 yards in four straight games and has scored nine touchdowns in the last three games. Overall, the Tigers have crossed the 200-yard rushing mark in three straight games, including a season-high 340 yards against Oklahoma Baptist last week. The Reddies haven't been quite as explosive in the run game of late, but part of that is because of the passing success, which we'll get to in a moment. This will be the biggest key, though. Who runs it better?
Both teams' passing attacks are efficient and effective. The Reddies have been particularly good this year, as they've racked up at least 290 yards through the air in four straight games. Quarterback Andrew Edwards has tossed 25 touchdowns against just two interceptions while completing 66 percent of his passes. On the Tigers' side, Riley Harms has been equally efficient, with just less explosive numbers. Harms sat out last week's game against Oklahoma Baptist with a bruised knee, but should be ready to go for Saturday. I think both teams will be able to find success through the air. The wild card is the Reddies' pass rush, which is one of the best in the nation with 38 sacks this season. The fact Harms is not mobile in any way, shape or form could be a problem if the Reddies are able to overwhelm the Tigers' offensive line.
I think both defenses are going to give up yards, but forcing punts instead of field goals and field goals instead of touchdowns is going to be key. Both units have been great this year, but I do think it's the offenses that are going to steal the show on Saturday.
So who wins this one? Both teams are playing really well coming into this one and have a lot to play for. Emotions are going to be high, the atmosphere, electric. Across the board, I think both teams are really even and that's going to play itself out in how the game goes as well. Ouachita has won six straight in the series, so obviously that's an irritant to the Reddies faithful. However, I think the HSU pass rush gets home against Harms and the Tiger offensive line and that proves to be the difference in the game.
Henderson State 31, Ouachita Baptist 27
Oklahoma Baptist (6-4) at Southern Nazarene (5-5)
Another game with big stakes, as rumors are swirling the Heritage Bowl could invite the winner of this game. Sources haven't been able to shed too much light on the bowl's internal conversations, so at this point, that just remains a rumor.
Oklahoma Baptist has been much-improved this season and a lot of that rides on their defense. The Bison are one of the better units in the league, ranking second is pass defense, fourth in total defense and third in yards per play. The Bison have also racked up 30 sacks this year, 16th in the nation. But they'll have to face Gage Porter one final time on Senior Day in Bethany. The Bison are just eighth in the conference in rushing defense, while the Crimson Storm are third nationally in rushing offense, averaging 282 yards per game. Porter needs 206 yards to break the single-season GAC rushing record he set a season ago, and because this is potentially his last (no, really this time) game, you know he's going to be going out with a bang.
On the other side, the Crimson Storm have to deal with the Bison passing attack, which has been solid this year, averaging almost 220 yards through the air per game. Health at the quarterback position has obviously been helpful for OBU this year, as Aidan Thompson has had a nice year when healthy. However, OBU is sadly pretty one-dimensional on offense, as they're averaging just 91 yards per game on the ground this year and an even worse 78 yards per game since losing running back EJ Moore for the year. To put it harshly, the Bison combined for just 101 yards on the ground COMBINED against Northwestern and Southwestern. The SNU defense should be able to bottle up the run game for OBU and force the Bison to throw the ball more than they'd like to. That's not to say OBU won't be successful offensively, but their run game struggles definitely make things easier for the SNU defense.
Honestly, this should be a really good, fun game. The atmosphere should be intense and spirited, especially with it being Gage Porter's final game in Bethany. As good as the OBU defense has been this year, I don't think they'll be able to stop Porter enough to win.
Southern Nazarene 35, Oklahoma Baptist 24
East Central (3-7) at Southeastern OSU (4-6)
It's been a transitional year for both of these schools, but that doesn't mean this game won't be without fireworks. These schools are not fond of each other, so this will be an intense one.
Defense should be the star in this one, as both teams have struggled on offense this year. Both defenses have a particularly strong unit with SEOSU boasting a strong defensive line and the Tigers loaded at linebacker.
Offensively, the Savage Storm have certainly had less struggles than ECU this season, but last week's performance at Arkansas Tech was not pretty. ECU had their own struggles last week, but everyone has struggled against Harding this year, so hard to fault them there. I do think the Savage Storm can move the ball a little more effectively, especially at home.
I like Southeastern in this one, but not by much.
Southeastern OSU 24, East Central 14
No. 2 Harding (10-0) at Arkansas Tech (5-5)
The Bisons are, simply put, rolling right now and have everything in front of them. They will be hyper-focused to put one last strong statement out there for why they should be the No. 1 seed in Super Region Three when the bracket is announced. Unfortunately, that bodes poorly for Arkansas Tech, which got a really nice win last week against Southeastern. And let's not overlook the job Tech has done in the second half of the season. The Wonder Boys are 5-1 since starting the season 0-4, with the lone loss coming in a tight, one-possession game at Ouachita. So I certainly expect the Wonder Boys to put up a fight and play well, but the Bisons are not going to be denied in this one.
Harding 45, Arkansas Tech 17
Arkansas-Monticello (2-8) at Southern Arkansas (8-2)
Not going to spend a lot of time here. The Muleriders are trying to keep their (very) slim playoff hopes alive and the Weevils have lost eight straight. I'd expect the Muleriders to move the ball at will against UAM and suffocate the Weevils on defense. UAM is rotating their third and fourth string quarterbacks at this point, trying to find out what they have for the future. It won't go well in Magnolia on Saturday.
Southern Arkansas 42, Arkansas-Monticello 10
Southwestern OSU (0-10) at Northwestern OSU (0-10)
It didn't take long to speculate if these two would meet in the regular season finale without a win between them. And here we are. I'm really not sure how this game will go. I don't know if these teams are equally bad and so it actually could be a fun (but not well-played) game or if it's going to set football back 50 years. One thing I do know is that these teams hate each other and the intensity will be off the charts, especially given how frustrated both teams have to be with a 0 in the win column. As for who wins? Going with the Bulldogs and the (slightly) better defense.
Southwestern OSU 27, Northwestern OSU 21