GAC Week 10 Recap
November 5th, 2023 9:00am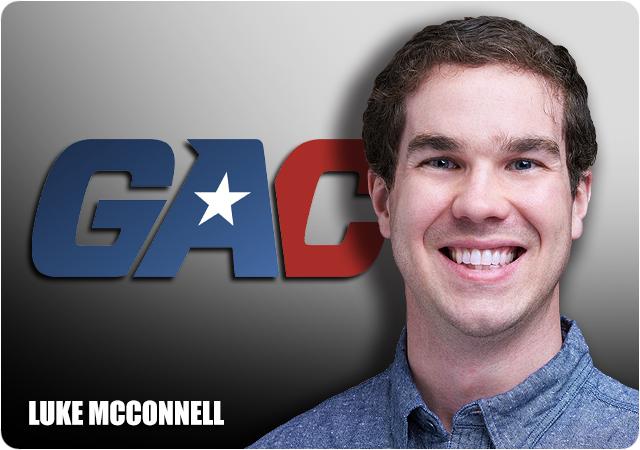 Five blowouts and one close game dotted the GAC schedule on Saturday. Fortunately, we're moving on to Rivalry Week, where the emotions should even out some of the wide margins.
But before we jump into the previews for this week, let's recap everything that happened in Week 10.
Ouachita Baptist 55, Oklahoma Baptist 14
OUA- That's two really good offensive showings in a row for the Tigers as they look to maintain their regional rankings and grab an at-large spot for the D2 playoffs. Ouachita did it without quarterback Riley Harms on Saturday, but backup Eli Livingston was efficient in his place, aided by a 340-yard performance on the ground by the Tigers. The defense was terrific as well, picking off OBU quarterback Aidan Thompson three times.
OBU- The Bison were undone by five turnovers in the game, but the complete inability to stop the Tigers on defense obviously didn't help matters. OBU moved the ball fairly well, crossing midfield with regularity, but were never really a threat in this game. They'll have to regroup before Saturday's finale at Southern Nazarene.
Southern Arkansas 42, Northwestern OSU 14
SAU- The Muleriders averaged eight yards per play and led this one 35-0 at halftime. The second half featured 10-minute quarters or else this could have been much worse than it was. The Muleriders have really coasted in the back half of the season, mainly just because the schedule. Things won't be much harder next week when they host Arkansas-Monticello. Chaos reigned supreme in Super Region 3 on Saturday with several upsets, so the Muleriders' playoff chances are certainly not dead yet. Still very slim, though.
NWOSU- Not much to say here besides having Ethan Everson healthy at quarterback does make a (slight) difference. Everson threw for 181 yards and a score while leading two second half touchdown drives. The 0-10 bowl with Southwestern OSU awaits on Saturday.
Southern Nazarene 41, Arkansas-Monticello 14
SNU- Gage Porter became SNU's all-time leading rusher in the Crimson Storm's first-ever win in Monticello on Saturday. The Crimson Storm scored 21 in the second quarter to seize control, including a late touchdown to respond to a Weevils' pick-six. SNU put up 582 yards on 8.8 yards per play while also turning the ball over three times. This one could have looked a lot worse as well.
UAM- That 2-0 start to the season sure seems like a long time ago. It's unfortunate that two straight seasons have been derailed by injuries to quarterback Demilon Brown. The Weevils managed just 50 yards rushing on Saturday, were sacked three times and threw two interceptions.
Henderson State 56, Southwestern OSU 0
HSU- The Reddies led 35-0 at halftime, scoring on five of their first six possessions. Defensively, the Reddies picked off four passes, racked up five sacks and held the Bulldogs to just 117 total yards. It was domination from start to finish, setting up what should be another fantastic Battle of the Ravine across the street at Ouachita this week.
SWOSU- Maybe the Bulldogs can beat Northwestern on Saturday? I don't know. All I know is this season can't be over fast enough for SWOSU. Small bright spots from Saturday include four sacks and holding the Reddies to 4.8 yards per carry on the ground.
Harding 48, East Central 7
HU- The Bisons continue to roll and, thanks to the upsets this week in Super Region Three, might find themselves on top of the regional rankings heading into the season finale on Saturday. It's been a tremendous season for the Bisons and Saturday was no exception. 528 yards rushing on 69 attempts without a single negative play. Defensively, Harding held ECU to 72 yards before a late fourth quarter touchdown drive against the backups.
ECU- Rough day for the Tigers, which was to be expected against the No. 4 team in the land. ECU has never been able to shake off the offensive struggles this year, so games against a dominant defense like Harding are just a recipe for disaster.
Arkansas Tech 14, Southeastern OSU 7
ATU- A really nice win at home for Arkansas Tech, which evened their record at 5-5 with the victory. The Wonder Boys scored a go-ahead touchdown with 10:21 remaining in the THIRD quarter and made it stand up, holding the Savage Storm to just 52 yards in the second half and 244 for the entire game. Tech also had four sacks and picked off two Weston Conaway passes.
SEOSU- The Savage Storm turned the ball over on downs inside the Tech five-yard line twice in the first half, including one instance, where, needing just a single yard for a first down, threw the ball on consecutive downs for the turnover. That the offense was held down by one of the lesser defenses in the league isn't a great look, especially when the defense certainly did more than enough to win the game.
Prediction recap: 5-1, 52-8 for the season
The Good: Getting most of the margins accurate for once
The Bad: Putting more faith in the OBU defense than I should have
The Ugly: Southeastern OSU, c'mon