GAC Week Eight Preview
October 19th, 2023 5:00am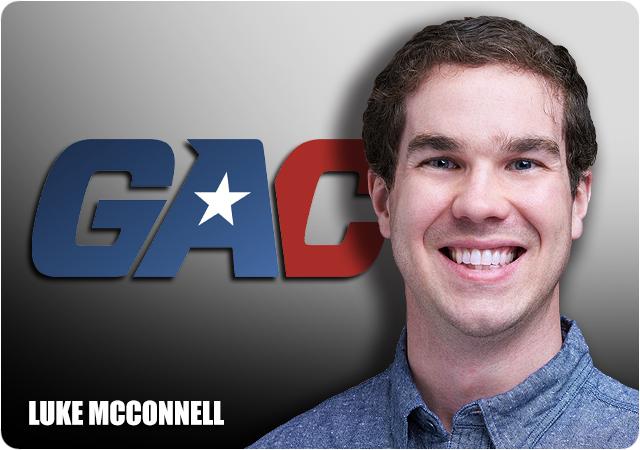 It's Week Eight in the GAC and that means we've entered the final third of the regular season. There are a lot of things to be decided, so the final few weeks should be pretty exciting, especially as teams position themselves for the playoffs.
Let's take a look at last week's Players of the Week
GAC Offensive Player of the Week- OB Jones, QB, Southern Arkansas
-9-of-18, 132 yards passing, one touchdown
-112 yards rushing, two touchdowns
GAC Defensive Player of the Week -Nathaniel Wallace, DL, Harding
-Five tackles
-2.5 sacks
-Forced fumble
GAC Defensive Player of the Week- Scooter Baker, LB, Oklahoma Baptist
-Nine tackles, three tackles for loss
-Two sacks
GAC Special Teams Player of the Week- Ryan Fox, P, Harding
-Three punts, all inside the 20-yard line
-45.0 average, long of 57
And now on to this week's previews.
Game of the Week: No. 6 Harding (7-0) at Southern Arkansas (6-1) (Game played in El Dorado, AR)
Both of these teams took care of business last week in their huge games against Ouachita Baptist and Henderson State, respectively. Their reward is another massive clash that could put Harding in the drivers' seat for the GAC crown or throw the race for the title into complete disarray. As noted above, this is the annual neutral-site game for the Muleriders, so this will take place in El Dorado instead of in Magnolia.
Let's start with the Muleriders. SAU has won four straight games, leaning on the run game while doing so. SAU has rushed for at least 247 yards in four straight games. Some have asked where the passing game has gone and frankly, the Muleriders haven't had to air it out as much recently. The run game has been successful to the point SAU has thrown for more than 200 yards in just two games this season. Now, both sides of the ball will have to be really good to upset Harding on Saturday. However, I feel the Muleriders are balanced and equipped to do just that. That's not a call for an upset. After all, SAU couldn't beat Ouachita earlier this year with this same offense, and I think we can agree the Harding defense is a bit stingier than the Tigers. Defensively, the Muleriders are really deep in their front seven. Are they a dominant unit? Not quite, but they have held four opponents under 100 yards rushing this year. They'll face their strongest test yet in the Bisons and need to be strong on early downs to force a lot of third-and-long situations.
Harding dominated Ouachita in the final 20 minutes last week and by now, the formula is quite clear: pound relentlessly at the opposition and smother the opposing offense until the Bisons run game breaks through. It's hard to beat Harding because it's hard to do anything against that defense. The Bisons will be tested, but have given up just one 200-yard passing performance this year and have held three straight opponents under 100 yards passing. That's just a crazy level of dominance for this unit. OB Jones is a considerably bigger threat for this defense because of his ability to run. The Bisons did a great job containing Gage Porter of SNU in the season opener, so I'd expect a similar game plan to be employed on Saturday.
I think this one could get off to a rocky start for both teams. It's really hard to get up for a big-time game and then turn around and do it again. I'd bet the first quarter is gonna be rough to watch. Once everyone settles down, whichever team can maintain the high level of energy required in a game like this is going to come out the victor. As much as I like the Muleriders, I think Harding gets it done on the road.
Harding 38, Southern Arkansas 28
Arkansas Tech (3-4) at No. 14 Ouachita Baptist (6-1)
The Tigers come in smarting from a big loss at Harding while the Wonder Boys come in riding a quiet three-game winning streak. However, Tech has beaten the bottom three teams in the league the last three weeks, so take that winning streak with a grain of salt. Also, the Tigers have won five straight in this series, including last year's 63-14 romp in Russellville. With the Tigers fighting to stay in the hunt for a playoff spot, I'd expect the Tigers to come out with their hair on fire, looking to prove last week was an anomaly. Ouachita should find success on the ground against an improved, but still subpar Tech run defense. This will certainly be an opportunity for the Tech defense to show improvements aren't just the result of a soft schedule.
For Tech on offense, things are going to be tough against the Ouachita defense. Tech is third in passing offense, but averages just 100 yards per game on the ground. The Tigers shouldn't have to commit anything extra to stop the run, which will allow them to focus on shutting down quarterback Taye Gatewood. Despite the loss at Harding, Ouachita still ranks second in scoring, total and passing defense this season.
I'd expect Ouachita to bounce back in a big way this week and end the winning streak for Tech.
Ouachita Baptist 45, Arkansas Tech 14
Henderson State (5-2) at Arkansas-Monticello (2-5)
Another team that's going to come out angry is Henderson State. The Reddies certainly still have a path toward playoff contention depending on how things shake out across the region, but the cards are definitely stacked against them. However, nothing is going to happen if the Reddies don't shake off the loss and win out. That starts Saturday in Monticello against a Weevils team that has lost five straight after starting the year 2-0. Henderson has rediscovered the run game, rushing for at least 184 yards the past three games. That'll take pressure off quarterback Andrew Edwards against a UAM defense that is fifth in the conference in pass defense.
The Weevils struggle to run the ball, a bad recipe against a good Henderson State run defense. Quarterback Buddy Taylor has been solid filling in for the injured Demilon Brown, but the offense has definitely taken a hit since Brown went out. However, the Weevils still lead the league in passing offense and have just a single game under 200 yards passing this season. They'll be able to test the HSU secondary if the offensive line can protect Taylor. The Reddies lead the league with 23 sacks this season.
Monticello is a tough place to play but the Reddies get back on the winning track this week.
Henderson State 35, Arkansas-Monticello 14
Southern Nazarene (3-4) at East Central (3-4)
The Crimson Storm come in having lost three straight games, two of those by a single possession. East Central got a big win over Northwestern last week and returns home looking to get back to .500. Ada has not been a fun place to play for SNU, as the Crimson Storm are just 1-5 there and the lone win in 2017 is the only game that has been within 22 points. SNU has also given up at least 40 points in each of the last three meetings with the Tigers, all losses. Here's betting the SNU defense is aware of that and will use their improvement this year to limit the Tigers' offense which ranks seventh of worse in most offensive statistical categories. SNU's offense has continued to be effective this year, ranking second in the league in total offense and yards per play. The points have been a bit harder to come by the last three weeks, as SNU has averaged 23 points per game during this losing streak after averaging 35 per game in the first four games. Scoring will be tough against the Tigers, who boast the league's third-best scoring defense and is second is yards per play allowed.
ECU has been a mixed bag offensively since going to Jaiave Magalei at quarterback on Sept. 30. The Tigers did have a season-high 405 yards of total offense against Northwestern last week. They'll try to get the run game going against an SNU team that has given up 254 yards rushing per game in the three-game losing streak. SNU has done well against the pass this year, ranking fourth in passing yards allowed, but they are just 11th in yards per attempt allowed. This will be an interesting matchup between two units that have had highs and lows this year.
I think this will be a close one on Saturday. SNU's offense is clearly better than East Central's, but the same can probably be said about the East Central defense. I think offense wins out.
Southern Nazarene 31, East Central 27
Southwestern OSU (0-7) at Southeastern OSU (3-4)
Officially, Southwestern and Northwestern are each other's main rivals, but there is no love lost between these two teams, either. Expect a feisty matchup in Durant as the Bulldogs look for their first win against a Savage Storm team on a two-game winning streak. The Bulldogs did show some improvement last week in a loss to Oklahoma Baptist, but 0-7 is still 0-7 and that's hard to stomach. The defense should be able to limit the SEOSU offense, which is going to be facing some uncertainty at quarterback. Weston Conaway didn't play the second half against SNU, forcing redshirt freshman Kane Donovan into the game. The Bulldogs front seven could have a big day against an SE offensive line that hasn't been great this year.
However, none of that matters if SWOSU can't move the ball. They nearly pulled off a win against Arkansas Tech two weeks ago despite the absence of an offense, but that's not going to happen this week against a pretty good Savage Storm defense. SEOSU has a great defensive front and should make life miserable for SWOSU quarterback Sean Shelby. I don't expect much movement from the Bulldogs.
Quarterback play for Southeastern will determine the margin in this one, but I'd still expect a Savage Storm win. We're going conservative on the score due to the uncertainty.
Southeastern OSU 27, Southwestern OSU 3
Northwestern OSU (0-7) at Oklahoma Baptist (4-3)
The lone night game in the conference pits the winless Rangers against the much-improved Bison. OBU got out of Weatherford with a win that wasn't pretty but a win is a win. The Bison are hopeful to get starting quarterback Aiden Thompson back this week, but they probably won't need him against a Rangers' defense that is statistically the worst in the league.
The Rangers continue to be plagued by injuries on offense, but their offensive line will be a nice test for the OBU defense. The Rangers have given up just seven sacks this year while the Bison have collected 22. The overall game might not be that intriguing but this game-within-the-game will be something to watch.
Oklahoma Baptist takes this one. Big.
Oklahoma Baptist 45, Northwestern OSU 10