GAC Week Five Preview
September 28th, 2022 7:00pm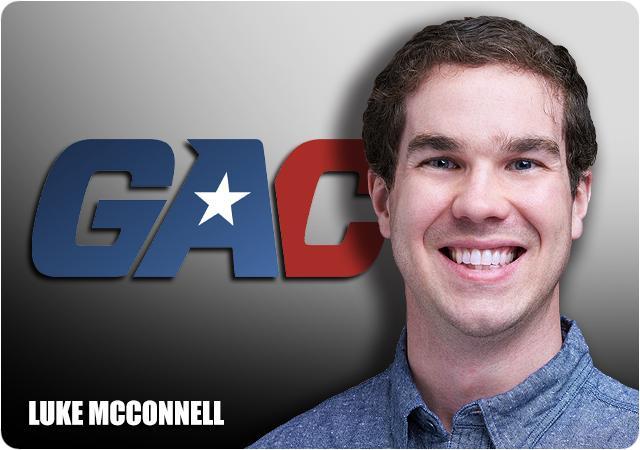 Upsets were the story of the GAC in week four, but it doesn't appear on paper that will be the case this week.
However, this is college football and while the matchups on paper seem to set up for a plethora of blowouts, this would be the week when we're all left floored by shocking results.
Before we get to this week's slate of games, let's take a look at the GAC Players of the Week.
Co-Offensive Player of the Week- Demilon Brown, Arkansas-Monticello, QB
-298 yards of offense, 184 rushing
-Four touchdowns, three rushing
Co-Offensive Player of the Week- Gage Porter, Southern Nazarene, QB
-234 yards of offense, 191 rushing
-Four touchdowns, three rushing
Defensive Player of the Week- Jax Miller, Ouachita Baptist, LB
-21 tackles
Special Teams Player of the Week- Jaren Van Winkle, Southwestern Oklahoma State, K
-Three FGM, including game-tying FG with eight seconds left
-40.3 yards per punt on seven punts
Arkansas-Monticello (3-1) at Southwestern OSU (2-2)
The Weevils have started 3-1 for the first time since 2008 and go on the road to face a tough Bulldogs team that has really defied a lot of preseason expectations with a 2-2 record.
Quarterback Demilon Brown is second in the conference in rushing at 129.8 yards per game and he'll be going up against the conference's sixth-ranked rushing defense. SWOSU enters Saturday giving up 185 yards per game.
On the other side, the Bulldogs will try to test the Weevils through the air. Tylan Morton has been outstanding for SWOSU this season, leading the conference with 10 touchdown passing and is second in yards with 1,024 through four games. Monticello gives up just 194 yards per game through the air, good for fifth in the conference, and is fourth in the conference in total defense this season.
This should be a tight game, but I think the experience of Brown and the Monticello defense pick up a quality road win in Weatherford
Arkansas-Monticello 31, Southwestern OSU 24
No. 4 Ouachita Baptist (4-0) at Northwestern OSU (0-4)
The best hope the Rangers have in this one is that Ouachita Baptist will be riding too high from their big win over Harding last week and come out lazy and unfocused. Unfortunately for Northwestern, I'm not sure even that would be enough for the Rangers to pull the upset.
Ouachita is averaging over 40 points and 300 yards rushing per game. Northwestern gives up nearly 44 points and over 260 yards on the ground per game. On the other side, Northwestern has the fourth-ranked pass offense while Ouachita is sixth in the conference giving up 212 yards per game. Perhaps the Rangers can air it out a little against Ouachita. Unfortunately, I just can't see the Rangers' defense getting the stops needed.
This one will get ugly
Ouachita Baptist 49, Northwestern OSU 17
Oklahoma Baptist (1-3) at No. 8 Harding (3-1)
The battle of the Bison(s) is in Searcy on Saturday, but don't look for correct grammar to win out in this one. Oklahoma Baptist's struggles on offense have been really surprising this year. Yes, Keilahn Harris is still a complete stud at wide receiver and arguably the best player in the conference, regardless of position, but he can't do everything. OBU is averaging a conference-low 4.7 yards per play on offense. Not a good recipe for success against the conference's leading defense in Harding, which gives up a conference-best 4.8 yards per play.
Last year, the Bisons were held to their lowest regular season rushing total by Oklahoma Baptist in Shawnee. Don't expect the same to hold true on Saturday. The Bisons are averaging a nation-best 332 yards on the ground so far this season. Meanwhile, OBU is giving up over 250 yards per game on the ground.
Once again, this one is not going to be very pretty, especially with Harding coming off the tough loss to Ouachita.
Harding 42, Oklahoma Baptist 10
Game of the Week: Southeastern OSU (2-2) at Henderson State (3-1)
This looked like a massive matchup prior to last Saturday. Then the games happened and now the luster has come off a lot on this one with both teams being upset last week. However, just because both teams are coming off a loss doesn't mean the game itself will be bad now. On the contrary, this is still going to be a great game as both teams look to bounce back.
Southeastern boasts one of the top passing attacks in the country and they'll be going against a secondary that has been vulnerable this year. Quarterback Daulton Hatley took a lot of shots over the top against Southern Nazarene last week and it'd be wise to expect the same. The big test will be for the Southeastern offensive line to him time to throw, as the Henderson State defense ranks second in the nation with 17 sacks this year. The Savage Storm were missing two starters against Southern Nazarene and their status for this week is unclear.
Henderson State, on the other hand, will look to exploit the Southeastern defense on the ground. The Reddies are averaging a bit over 200 yards per game on the ground and are probably licking their chops watching the film of SNU running for 451 yards on Southeastern last week. That total pushed Southeastern down to last in the conference in rush defense, giving up 284 yards per game on the ground. Perhaps a veteran Savage Storm secondary can make life tough for redshirt freshman quarterback Andrew Edwards. Through three starts, Edwards has been outstanding, throwing for 864 yards, 10 touchdowns and just one interception, with a conference-high 67.1 percent completion rate. However, Southeastern's cover unit will be the most experienced group he has faced thus far.
This one could go either way, but I'm leaning with the home team and the pass rush of the Reddies against an uncertain SEOSU offensive line.
Henderson State 34, Southeastern OSU 28
Southern Nazarene (1-3) at Arkansas Tech (1-3)
What a difference a week can make. Southern Nazarene's upset victory over Southeastern last week, and the way they did it, was the type of win that can change a lot about how a team is viewed. That starts this week in Russellville, where SNU will look to pick up multiple road wins in a season for the first time since winning three on the road in 2017.
Arkansas Tech's quality start to the season seems like a long time ago in light of this two-game losing streak. It's not clear what the Wonder Boys do particularly well. They're last in total offense and next to last in total defense. They're 10th in scoring and in points allowed. They're in the bottom third in most offensive and defensive categories.
The key matchups in this one will be how well SNU can run the ball. The Wonder Boys were gashed by the two primary run teams they've faced so far this year—Ouachita and Arkansas-Monticello. SNU certainly isn't Ouachita, but with the 451-yard performance last week, ranks 15th in the nation in rushing offense at 235 per game. On the flip side, SNU will have to contend with Tech quarterback Taye Gatewood, a dual-threat guy. The other two quarterbacks in that category—UAM's Demilon Brown and ECU's Kenny Hrncir—found a lot of success against the Crimson Storm.
This will come across as a homer pick, but watching SNU's offense eviscerate Southeastern's defense last week in person was a performance I've never seen in five years of SNU football. The Crimson Storm notch their first winning streak since 2019.
Southern Nazarene 35, Arkansas Tech 28
East Central (2-2) at Southern Arkansas (2-2)
This one's an interesting one for two teams smack dab in the middle of the conference standings. East Central has been riding their defense for the majority of the season, a unit that is second in the conference in total defense and third in scoring defense. The offense hasn't been great, but the past two weeks have shown some improvement, especially from veteran quarterback Kenny Hrncir.
Southern Arkansas has been wildly up and down this year. They've alternated wins and losses through the first four games and have done it in a variety of ways on offense. Early in the year, they leaned on the ground game, but ran for just 62 yards against Henderson State in the win on Saturday. They've been pretty steady through the air, but quarterback OB Jones has already tossed four interceptions this season. Can the ECU defense force him into more errors?
Not really sure which way to go with this one. I'm inclined to favor the home team, but the inconsistencies for the Muleriders give me pause. Defense travels, though, and ECU has been getting it figured out on offense.
East Central 27, Southern Arkansas 21