GAC Week Five Preview
September 28th, 2023 6:00am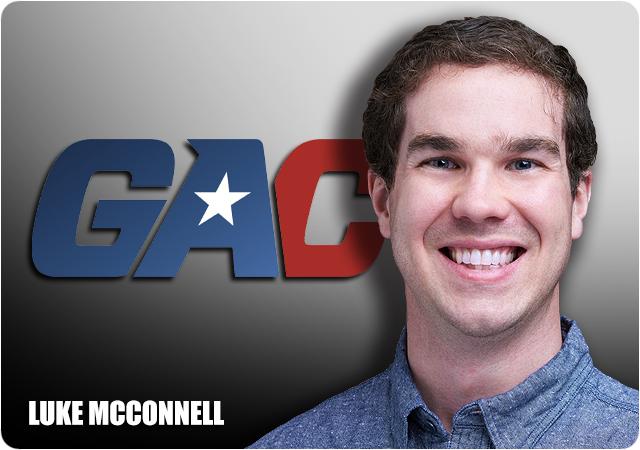 Welcome to another week of Great American Conference football! A third of the season is over, but there is still plenty of football to be plays, goals to be accomplished and hopes to be dashed.
Here are the Player of the Week in the GAC for Week Four.
Offensive Player of the Week- Blake Delacruz, FB, Harding
-Career-high 31 carries for career-high 179 yards
-Three rushing touchdowns
Offensive Player of the Week- Kendel Givens, RB, Ouachita Baptist
-Career-high 171 rushing yards
-Two touchdowns
Defensive Player of the Week- Scooter Baker, LB, Oklahoma Baptist
-15 tackles
-3.0 tackles for loss
-1 sack
Defensive Player of the Week- Jake Wright, LB, Southern Nazarene
-Nine tackles
-3.5 tackles for loss
Special Teams Player of the Week- Carter McElhany, return specialist, Ouachita Baptist
-37.6 average on five returns
-94-yard kickoff return touchdown
And now to the previews of Week Five.
Game of the Week: Southern Arkansas (3-1) at Southern Nazarene (3-1)
If you like offense, this is the game for you. This one should be all kinds of fun as two of the top 16 offense in the nation square off in Bethany. Both teams prefer to get the job done on the ground, with SNU ranking second in the nation at 295 yards per game and Southern Arkansas seventh at 247.5 yards per game. The Crimson Storm come into this one off their best defensive performance in their D2 era, holding Southwestern OSU to just 154 yards and seven points last week. While there is still room for improvement, the improvement in SNU's defense is undeniable. The Muleriders pose a big test for this young and improving unit. Last year in Magnolia, SAU rolled up 643 yards, but still lost to SNU, 49-44. Obviously, limiting the ground game will be of utmost importance, but putting pressure on SAU quarterback OB Jones will also be key. The Muleriders have given up nine sacks so far this year.
On the other side, the Southern Arkansas defense has also vastly improved this year, giving up just over 300 yards per game and 4.6 yards per play this season, almost two yards better than their average a year ago. The big part of that is the 91 yards per game on the ground and the 2.9 yards per carry the Muleriders are allowing. Both of those numbers are second in the conference. SAU has also racked up 14 sacks through four games this year, tied with Henderson State for best in the GAC. The only caveat to these numbers is SAU has faced three of the bottom five in total offense and rushing offense so far this season. Facing Ouachita Baptist, the Muleriders gave up 194 yards on the ground and 52 points. While SNU isn't Ouachita Baptist, their offense is closer to the Tigers than East Central or Arkansas Tech in terms of potency. This will be an equally tough measuring stick game for the Southern Arkansas defense.
Simply put, this game is going to be determined by which team's defense has made the bigger improvements from last year. As we talked about in the preseason, these two teams are clearly separated from the bottom seven teams in the league, while also a step behind the big three at the top of the standings. Don't be surprised by the winner of this game having a floor of fourth in the final league standings.
Last year, SNU won a wild thriller in Magnolia. Personnel hasn't changed much on either side and I don't think the results will, either.
Southern Nazarene 41, Southern Arkansas 38
Southeastern OSU (1-3) at No. 5 Ouachita Baptist (4-0)
The Savage Storm picked up their first win of the year last year, smashing Northwestern OSU in Durant. The biggest key for SEOSU was seeing some success on the ground after just a putrid start running the football through the first three games. That success will be put to the test against the Tigers, which are giving up just 111 yards per game on the ground so far this season. The Ouachita secondary was tested by both Southern Arkansas' OB Jones and Arkansas-Monticello's Demilon Brown the past two weeks. Can Southeastern do the same? Bryce Fields has been a bit erratic at quarterback for the Savage Storm, and missing Marquis Gray for a few games hasn't helped. Gray had one reception last week in his return from injury, but he'll need to be at top speed to really threaten the Tigers.
On the flip side, the Tigers continue to be really efficient running and throwing the ball. The balance the Tigers have this year make them exceptionally dangerous, even if the rushing attack isn't quite what it was a year ago with TJ Cole and a veteran offensive line. Kendel Givens has been great and this wide receiver group is really deep. I'd expect them to have a lot of success against the Savage Storm on Saturday.
Southeastern might have found some success this past week, but trying to duplicate that against Ouachita is a tough ask. Tigers roll
Ouachita Baptist 42, Southeastern OSU 17
East Central (1-3) at Arkansas-Monticello (2-2)
This one is an interesting matchup. The Tigers have really struggled offensively this year, but have a solid defense. The Weevils have been pretty good on offense, but haven't been great defensively. A classic "which team's weakness is more of a hindrance" game. Unfortunately for East Central, they've been less good against the pass than against the run, and UAM quarterback Demilon Brown likes to throw it around the yard a bit. The Weevils have the No. 1 passing offense in the league this year, throwing for almost 280 yards per game. It'll be a tall task for the Tigers to hold Brown down in this one. Even Ouachita struggled to do that a week ago.
The Tigers did get a great game from running back Miles Davis last week, who rushed for 189 yards in the loss to Oklahoma Baptist. That's a good sign for East Central and a point of optimism. The Weevils are giving up 244 yards per game on the ground this season, so there's a lot of potential for ECU to keep Davis and the ground game rolling for a second straight week. However, UAM has faced both Harding and Ouachita Baptist already, so that's skewing the numbers a bit. Against those two teams, UAM gave up an average of 343.5 yards per game. Against NWOSU and SWOSU, it was just 143.5, a 200-yard per game difference! The Weevils have a lot of athletes and continue to be a problem for opponents because of that fact alone. I'd imagine it will be more of the same on Saturday.
Pretty easy one here. The Weevils have a significant edge on offense over the Tigers and that's what gets them the win at home.
Arkansas-Monticello 38, East Central 20
Northwestern OSU (0-4) at Arkansas Tech (0-4)
Two winless teams coming off blowout losses. Games like this are where you can tell what team has some character and which ones just want to pack up and go home. A big question for this one is the status of Northwestern running back Darian Gill. Gill didn't play in the loss to SEOSU last week, but if he's healthy, he'll be licking his lips looking at the Tech defense, which gives up 280 yards per game on the ground, second to last in the nation. Both teams should be able to move the ball against porous defenses in this one.
On the other side, perhaps the Wonder Boys can get their running game going against a NWOSU defense giving up 6.4 yards per carry. Tech is averaging just 61 yards per game on the ground, so pretty much anything would be an improvement for them in this one. Quarterback Taye Gatewood has been ok to solid this season, but needs help in order to right the ship in Russellville and salvage what is left of the season.
Both teams have a lot of problems, but I think Tech can get the job done at home.
Arkansas Tech 31, Northwestern OSU 21
Southwestern OSU (0-4) at No. 10 Harding (4-0)
42 yards. That's the lowest total offense the Bisons have allowed in a GAC game. That's the number to watch for against Southwestern OSU on Saturday. The Bulldogs are averaging just 193.8 yards per game this season and 13.8 points per game. The Harding defense is giving up just 255 yards and 4.5 yards per play so far this season. I don't know if the Bisons can keep SWOSU under 42 just because of the amount of backups that will be played in this one, but it would not shock me at all. This assessment is equal parts indictment of the SWOSU offense and praise for the Harding defense.
One positive for SWOSU is their front seven is a really solid group. It wouldn't surprise me at all to see the Bisons struggle to move the ball consistently out of the gate. However, that's not going to last the whole game, as the SWOSU defense has been on the field for 35 more minutes over the course of the season compared to their offensive counterparts. They will eventually get worn down by the relentless pounding of the flexbone.
Not much to say about this one. Harding cruises. I'll be surprised if SWOSU avoids the shutout.
Harding 49, Southwestern OSU 0
No. 24 Henderson State (3-1) at Oklahoma Baptist (3-1)
I'll be totally honest. I'm still not sure what to make of Oklahoma Baptist. There's no doubt there has been improvement, especially on defense. But just how much remains to be seen. That'll change this week when a disappointed Henderson State team comes to Shawnee. OBU running back EJ Moore has established himself as RB1 on Bison Hill and he and the offensive line will need to be at peak levels to move the ball against a good HSU front seven. Quarterback Aidan Thompson wasn't great at East Central last week, but has been solid overall this year. Perhaps he can find some holes in the Henderson State secondary with receiver Michael Marshall. This will especially be a firm test for the Bison defense against a well-rounded offense for the Reddies.
Henderson State should come into this one looking for a big bounce back win after last week's disappointing loss to Harding. The offense in particular should be out to prove they're better than what they showed last week, holding the ball for less than 20 minutes in the contest. The Reddies' run game has surprisingly struggled through the first four games of the year, averaging just 147 yards per game and four yards per carry. With both top rushers back, along with an experienced offensive line, more was expected from the Reddies in that area. We will see if this is the week things get going.
We're going to learn a lot about these teams this week. Here's betting the Reddies rebound from last week and get a nice road win.
Henderson State 34, Oklahoma Baptist 21