GAC Week Four Preview
September 20th, 2023 11:00am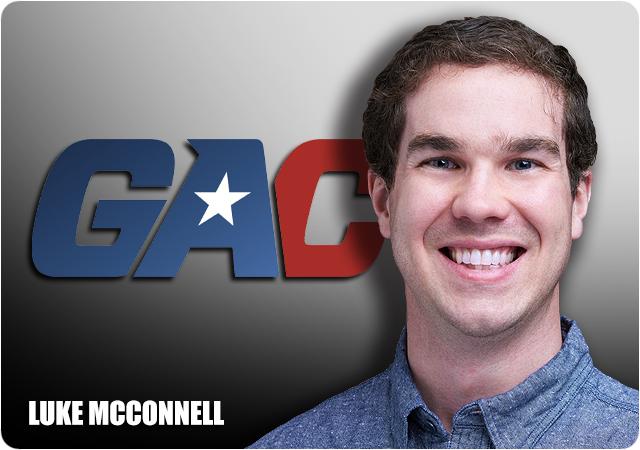 We're already a quarter of the way through the 2023 season, which is pretty hard to believe. After three games, we're starting to see which teams are going to be contending for a conference title and which ones are going to be looking ahead to next year. However, there's still the squishy middle, full of teams that might prove to be contenders and some that are just pretending right now.
We'll begin to sort those out in the weeks ahead. For this week, we'll be satisfied with a titanic clash of conference contenders in Arkadelphia.
Before we get to the games, let's look at the Players of the Week. Quite the surprise leading us off there.
Offensive Player of the Week- Hunter Willis, OL, Harding
-Graded out at 100 percent at left guard
-Helped Harding rush for 424 yards and 7.3 yards per carry
Offensive Player of the Week- Gage Porter, QB, Southern Nazarene
-19 carries, 177 yards, two touchdowns
-12-of-17, 169 yards, two touchdowns
Defensive Player of the Week- Chase Whitebear, CB, Oklahoma Baptist
-Eight tackles
-Fumble recovery and interception
Special Teams Player of the Week- Carter McElhany, returner, Ouachita Baptist
-Three kickoff returns, 32-yard average
-73-yard touchdown reception
Game of the Week- No. 10 Harding (3-0) at No. 20 Henderson State (3-0)
First up in the three-way round robin between conference heavyweights is the Bisons and the Reddies. The biggest storyline is obvious: Henderson State's run defense against Harding's flexbone. The Reddies are second in the conference, giving up just 63 yards per game on the ground, including a league-leading 2.0 yards per carry. The Bisons are clicking on all cylinders right now on the ground, leading the nation with nearly 363 yards per game. The Reddies front seven is serious, as HSU also lead the GAC with 14 sacks through three games. Harding struggled against this defense in a 15-14 loss in Searcy a year ago, so it will once again be a challenge to move the ball against HSU.
On the other side, the Harding defense has been outstanding thus far this year, ranking second in scoring, total, yards per play and first in run defense. This will be the first major test for a Harding secondary that was far from perfect last season. It appears that unit has improved this year, but HSU quarterback Andrew Edwards and his new crop of receivers will be the judge of that. The HSU run game has been a bit uneven to start the season, averaging 178 yards and 4.2 yards per carry this year. That's a little surprising, given the strength of the offensive line and running back Korien Burrell back to lead things. The Bisons aren't exactly the unit to go against to get things right.
Suffice to say, this game will be a lot about the defenses, but I think whichever team's secondary plays well will win the game. HSU has improved their secondary from last year, but they're still giving up 251 yards, 7.8 yards per completion and eight touchdowns through the air, all of which are in the bottom half or bottom quarter of the league. Make no mistake, the Bisons' play-action game will be used strategically in this one, and the Reddies must be prepared. Harding, on the other hand, has picked off seven passes while holding opponents under 200 yards per game through the air. It's a strong start to the season for that group.
This should be a great game and a great atmosphere in Arkadelphia. I could make the case for either team quite well, but I'm leaning with the home team in this one.
Henderson State 20, Harding 17
Southwestern OSU (0-3) at Southern Nazarene (2-1)
Southern Nazarene is over .500 for the first time since 2017 and has the chance at home to go two games over .500 for the first time in the school's D2 era. After a rough opening game against Harding, the Crimson Storm have dominated opposing defenses on the ground, rushing for 349 and 380 yards against Arkansas Tech and Northwestern OSU, respectively. The Bulldogs' run defense has proven stout so far this year, ranking sixth in the league at 152 yards per game. That includes a loss to Ouachita where the Tigers were held to just 3.1 yards per carry. It will be a tougher task for SNU on Saturday. The other thing to watch is turnovers. The Crimson Storm have 10 through three games, and turnovers in the past two games have left the opponent hang around a lot more than the play on the field would indicate. That's something that has to be cleaned up for SNU to build on last year's success.
SWOSU's poor defense has been pretty good this year, but is getting absolutely no help from the offense. The Bulldogs are dead last in the league, averaging 207 yards per game this year and haven't scored a point in the first half of a game yet. It's not any one thing, either. Neither the passing game or the running game is working right now. Last year, the run game wasn't very good, but the passing game was quite explosive, which offset some of those struggles. No such fortune this year.
The Bulldogs could find some success against an SNU defense giving up 6.3 yards per play this year. However, A. Some success still isn't much based on how the year has gone so far and B. It won't be enough.
Southern Nazarene 34, Southwestern OSU 20
Arkansas Tech (0-3) at Southern Arkansas (2-1)
The Wonder Boys have been quite unfortunate this season, losing all three of their games by a total of 12 points. However, when you look at how they've played, it's hard to see how they've been that close. The last two weeks have seen Tech give up over 500 yards of offense to both SNU and HSU, but only lose by seven and three, respectively, largely thanks to some mistakes from the opposition. Quarterback Taye Gatewood has been a bright spot for the Wonder Boys, ranking third in the conference in passing efficiency. It appears he just doesn't have quite enough around him to really make some noise. The defense isn't great and Tech can't run the ball, averaging just 70 yards and 2.3 yards per carry. Gatewood isn't the type of talent that can drag everyone to a higher level; he needs some help if the Wonder Boys are going to take down the Muleriders.
Southern Arkansas leads the conference in plays on offense, averaging a whopping 86 plays per game. But there's not a lot to show for it so far—5.0 yards per play and just over 27 points per game. OB Jones has done a lot of the work, but he has enough weapons around him where you'd think he wouldn't have to, particularly in the run game. Two-time 1,000 yard back Jariq Scales is averaging just 65 yards per game so far this season. That needs to improve, and probably will against a Tech defense that gives up 242 yards per game and 5.4 yards per carry on the ground. I'd expect SAU to really get the ground game going and see the options open up in the passing game.
Gotta feel for Tech, but the misfortune continues on Saturday.
Southern Arkansas 37, Arkansas Tech 28
Northwestern OSU (0-3) at Southeastern OSU (0-3)
To say the season is not going according to plan would be pretty accurate for these two schools. Both entered the season with new coaches, new(ish) quarterbacks and questions on both sides of the ball. Unfortunately for both, all those questions have remained unanswered, leading to a winless start for both. Northwestern had some positive signs of life on offense against SNU on Saturday, racking up 477 yards, including 331 through the air. Perhaps that's the confidence booster the Rangers need to right the ship somewhat and remain competitive for the remainder of the season. The defense still needs help, but everyone knew this would be a tough rebuild in Alva for coach Ronnie Jones.
Southeastern's highs have been pretty good, but the low of last Saturday at OBU is arguably the lowest in the league thus far. The Savage Storm have zero running game and now there's uncertainty at quarterback again after we saw both Bryce Fields and Weston Conaway on Saturday in Shawnee. The defense has been ok, but that's proven to be not good enough. And now they're facing a Northwestern team that saw some real progress moving the ball last week. Talent-wise, the Savage Storm should feel good about themselves, but the way they've performed so far this season doesn't drum up a lot of optimism.
The positive thing is someone is going to get their first win of the season. I really don't know which version of these teams will show up Saturday. Flip a coin or go with the home team.
Southeastern OSU 28, Northwestern OSU 24
Oklahoma Baptist (2-1) at East Central (1-2)
The Bison's improvement has been a pleasant surprise to start the season. Granted, I think we all knew the combination of injuries and poor play couldn't be much worse than last year's 1-10 campaign, but it's still good to see the Bison jump back up quickly. The defense has been sound through three games and that will be a big key against an East Central offense that hasn't been good up front and has struggled moving the ball. The OBU defense is right in the middle of the league in most categories, again, a big leap from last year when they were in the bottom of the league in those same categories. OBU's ability to run the ball against a good ECU defense will also be important. The Bison ran for 158 yards against Southeastern last week, so they'll need to duplicate or build on that to be successful this week.
East Central's defense remains a good group. The Tigers are fifth in the league in yards per play allowed this season, so they're well-equipped to handle a Bison offense that has been good, but far from explosive thus far this season. As mentioned above, making OBU one-dimensional will be a key. The Bison are averaging less than 100 yards per game on the ground this season. Offense has been a struggle for the Tigers, as they also are averaging under 100 yards per game on the ground this year. What's worse, though is the ECU offense is averaging just 4.2 yards per play, good (or bad) for 11th in the GAC. We knew it would be tough to replace most of the offense from last year's nine-win team, and that has proven true. Unfortunately for the Tigers, it's hard to see a "get right" game on the schedule, either.
The Bison's improvement has been good to see, while the Tigers' struggles have been predictable. Bison keep the momentum rolling.
Oklahoma Baptist 27, East Central 17
No. 4 Ouachita Baptist (3-0) at Arkansas-Monticello (2-1)
The Tigers continue to roll and show why they're the class of the conference. We can discuss playoff performances another time, but within the GAC, they're terrific. The balance has been great for the Tigers on both sides of the ball thus far, even while taking a slight step back in run game. Riley Harms has been great at quarterback and he's got a great group of wide receivers to throw to. I'd expect the Tigers to have plenty of success against the Weevils on Saturday. Perhaps this is a week the run game gets rolling, especially after seeing UAM give up 424 yards on the ground against Harding last Saturday.
The Weevils are the definition of a team that we're trying to distinguish between contender or pretender. Being competitive against the Tigers will go a long way toward helping their case. Everyone has looked particularly poor against Harding this year, so hard to put too much stock in that one. But pushing Ouachita Baptist will be key, and the way the Weevils need to do that is with Demilon Brown's arm and his speedy receivers on the outside. Stretch the field, test the Ouachita secondary, take some shots. The Weevils aren't going to overpower the Tigers, so may as well try to do it with speed.
Monticello is never an easy place to play, but it won't affect the Tigers too much.
Ouachita Baptist 42, Arkansas-Monticello 17