GAC Week Four Preview
September 21st, 2022 12:00pm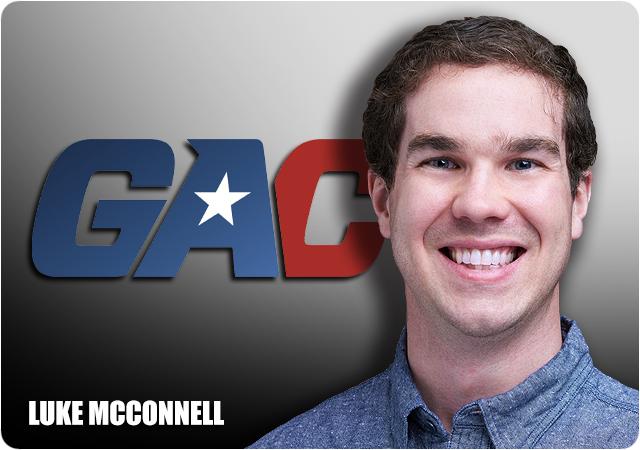 It's only week four in the GAC, but we already have arguably the game of the year in the conference on the slate this week.
That's right, folks. It's a top-10 showdown in Arkadelphia this weekend as No. 7 Harding travels to Cliff Harris Stadium to take on No. 9 Ouachita Baptist. There's still plenty of the year to go, and Henderson State and even Southeastern Oklahoma State will certainly have something to say about this being the game of the year when it doesn't include them. But to this point, the early-season returns say it will take a lot to surpass this matchup.
Here's a quick look at the Week Three Players of the Week in the GAC.
Co-Offensive Player of the Week – Andrew Edwards, Henderson State, QB
-21-of-33 for 310 yards and four touchdowns
-One rushing touchdown
Co-Offensive Player of the Week – Daulton Hatley, Southeastern Oklahoma State, QB
-26-of-45 for 423 yards and five touchdowns
Defensive Player of the Week – Shaq'ke Robinson, Henderson State, DL
-Seven tackles
-Two sacks
-Blocked field goal
Special Teams Player of the Week – Colton Humphrey, Southeastern Oklahoma State, LB
-35-yard blocked punt return for touchdown
Now, let's get to this week's matchups. I can't promise another 6-0 week on the predictions, but I'll do my best. This week boasts all night games across the conference.
No. 7 Harding (3-0) at No. 9 Ouachita Baptist (3-0)
Where to begin with this one? Two very good teams. Two evenly matched teams. Two very similar teams. Both average about 350 yards per game on ground while allowing less than 100 per game to opponents. They're both top-four in the conference in yards per play and the top two defenses in yards per play allowed. Schematically, they are different, but the mode of operation is the same: control the clock on the ground on offense and smother the opposition on defense.
There is one intriguing wild card in this game and that's Ouachita quarterback Riley Harms. After going 2-of-16 in the season opener, Harms is 15-of-17 for 393 yards and five touchdowns the last two games. He's also carried 10 times for 64 yards and a score. The question becomes, do the Tigers try to throw the Harding defense off a bit by throwing the ball more? However, that strategy would take the ball out of the hands of TJ Cole and Kendal Givens. Perhaps we're overthinking this potential wrinkle in this matchup. Let's not overlook the kicking game as well. Ouachita kicker Gabe Goodman is quite the weapon in a close game like this one.
Harding is going to do what it does. I don't anticipate anything crazy from the Bisons from a big picture standpoint. Could we see a few trick plays or a new wrinkle? Sure, but that's a far cry from a drastic change. One thing to be aware of: this is quarterback Cole Keylon's fourth start. How will he handle a raucous environment against a tremendous team?
Picking a winner in this matchup comes down to splitting hairs on both sides. After a lot of thought, I think the home field advantage and the youthfulness of Keylon will be the determining factors as Ouachita wins a spectacular, close game.
Ouachita Baptist 27, Harding 24
Arkansas Tech (1-2) at Arkansas-Monticello (2-1)
Both teams were humbled in losses last week and will be looking to bounce back in Monticello this weekend. One thing to watch for is how the Wonder Boys defense rebounds against another great ground assault. Ouachita eviscerated the Tech defense and I'm sure there's the desire to prove they're better than what they showed against the Tigers.
The Weevils fell behind 30-7 at halftime at Henderson State, and the Reddies defense racked up six sacks on Demilon Brown over the course of the game. UAM righted the ship in the second half, but it was too little, too late. The UAM defense is in the top third of the conference in most categories and should be able to contain Tech quarterback Taye Gatewood and the Wonder Boys.
Look for UAM to defend home field and pick up the win.
Arkansas-Monticello 34, Arkansas Tech 24
Southwestern OSU (1-2) at Oklahoma Baptist (1-2)
Oklahoma Baptist comes in off their first win of the season against Northwestern OSU while the Bulldogs lost a home shootout with Southeastern OSU. Bulldogs quarterback Tylan Morton has been excellent throwing the football, ranking second in yards with 791 and eight touchdown passes. He'll be going against the top pass defense in the conference through three games. Oklahoma Baptist has allowed just 140 yards per game and a 47 percent completion percentage. Something's got to give.
On the flip side, E.J. Moore and Buddy Bizzell both went over 100 yards on the ground against Northwestern OSU last week, giving quarterback Dayton Wolfe much-need support. The Bison need to find some other options in the passing game to help take pressure off Keilahn Harris, who has over 50 percent of the OBU receiving yards so far this season.
This should be a pretty even game, but I think Southwestern's inability to run the ball effectively (97 yards per game and 2.8 yards per carry) will be the difference.
Oklahoma Baptist 28, SWOSU 21
Southern Nazarene (0-3) at Southeastern OSU (2-1)
The Crimson Storm did a lot of good things on offense last week against East Central, putting up over 400 yards for the first time since the 2019 season. Unfortunately, turnovers and coming up empty in the red zone doomed SNU once again. The defensive performance didn't help matters. So far, opposing offenses have been able to do pretty much whatever they want against SNU, to the tune of 43 points and 522 yards per game through three games.
So it's a bad deal the Crimson Storm will face the nation's sixth-ranked passing offense on Saturday in Durant. Deundre Wheeler is also coming off a great game on the ground last week at SWOSU, toting the rock for 128 yards and two scores. Southeastern boasts a big and nasty offensive line which led to some chipiness last year in Bethany. I'd expect more of that this year as well.
I'd also expect Southeastern to come out with the win.
Southeastern OSU 38, Southern Nazarene 17
Henderson State (3-0) at Southern Arkansas (1-2)
The Reddies, despite losing a lot of pieces from last year's team, continue to roll. The newest revelation has been redshirt freshman quarterback Andrew Edwards, who has thrown for 533 yards and seven touchdowns in the last two games. The Reddies defense has also been particularly nasty in the front seven, racking up 16 sacks through three games, second in the nation.
Southern Arkansas hasn't been able to duplicate the offensive explosion it experienced in the season-opener against Northwestern OSU, which might say more about Northwestern than the Muleriders. One thing is for sure: Southern Arkansas needs to get the ground game going early against the Reddies in order to open things up for the passing attack. Even though the Muleriders average 271 yards per game on the ground, that won't be easy against the conference's third-ranked rushing defense at 130 yards per game.
The way the Reddies jumped all over Arkansas-Monticello in the first half last week was really impressive. Henderson keeps it rolling in Magnolia this week.
Henderson State 35, Southern Arkansas 21
Northwestern OSU (0-3) at East Central (1-2)
The Rangers let a second half lead slip away last week against Oklahoma Baptist while the Tigers finally got the offense clicking in the win over Southern Nazarene. Now the Tigers return to Ada to keep the momentum going and even their record at .500. The Tigers defense has been solid through the first quarter of the season, ranking second in yards per game allowed and fifth in scoring defense. They'll face a tough task in the conference's No. 2 passing attack led by quarterback Tanner Clarkson.
It seems like Northwestern just has no answers defensively. Through three games, they're giving up 48 points and 481 yards per game. Those are basically the same numbers from a year ago, when they were last in the conference. Clarkson has forged some good connections with receivers Torrence Stevens and Travis Romar, and the Rangers run the ball well enough to keep defenses honest. If the Rangers are going to pick up wins this year, they're probably going to do so on the back of their offense.
They won't be able to do it in Ada this week, as East Central evens their record at 2-2.
East Central 37, Northwestern OSU 24