GAC Week Nine Recap
October 30th, 2023 6:00am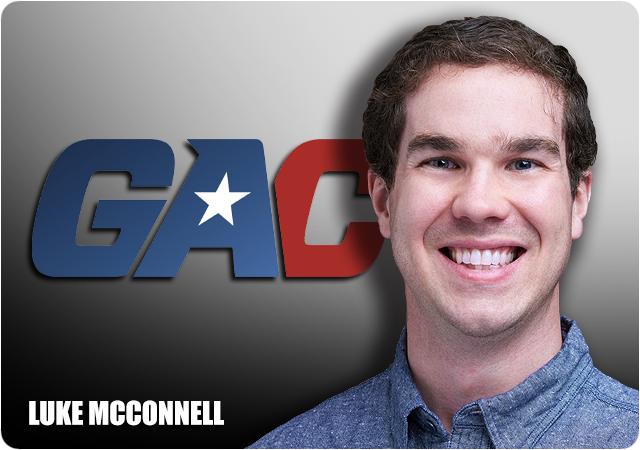 Week Nine is in the books, folks, and we're wrapping up all the action here. There was just one game decided by less than three scores, so perhaps we'll just have a few more lowlights to go through than highlights.
But really, just a product of the calendar. Let's get into it.
Ouachita Baptist 49, Southern Nazarene 28
OUA- The Tigers were great on both sides all night. It seemed at times the Tigers tried to do too much instead of just lining up and running (or throwing) it on the Crimson Storm. The defense struggled at times to contain Gage Porter, but then again, who hasn't? Overall a solid night for the Tigers.
SNU- The Crimson Storm struggled to contain the Tigers' attack, but frankly moved the ball very well on the ground and through the air. In particular, the offensive line gave up a single sack, on a scramble where Gage Porter barely didn't make it back to the line of scrimmage. The biggest issue was SNU was never able to put points on the board after getting stops on defense, therefore never cutting down on the deficit.
Harding 55, Southeastern OSU 0
HU- Well, the Bisons definitely didn't fall into the trap game mentality here. It's really time to start thinking about the Bisons' ceiling for the playoffs, because they continue to play at an elite level without any signs of a letdown. Another 400+ yard rushing day for Harding which also held the Savage Storm to 141 total yards and 1-of-10 on third downs.
SEOSU- The Savage Storm crossed midfield just four times and allowed Harding to score on seven of its first eight possessions. Four interceptions didn't help the cause for Southeastern, either. A humbling defeat, to be sure.
Oklahoma Baptist 28, Arkansas-Monticello 7
OBU- The Bison moved to 6-3 this year with their third straight win. Offense was hard to come by in the rain on Saturday, as OBU managed just 259 yards of offense, including an 8-of-24 showing through the air. However, the defense was outstanding once again, holding the Weevils to just 149 yards on 62 plays. Two road games at Ouachita Baptist and Southern Nazarene close out the year for OBU.
UAM- Monticello was down to their third string quarterback on Saturday, and the game plan reflected that (and the weather). 52 runs to just 10 passes for the Weevils on Saturday. Unfortunately, the Weevils were quite ineffective, gaining just 126 yards and no runs over 14 yards. That's now seven straight losses for UAM.
Henderson State 51, Northwestern OSU 0
HSU- Didn't spend a lot of time on this one in the preview because this is pretty much what we expected. The Reddies held the Rangers to just 85 yards of offense on Saturday and led, 44-0, at halftime. HSU did only rush for 132 yards, an admittedly nit-picky observation. You'd just expect a lot more success in that area in such a dominating performance.
NWOSU- The Rangers are on pace to be the worst statistical offense in GAC history in terms of yards and points per game. Saturday's performance of 85 yards and zero points obviously did not help the cause.
Southern Arkansas 41, Southwestern OSU 10
SAU- Kind of a sloppy game from the Muleriders, who had just 329 yards of offense on Saturday. At first glance, this seems to be a classic case of a team playing with its food. The first half was particularly rough, as SAU had a turnover on downs, a fumble and a missed field goal among their seven possessions. The score was just 24-10 in favor of SAU early in the fourth quarter, but 17 straight points for the Muleriders put it away.
SWOSU- Not saying the Bulldogs are turning a corner or anything, but their best two offensive outputs by yardage have come in the last two weeks. Dexter Brown rushed for 139 yards against the Muleriders. This is still a bad team, but they haven't quit, especially on the defensive side.
Arkansas Tech 18, East Central 16
ATU- The lone game within three scores goes to the Wonder Boys, who have now won four of five. Tech led, 15-3 at halftime, but managed just 281 yards of offense against the Tigers. Both teams settled in offensively after half and really drained the clock. There were just seven total possessions in the second half, including the three plays Tech ran to run out the clock after a failed onside kick by ECU.
ECU- Frankly, the Tigers just took too long to remember how to finish drives. Three first half drives for ECU inside the Tech 25-yard line resulted in just three points. ECU scored touchdowns on back-to-back fourth quarter drives, but ate almost 11 minutes off the clock between the two, forcing an onside kick to try to get the ball back. It failed. Uneven day for quarterback Jaiave Magalei, who was just 13-of-32 with two interceptions, but threw for 227 yards.
Predictions Recap: 6-0, 47-7 for the season
The Good: Going 6-0 for second straight week
The Bad: Calling for a tight one between Ouachita and SNU
The Ugly: Thinking Harding at Southeastern was a trap game of sorts