GAC Week Six Preview
October 4th, 2023 4:00pm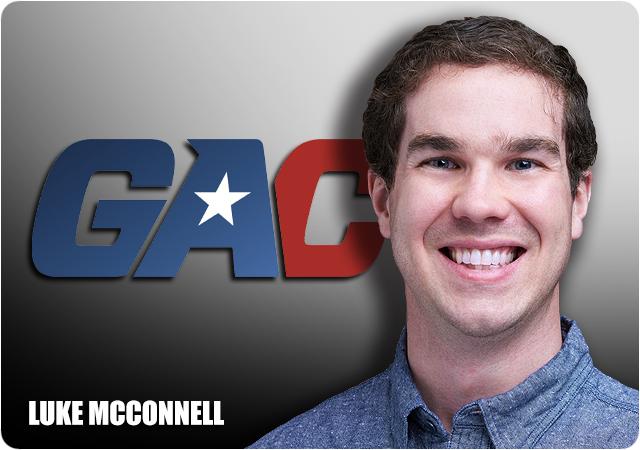 Week Six of the GAC football season is upon us and with it comes the official halfway mark of the season. We'll have a breakdown of each team at the halfway mark next week in our recap column.
For now, we'll be content with a look at last week's Players of the Week and a preview of what's to come on Saturday across Oklahoma and Arkansas.
Offensive Player of the Week: Taye Gatewood, QB, Arkansas Tech
-19-of-20 passing, 289 yards, four touchdowns
-GAC single-game record for completion percentage
Defensive Player of the Week: Zay Woods, DB, Southern Arkansas
-Eight tackles, one TFL
-Game-sealing interception
Special Teams Player of the Week: Braden Jay, SB, Harding
-Blocked punt
Game of the Week: Southern Nazarene (3-2) at No. 22 Henderson State (4-1)
Coming off a tough home loss to Southern Arkansas last week, the Crimson Storm are on the road to take on the Reddies. Henderson State bounced back from a loss to Harding with a good showing against Oklahoma Baptist on the road. Last year's matchup between these two teams was an overtime thriller, as SNU came up just a yard short on a game-winning two-point conversion attempt in OT. This year's matchup has the potential to be just as exciting.
The Crimson Storm defense has shown some major improvements this year, ranking first in passing defense, sixth in total defense and is giving up just 180 yards per game on the ground, a marked improvement from last year. They'll need those improvements against an HSU offense that's sixth in both scoring and total offense this year. However, the Reddies haven't been able to fully unlock what appeared to be a loaded unit at the start of the season. They put up over 500 yards at Arkansas Tech but managed just 27 points. Last week, against an admittedly improvement OBU defense, the Reddies scored just three points on less than 100 yards of offense after halftime.
The other side of the coin could be more favorable to the Reddies, as HSU gives up just 21 points and 313 yards per game this season. The front seven of the Reddies is particularly tough, so finding running lanes could be difficult for SNU quarterback Gage Porter and company. However, SNU does have the success of last year to fall back on, as the Crimson Storm ran for 282 yards against an HSU defense that gave up just over 140 yards per game on the ground. Keeping Porter upright in the passing game will be key as well. SNU has given up just four sacks this season, but will face a tough task in the Reddies, who have a league-high 18 sacks this season. If Henderson State can consistently get into the backfield and disrupt the timing of the SNU offense, it could be a long afternoon for the Crimson Storm.
Oddly, SNU is just 2-6 at home and 6-2 on the road in 2022 and this season. The Reddies have won every game in this series except for 2017, which did take place in Arkadelphia. Also, SNU has managed just nine total points in their last two trips to HSU. I think we're in for a tight ball game, but the Reddies squeak out the home win.
Henderson State 31, Southern Nazarene 28
No. 5 Ouachita Baptist (5-0) at East Central (2-3)
It's the battle of the Tigers! Team Purple travels to Ada to take on Team Orange. ECU has a bit of a pep in their step after a nice road win at Arkansas-Monticello. A quarterback change spurred the offense to their best scoring output of the season, but second half lulls led the Orange Tigers to -14 total yards of offense on eight drives after an early third quarter touchdown. That's a problem Ouachita will be all over. The Purple Tigers are second in total and scoring defense this season, and is coming off a smothering performance against Southeastern OSU. I would expect this rejuvenation for ECU to end fairly quickly this week.
Offensively, Ouachita has a very balanced offense, has put up 47 points per game, and yet somehow still leaves something to be desired. The Tigers have been under five yards per carry on the ground three times this season, but have only faced two run defenses in the top half of the league. ECU gives up just 136 yards per game and 3.3 yards per carry. This will be an interesting thing to watch. Unfortunately for the Orange Tigers, Ouachita has a ton of talent at receiver and a great quarterback in Riley Harms. If they're not running the ball well, OUA can just as quickly pivot to a pass-heavy attack and beat you that way. ECU doesn't have the secondary it did a season ago and is 11th in the league in pass defense.
I'd be surprised if East Central doesn't make things difficult for the Purple Tigers. I'd also be surprised if the Purple Tigers don't win.
Ouachita Baptist 35, East Central 10
Arkansas-Monticello (2-3) at Southeastern OSU (1-4)
Much of this matchup depends on the status of Weevils' quarterback, Demilon Brown, one of the most dangerous players in the conference. Unfortunately, it appears Brown might be out for this one. With his absence, the rushing attack for the Weevils is significantly diminished against one of the better run defenses in the league. In fact, Southeastern has quietly been one of the better defenses overall in the league through the first five games. The Savage Storm came in with talent, but inexperience, and it appears those young players are learning on the fly and gelling into a solid unit. The Weevils still pose a significant threat on the outside with their terrific wide receivers, so regardless of who gets the start at quarterback, they will be a danger to the SEOSU defense.
Offensively, the Savage Storm have been a bit all over the place this year, but overall, it hasn't been good. SEOSU ranks no higher than seventh in any major offensive category this season and will be facing an opportunistic Weevils' defense that ranks second in passing defense this year. Another source of concern in this one is the 10 sacks Monticello has racked up this year and the 17 the Savage Storm have allowed. Bryce Fields might be running for his life if the offensive line doesn't step up and make some plays up front. One thing in favor of Southeastern is the Monticello run defense that gives up around 208 yards per game on the ground. Perhaps the Savage Storm can exploit that a little bit on Saturday.
This is a tough one to call with Brown potentially out. With him, I think it's a clear advantage to the Weevils. Without him, it's a really close call. I'm going with the Southeastern defense at home against the backup quarterbacks of UAM.
Southeastern OSU 27, Arkansas-Monticello 20
Oklahoma Baptist (3-2) at Southern Arkansas (4-1)
Well, we found out a lot about both of these teams last week. Oklahoma Baptist's defense is quite the solid bunch, but the offense is still a work in progress. Meanwhile, Southern Arkansas flexed their own defensive improvement in a win at Southern Nazarene. Both defenses will be on full display in Magnolia on Saturday. OBU's offense will be hard-pressed to move the ball against a physical SAU front seven. The Muleriders are deep and talented along the line and at the linebacker position. OBU will be hampered by injuries on offense, especially quarterback Aidan Thompson, who left Saturday's game against Henderson State. Camden McCrary will get the start for the Bison.
The SAU offense was able to wear down the Southern Nazarene defense last week to get the seven-point win, but they weren't able to just blow the Crimson Storm off the ball. They'll face a similar test in the Bison, who are stout up front and have racked up 15 sacks this season. The Bison are also third in the conference in passing defense. Expect the Muleriders to lean on the run game with quarterback OB Jones and running back Jariq Scales to try to wear the Bison down. However, if the Bison aren't able to stay on the field on offense due to the quarterback situation, that might wear the OBU defense down considerably quicker.
This is a tough one for the Bison. I like the Muleriders to continue their momentum and get the win at home.
Southern Arkansas 34, Oklahoma Baptist 17
No. 9 Harding (5-0) at Northwestern OSU (0-5)
Not going to spend too much time on this one. The Bisons have a massive clash with Ouachita Baptist next week in Searcy, so there's always the chance of a bit of overlooking. But in this situation, Harding overlooking an opponent means the margin may be 28 instead of 42. The Bisons' defense has been simply outstanding this year, and that won't be changed by a Rangers offense that averages just 4.5 yards per play. On the side, Northwestern is giving up over 500 yards per game and 7.6 yards per play. In 2021, the Bisons put up 73 points and 689 rushing yards. I don't think they'll reach those numbers, but it's not out of the realm of possibility.
Harding 56, Northwestern OSU 7
Arkansas Tech (1-4) at Southwestern OSU (0-5)
The Wonder Boys finally got their first win of the season behind a historic performance from quarterback Taye Gatewood (see above). They'll look to start a win streak on Saturday in Weatherford against a Southwestern OSU team that just can't do anything on offense. The Wonder Boys will probably find running the ball a tough task against a solid SWOSU front seven. Tech has been unable to run the ball at all this year, so while the overall numbers don't look good for the Bulldogs, I wouldn't expect the Wonder Boys to suddenly start running the ball well on Saturday. If Tech is going to get the win, it'll have to come on the arm of Gatewood once again.
On the other side, there's a small glimmer of hope for the SWOSU offense: running back Ethan Hyche against the porous Tech run defense. The Wonder Boys are giving up 265 yards per game on the ground and Hyche has shown himself to be a capable back this season. If the Bulldogs can find a rhythm early, they might be able to string some drives together. Now, that's understandably a big speculation, given how the SWOSU offense has performed this year. But we're (mostly) in the optimism business here at the GAC column, so we'll see what the Bulldogs are able to do. If the run game gets going, perhaps that allows the passing game to somewhat get on track.
It's interesting how the two strengths of these teams will be going head-to-head in this one. I just don't trust the SWOSU offense in any way, shape, or form. Tech wins their second straight.
Arkansas Tech 28, Southwestern OSU 13