GAC Week Six Recap
October 8th, 2023 9:00am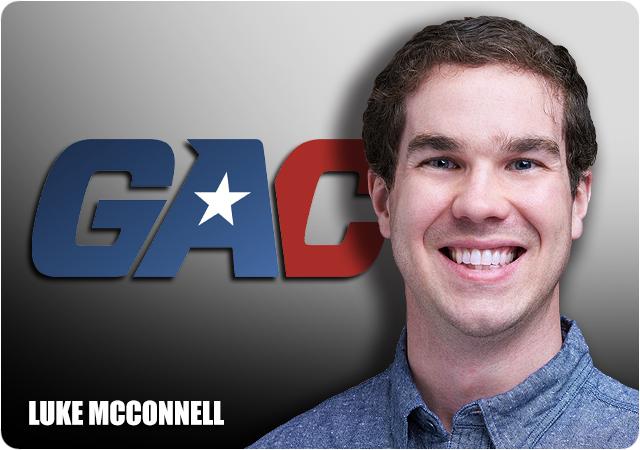 Week Six is in the books and we're breaking it all down here at the GAC column. In addition to looking at all the games, we're handing out midterm grades for each team. There's some good grades, some passing grades and some failing grades, so a little bit of everything!
Let's jump into it.
Henderson State 42, Southern Nazarene 28
HSU- The Reddies finally looked really good on the ground, rushing for 302 yards on 7.2 yards per carry. Jumping out with touchdowns on three consecutive drives to start the game set the tone early for this one.
First half grade: B
The defense has been pretty good this year, but the offense has just struggled to get going. Henderson has dealt with a lot of injuries along an experienced offensive line this year, so that accounts for a lot of the running struggles. The Reddies are still looking for someone to step up at wide receiver as well. Also, HSU lost their biggest game of the year so far.
SNU- A slow start really doomed the Crimson Storm in this one, along with four turnovers (three on downs) in Reddies territory. SNU moved the ball well, but just weren't able to finish drives.
First half grade: B-
The defense has definitely improved, with plenty of room to grow. The offense is still really good, but the Storm have lost to the best three teams on their schedule. They have four games against the middle of the league remaining, and how SNU plays against those teams will show how far this team has come.
Southern Arkansas 63, Oklahoma Baptist 24
OBU- The Bison couldn't run the ball, played with a backup quarterback and had their defense destroyed by the SAU run game. SAU ran the ball and OBU didn't. Pretty simple here.
First half grade: B+
OBU had nowhere to go but up after a 1-11 season in 2022. The defense has improved fairly significantly, but the offense, while better, has a long way to go. There are some perplexing results so far as well, both dominant (smoking Southeastern) and noncompetitive (Saturday vs. SAU).
SAU- 477 yards on the ground and three 100-yard rushers, none named Jariq Scales means you had a really good day.
First half grade: A
Offense has been steady and has leaned on the run game through the first half of the year. The defense is so much better from a season ago and that has the Muleriders riding high into big games with Henderson State and Harding this month.
Harding 62, Northwestern OSU 0
HU- This was an easy one for the Bisons, who ran just two plays in the fourth quarter, both kneeldowns. The third and fourth quarters were only 10 minutes each as well.
First half grade: A+
The Bisons haven't been perfect, but they've been everything but. The defense has been dominant, the offense is really clicking and they're set up well with big games with Ouachita and Southern Arkansas coming up.
NWOSU- Just a rough day for the Rangers. Four interceptions thrown, two of which were returned for touchdowns. The Rangers were without quarterback Ethan Everson and running back Darian Gill
First half grade: F
The rebuild is gonna take some time.
Arkansas Tech 9, Southwestern OSU 7
ATU- I'm not sure what happened in Weatherford on Saturday, but I'm personally glad I wasn't there to witness it. Tech couldn't move the ball until the final quarter, but they got the win. That's about all you can say here.
First half grade- D
The Wonder Boys have won their last two games, but a horrible start really brings this grade down. Quarterback Taye Gatewood has been good, but just can't do it all.
SWOSU- This offense is so bad. The Bulldogs ran for just five yards against the league's worst run defense on Saturday.
First half grade: F
Honestly, things might be worse at SWOSU than at NWOSU. At least the Rangers have the stability of knowing who their coach is for the foreseeable future. SWOSU doesn't have even that luxury.
Ouachita Baptist 31, East Central 14
OUA- The offense was good, but the run game was not efficient. The Tigers averaged less than four yards per carry again, albeit against a tough ECU defense.
First half grade: A-
Ouachita has done what they've needed to do so far this year. They've won all their games, the offense has been balanced and the defense has been really good. The inefficiency in the run game is still a bit concerning, especially with matchups against Harding and Henderson State looming.
ECU- The offense was decently efficient, but ECU just didn't have ball much on Saturday. The defense was solid, but just a bit worn down over the course of the game.
First half grade:C
Defense has been pretty good, like we expected. The offense has not been good, especially on the ground. It appears ECU has settled in at QB now, so maybe that changes things for the second half of the year.
Southeastern OSU 22, Arkansas-Monticello 21
SEOSU- Look, I think Marquis Gray is awesome, but the Savage Storm should be thankful he caught the game-winning touchdown. Back-to-back fades to a 5-foot-9 receiver is unbelievably inefficient, regardless of the receiver. Good comeback win, but coulda ended up with a lot of egg on their face.
First half grade: C-
The defense has been surprisingly solid, but the offense has been wildly inconsistent. The run game is nonexistent, the quarterback position is unsettled, Gray has been hurt. You name it, the offense has probably gone through it this year.
UAM- Buddy Taylor was really good playing quarterback in place of Demilon Brown, but didn't have a run game to support him. Unfortunately, the offense stalled and couldn't put up any more points late in the game.
First half grade: C
Demilon Brown is so good but with him hurt, the whole flow struggles. The defense has been ok, but hasn't been a difference-maker. Weevils are looking at another sub-.500 season.
Prediction recap: 6-0, 31-5 for the season