GAC Week Two Preview
September 7th, 2023 6:00am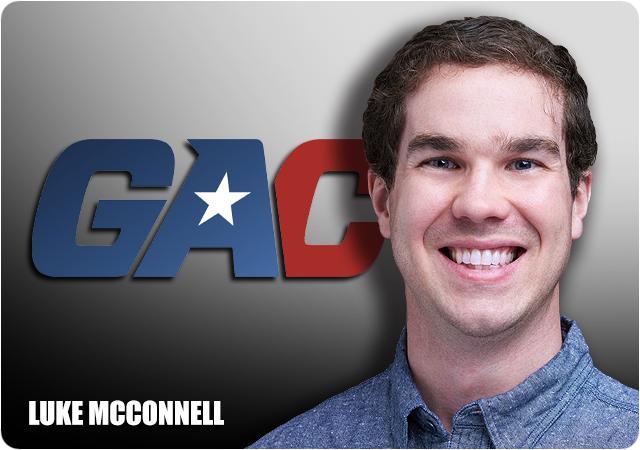 It's week two of Great American Conference football season. After the intrigue of the offseason and lots of unknowns, the intrigue now shifts into a different category, as we learn more and more about these 12 teams.
Before we get into this week's preview and predictions, let's take a look at the players of the week from week one, as nominated by the sports information directors at each school and chosen by the conference office.
GAC Players of the Week
Offensive Player of the Week- Andrew Edwards, quarterback, Henderson State
-17-of-25 passing for 276 yards
-Four touchdowns
Offensive Player of the Week- OB Jones, quarterback, Southern Arkansas
-117 yards passing, one touchdown
-95 rushing yards, three touchdowns
Defensive Player of the Week- Brett Karhu, defensive end, Oklahoma Baptist
-4.0 TFL
-3.0 sacks
Special Teams Player of the Week- Luke Watkins, kicker/punter, Oklahoma Baptist
-Three FGM
-41.7 yards per punt on six punts, three inside 20-yard line
Game of the Week: Southern Arkansas (1-0) at East Central (0-1)
A Thursday special in Ada this week, as the Muleriders hit the road to take on the Tigers. Southern Arkansas did what we expected against Southeastern OSU last week, resulting in Player of the Week honors from the league for quarterback OB Jones. East Central was a bigger challenge for Henderson State than initially expected, but it was too much Reddies in the second half.
Clearly, the transfers brought in by interim head coach Jon Litrenta have kept the talent level solid for the Tigers. The defense is still really good, led by probably the best linebacker corps in the league. Moving the ball on the Tigers will be a challenge. The question is if the depth is there. Clearly, it wasn't there in week one, as the Reddies wore down East Central in the second half. Offensively, things are still iffy at best. Who are the playmakers on this team?
Southern Arkansas ran 82 plays against the Savage Storm last week, but mustered just 4.4 yards per play, including just 4.2 yards per attempt through the air. I'm not sure if that's a concern for SAU or just taking what SEOSU gave them on Thursday. Either way, the Muleriders will need to be sharp to move the ball on the Tigers. Defensively, SAU looked good against Southeastern, giving up just 260 total yards. Another week, another team breaking in a lot of new pieces for this Mulerider defense to take advantage of, potentially.
It should be a fascinating matchup on Thursday given the strengths of each team. I think East Central finds some more success than last week, but the Muleriders have a bit more all the way around.
Southern Arkansas 31, East Central 20
Henderson State (1-0) at Southeastern OSU (0-1)
The Reddies took a bit to get going on Thursday against East Central, but once they did, they were off and running. HSU is talented on both sides, and it appears they've found some receivers to replace everyone they lost from last year. This week they'll take on Southeastern, which held their own against Southern Arkansas. Offensively, the Reddies can take advantage of a young, be eager Savage Storm defense which played pretty well against the Muleriders last week. Defensively, they'll have to account for wide receiver Marquis Gray, but the Savage Storm didn't run the ball well at all against SAU.
Southeastern certainly showed some things defensively, but the offense definitely showed it's taking a step back with the loss of Daulton Hatley and a slew of other starters. SEOSU had just 49 yards rushing and quarterback Bryce Fields was just 10-of-27 passing with two interceptions. That will have to be cleaned up if SEOSU has any hope of upsetting the Reddies. Unfortunately, the Henderson State front seven is one of the best in the league, so running the ball and giving Fields time to throw will be quite difficult.
This is a tough matchup for Southeastern at a bad time in the year. Result might be the same later in the year, but at least the Savage Storm could have been a bit more settled. Second game of the year? No change.
Henderson State 37, Southeastern OSU 14
Southern Nazarene (0-1) at Arkansas Tech (0-1)
It was a rough season-opener for the Crimson Storm, who coughed up six turnovers in a 53-20 loss to Harding. The Bisons were terrific defensively, and SNU is not going to go up against any other defenses the caliber of Harding the rest of the year. That starts this week with Arkansas Tech. The Wonder Boys weren't poor against Oklahoma Baptist, but they also didn't really do much, either, forcing zero turnovers and getting just three tackles for loss. SNU had some turnover issues in last year's loss at Tech, so they'll be doubly motivated to get back on track and pick up a win.
Tech had a fine showing from quarterback Taye Gatewood, but he was sacked four times and the Wonder Boys only rushed for 71 yards as a team. SNU historically hasn't been great against the run, but the Crimson Storm came up with three sacks against Harding along with multiple other negative plays on Bisons rushers. Things aren't going to be easy for Arkansas Tech on either side of the ball. The Wonder Boys outscored SNU 17-0 to get the win last year, but it's not clear if they have the talent to do the same this year.
It's the first game on new turf in Russellville, so the Wonder Boys will be looking to break in the field with a win in the home opener. That success will have to wait, as the SNU rushing attack gets back on track.
Southern Nazarene 34, Arkansas Tech 27
Southwestern OSU (0-1) at Arkansas-Monticello (1-0)
This one could be interesting, as it appears these teams are fairly evenly matched. The Weevils threw the ball 44 times against Northwestern OSU last week for nearly 400 yards, so clearly Demilon Brown isn't having any issues with his arm. The Weevils didn't run the ball particularly well which could be a problem against a SWOSU defense that held Ouachita Baptist to about three yards per carry last week. Things obviously become much more difficult when you're one-dimensional as an offense, so getting the run game going will be important on Saturday.
The Bulldogs held their own against the Tigers last week, but we'll see what the week-to-week grind reveals about this team. Offensively, it appears there is still a lot of work to be in both areas. SWOSU didn't even reach the 200 yard mark against Ouachita, averaging less than four yards per play. That has to improve this week if the Bulldogs want to be competitive this year in the GAC. A big positive for the Southwestern offense? Zero turnovers last week.
From my perspective, the GAC has always been a league where offense wins out. Looking at these teams, Monticello has the better offense and I think that'll decide this one.
Arkansas-Monticello 28, Southwestern OSU 21
Northwestern OSU (0-1) at No. 8 Ouachita Baptist (1-0)
It was a surprising start for the Tigers last week against SWOSU. On 49 carries, OBU averaged 3.1 yards per carry. As we mentioned in our season preview, the Tigers are breaking in a few new offensive linemen and also lost All-American back TJ Cole. Kendal Givens and Isaac Edwards are more than capable backs, but clearly, the transition is going to take a bit longer than anticipated. Or, the SWOSU run defense is that stout. After one game, either could be true. Fortunately, Ouachita has quarterback Riley Harms and a strong group of receivers to carry the load in the meantime. They'll be just fine against a Northwestern defense that gave up almost 400 yards through the air against Monticello.
The Rangers had a strong showing on the ground on Thursday, as running back Darian Gill led all rushers in the conference with 116 yards against the Weevils. Unfortunately, the passing attack wasn't as effective, and NWOSU will need both to be at their best if they have any hope of upsetting the defending conference champions. However, the Tigers' defense should be more than capable of shutting down the Rangers' offense in the home opener.
Not much to say about this one. Tigers roll.
Ouachita Baptist 49, Northwestern OSU 10
Oklahoma Baptist (1-0) at No. 12 Harding (1-0)
The Bisons started the year with a strong statement win at Southern Nazarene. Harding forced six turnovers in the win and did a great job limiting the effectiveness of SNU quarterback Gage Porter. The Bison don't have a weapon the caliber of Porter, but showed they can be a well-balanced attack in a season-opening win against Arkansas Tech. Offensively, Harding is their usual self, four yards and a cloud of dust. Oklahoma Baptist has played Harding well defensively over the years, so the Bisons will have to be sharp.
OBU has to feel good with the season-opening win after last year's debacle of a season. The Bison did a lot of good things on both sides of the ball, so there's definitely reason for optimism and hope OBU can return to their winning ways. Harding presents much stronger challenges than the Wonder Boys, but the Bison did show some strength up front on defense, as sophomore defensive end Brett Karhu racked up Defensive Player of the Week honors with his 4.0 TFL, 3.0 sack performance. Offensively, OBU won't be able to just line up and go at the Bisons, so it will be interesting to see what the coaching staff draws up.
Will grammar win out or will incorrect grammar carry the day? We're betting on the home team and incorrect grammar in this one.
Harding 38, Oklahoma Baptist 13