Games of the Week - Week Six
October 10th, 2019 11:20am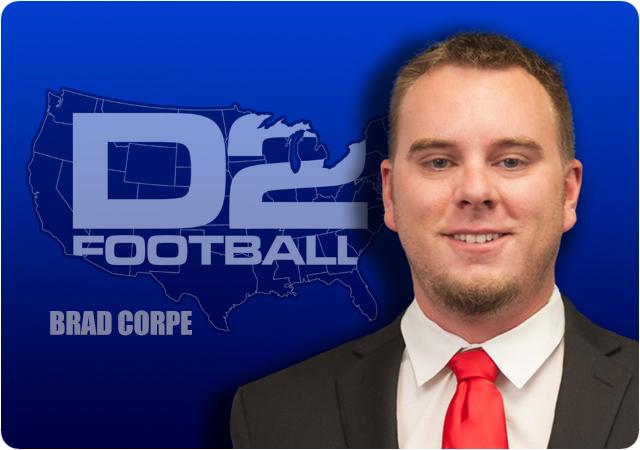 Well because I didn't get my picks submitted in time last week they weren't posted, so shame on me. After week four I was sitting at 11-8 on the year and boy did I really go for it last week. My picks:
Cal (PA) 24, IUP 21 - Wrong
Minnesota State-Mankato 27, Minnesota Duluth 17 - Right
Grand Valley State 34, Ashland 10 - Wrong
Tarleton State 56, Angelo State 31 - Right
Ferris State 31, Davenport 17 – Right
Whether you believe me or not, I am still claiming a 14-10 record on the year. Things are starting to get spicy nationwide, conference battles heating up, Harlon Hill candidates stepping up, and playoff candidates shaping up. Here we go for week 6!
After the conclusion of week six I will post my Harlon Hill candidates at the halfway point.
#6 Northwest Missouri State vs #17 Pittsburg State (Arrowhead Stadium)
Both in the top three scoring offenses in the MIAA, both in the top 3 scoring defenses in the MIAA, rivalry game, played at one of the loudest stadiums in the world (albeit during the NFL games!). Both undefeated, both ranked in the top 20. Storylines everywhere for this matchup. This game starts a brutal five game stretch for Pitt State, in which they play 4 of the top 5 teams in the MIAA (Outside of themselves). This is one of those games that could go either way, but I just think NW Missouri is playing too well right now on offense, mixed with their typical stout defense, to drop this game.
Northwest Missouri State 38, Pittsburg State 34
#11 Slippery Rock vs #21 IUP
After defeating Cal (PA) last week, IUP can conceivably lock up the PSAC West this weekend if they can defeat Slippery Rock on the road. To do so, they would need to be the first team in 6 weeks to shut down or slow down Slippery Rock QB Roland Rivers III who is putting up mind boggling numbers thus far including the fact that he has thrown only 35 incompletions all year, and 23 Touchdowns. I don't know how to even pick this game because two of my favorite players to follow this season are both out there, the First being Rivers, and the second being Duane Brown – the all-purpose offensive threat for IUP. He has had 23 total touches on offense, with 12 of those going for touchdowns. This is going to be one heck of a game, and I think the winner will be whoever wins the turnover and penalty battle. With explosive players everywhere, whoever cannot have those momentum changing plays called back because of penalty will come out on top. I just have to think Slippery Rock will pull this one out in the end.
Slippery Rock 34, IUP 27
Saginaw Valley State at #18 Grand Valley State
First year SVSU Head Coach Ryan Brady won a lot of games as a player in Lubbers Stadium for Grand Valley, and he also won some big games in Lubbers Stadium as an assistant coach at Ferris State. Saturday night he gets his first shot in the "Battle of the Valley's" as a head coach. He has Saginaw Valley playing very well right now, but is it enough to snag a road W Saturday night? Grand Valley State doesn't lose often, and when they do, they rarely ever lose back to back games. After being absolutely stunned on a last second Hail Mary last week at home vs Ashland, I just don't see the Lakers dropping back to back home night games. Saginaw Valley is toward the tops in the nation in terms of picking off opposing QB's, and turnovers have been a problem for the Lakers QB's through the first half of the season. I see this one being close, but Lakers pulling it out.
Grand Valley State 24, Saginaw Valley State 20
#7 Notre Dame at Charleston (WV)
Jaleel McLaughlin rushed for an astonishing 2546 yards and 18 touchdowns in 2018 as a freshman. He is actually ahead of that pace in 2019, already with 959 yards on the ground and 12 touchdowns, even after a quick workday this past Saturday in Notre Dame's 52-6 win over West Virginia Wesleyan. Notre Dame will face arguable their stiffest test of the season this weekend as they head to Charleston, WV for a matchup with 4-1 Charleston. I do not foresee this being the week that the NDC Falcons slow down on offense, I have them big in this one.
Notre Dame College 49, Charleston (WV) 28
Eastern New Mexico vs #5 Tarleton State
You know what they say, it is never easy to go into Portales, NM and come out with a victory. Eastern New Mexico is simply one of the best rushing offenses in all of DII football. This has all the makings of a trap game for Tarleton State, sandwiched in between top-25 matchups at home (Angelo State last week, Texas A&M Commerce next week) I could see scenarios where the Greyhounds jumped out and pulled the upset. I think Eastern New Mexico will have a two-score lead in this one in the second half before Tarleton State comes roaring back and takes the W.
Tarleton State 41, Eastern New Mexico 30