Games of the Week - Final Four
December 13th, 2019 5:30am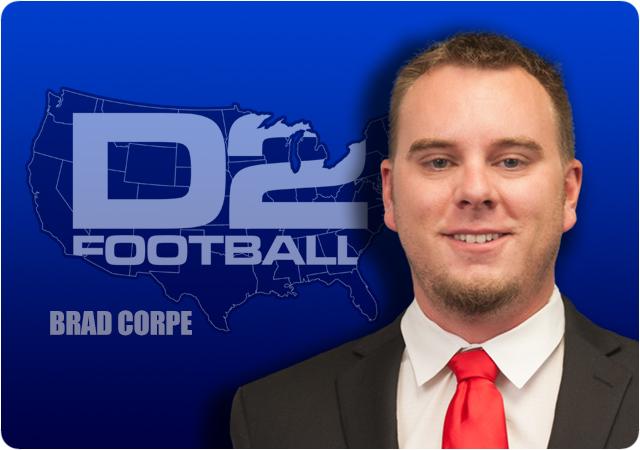 The Final Four.
Congratulations to all four teams left standing. Do not let anyone diminish the sense of achievement that it takes to still be playing football at this point in the season.
Last week in the preview of the Northwest Missouri State vs Ferris State game I had said this:
"The weird, quirky things that happen in football games that seldom seem like
major factors in the outcome. The bobbled snaps that may cause a punter to get
off a punt that is ten yards less than normal…"
Sure enough, On Ferris State's first offensive possession, Punter Jackson Dieterle lined up to punt and saw the snap begin to fly over his head. He was able to knock it down, run and pick it up, and uncork a 42-yard punt that was downed at the Northwest Missouri State 14-yard line. Now if he was unable to get a hand on that ball, NW Missouri would have either scooped and scored, or started with the ball somewhere around Ferris State's 20-yard line. This is the exact type of play that I was referencing, and I firmly believe a play that decided the game early on.
I fully expect this weekend to be more of the same in our two National Semifinal matchups. Obviously, players are going to have to make plays, but there will be some quirky happenings in both games, and whichever team is able to capitalize off of those more will be headed to McKinney, Texas next week. After going 3-1 last week, I have upped my season record to 59-19, not exactly the 2015-16 Golden State Warriors, but for my rookie year I will take it. Call up that guy you've been using all year and take these to the bank!
Important side note: Although I need to pick against two teams out of these four, It would not surprise me in any sort of way to see any combination of these four in Texas next week. All four are outstanding teams, outstanding programs, with outstanding players and coaches. You do not make it this far in the season by way of fluke, you make it this far because you earned it and your deserve it.
Semifinal One
Minnesota State-Mankato (13-0) @ Slippery Rock (13-0) | 12:30 PM Est | Slippery Rock, PA
Total Offense:
Minnesota State-Mankato: 518.5
Slippery Rock: 516.5
Total Defense:
Minnesota State-Mankato: 242.2
Slippery Rock: 339.8
Scoring Offense:
Minnesota State-Mankato: 47.2
Slippery Rock: 48.62
Scoring Defense:
Minnesota State-Mankato: 12.7
Slippery Rock: 24.69
I am going to start by reiterating what I said last week about the above stats, they mean literally nothing at this point in the season except pretty numbers to look at. You have two Harlon Hill finalists squaring off in this one, two guys who I fully expect to be in the top four of voting, and two guys who have the ability to take over the game and lead their team to victory. I haven't picked against Roland Rivers III (Because of you Mad3.Bosss!) and Slippery Rock all season because I think they are a complete team with playmakers all over the field. I have picked against Minnesota State-Mankato, and I shouldn't have. Last week was by far their most impressive performance of the season, and they played with a sense of motivation that only a team who has experienced a semifinals loss could play with. Both of these matchups are toss-ups in my opinion and this one comes down to two factors. The first is Slippery Rock's rush defense, if the Rock is able to slow down the ground attack of Mankato and force them to put the ball in the air, I think Slippery Rock can win this game. The weather is looking quite interesting for two teams with contrasting styles, and with 100% chance of precipitation during the game, it definitely favors the ground game of Mankato more than the pass happy offensive attack of Slippery Rock. I think this game will be a shootout, and I know that sounds weird with Mankato entering the game with the best scoring defense in the country, but they also haven't seen this type of firepower that they will Saturday. Roland Rivers III hasn't done me wrong all year, and for another week I am sticking with him and the Rock to take the trip to Texas.
Slippery Rock 38, Minnesota State-Mankato 31
Semifinal Two
West Florida (11-2) @ Ferris State (12-0) | 3:30 PM Est | Big Rapids, MI
Total Offense:
West Florida: 404.0
Ferris State: 510.3
Total Defense:
West Florida: 337.7
Ferris State: 263.4
Scoring Offense:
West Florida: 36.31
Ferris State: 38.3
Scoring Defense:
West Florida: 18.54
Ferris State: 12.5
Another week, another game I have to pick while trying to keep away my bias. This is a matchup of the last two National Runners-Up, so both teams know how to win games this late in the year, and both teams know what that heartbreak of not finishing the job feels like. Ferris State has 15 players on their roster from the state of Florida, some of them coming from the same high schools as players on West Florida, so even though this is a first-time matchup between the schools, there is also a sense of familiarity between the guys on the field. One big advantage for West Florida is that they have played Valdosta State twice this year, so they have played a team with comparable athleticism to Ferris State. On the other side, Ferris State has played some very good football teams, but none that have the overall size and athleticism that West Florida does, how quickly Ferris State can adapt to the speed of this game will be a large factor in the outcome. West Florida is very good against the pass but gives up 162 yards per game on the ground to opposing teams. That is great to hear if you want Ferris State to win this game. However, without Jayru Campbell at quarterback for the Bulldogs, I am sure that West Florida will be selling out to stop the run and trying to force Travis Russell to beat them through the air. He has shown the ability to move the ball via the air, but if that has to become the sole way the Bulldogs can operate on offense it could be a long day for Ferris State. On the other side of the ball, West Florida wants to move the ball through the air, and quarterback Austin Reed has been pretty good doing so, although he is only completing 58% of his passes. West Florida features five very good wide receivers, so Ferris State will need to be able to matchup with all of them, as all five guys have shown the ability to be game breakers. In games like these, it is often how well a team can do what they aren't "good at" that decides the outcome. I feel like both teams have game planned to take away the other team's strength, so whoever can do the second-best aspect of their game will be the one that is victorious. The weather looks surprisingly good for mid-December in Big Rapids, MI, so I don't see that being a factor in the outcome. Ferris State has committed 28 turnovers on the year, and has 25 takeaways, while West Florida is +10 on the season in the turnover game. If Ferris State loses the turnover battle by two or more, I think West Florida wins this game in a close one. I don't think that happens however, and I think the Bulldogs head back to Texas when all is said and done.
Ferris State 27, West Florida 20