Games of the Week - National Championship Edition
December 19th, 2019 8:30am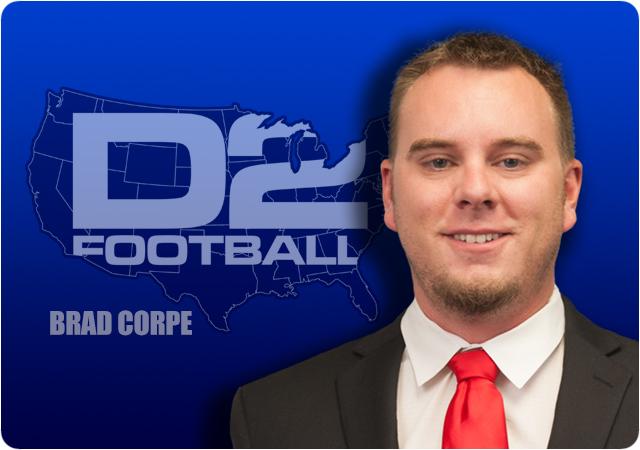 Well folks, just like that the 2019 NCAA Division II Football season is down to its final game. Looking back, what a year we have had, we have been treated some remarkable individual performances, some incredible finishes to big games, some big-time upsets, and when the dust settles, a first time National Champion.
After an 0-2-week last week I have spent the majority of this week licking my wounds and figuring out a way to just go 1-0 in my final 2019 appearance.
I want to thank Brandon and all of the other d2football.com writers for allowing me to join them this year. I want to thank all of you who are active on the message boards for being just that, active on the message boards. I know we go at each other and root hard for our squads and our players, but at the end of the day we are a very small community of dedicated fans. I would encourage all of you to try and get someone new to join up and discuss Division II football with us. I believe the level of Division II football is at an all-time high, there are several DII alum's playing in the NFL, and plenty more that will get an opportunity in the very near future. This is a very high-quality brand of football. And lastly, thank you to all four people who read my column each week, my 2020 resolution is to make my column good enough that maybe I can get in double-digit reader territory next year!
With that said, for one last time, call up your guy and put your money on this single stone-cold lock of the week. After all, I've earned you money 59 times this year, but I'm sorry for the 21 times I lost you that hard earned cash!
Division II National Championship Game | McKinney, Texas
Saturday December 21st, 2019 | 3 pm Est
Minnesota State-Mankato (14-0) vs. West Florida (12-2)
What a matchup we have here. I know I picked against both of these teams last week, but it isn't because I didn't think they were darn good football teams. West Florida won at Ferris State by taking advantage of some very costly Ferris State mistakes and making them pay for it. One thing that is alarming for West Florida, based on the way Mankato wants to play, is that West Florida gives up a lot of yards on the ground. That is music to Nate Gunn and the rest of the Maverick's ears. Ferris State put up 255 yards rushing last week, and if it wasn't for four lost fumbles, would have put up a lot more. However, as I have said all season long, West Florida doesn't do anything outstanding, but they do all things well. They pretty much completely shut down their oppositions passing game, so it could be a long night for Shane Zylstra, one of the best Wide receivers in the country. If Mankato can line up and pound the rock, without trying to get too fancy, they will wear down the West Florida box and control the clock. If Mankato tries to go play action, this West Florida secondary will be ready to make a game changing play. Both of these teams enter this game at an incredible +15 in the turnover battle, and whoever wins that battle this Saturday will most likely be the one who hoists the trophy. West Florida Quarterback Austin Reed is an impressive player, he has a very strong arm and can keep plays alive. He also has several weapons to get the ball too, all of whom can adjust well when a play breaks down. Tate Lehtio has had a monster season, and I think he will have a monster game this weekend as well. This Maverick team has been motivated all season long after the heartbreak of losing in the Final Four last season, but this West Florida team is on mission, and although they have two losses on the year, they are 12 total points away from being undefeated, and both of those losses came on the road. I think Nate Gunn has a massive game in this one, I think Shane Zylstra only has somewhere between 3-5 receptions, but for somewhere in the 130-yard range, and I think Mankato puts up some points while winning the time of possession battle. However I think West Florida somehow wins this game, as they have done all year, they will make a couple more football plays that change the flow of the game and they will be celebrating as the 2019 NCAA Division II National Champions and earn back to back Championships for the Gulf South Conference.
West Florida 34, Minnesota State-Mankato 30