Games of the Week - Playoffs
November 21st, 2019 2:30pm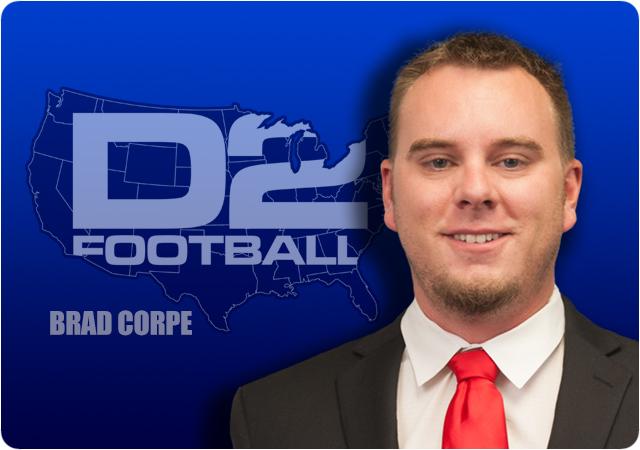 Regular Season recap:
After starting the first four weeks at 11-8, I will take the 31-4 finish to the season to end at 42-12, but the playoffs are where the boys and the men separate themselves, I will find out in five weeks which category I place myself in. How about that new playoff format? Really throwing the regions into whack, and of course by that I mean there wasn't a single change whatsoever. I am going to pick each game of the playoffs, with shorter writeups about each matchup.
Super Region One:
#4 Indiana (PA) vs Shepherd
I am really becoming a big fan of Shepherd Quarterback Tyson Bagent, and like the way he has this team rolling, but IUP is playing near perfect football right now and I look for their offense to be able to move the ball on this Shepherd defense that gives up 25 points per game..
Indiana (PA) 31, Shepherd 20
#2 Kutztown vs Tiffin
Kutztown is in the exact spot IUP is, a close loss to Slippery Rock away from a perfect regular season. Tiffin enters the game with the second weakest strength of schedule in the country, but they do have some playmakers. However, I don't think they have faced anyone to Kutztown's level to this point in 2019.
Kutztown 34, Tiffin 24
#3 Notre Dame (OH) vs West Chester
I am rolling with Jaleel McLaughin until the matchup makes it very difficult to continue doing so. Notre Dame. West Chester has had a nice season, but I think this is a focused Notre Dame College team that lost in the National Semi-Finals last season.
Notre Dame College (OH) 37, West Chester 28
Super Region Two:
#4 Wingate vs West Florida
Both of these clubs lost to Lenoir-Rhyne this season by a score of 20-13, but the difference in seeding is because West Florida had to run into Valdosta State and Wingate didn't. I watched West Florida play Valdosta very tough just two weeks ago and feel like they are a team that can win a couple games this post season.
West Florida 27, Wingate 20
#2 Lenoir-Rhyne vs Miles
What is Miles' prize for winning the SIAC championship? A date with a battle tested Lenoir-Rhyne squad that is playing at a peak level right now, I think Lenoir-Rhyne rolls in this one.
Lenoir-Rhyne 41, Miles 21
#3 Bowie State vs Carson-Newman
Ja'Rome Johnson has played better than anyone expected while replacing Amir Hall as the signal caller for Bowie State, guiding them to an undefeated CIAA title this season while accounting for 33 total touchdowns. Carson-Newman enters the post-season yet again in 2019, and they are still doing it on the ground. Bowie State is really good against the run, and I think they are able to slow Carson-Newman down enough to win this one in a shootout.
Bowie State 38, Carson-Newman 35
Super Region Three:
#4 Central Missouri vs U-Indy
Central Missouri entered week 11 with visions of a possibility to win and earn the bye this weekend. They left week 11 barely hosting a playoff game and as co-Champions of their league. Brooke Bolles and company are playing well outside of that loss and will be ready to roll versus (what I think is) the best team U-Indy has had in years. I forsee the Mules heading to Big Rapids, MI next week for a showdown with the top seeded Ferris State Bulldogs.
Central Missouri 38, U-Indy 31
#2 Ouachita Baptist vs Lindenwood
Lindenwood has had their naysayers out all week about their inclusion into the playoffs, but when I watched them beat U-Indy a few weeks back I saw some big and athletic players all over the field. However, Ouachita Baptist has reached veteran status in the playoffs by now and are poised to win football games while being here.
Ouachita Baptist 34, Lindenwood 21
#3 Northwest Missouri State vs Harding
2012 - Northwest Missouri State 35, Harding 0
2016 - Northwest Missouri State 35, Harding 0
This is the hardest game for me to pick because I think very highly of both programs and have been on the losing end to both of them in the playoffs, but if Harding plays turnover free, ball control offense like they are capable of, I see them pulling off the upset. Obviously Northwest Missouri State has blanked Harding in the past, which make it more difficult to pick against them, but I just have a weird feeling about this game and have to go with Harding.
2019 – Northwest Missouri State 27, Harding 28
Super Region Four:
#4 Colorado State – Pueblo vs Augustana (S.D.)
CSU-Pueblo enters this game giving up only 32 points in their last four contests, hitting their peak at least on the defensive side of the ball at the right time. They have a nice win over Texas A&M-Commerce earlier in the year and took a pretty good loss to Colorado Mines the week prior to that. Augustana enters this game with no glaring bright spots, but at the same time, no glaring weaknesses either. They haven't beaten the good teams on their schedule, but they have played them tough. Have to go with the home team in this one though.
Colorado State-Pueblo 20, Augustana 10
#2 Tarleton State vs Texas A&M-Commerce
The most difficult thing for a team to do is beat a team twice in the same season and that's what Tarleton is tasked with in this matchup with Texas A&M-Commerce after a 35-21 win in Week 7. Tarleton State cannot be happy about the second seed and potential to have to play in a blizzard for the second year in a row if they can reach the regional title game vs Minnesota State-Mankato. Tarleton State keeps their winning going this week.
Tarleton State 34, Texas A&M-Commerce 17
#3 Colorado School of Mines vs Sioux Falls
Sioux Falls biggest claim to fame came two weeks ago with their three-point loss to a Mankato team that was scorching people at the time. I don't know if that is enough to get them in the win column against an undefeated Colorado Mines team that is really good on offense (507 yards per game) and elite against the run on defense (57 yards per game). I think Colorado Mines rolls in this one, setting up a big-time game next weekend at Tarleton State.
Colorado School of Mines 37, Sioux Falls 14